HaveUHeard.com includes links to third-party websites and advertisements for third-party products and services. Product and service-specific opinions mentioned within the content of our blogs are entirely the opinions of the HaveUHeard.com team and its staff. It is our hope that you will find value in the products and services these third-party organizations represent, and patronize these businesses. Such advertising and marketing partnerships help make our efforts at HaveUHeard.com possible. Thank you for your support and ongoing interest. For additional information, please read our full HaveUHeard.com Disclosure Statement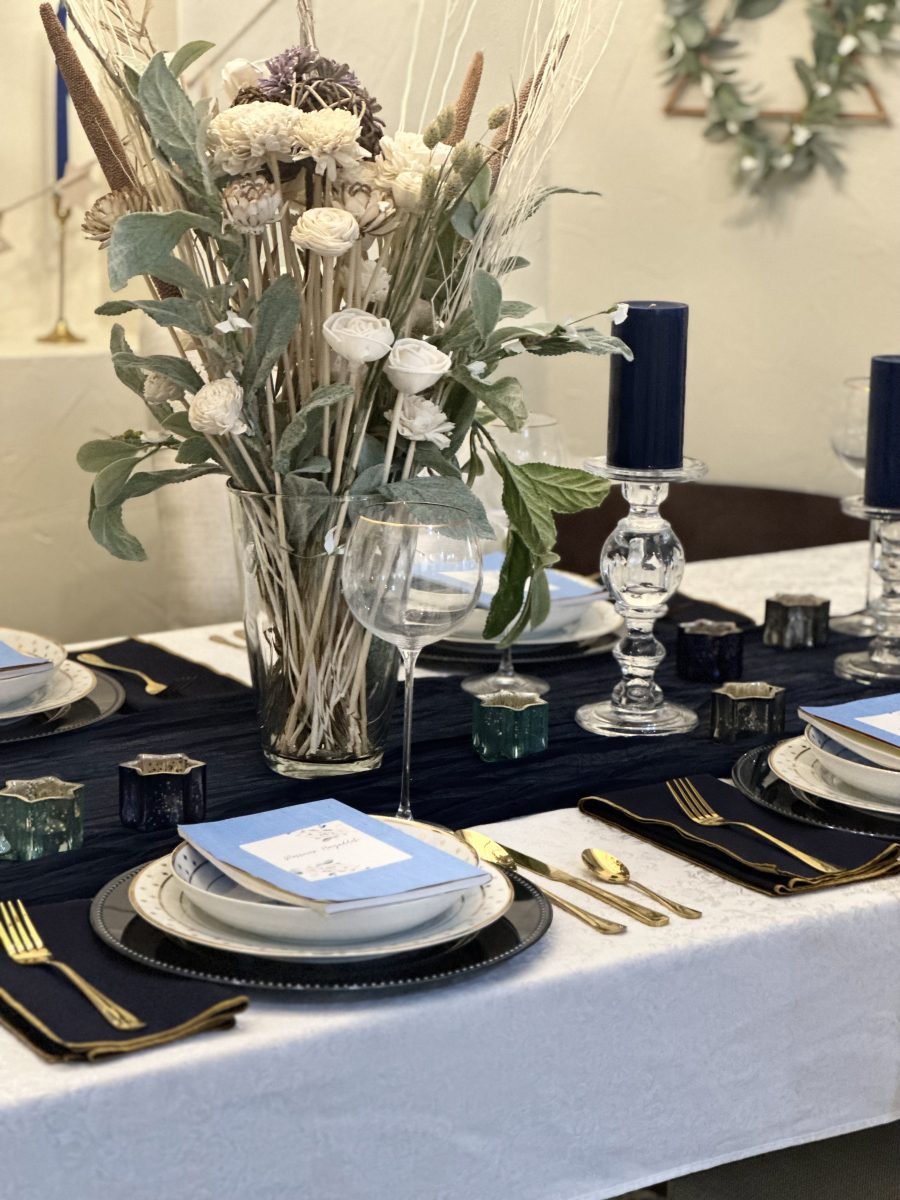 Passover 2023
How is it that Passover is less than two weeks away? Setting a special Passover table involves a few key elements,  creating a warm and welcoming atmosphere for the holiday.
Tips for a Festive Table
Choose A Color
Select a color scheme that reflects the spirit of Passover. Traditionally, white and gold or silver are popular choices for Passover, as they symbolize purity and redemption. For Passover this year, I am going with blue and gold.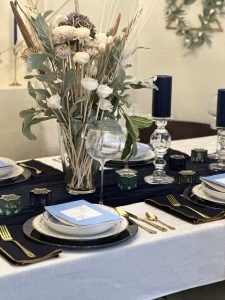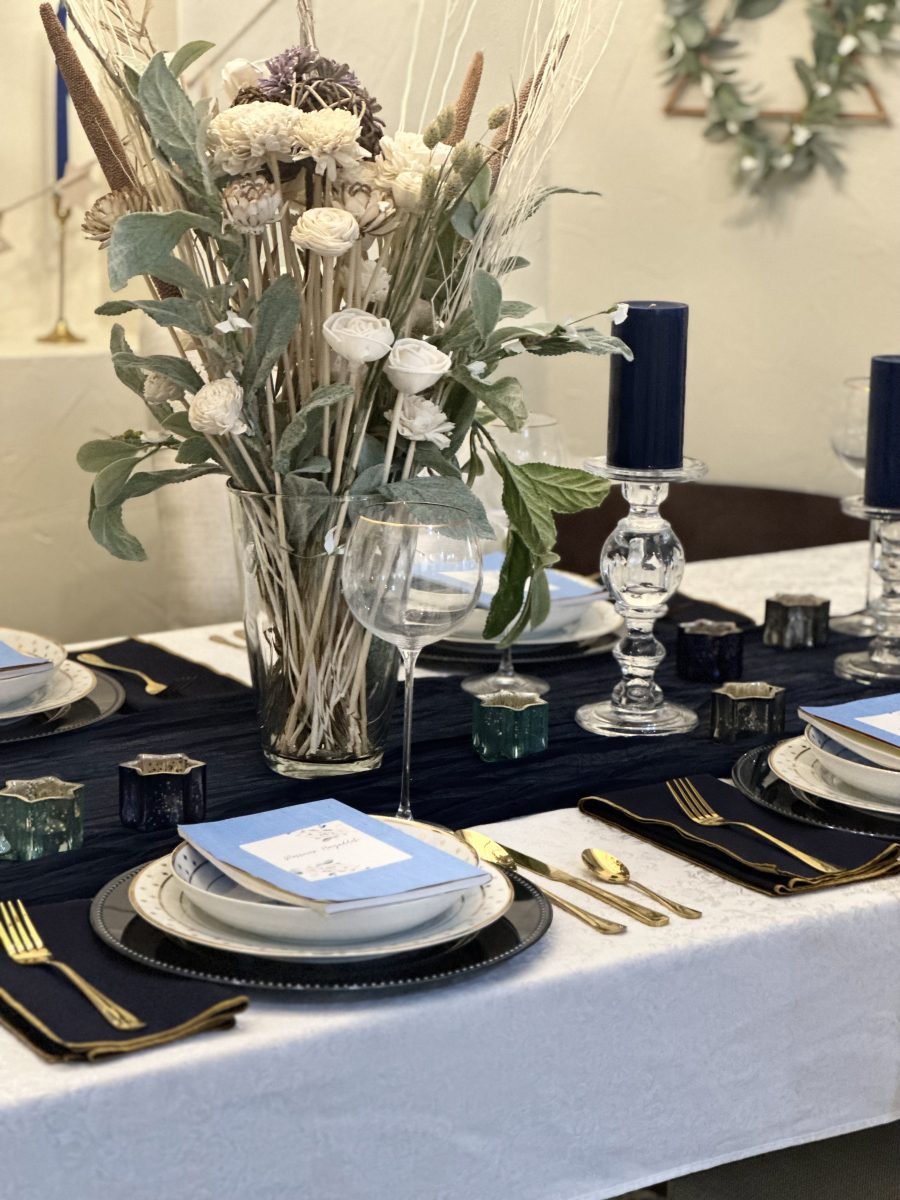 Use Festive Tableware
Choose special tableware for the holiday. This is the perfect holiday to pull out your finer dishes and gold flatware. Add gold-rimmed wine glasses since wine is a prevalent element of the Seder.  You can also add decorative touches such as napkin rings or place cards. I found these beautiful gold-trimmed navy napkins on Etsy, one of my favorite sites to shop.
Caiden Elegance Damask 60-Inch x 84-Inch Oblong Tablecloth in White – $19.99
Navy Blue Beaded Acrylic Charger Plates – $15.99
Bunny Williams Gold Star Dinnerware – $220.80 for 20 piece set (on sale now for $234.60)
Olivia & Oliver Madison Gold Red Wine Glasses – regularly $24.99 for a set of 4 but we all have those coupons.
Gold Cutlery Silverware Set – $36.99 service for 6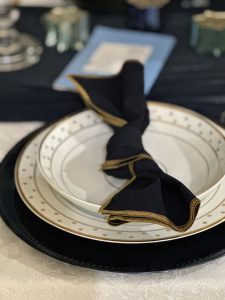 Set the Table With Symbolic Items
Add meaningful items like the Seder plate, which holds symbolic foods, such as a roasted lamb shank bone, parsley, bitter herbs, and an egg. Last year, I purchased this Blue Hamsa 7 Piece Hand of Fatima – Made of one large plate and six smaller serving or dipping plates. The plates create a bright, colorful hamsa hand that symbolizes peace, prosperity, and protection. Local women make each piece for a fair wage in Nabeul, Tunisia, a city that has been making renowned ceramics for centuries. And it will be perfect when used as a seder plate.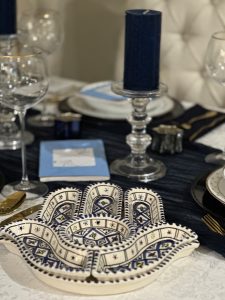 Add Flowers
Flowers add a touch of elegance to the table. You can choose colorful spring blooms or white flowers. For my table, I chose wooden flowers from Trader Joe's. My vision was to use softer spring colors, thus the whites and beiges with a little color from the purple flowers and green leaves.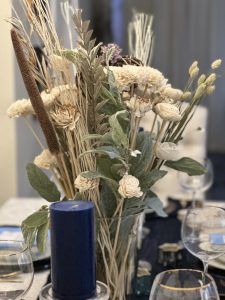 Consider Lighting
The right lighting can create a warm and inviting ambiance. Consider using candles or dimmer lights to create a more intimate setting. Since I already bought these Star of David Blue Palette Votive Holders with tealight candles for Hanukkah, I used the blue ones. I include a set of 3 glass pillar candle holders for added dimension, adding blue pillar candles.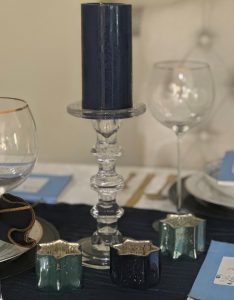 Add A Personal Touch
Consider adding a personal touch to the table, such as handmade place cards or a decorative centerpiece that reflects your family's heritage or traditions. This Matzah Cover from Love and Latkes provides a pop of color. I follow them on IG too. Embossed with gold foil lettering.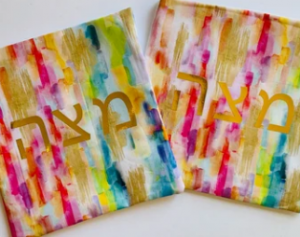 Passover Meal
As I shared, when hosting a large group, there is no need to make your day complicated by trying to prepare an entire meal. I make the chicken soup and chicken shufra in advance and freeze it. It tastes wonderful even after freezing. The charosis can be made a day or even two ahead. The more time the flavors marry, the tastier it is. And it is fairly labor-intensive. The potato kiegel is made the day of, as are the matzoh balls. I  also make salmon the day of since it is simple to make. Finally, desserts can also be made in advance.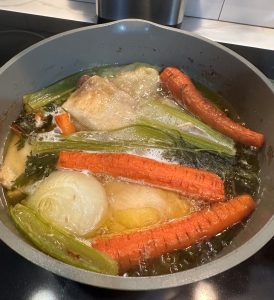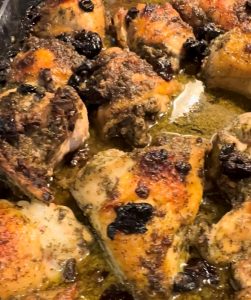 Passover Food For Thought
This week, I received a beautiful email from Lital Donner, Director | Eastside & Israel Missions Jewish Federation of Broward County that I am sharing with you.
Did you notice the rule of four?
One of Passover's characteristics is the number four as it continues to appear during Passover celebration. Four cups of wine, four sons, children asking four questions of "Ma Nishtanah?", four names for the holiday, four times the Torah commands us to tell the story of the Exodus to our children (three times in the Book of Exodus and one in the Book of Deuteronomy), etc.
Why four?
The answer is that four represents totality, completeness. For example, four represents completeness in time, space and substance (completeness in time- a year has four seasons; completeness in space- four directions: east, west, north and south, four dimensional world: three dimensions of space and one of time, completeness in substance: in Talmudic times, the four basic elements of the world were thought to be earth, water, air and fire. Today, the four basic states of matter observable in everyday life: solid, liquid, gas and plasma.)
What can we make of this?
Completeness: the state or condition of having all the necessary or appropriate parts. – Oxford Languages
May we all choose to participate in Jewish life, so we can reach the state of completeness of our people. We all have a role to play in the evolving story of the Jewish people.
Finally…
The most important thing is to create an atmosphere of warmth, love, and togetherness as you gather around the Passover table with your loved ones.
Happy Pesach!
Pass on these great tips, tell your friends, and like us on Instagram,  TikTok, and Pinterest.