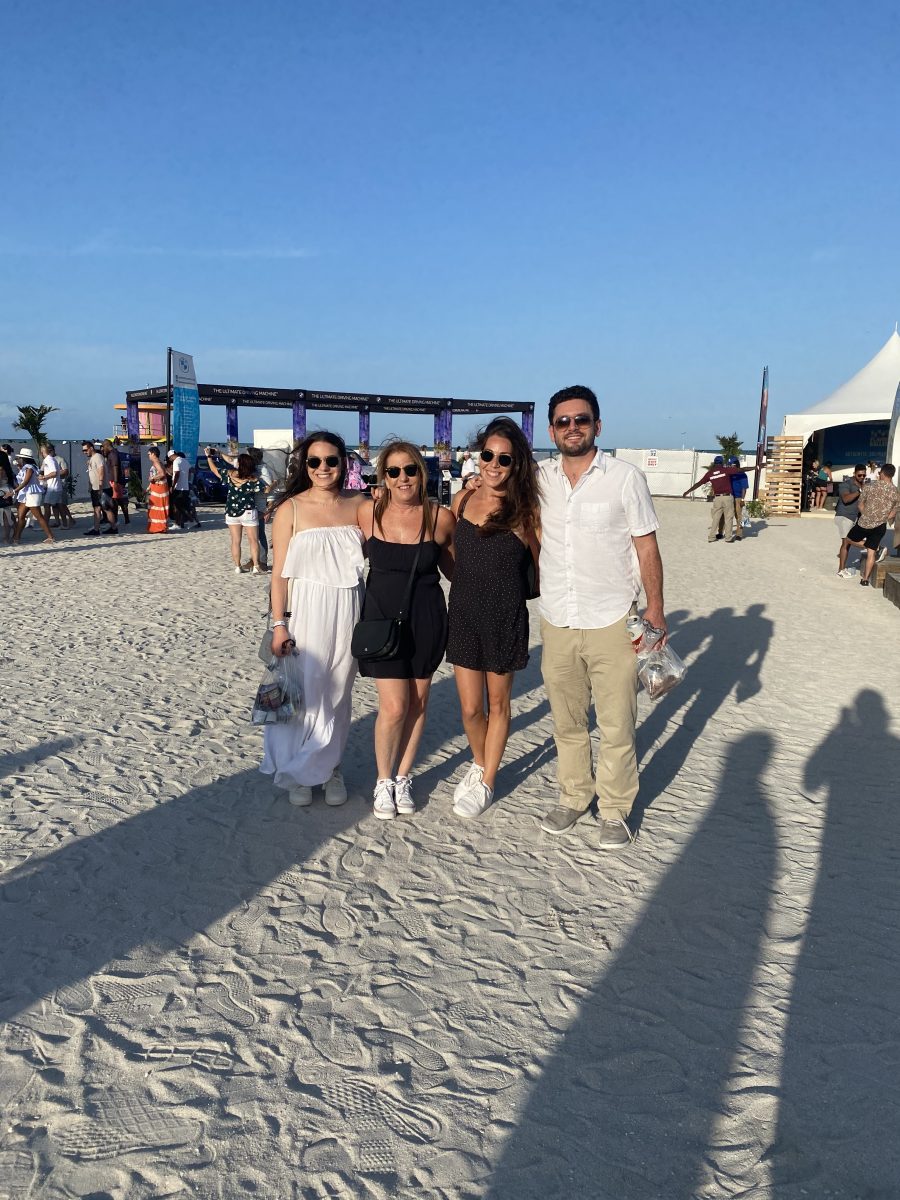 Fan Girling at the Wine & Food Festival
SOBEWFF 2021 just wrapped up. This is one of my favorite food events.  Although COVID changed the event, it was still great. Any time the situation presents itself, I will go to a food event with chefs from Food Network as well as well-known chefs. You won't find me fangirling over athletes, actors, musicians but when it comes to chefs, I am a total fangirl. That's probably because I would have been a contender for America's Worst Cooks when I was in my twenties. I attribute my ability to cook to watching cooking shows on The Food Network. I was fortunate to get tickets this year for three different events and I'm sharing my SOBEWFF 2021 recap.
SOBEWFF 2021 Recap
Previously, I have only been able to attend the Grand Tasting as the event is the same weekend as my mom's birthday. With it being moved to May 2021, I added two additional events.
This was the first time we would be attending a large event during COVID. Attendance was limited and advance verification of either having been vaccinated or tested negative in the last 24 hours. Knowing this, we still bought early access tickets which gave you 45 minutes early entry.
I'm not sure if the CDC's guidance on wearing masks and vaccinations had any influence but verification was on the honor system. I was under the impression we would need to upload our vaccination cards but all we did was scan a QR code and answer some questions. We rarely wore our masks since it was an eating and drinking event. They minimized crowd gathering by keeping the flow of guests going in one direction.
SOBEWFF 2021 Recap of Italian Bites on the Beach presented by Carbone Fine Food and hosted by Giada De Laurentiis
We selected this event for several reasons. First, we love Italian food. Second, we are big fans of Giada. Third, we were attracted by the Carbone name since it is one of the most difficult reservations to get in Miami.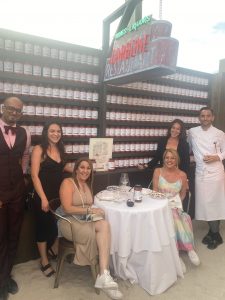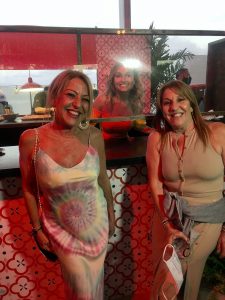 Let's get to the important info. The first booth we stopped at was Carbone's. My daughter had just eaten at his restaurant the week prior but my other daughter, my sister, and I have never been. The meatballs were amazing according to the three of them. I am a pescatarian so I had to pass. I do want to try the pasta he is known for.
We had amazing samples of pizza and plates of pasta. Those were available at numerous booths. A favorite of mine was the Sardo Lobster Roll from Bill Hansen, owner of a full-service catering and event production company. He served a Sardo lobster roll topped with chickpea fritters, an herb salad, and grated bottarga.
Another favorite of ours was Giada's Burrata and Strawberry Bruschetta. I am definitely going to be making this dish which is perfect for the summer.
Of course, the event had plenty of wine. When we were in Italy in the summer of 2016, everyone was drinking these bright orange Aperol Spritz's. We tried it and did not like it but decided to give it another try. I don't know why but this time we loved it and will add this to our summer drink menu. I encourage you to make this drink at home.
SOBEWFF 2021 Recap of Dinner hosted by Jet Tila and Davide D'Agostino
Jet Tila is known for its Asian-inspired and Thai dishes. Davide D'Agostino is the head chef at ETARU, located in the Hyde Resort in Hollywood, FL. As this was my first time attending a private dinner, I was not sure what to expect.
Upon entering, we were seated at a pre-assigned table on the third floor of the resort. This space is typically reserved for special events. Within minutes, Jet Tila welcomed us, who was extremely friendly, gracious for our support, and even took photos with our party. The event was sponsored by Dewer's so we had several whiskey drinks on the menu to sample as well as a surprise new whiskey not yet available to the public.
The menu consisted of four different appetizers and three different entrees. There was wagyu beef, shrimp. The Black cod marinated with yuzu miso and pickled radish by Davide D'Agostino literally melted in your mouth. The dessert was this decadent chocolate lava cake with a green tea center and a side of pear ice cream. Because it was an outdoor event with no covering except over the bar, the sudden rain, so common in South Florida, sent many guests home which was unfortunate. The waitstaff did a great job of pivoting and getting the desserts to those of us that remained.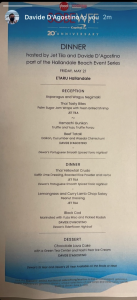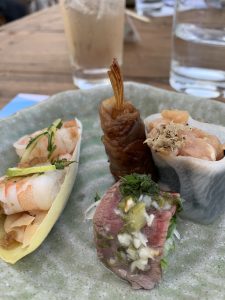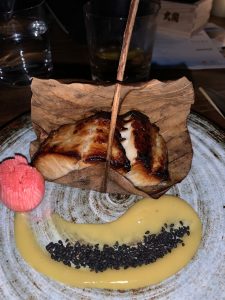 The event was sold out. Since this was my first private dinner, I was unsure of what to expect. I knew it was a seated event but thought the chefs would be doing a demo. I realize they needed to prepare the meal and oversee the other chefs. The dinner is a guest's opportunity to sample food prepared by renowned chefs. Now that I understand how the dinner events work, I am looking forward to selecting a few more next year.
SOBEWFF 2021 Recap of Goya Foods Grand Tasting Village
This is one of my favorite events. I've attended about five or six times prior. So what was different this year than years prior? For starters, prior Grand Tastings you picked either Saturday or Sunday giving you an entire day to sample wine and food, watch chef demonstrations, cookbook signings, and sales and listen to music.  Each day was split into two sessions so you only had about three hours. Don't get me wrong, it was less crowded so you definitely had time to sample wine and food. It was more challenging to watch all of the chef demonstrations. If I had to choose between no event and a paired down event, I definitely would still go again.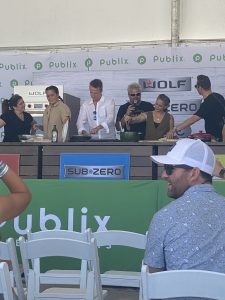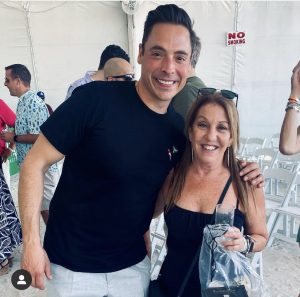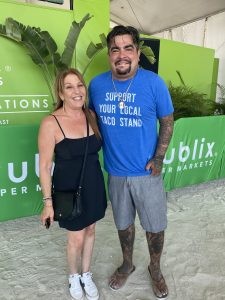 See Ya Next Year
This was the first Food Network Wine & Food Festival post-pandemic, making Miami the test run, so to speak. I will definitely return next year when it goes back to its normal February weekend. Mark your calendars for February 24- 27, 2022.
Additionally, the NYCWFF is October 14-17, 2021 which just so happens to be during my daughter's birthday. Since she lives in the city, I am strongly considering going up so I can check this event off of my bucket list.
From virtual cooking classes to in-person cooking classes, cooking shows I love and food events, check out my blog on Cooking and Watching Celebrity Chefs. Sharing these events with my daughters introduced them to wonderful meals, restaurants, bloggers, and cooking. They really enjoy great food and are way better cooks than I was at their age.
If you've been to some great food events, let me know!
Pass on these great tips, tell your friends and like us on Facebook, Instagram, Twitter, and Pinterest.  Sign up for other great tips at haveuheard.com.