HaveUHeard.com includes links to third-party websites and advertisements for third-party products and services. Product and service-specific opinions mentioned within the content of our blogs are entirely the opinions of the HaveUHeard.com team and its staff. It is our hope that you will find value in the products and services these third-party organizations represent, and patronize these businesses. Such advertising and marketing partnerships help make our efforts at HaveUHeard.com possible. Thank you for your support and ongoing interest. For additional information, please read our full HaveUHeard.com Disclosure Statement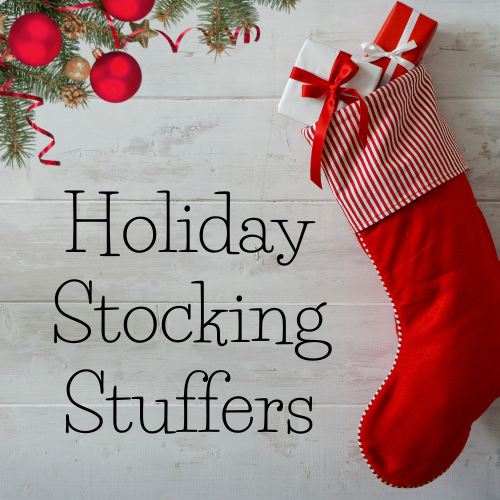 Adult Kids Love Stocking Stuffers!
Why does a Jewish mom have Hannukah stockings? It's not complicated… I love the holidays. Okay, they look like Christmas stockings but are blue and white with our names. Honestly, I will do anything to make my home joyful. Stocking stuffers are those smaller items that have bigger meanings. I find unique and practical items to put in their stockings.
Self-Care Stuffers
I cannot stress enough how important it is to have my daughters choose themselves first regarding their work, social life, and physical and mental health. They should be kind to themselves and kind to others. Stocking stuffers that fill their room with positive energy items throughout my home. Self-care items. Aspirational. Beauty. And, of course, fun stuff.
Positive Vibes
Little Words Project® bracelet(Use code HUH for an extra 15% off- we receive a commission on sales from this discount code 😉)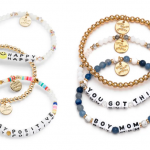 Sun -Catchers – suncatchers are known to make their space more soothing and harmonious.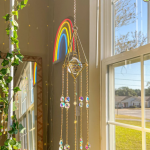 Book of Happiness – I recently started following Nikki Miles on IG. She is a British illustrator, author, and publisher of Be Kind, be Cool, Be You!! It is a little book of happiness filled with over 150 pick-me-up and inspirational messages. Ignore the age 5-8 yrs part. I frame the messages and give them as gifts. There is no age limit to inspiration.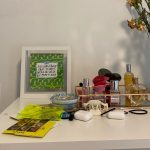 The 5-Minute Guided Journal – Five Minutes A Day to Be Grateful– A great positive thinking tool with a simple format that makes you more grateful and happy. This gratitude journal only takes you 5 minutes a day to write down simple things to focus on your progress and become a better person.
Wish bracelet – I'm a firm believer in manifesting, and wishes are one form of manifestation. Give them this wrist bracelet. The belief is that your wish is released when the string wears through or breaks. Choose Hanukkah or Christmas. They make a great secret Santa gift too.
Candles – our kids love candles. They are believed to reduce stress, create a soothing effect, lift your spirits, and calm anxiety. These benefits depend on the scent. Lavender can ease tension, citrus promotes energy and alertness. Some of our favorites include Voluspa candles,  Capri Blue, and Snif. I pair mine with a Candle Accessory Set (Candle Wick Trimmer Cutter, Candle Snuffer Extinguisher).  Another fun item to include is a candle apothecary match bottle with a striker. Mine was customized for Hanukkah but they have fun Christmas bottles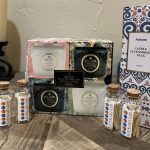 Accessories
Socks- Kids love socks. Patterned socks.Happy socks. Fluffy socks. Plush socks. I own all of the happy sock colors and have gifted them to friends. The same with the Cozy Earth socks. They are the most comfortable socks to wear!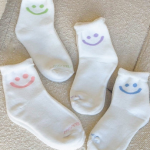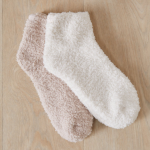 Hair Claws – Hair claws are a thing now. On a recent trip to the department store Magasin in Copenhagen, they had the most eye-catching display of hair claws. They were assorted by color in clear jars. You would have thought I was in a candy store. Needless to say, I grabbed some simple and intricate ones for my daughters.
Slip Scrunchies – These are the newest hair tie trend. Designed to avoid hair creases. Made with slipsilk™ to be gentle on delicate hair. 100% silk (exclusive of elastic).
Hair Tie bracelets are must-haves when running from work to a workout. I am one of those who wear their hair tie on their wrist. So it has to look good.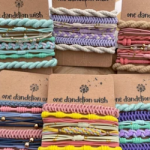 Lip Balm – My daughters love Burt's Bees lip balm.
Touchland Hand sanitizer – While we may be over-sanitizing our hands, I love this brand.  Their advertising states  they are the 'hand sanitizer for people that hate hand sanitizer." I one hundred percent agree. It does not dry out your skin or leave them sticky. You can grab it on their website, Ulta, Target, and Sephora.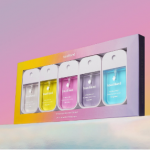 Purse spray – Pick out their favorite perfume. Great for throwing in their tote, especially when on the go.
Lululemon Everywhere belt bag – Lululemon website has been sold out of these crossbody belt bags for a while, but we found two colors on Walmart's website for a very reasonable price. You can continue to check the Lululemon website in case they restock. We also like these similar ones from Athleta, or these Amazon trendy ones.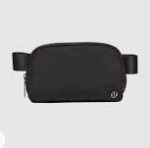 Extra Stuffers
Baggu canvas totes – these are all the rage for young adults. It's the perfect bag for toting your laptop, yoga clothes, LPs, art supplies, you name it. Recycled cotton canvas tote and machine washable.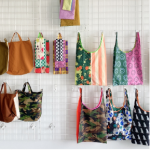 I love You More spoon – my daughters and I are always saying this in response to any text or conversation that states, "I love you." Next comes, I love you more. This makes a great stocking stuffer.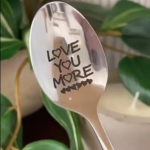 Holiday scratch-off tickets – Your kids will have something naughty or nice when you put lottery tickets in their stockings. Comes in $1, $2, $5, and $10 increments in Florida. Check your state for their holiday collection of lottery tickets.
Collegiate cuffed knit hats– I'm sharing the Florida Gators, bc, duh, I am a third generational family of Gator alum, but they have for all the major colleges. Kids love these knit hats.
Apple AirTags – All the rage now, especially with luggage complications. My daughter just used it on her trip to Scotland. Her luggage did not come out on the baggage carousel. She looked on her phone and was able to track that it was off to the side. The GPS guided her right to her suitcase. It operates on a lithium battery. You could carry an extra CR2032 coin cell battery. You could get the four-pack and use the others for keys, handbags, wallets, and backpacks. Samsung makes a SmartTag for non-Apple users.
Birdie alarm – Birdie empowers women in their everyday lives. It's the perfect gift to share with your daughters.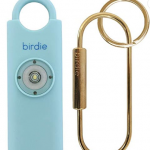 Simple Modern Insulated Tumbler – Great for hot or cold beverages. cupholder friendly.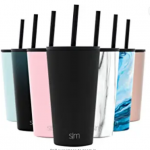 Additional Holiday Resources
Check out our 2022 Holiday Gift Guide recommendations.
And, of course, let's all lift others up by Lend A Helping Hand To Those In Need.
Pass on these great tips, tell your friends and like us on Instagram and Pinterest. Sign up for other great tips at haveuheard.com.