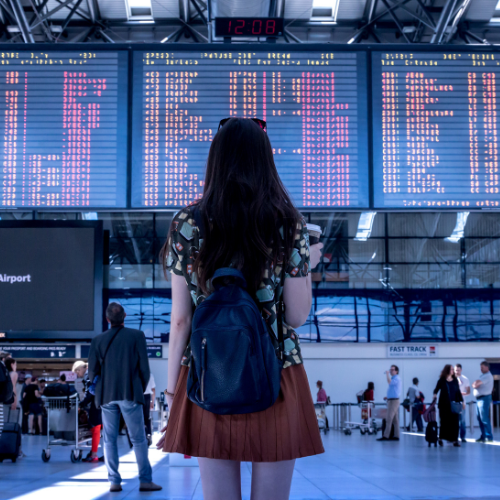 In 2021, a friend invited me to go with her to Sweden, her homeland. It took me all of two seconds to accept. I even said, "I've been waiting over 35 years for this invitation." First, we booked our airfare. We know prices would start to climb, so booking the airfare 9 months in advance seemed like a good decision. But, in that time, we have seen how chaotic air travel is right now. I share my tips to get the flights you want.
Pre-Booking
She is flying a week in advance to spend time with her family. Since this is a multi-city trip, we coordinated our return ticket. Easier said than done. We did manage to secure a great price with an upgrade to business class because this trip is 16 hours each way.
We each booked through different third-party providers. Our first flight change happened because our connection in New York was departing 10 minutes before we even arrived. How does a major third-party provider book a trip that way?
More Complications
Since our booking, we have seen five changes to our flight. Most of it has been on the domestic leg of our trip. We would change that, only to be contacted with another canceled domestic leg. The amount of hours we have spent on the phone changing the itinerary is enormous. Each call takes a minimum of one and a half hours if we are lucky.
It is difficult to fathom an airline canceling a leg of a trip four months in advance. These are major routes, not a small regional airport or city. I am leaving the first week of September. They have told us there is no flight with their domestic partner from New York to Miami. Really? Not one? We have been booked on at least four, only to have them canceled.
Where We Are Now
We have our return trip from overseas to New York. It's in New York that we are being abandoned. Her provider told her that no return flight was available from New York to Miami. She is left alone to find a flight home from New York on her dime.
My provider offered me an itinerary that had me flying separately from my friend with three stops. They had me crisscrossing across many cities. That is not acceptable. After an almost three-hour call that I escalated, they were able to put me back on her flight.
With less than a month until my departure, I continue to receive calls and emails from my booking provider. I am already aware that my flight home from NYC has been canceled. Every flight from NYC on the international, domestic partner airline has been canceled.
Now, getting to New York on a non-stop flight is more important to me than getting to Florida. We purchased a flight home from New York on another airline the following day. On the bright side, I will visit my daughter in New York.
Tips for Handling Chaotic Air Travel
With less than 4 weeks to go until my departure, I half expect there will be additional flight changes. Here are tips for dealing with the complications of traveling:
Document every call you make. Write down the name of the person you spoke with, the date, and the time.
Use the travel apps, including your third-party provider and the airline, to screenshot your flights. You may need this information down the road.
Treat the representative kindly, especially if going through a third-party provider. Yes, this can take anywhere from an hour to close to three hours of your time. I get it; there are many things I would rather be doing. But I have learned to put my phone on speaker and work while hanging on. It is the fault of the airlines, not the third-party representative.
When calling after you learn of a change, do your research. Look up all other available flights. Limited inventory is given to providers like Expedia, AMEX Travel, etc. But, if you know the flight numbers and that there are seats available, that will help. Advocate for yourself and politely ask the customer representative to advocate for you.
Canceled flights are not the only complication these days. There is the issue of lost luggage, especially with connecting flights. Invest in a tracker. I recommend AirTag.
Consider bringing a weekender bag with a change of clothes, just in case. You can read my top 10 travel item recommendations for other suggestions.
Pass on these great tips, tell your friends and like us on Instagram and Pinterest. Sign up for other great tips at haveuheard.com.