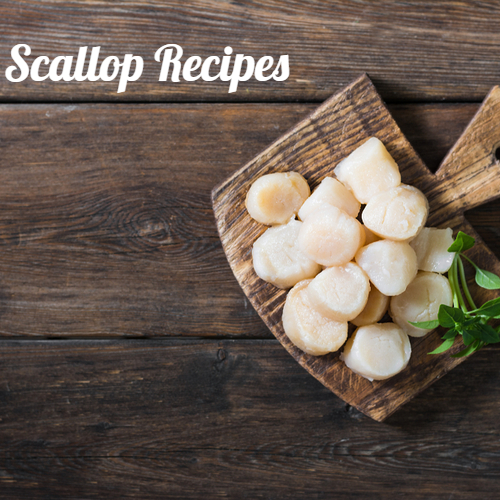 Ofishally My Favorite Preparation
As a pescatarian, I am always looking for new ways to prepare fish. Sea scallops are one of my favorite crustaceans, although I do lean toward bay scallops if I am making ceviche. If you can get quality scallops, you are going to want to try these scallop recipes.
Important to know, the main difference between the two is the size.  Sea scallops can be up to three times the size of bay scallops. Bay scallops are found on the east coast in bays and harbors. Sea scallops tend to be farm-raised.
Pre-Preparation Steps
No matter which type you are using, it is super important to make certain that they are dry. For sea scallops, you also need to take off the side muscle if it is attached. I rinse mine under cold water and then wrap them in a paper towel to make sure they are completely dry. This is mainly done to not only get a good sear but also so they do not shrink.
Here are my top recipes:
Sea Scallop Carpaccio
I made this super fresh sea scallop recently. David Tanis' version is on NY Times Cooking. Although it is for an appetizer on the website, I upped the quantities to have it as an entree. Living in a warm climate, many times I prefer a meal that is lighter.
All you need are shallots, red wine vinegar, sea scallops, cherry tomatoes, red pepper flakes, capers, basil, lime, sea salt, and extra virgin olive oil. You can pickle the shallots up to two days in advance. For a three-person entree serving size, we used 12 scallops.
This is one of those really quick recipes. You slice each scallop into thin slices, arrange halved cherry tomatoes around each plate and sprinkle with salt, red pepper flakes, capers, and the pickled shallot.
Prior to serving, garnish with basil and squeeze lime juice and drizzle olive oil on top.
Lemon Butter Scallops
2 pounds sea scallops
2 tablespoons olive oil
4 tablespoons butter
4 garlic cloves minced
2 tablespoons fresh lemon juice
2 tablespoons minced parsley
pinch red pepper flakes
salt
fresh ground pepper
Instructions
First, remove the side muscle, rinse in cold water, and pat scallops dry with a paper towel. Season them with salt and pepper on both sides. Next, heat a pan over medium-high heat. Add 1 tablespoon of oil to the pan. When hot, add the scallops to the pan. Do not overcrowd the pan. Cook in batches if needed. Cook on one side, 60-90 seconds. Flip and cook for another 60-90 seconds. Remove from pan. Repeat until all scallops are cooked.
Last, reduce heat to low. Add butter, garlic, lemon juice to the pan. Stir, scraping up the brown bits on the bottom of the pan, for 1-2 minutes. Sprinkle with parsley.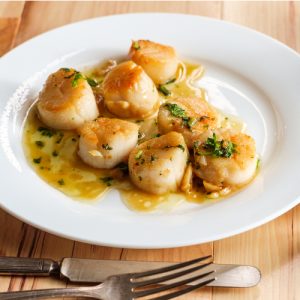 You can serve these over pasta, orzo, polenta, or rice. We try to limit our pasta intake so I served it with cauliflower rice.
Miso-broiled Scallops
One of the many beauties of scallops is they do not take long to prepare. Combine ½ cup white miso with 2 tbsp mirin (saki or dry white wine are good substitutes if you do not have mirin). Whisk until smooth and then add in ½ cup minced onion, a pinch of salt, and cayenne pepper. Let the scallops (1 ½ lb) marinate for 10 minutes. You can also cover and refrigerate for up to a day.
Then all you do is heat the broiler (or grill) and broil without turning for 3-5 minutes and then turn once. You will need to have the rack close to the broiler.
Why Miso?
I'm a big fan of using Miso in many of my dishes. No doubt if you watch any cooking show, you will hear chefs or judges stating they like the umami flavor in a dish.
Basically, umami's taste is not one of the more well-known tastes of sweet, sour, bitter, and salty. It is a combination of salty and savory. I remember growing up and going out to dinner with my family at a Chinese restaurant. My mom would always ask them to omit the MSG. That led to a negative connotation when in fact, it is one of the most common amino acids in our bodies and essential for vital body functions.
In cooking, you can achieve this flavor by using soy sauce, aged cheeses, cured meats, anchovy, fish sauce, sauerkraut, or, in the recipe above, miso.
Scallop Ceviche
If you have not tried ceviche, you are missing out on an amazing Peruvian dish. Traditionally, it is made from fresh raw fish that "cooks" in fresh citrus. Some will use snapper, bass, or another fish fillet. No matter the fish of choice, make sure you are getting fresh fish. I prefer to use shrimp and scallops. Commonly lemon or lime is used and spiced with chili peppers and red onion as well as garlic, sea salt, cilantro, and black pepper.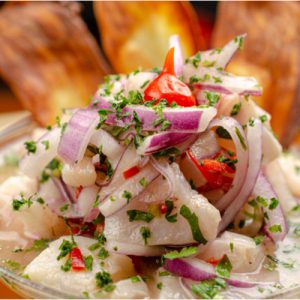 I have tried many different ceviches, some made with coconut milk. I think recipes vary based on region. While it originated in Peru, you will now find preparations vary based on what Latin American country you are in. We had the most amazing ceviche in Athens, Greece made with Amberjack and pickled vegetables. As you can see, there are many new interpretations for ceviche.
Cut your fish into ½ inch pieces.  I add in chopped red onion, cucumber, tomato, garlic, parsley, cilantro, sea salt, and black pepper.  You can combine these in a bowl. In another bowl, combine ½ cup fresh lime juice and ¼ cup lemon juice, ½ tbsp sherry vinegar, and 1 tbsp extra virgin olive oil. I like to add jalapeno to mine. Some will also add avocado. Unfortunately, I am allergic to avocado so that gets served on the side.
In my experience, you will want to allow 3 -4 hours for the seafood to cure and the flavors to marry.