HaveUHeard.com includes links to third-party websites and advertisements for third-party products and services. Product and service-specific opinions mentioned within the content of our blogs are entirely the opinions of the HaveUHeard.com team and its staff. It is our hope that you will find value in the products and services these third-party organizations represent, and patronize these businesses. Such advertising and marketing partnerships help make our efforts at HaveUHeard.com possible. Thank you for your support and ongoing interest. For additional information, please read our full HaveUHeard.com Disclosure Statement
It's All Greek To Me
Greece has been on my bucket list since 2005 when I saw the movie The Sisterhood of the Traveling Pants. Furthermore, as a pescatarian and someone who has a Mediterranean eating regimen, I could not wait to try their food.
Coordinating with my daughters was definitely complicated. When you have to take into consideration their work and college schedules it is challenging to find 10 days that everyone is available. Luckily we were able to synchronize our schedules. Ironically, many friends have been to Greece that year prior so we were given a lot of recommendations. In addition, my daughters had suggestions from their friends. Sidenote: It is so surprising to me how many young adults are traveling to European and Asian cities. I am envious of their globetrotting lifestyle. In hindsight, I wish I had traveled more when I was in my twenties.
Planning Your Trip to Greece
Because we only had eight days to visit three cities in Greece, we decided to fly to Athens and spend one full day there. We also would be flying back to Athens at the end of our trip for our return to Florida so anything we missed out on, we'd have time to revisit.
Athens, Greece
We stayed at the Hotel Grand Bretagne which is centrally located.  Not only is it a beautiful old-world elegant hotel but they also have a rooftop restaurant with amazing views of the Acropolis.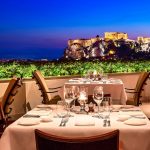 It is difficult to articulate what it is like eating on the roof of a restaurant with the Acropolis and Parthenon off in the distance but visible from where we eat. I would encourage anyone visiting Athens to make a reservation well in advance whether a guest or not. It is expensive, but we do not typically eat at high-end restaurants.
Because we like to have a guided tour in the large metropolitan cities we visit, we found the website This Is Athens With A Local which offers to match you with a local, free tour guide. We were got matched with George, an older retired gentleman who was filled with historical and current knowledge. George explained the high unemployment in Greece. In fact, he got most of his training working for the Royal family in London.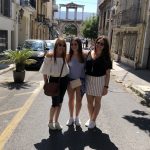 We communicated with George in advance and decided we would explore Athens neighborhoods with him. You can visit the Acropolis, Parthenon, Athens flea market, and the Plaka district on your own. George took us to local places we would never have found on our own (please tip these volunteers). He was passionate and personable even with my young adult daughters and absolutely endearing.
My daughters and I have a fairly simple rule when we are picking out cafes while traveling. We call it the "South Beach" rule as one of our observations about the restaurants on Ocean Drive in Miami Beach is every restaurant has the exact same laminated menu and is very touristy. We saw the same thing when we went to the Isle of Capri and in San Francisco near Fisherman's Wharf. But because we had time constraints and wanted to fit in our visit to the Parthenon, Acropolis, and other local places, we ended up at exactly that type of restaurant. No matter, the Greek salad, grape leaves, and tzatziki were amazing and we were really just looking for something to tide us over until dinner.
We did try to get into A is for Athens rooftop bar but it was too crowded and we did not make a reservation. Plus, they require you to spend a hefty amount to even sit at a table. In actuality, you are paying for the views. So while we were unable to get a table, we did have a drink at the bar. With this in mind, if you want to get a great view of the Acropolis and don't mind the price, make an advance reservation.
Restaurants
Dinner at Scala Vinoteca. This was our first dinner in Athens and we had made an advance reservation. The food was almost too beautiful to eat. We had the Amberjack ceviche with citrus fruits sauce and pickled vegetables and of course a Greek salad (because when in Greece) and several other starters. It's how we eat – just pick a bunch of appetizers and starters so we get a sampling of many items.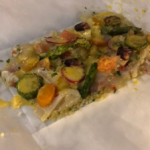 As a recommendation, if you are going to other islands, book evening flights so you can have a full day in each city.
Mykonos, Greece
We stayed at the Belvedere Hotel Mykonos and would strongly recommend staying here. Before we even arrived, we received emails from the concierge about arranging transportation from the airport. From the moment we arrived, we were treated wonderfully and given a tour of the hotel and its amenities. Our room (a junior suite) was perfect for the three of us. It is easy to get around the town of Mykonos from this location.
Both the concierge and the entire staff went above and beyond recommending various beach clubs for us to visit. They also booked a private yoga session. If you love yoga, it is an unbelievable experience being outside in a calm, serene location. Like here, most European hotel stays include a complimentary breakfast. I recommend taking advantage of their gorgeous pool area and covered cabanas. If you are looking for a boutique-style hotel, it is a perfect choice.
As we were checking out, I could not help but notice two English-speaking men wearing what looked to me like championship rings. Turns out one of them was Rick Pitino who now coaches Greece's senior national team.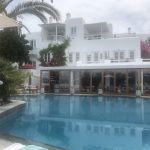 Things to Do
We spent our first day exploring Mykonos and going to Little Venice to see the windmills, and the shops, and get a feel for the island. It is fairly easy to navigate as it is in the main part of town so you can walk everywhere.
We did take a private outdoor yoga class early in the morning which for me was a great way to breathe in the fresh Mediterranean air and start my day off (my daughters had gone out drinking the night before so this was not one of their finest moments).
Further away from the town, you will find various beach clubs. You may have heard that Lindsey Lohan has a beach club. They range in price and ambiance (during the summer months, a lot of DJs perform at these clubs and many attract celebrities, models, and hardcore clubbers).
We went to Alemagou Beach Club which had a bohemian feel and was very laid back. While we were sitting and having lunch, my daughter's friends happened to walk in and catch our eye; they were honeymooning in Greece which we knew but what are the odds of ending up at the same beach club at the same time? We ended up having drinks with them before renting a beach bed and moving our day to the sand.
Mykonos Restaurants
Pepper Souvlaki – amazing souvlaki pita. They put the fries in the pita. We've actually recreated this lunch to bring Greece into our home during the quarantine.
Santorini/Thiros, Greece
After three days in Mykonos, we took a ferry over to Santorini. Be careful with booking a ferry as our time changed so what was supposed to be a high-speed trip turned into a multi-port stop making our travel time more than double and causing us to have to rearrange our transportation which we had already booked.
I tend to get a little discombobulated in situations when I do not speak the language. Additionally, I was already a little anxious upon learning that there are drivers that may harass you and take advantage of you financially. Fortunately, I had arranged transportation through our hotel and the concierge was able to help us out even after I messed up our arrival time.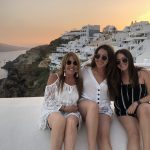 When you arrive in Oia Village, you have to walk down the marble avenue to your hotel. It was recommended that we stay in Oia over Fira as Fira is a more laid-back, livelier village with more nightlife and Oia is more luxurious with high-end shopping. I did not care about shopping; we just wanted a quieter place to stay. Oia is definitely quiet starting around 10 pm and you will barely see anyone walking down the avenue. However, here you will see the white churches with bright blue domes and the white houses with a touch of blue or pink that you see in pictures. If you're looking for those picturesque views of Santorini, Greece, then we recommend staying in Oia.
They build many of the hotels and restaurants on the cliff; you literally walk down outside stairs to get to your room. There are no railings to hold on to and I was a bit tentative at first.  Our room is 30 flights down but you really do get accustomed to it quickly. On the positive side, they include morning breakfast and serve it on your terrace overlooking the Aegean Sea. One less climb to do.
I recommend you do a virtual tour of their rooms. We found the CANAVA 1894 suite which had both a king bed and a separate queen-size bedroom with two separate bathrooms, a kitchen, and a living room. It was perfect for the three of us.
Things to Do
One of the recommended excursions is to climb down the 214 stairs to Ammoudi Bay, where they filmed part of The Sisterhood of The Traveling Pants. Toward the bottom, you can take a donkey ride (walkers beware of donkey dong on the steps). The climb down is very steep and somewhat slippery when wet. As much as we wanted to head down to Ammoudi Bay, we watch as several guests slip onto the wet marble steps. We decide to taxi it down for lunch.  If it is not wet, and you wish to take the 300-step descent, we hear it is great.
For our second day, we booked a sunset cruise on the Caldera Yacht. The excursion starts from the old port of Ammoudi.  Our visit stopped at Thirassia Island, Palea Kameni, the Black Rock of the Indian, White Beach, and Red Beach. You do get to swim at the famous Hot Springs; remember that white bathing suits may turn yellow from the sulfur from the Volcano. We shared the excursion with a group of about 10 other people from all over the world.
It is interesting to note their idea of a barbecue dinner. It is not barbecue in the sense of American barbecue but equally as delicious. Our meal included seafood, chicken fillet, salads, and an open bar with local white wine, beers, beverages, and fruits. Our cook made the most delicious fava bean stew.  Even though I did try to replicate this meal back home, I haven't quite come close. This was one of our favorite things we did in Greece.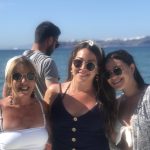 We also spent one day hiking from Fira to Oia. When my daughters first mentioned the idea of hiking, I honestly had a hard time visualizing what they meant. First, you take the local bus over to Fira. Next, look for a marked path for the hike. Unbeknownst to me, the hike takes you along the caldera cliff through various small villages. Part of the hike is similar to a sidewalk (not a lot), some are cobblestone and some are dirt paths. Some are so narrow with nothing to hold on to. That, by far, is one of the more scary sections as there is little room for error. Conversely, if you prefer a less steep hike, I recommend reversing the direction and hiking from Oia to Fira; that is what we have been told.
We saw some people doing the hike that just had no difficulty at all; I am in relatively good shape and there were sections that had to pray to make it safely to the next section. The whole hike took us about five hours (it is about 6.5 miles). When we got to the end, I admit I felt a sense of accomplishment (and relief that we made it safely). Toward the end of the hike, there are locals that will offer a paid donkey ride.  We did not opt to do this because it seems cruel. Note of caution: you will have to look down when walking then so you do not step in donkey dung.
Some tips: Bring a frozen bottle of water and an extra bottle to drink along the way because the shops are not always open. Leave early because it does get hot in the summer by midday. Put on sunblock and wear a hat to keep you cool. Wear decent hiking sneakers or shoes with some traction.
Restaurants
Sunset Ammoudi – here you can pick out your fresh catch and they cook it for you.
Domaine Sigalas – I strongly recommend booking this winery in advance because we were only able to get a table outside. If is brutally hot out, the sun will beat down on you and there may not be any wind or shade.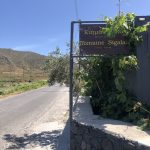 Additional Information
Traveling with friends can be complicated, especially during a long trip. So too can vacation with your adult kids. But we had an open, honest dialogue and determined we were compatible. Here are my suggestions for the top 10 travel item recommendations. And, we all know how chaotic traveling is today. I'm sharing tips for Dealing with Chaotic  Air Travel.
If you have any other questions about Greece, send me an email. From the planning to places to go, I am happy to share our Greece intel!
Pass on these great tips, tell your friends, and like us on Instagram,  TikTok, and Pinterest.