HaveUHeard.com includes links to third-party websites and advertisements for third-party products and services. Product and service-specific opinions mentioned within the content of our blogs are entirely the opinions of the HaveUHeard.com team and its staff. It is our hope that you will find value in the products and services these third-party organizations represent, and patronize these businesses. Such advertising and marketing partnerships help make our efforts at HaveUHeard.com possible. Thank you for your support and ongoing interest. For additional information, please read our full HaveUHeard.com Disclosure Statement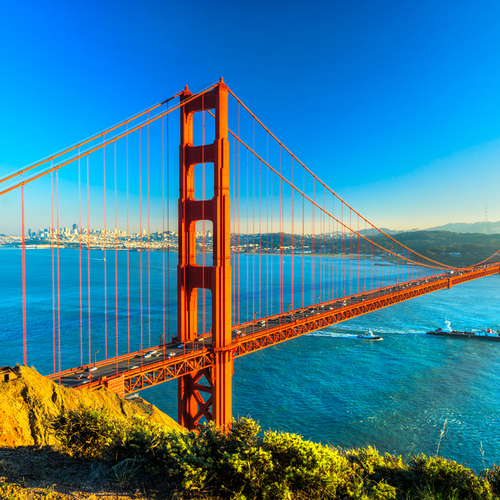 From California to Seattle and onto Oh Canada
Looking for a vacation, but have minimal time to travel? Our west coast wandering took us to California, Washington, and Canada as you don't lose any days due to time changes. Thought we would try out the West Coast, Best Coast saying for ourselves.
Scheduling & Planning
By the time we were able to coordinate dates that worked one of my daughter's work schedule and other daughter's college schedule, we only had a small window which is how we ended up choosing to head to the west coast and visit California, Washington, and Canada.
We talked about how beautiful our country is and that my daughters had not seen a lot of the west coast; I traveled for business when I was younger so I've been to California many times but not in a very long time. We decided our west coast trip would include San Francisco, Seattle, then on to Victoria, B.C. and ending in Vancouver.
It definitely took a lot of coordination between airlines and flights and ferries; I wrote everything down on paper so I wouldn't make a mistake (which I did anyway). And, as we now do for all of our travels, we had a google doc with places we wanted to see, restaurant and bar recommendations, and shops to visit.
San Francisco
Our first stop was in San Francisco for three nights. Because I love boutique hotels and I am not a huge fan of staying in touristy areas (aka Fisherman's Wharf), we chose Hotel Drisco in the Pacific Heights section. It is atop a hill so when we ventured out to walk, it was a huge change from the flatlands of South Florida. It is a historical beautiful hotel not far from many really cool neighborhoods.
Of course, I had planned to go over to Fisherman's Wharf, Pier 59 to see the sea otters and Lombard Street and have my daughters experience some of the more iconic San Francisco places but we really like seeing the hipster neighborhoods, like Haight-Ashbury, more than anything else. We also loved going into the local boutiques on Sacramento Street and Fillmore Street. And, of course, we had to go see the house from Full House, a show we watched when they were growing up.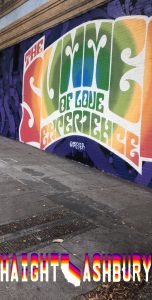 Restaurants we loved:
The Tipsy Pig – located in the Marina/Cow Hollow/Presidio section of San Francisco. This is a gastropub. We were only able to get a seat at the bar which worked for three ravenous women so I would suggest making advance reservations. It is very close to Union Street in the Cow Hill section which caters to a younger generation.
Bar Crudo – Of course, we were going to find a place to order oysters and small bites -it's our favorite way to eat.
Waterbar – Considered one of San Francisco's top seafood restaurants, it is located on the waterfront of San Francisco's Embarcadero and features panoramic views of the bay, Bay Bridge, Treasure Island, and the San Francisco skyline. We came here for lunch after walking around San Francisco.
Wineries
We did take one day to go visit the wineries. I am fortunate in that I know someone who works in the business and they were able to get us reservations at three wineries. I had made arrangements through Trip Advisor for a driver for the day (safest way to visit wineries).
We went to:
Del Dotto St. Helena Estate and booked the St. Helena Estate Cave Experience & Barrel Tasting in St. Helena
Robert Mondavi– Our friend arranged for a VIP tour of the winery with a wonderful curator. We truly enjoyed his informative presentation and learning about the Mondavi family history.
We stopped and had lunch at a quaint restaurant along the way called Goose & Gander.  It is located in Walter Martini's historic 1920 bungalow.
Seattle
We flew out the next day to Seattle. I will caution travelers to plan for flight changes. While we were walking around San Francisco, we received four notifications of changes first with delays and then back to original flight time; by the time we were en route to the airport, another flight delay notification came through and our flight was delayed for four hours (time we could have spent in San Francisco). We tried to get on a different flight that had space but because our luggage was already checked in, they would not allow us to change flights. We spent this time sitting at a bar annoyed that we were losing valuable time.
We arrived in Seattle too late to do anything except call in for a pizza. We picked the Inn at the Market hotel as my parents had stayed there and insisted that we stay there as well. It is literally a block from Pike Place Market. We completely got drawn in by the mongers tossing fish (video) and ended up shipping home 10 lbs of salmon.
Of course, no visit to the west coast is complete without a visit to the The Gum Wall, a brick wall covered in used chewing gum that is a local landmark (can you sense my sarcasm? Instagram creates some strange landmarks)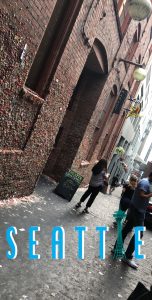 Restaurants
Biscuit Bitch – went to take out as we had heard the food was great as was the ambiance.
Rachel's Ginger Beer – We stopped at the location by Pike's Place, not because my daughter's name is Rachel although that did not hurt. We really enjoyed their Ginger Beer.
Six Seven Restaurant – We chose this restaurant because of its views of Puget Sound and the mountains. If you book in advance, you may be able to get a table outside on the balcony which wraps around the restaurant. They have amazing seafood.
Umi Sake House – This was recommended to us by some friends of my daughters and it definitely was the way to go – Japanese tapas does not disappoint.
Places to visit:
Chihuly Garden and Glass – an exhibit in the Seattle Center showcasing the studio glass of Dale Chihuly.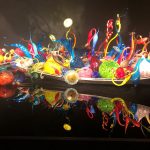 Nordstrom – This is one of the flagship locations. Growing up, before we had a Nordstrom in our city, my mom would rave about this store so when she found out we were going to Seattle, she insisted we go to this location. It did not disappoint for my daughters and me.
Bainbridge Island – We took the ferry over and walked around this small charming city. You can walk on some of the trails, shop in the local boutiques, or grab something to eat. I don't think we really spent enough time exploring due to time constraints.
Starbucks Reserve Roastery & Tasting Room – If you love coffee (or even if you don't), you should stop by this enormous location. Try one of their coffee-inspired cocktails – like an espresso martini.
Gasworks Park – this park is located on the site of the former Seattle Gas Light Company plant. It is a popular place to go to see the sunset.
Victoria, B.C.
Continuing our west coast adventures, we arrived in Victoria by ferry which I booked through Clipper Vacations and took a taxi to Abigail's, a bed-and-breakfast, adults-only boutique hotel housed in a 1930's Tudor mansion. It was very close to the downtown area. They have no elevators so if you have mobility requirements, this is not the best option.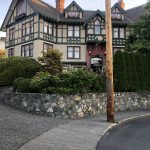 Our stay included a delicious breakfast and they had complimentary appetizers each night (we were only there for one night). Many people may choose the more popular Hotel Fairmont Empress which is iconic and we did go look, but I wanted a different type of accommodations and was impressed by the reviews (which I also left a review after our stay).
We loved walking around this quaint town and would highly recommend you take the bus to Butchart Gardens, where you will see beautiful gardens fashioned after Japanese Gardens, Italian Gardens, Rose Gardens, and other plants at this National Historic Site.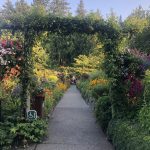 Restaurants
Make sure to take a walk through the many alleys and squares where you may stumble upon a local artisan craft show and the many shops and restaurants.
Perro Negro – If there is a tapas bar to be found, we will find it as it is one of our favorites. This one brought back memories of our trip to Spain the prior year with boquerones, patatas bravas, baby sardines, and octopus.
Chocolats Favoris – I scream, you scream, we all scream for Chocolats Favoris ice cream. I'm not an ice cream person but my daughters are so naturally we stopped in as they made their own creations. Or grab some of their homemade chocolates, gelato, and other dessert treats while in Victoria.
Vancouver
We flew West Jet from Victoria to Vancouver as the ferry would have taken too long and stayed at the Fairmont Pacific Rim hotel. It is a beautiful hotel in the downtown area and a block away from the harbor where many of the cruise ships come in. We stayed for two nights and three days in Vancouver.
Our stay included daily breakfast, evening canapés, and a private terrace with panoramic views. I had booked in well in advance so I don't think I recalled upgrading our stay but it was a very welcome end to our vacation.
Capilano Suspension Bridge – A visit to Capilano Suspension Bridge Park was definitely on our radar. We took public transportation to the park and explored Treetops Adventure, a series of seven suspension bridges before crossing the Capilano Suspension Bridge. If you are afraid of heights or some swaying of the bridge while walking across, you may not want to try this. It is 450 feet long and 230 feet above the river. They do ask that guests not jump but try convincing a young child not to do this. We were glad we could say we made it but it was a bit unnerving.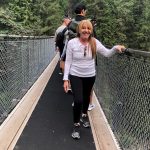 Once we got back to our hotel, we decided to rent bicycles and head to Stanley Park.
Stanley Park – Stanley Park is Vancouver's largest park. When we decided to rent bicycles (Mobi bikes), we had no idea that the bike path went in one direction. It makes a circle following the Seawall which takes about an hour by bike. By the time we made it back from our 5.5-mile bicycle ride, we were definitely ready to clean up and get dinner.
Gastown – We spent a morning walking the cobblestone streets, stopping in some of the boutiques, and visiting the world's first Historic Steam Clock.
Yaletown – we went to Yaletown because we wanted to catch the aquabus over to Granville. Located in a former warehouse district, it is a fun place to walk around and discover some shops, cool restaurants, cafes and just people watch. One of my favorite things to do when traveling is to discover some of the smaller sections of a city; not only is it filled with history but it tends to be vibrant and filled with eclectic shops and restaurants.
Granville Island – home to the Granville Public Market, it is a peninsula and shopping district that you can access by taking an aquabus, car, bike, or bus. We wanted to get the whole experience and were going to Yaletown so we took the aquabus which is pretty inexpensive (about $4 a person) Once there, you can explore the public market (we love markets and bought flavored salt and some other food gifts that we could travel with.
Restaurants:
We packed a lot in 10 days but it gave us the opportunity to visit four cities on the west coast. I would definitely return to west Canada during the summer; Banff is on our travel bucket list down the road.