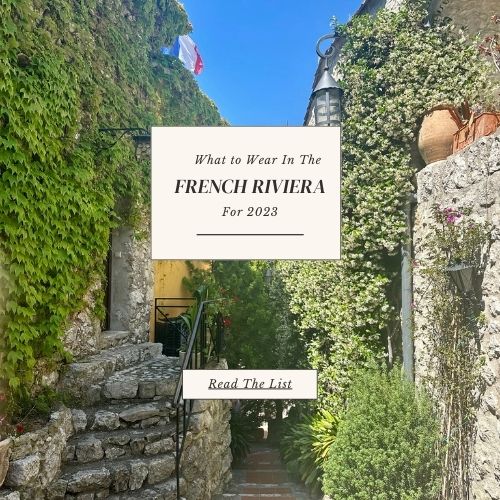 Chic and Practical Outfit Ideas for Every Occasion
When you think about what people wear while vacationing on the French Riviera, the words glamour, elegance, and sophistication come to mind. The stunning stretch along the Mediterranean Sea is an irresistible destination for many seeking its beauty and charm. When dressing for a French Riviera vacation, you'll want to balance style and practicality. We share everything about what to wear on the French Riviera to ensure you look chic while navigating cobblestone streets or lounging at a beach club.
French Riviera Fashion
Our outfit recommendations are perfect for hot European summers if you are traveling to the French Riviera, Greece, Italy, or Spain. Stick to cotton or linen dresses, lightweight pants, and shorts. White is always a good option. For shoes, we found many wearing sandals or sneakers. Walking cobblestone streets in heels is challenging, but if you must (we did), go for block or platform sandals.
Pinterest,  TikTok, and Instagram are filled with inspiration. When visiting another country, we pick outfits based on blending in with the locals but also wearing clothes that are comfortable for us.  While out shopping for some new outfits, I saw the store Club Monaco. I had never shopped there before but thought, "I'm going to Monaco so why not look?" I ended up finding some really nice linen outfits that were my style.
The fashion that stood out most to us was more neutral colors with some color. Linen is huge as are pleated shorts or pants, oversized white shirts, floral midi dresses, and slip dresses. And most women wear white sneakers, sandals or espadrilles.
Beach Essentials
Beach clubs are crazy popular in the French Riviera. Many do not take reservations, and getting a lounge chair or bed is challenging. Fortunately, bathing suits take up very little space. We spent two days at Ruhl Plage in Nice. You can spend over six hours at one club, basking in the sun, eating lunch, and drinking a Rose or an Aperol Spritz.
Naturally, my selections differ from my daughters, so I'm sharing suggestions for moms and their daughters. Many beaches along Côte d'Azur are rocks, so you may want to bring water shoes.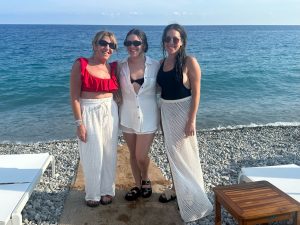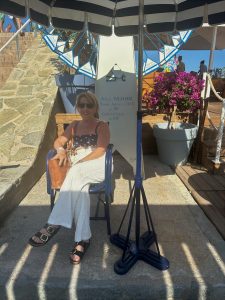 Shell Embroidery Bandeau Bikini Top and Bottoms/Ruffled Bikini Top and Bikini Briefs/Crochet Top Beach Cloth Shirt Cover / Scoop Neck Cut Out Front Lace Up Back High Cut One Piece Swimsuit with gold waist chain /One Piece Swimsuit/White linen shirt / White gauze beach pants/Woven straw crossbody/sporty silhouette sunglasses/Cotton String Mesh Bag/water shoes
Outfits for the Côte d'Azur
We spent our time strolling along Promenade des Anglais, climbing the narrow pathways in the quaint village of Eze, and wandering through the streets of St. Tropez and Monaco. You can mix and match your pieces for casual and dressy looks. Marseille is more on the casual side. For Aix-en-Province, we kept to dresses.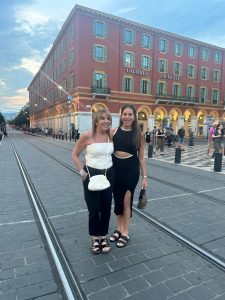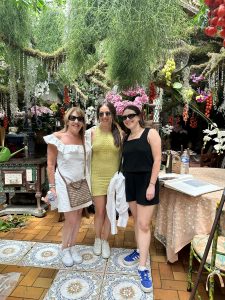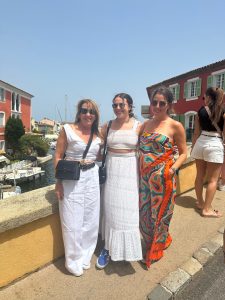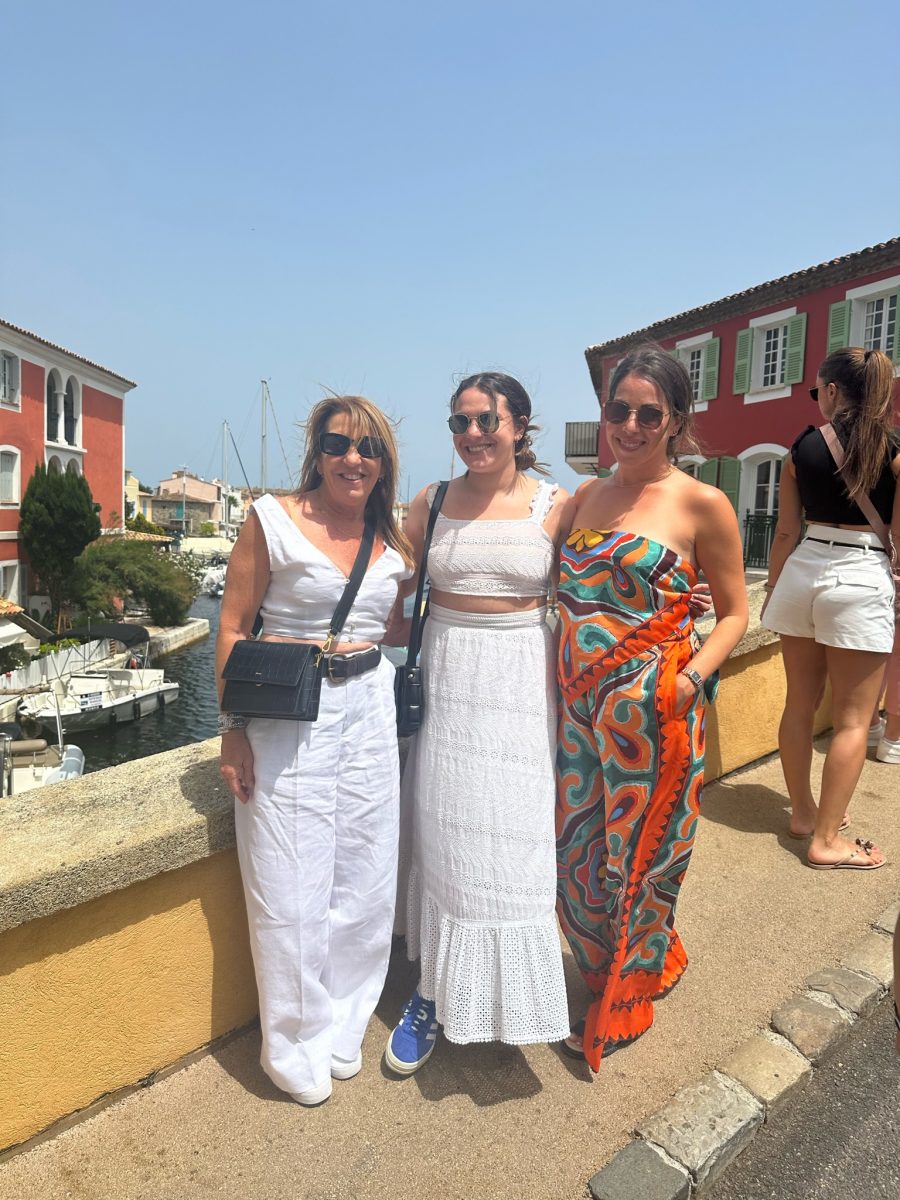 Additional Clothing
Some of the outfits we purchased for this trip are sold out. I'm sharing because the stores we bought them from have similar outfits.
Linen-blend black wide strap mini dress
Tiered Maxi Skirt and off-the-shoulder poplin top
Aqua Embroidered Eyelet Long Sleeve Top and Shorts
Strappy Bodysuit – black and white
Comfortable and Fashionable Footwear
Birkenstocks – Arizona High Shine Black/Gold
Cariuma triple white leather premium sneakers
Larroudé Ivory Milan Block Heel Sandal (Women) – Whether elevating an outfit or wearing shorts, these shoes are beautiful and comfortable. I love them so much, and I recently purchased the flats in brown. You can get them at major high-end department stores like Bloomingdales. I purchased mine directly from Larroudé. 
Adidas Gazelle Bold Platforn sneakers
Double buckle sporty leather slides
Retailers We Shopped
Bon Voyage
Remember that effortless style is key when it comes to what to wear in the French Riviera or any Meditteranean destination. Embrace the timeless chic of the region by opting for lightweight fabrics and breezy silhouettes that will keep you cool and comfortable in the Mediterranean sun. Don't be afraid to add a touch of glamour with statement accessories or bold prints that reflect the vibrant energy of this glamorous destination. Whether strolling along the Promenade des Anglais or sipping cocktails at a beachside café, let your fashion choices mirror the sophistication and style synonymous with this enchanting coastline. Pack your suitcase with confidence and embark on an unforgettable journey. The French Riviera awaits you, ready to embrace your impeccable sense of style as you create memories that will last a lifetime. Bon voyage!
Pass on these great tips, tell your friends, and like us on Instagram,  TikTok, and Pinterest.