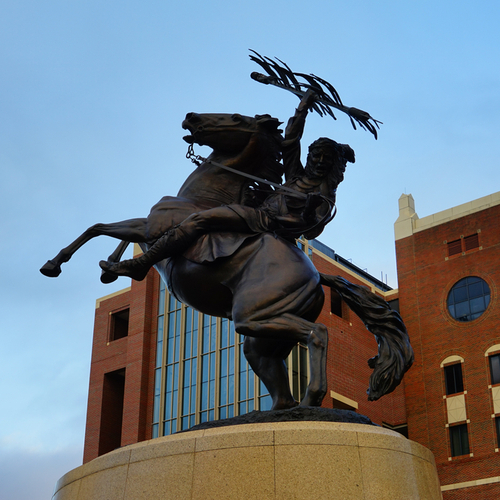 We Still Love to Visit Our Noles
Let's face it, these are odd and crazy times! Things look very different at FSU this semester but one thing is still for sure; we all still love to visit our Noles and they love visits from us. There are plenty of different food options that offer outside and patio seating, are operating at 50% capacity indoors, and others provide pick up or delivery to adhere to and cater to potential COVID-19 related concerns. Check out some of these places to eat.
Dining
Outdoor Activities
There are also many outdoor activities to participate in to make memories in a safe and socially distanced manner.
Watch the FSU game at a local bar Brass Tap Beer Bar, Proof Brewing and World of Beer all of these places offer outdoor seating as well. They have great food and offer multiple specials on game days. Nothing like an early happy hour and a Nole win.
The Rez – No student should leave Tally without having experienced The Rez. FSU's Reservation, a 73-acre facility, and several fun activities, most of which will be free for FSU students, but is open to the public. Admission for non-FSU students is $1 for children ages 6-15 and $2 for adults. Take a dip in Lake Bradford or rent a canoe, paddleboard, kayak, or even a sailboat. Sailboat rentals, however, require attendance to at least one schedule sailing clinic, $10 for FSU students, $20 for non-students. If you're looking for a fitness challenge, make sure to check out the 40-foot on-site climbing wall (must have closed-toe shoes), or you can join a game of sand volleyball, disc golf, or spikeball. Alcohol and pets are prohibited.
Thomasville – One of my favorite things to do is visit Thomasville. It is a quaint little town just over the border in Georgia, only about a 35-40 minute drive. Think Mayberry, but with some adorable shops and a few noteworthy restaurants.
Madison Blue Spring – Have you ever gone tubing? Well, it is a blast! A little over an hour from campus, where you can bring your own or purchase a float from a private vendor located within the park May through September weekends only. Don't bring food, drinks, pets, tobacco, alcohol, or disposable items though.
Tallahassee has quite a few beautiful parks for hiking and outdoor activities, but we haven't visited them all.  Perhaps you are looking for some fishing, horseback riding, canoeing, camping, hiking, cycling, leisurely walks, and wildlife photography.
Okaloacoochee Slough State Forest – Experience 30,000 acres of beautiful scenery. However, make sure you're aware of forest rules and areas, as hunting is a popular activity in the forest. By the way, the family pup can even join you as long as they are on leashes.
Lake Talquin State Park – A smaller public park on the shores of 10,000 acre Lake Talquin, named for the neighboring cities of Tallahassee and Quincy (get it, Talquin). Visitors can enjoy canoeing, kayaking, and freshwater fishing on the lake a dock, and boardwalk. It's a beautiful place for a picnic or a walk along the nature trail. You are sure to see plenty of wildlife along the way but beware of bears. Leashed pets are permitted here too. Admission is a $3 fee per vehicle.
Alfred B. Maclay Gardens State Park – Also located in Tally, but the difference is that this park is better known for its floral architecture. The same sorts of activities are available; canoeing, kayaking, fishing, swimming, and boating (electric or no motors only). There are two nature trails for walking and biking. There is a $6 fee per vehicle and the gardens are free unless you are visiting during the high blooming season, January 1-April 30.
The Pepper Ranch Preserve and the Bird Rookery Swamp have beautiful gardens but are also nice for hiking and walking trails.
Regardless of how you choose to visit your student this school year, we hope you make the most of your time with them in their college town by seeing their favorite places (via walking or driving), meeting their friends, and catching up on all the fun times they are having. Pass on these great tips, tell your friends and like us on Facebook, Instagram, Twitter, and Pinterest. Find out more about how to use HaveUHeard as a great resource. Sign up for other great tips at haveuheard.com.