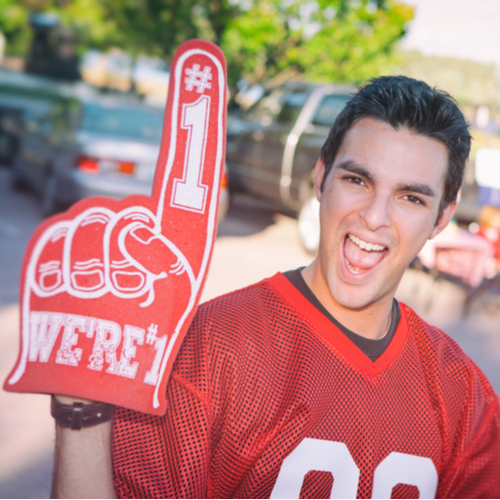 Early Bird Gets the Weekend Deals
My first experience with Parents Weekend meant booking a hotel a year in advance except, as it was my daughter's freshman year, I missed the memo which is why I will encourage everyone else to book reservations for parents weekend in advance or you may be staying at a not so nice hotel outside of town. (Our blog on hotels may help.) Why do we race to find a hotel as soon as possible?
Hotels in Bloomington, and anywhere within a twenty-mile radius, will sell out in minutes for this weekend. Prices will be inflated tremendously (as they are for all football weekends), but it never hurts to remain hopeful that there will be some fabulous deal. Although my eldest daughter and I both went for Parents Weekend and had a great time diving into life as a Hoosier, it is equally as fun on other random weekends and much easier on the budget. Staying close to campus allows you to walk or Uber everywhere as parking can be limited and creates the opportunity to explore Bloomington.
I am not trying to deter you from this great event but rather to let you know that you will enjoy Bloomington any day of the year. Family Weekend is the weekend 2020 has been postponed until spring, however, IU says they will introduce ways to connect with families virtually throughout the semester.
The best part of it is getting to see your child in their new role at their new home with a new sense of independence. It feels great to have them march around campus with confidence and introduce you to new friends.
What to do
There is so much going on during Family Weekend, but to be honest, I feel like we barely scratched the surface as there are many many things to do.  The football game is a pinnacle of the weekend. My first football game was also my first Family Weekend and I will never forget it. The excitement surely lives up to the hype. The University will contact you closer to the date and offer a schedule of events for the weekend.
Student football tickets are $15 with a student ID, but for Family Weekend, we were able to buy tickets through the IU Parents Association which offered a promotional code for family discounts. My daughter outfitted us with cream and crimson and got us to the game early to enjoy the festivities. It can be hot, so dress appropriately!! We've got recommendations for some great IU gear from sweatshirts, hats, and tees to just about anything you could want with an IU Hoosier logo.
Have U Heard that IU has a Clear Bag Policy for football games? I have been to many games at Memorial Stadium over the past few years, and there is always a student or a parent toting a handbag, backpack, or camera bag that doesn't pass muster. Very small clutches measuring 4.5" x 6.5" (about the size of a hand) are allowed. Or you can go the chic accessory route and tote all your stuff with a permissible clear bag from Score Gameday bags. (Use the code HUH15 for a 15% discount. Why not have a clear bag that still has IU style?)
Throughout the weekend, the university hosts Student Life Seminars, concerts, theatrical productions, tours of historic buildings on campus, and much more. Surprisingly both my girls offered to partake in a visit to one of the oldest buildings on campus that offered a variety of desserts while faculty took us on an engaging tour of the building's history. If your son or daughter is a member of a fraternity or sorority, there will probably be events to attend throughout the weekend at their respective houses too.
Where to Eat
There are many great places to eat near campus. Check out our blogs for breakfast, brunch, lunch, or dinner for some great suggestions.
Pass on these great tips, tell your friends and like us on Facebook, Instagram, Twitter, and Pinterest. Find out more about how to use HaveUHeard as a great resource. Sign up for other great tips at haveuheard.com.