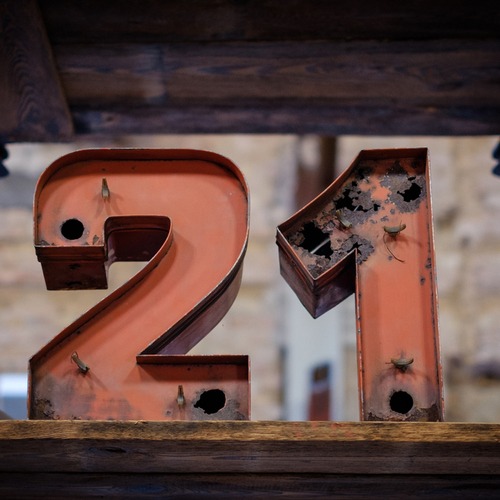 Becoming an official adult. 
My daughter will turn 21 in October of her junior year at UCF as do many students during their junior year. How fun! This birthday is often coined as pretty significant, but mostly, for college students, because they can now legally get into places that they could not get into before. Some schools have traditions that students participate in (and we don't get the opportunity to say no anymore, but we can still throw in a few "be careful and make good choices" beforehand).  

On "Sign Night," a bucket list of things to do is created by the friends of the birthday person. People use a marker to sign their signature to one's body for each shot done together. Often a bottle of champagne is popped open for the crowd from atop the bar. These are amongst the night's activities.  It sounds to me like a themed bar crawl in honor of the student turning 21. It is similar to what FSU girls call a Waltz. Not everyone chooses to have a "Sign Night" for their 21st.

Here are the favorite places that those 21 and over recommend when going out to have 21+ fun. There are many clubs in downtown Orlando that accept 18 and over, but to drink you must be 21.

Icebar – in Orlando on iDrive
Mango's Tropical Café – iDrive (dinner and a show)
Cowboys – Free admission with college ID and lots of drink specials on various nights
Tin Roof – live music on iDrive
One80 Skytop Lounge – on Church Street

Drink Around the World at Epcot –Many students Drink Around the World once they are 21 and before they leave UCF- just make sure you have a designated driver or are taking a shared ride back to UCF

House of Blues – Downtown Disney

Joysticks Arcade Bar – downtown

Chillers – is actually in the central business district on W. Church Street. Check out the dollar drinks on Wednesday nights.

Aero Rooftop Bar – open Thursday-Sunday for dancing, private cabanas & bottle service

GILT – Often you go there after pre-gaming at Pub or Liv and then there is a bus to GILT, which is a club.
Going Downtown on Thursday nights is always fun if you're 21! Some other popular places are Shots (has dessert flavored shots and daily deals), Saddle Up, Crow and Attic.

Local:

Knight's Library – referred to as Lib, a bit trashy and rowdy, but the bathrooms are kind of nice (in comparison to others)

Pub – happy hour, get there and get your barstool, walking distance from fraternity houses

Public House – on University, more for adults, not really the college scene

Bar Louie– located in Plaza

World of Beer – more for the upperclassmen, Tuesday nights are Karaoke night, Wednesday night is university night so drinks are cheaper, Sunday nights are trivia

Taco Bell's Cantina – opening soon and will sell beer, yes, beer. They will not, however, have a drive-through.

The Brass Tap – in Waterford, This bar has many events throughout the week like trivia nights, specialty beer nights or fun drink of the week

Social House – restaurant and bar, cash bingo Mondays, Taco Tuesdays, Poker Wednesdays, 90's Thursdays, half-off apps on Fridays and Saturdays, brunch Sundays

Fraternity boys may sell bands for pre-banding for events to various bars. This can save money upon entry. Pre-banding can require a wait, but it is much shorter than just going and waiting to get into most places and may include entry as well as the bus. It can vary, so be sure to check. And, as always, be careful and call for a ride when you are ready to go home. Sorry, I had to say it; it comes with my parental rights.

Pass on these great tips, tell your friends and like us on Facebook and Instagram. Sign up for other great tips at haveuheard.com.