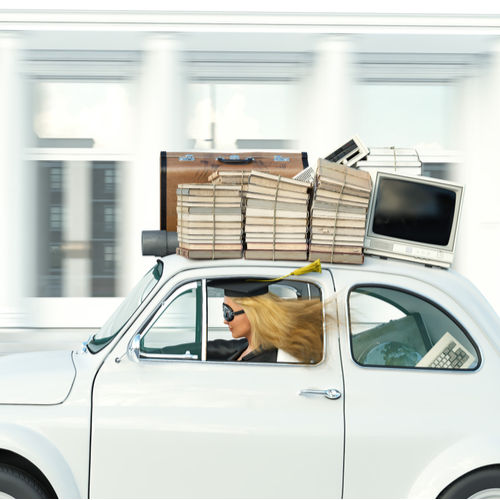 Can You Get By Without a Car?
If you have ever talked to a UCF student, you would know that the #1 complaint involves parking on campus. Whether your student is living on or off-campus, the debate still continues: can they really get by without a car?
UCF has a few shuttle services that make it easier for your Knight to get by without a car. Whether they are heading to class or the grocery store, UCF has you covered. If your Knight is looking to fly back home, the Orlando International Airport (MCO) is roughly 30 minutes away from campus. UCF offers a shuttle service called Knight Flight where they are able to shuttle all the way to the airport during the holidays. That's not all that UCF shuttles offer. You can find more information about UCF's shuttle systems in our blog, Get on the Bus.
Shuttles are very helpful for students who live both on and off-campus. Even off campus housing near UCF offers shuttles to and from campus. A lot of students prefer to use these shuttles because it usually takes between 10-20 minutes to find parking during the day. As soon as classes start, it seems nearly impossible to find parking. I often have to go through multiple parking garages before I find a free parking space. Sometimes it's easier to take the shuttles or even walk to class. UCF seems giant, but it doesn't take too long to walk between buildings.
While there are a lot of shuttle options for students, a lot of students still prefer bringing their car to school; hence the parking conundrum. Having a car on campus is not necessary, but it can limit students' ability to get jobs or internships off-campus. If your Knight wants to start applying for jobs, then having a car on campus is the way to go. (By the way, here is our blog on Working While Attending College.) Parking by the dorms on campus is a little easier than parking elsewhere on campus. This is because students who live on campus have the ability to purchase an R, RL, or KP permit depending on which dorms they live in. This is extremely helpful when hundreds of other students who live off-campus have to buy a D parking permit. R permits are for students who live in Academic Village, Apollo, and Libra dorms. The RL permit is for students who live in the Lake Claire dorms. Lastly, the KP permits are for those who live in the Towers dorms. These parking permits can be purchased for $71.92 for a decal sticker or $75.51 for a hangtag (after-tax). If you would like to purchase these decals for multiple semesters, then they will be $143.82-$151.02.  Students who do not live on campus need to purchase a regular D parking permit which can be purchased for $47.94 for a decal sticker and $50.35 for a hangtag. If you want it for multiple semesters, it costs $90.03-$94.53. We explain it all in our blog on Parking at UCF.
Here are a few helpful links that may help you decide if taking a car to school is the way to go:
These were just a few suggestions based on our experience and hope it will bring a productive conversation for you and your knight. Whatever you decide, we definitely recommend trying out UCF's shuttle options. But…if you do take your car to school, this customizable Knights license plate is really cute.
PS. Just so you know; starting July 1, students are not permitted to back into parking spots.
Shelly Massre, UCF Intern
Pass on these great tips, tell your friends and like us on Facebook, Instagram, Twitter, and Pinterest. Find out more about how to use HaveUHeard as a great resource. Sign up for other great tips at haveuheard.com.