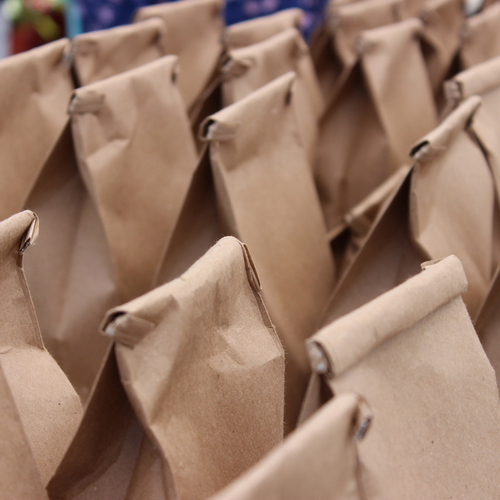 Mid-Day Munchies – what's for lunch?
The best part of lunch is the break it gives you in the middle of the day! But it's even better when you're enjoying the meal as well. Like any college town or city, there are literally hundreds of dining options in Orlando from fast food to fast-casual, from family-style to fine dining. The more time my daughter spends there, the more places to eat we have discovered. Food is a big draw for us, can you tell?
Your lunch choices will often depend upon whether you are touring with a prospective student or making a visit to your established Knight, who will undoubtedly be clamoring for a good meal. Some things to consider beforehand are price and time. It is not unusual for there to be a considerable wait at some of the more popular lunch spots – even with a reservation – during a game weekend, official tour dates, or graduation. Many of the restaurants on our breakfast, brunch and dinner blogs also serve lunch, so be sure to check them out as you refine your lunch plans.
Near Campus
Bar Louie – has you covered if you are craving a fantastic burger. Check out the "Fried Louie Burger" and don't skimp on the "loaded tots." Happy hour is pretty great too, but I only go for the upscale bar food.
Bento– ranges from sushi and poke bowls to noodles and salads. Depending on what you want it's a great option.
Blaze is a very popular lunch/dinner spot! I recommend the create your own pizza because you get unlimited toppings.
BurgerFi – right next door to our other options listed so if you're feeling a burger and fries this is the place to be.
California Pizza Kitchen – chain eatery with inventive pizza, salads, and pasta.
Chipotle – If I didn't mention this, my son would never forgive me. However, it is real food with wholesome ingredients without added colors, flavors or other additives. Have a burrito bowl, burrito, taco or salad; it is all good.
Fresh Kitchen– the line at lunch may be a bit long, but it goes quickly and it is always worth the wait. Gluten-free, vegetarian; everyone is happy here.
Hummus House – Located on University Blvd. near campus, this is a favorite for Mediterranean foods. You can create your own bowl. Gluten friendly and vegan options.
Lazy Moon – The pizza is not just delicious, but the slices are gigantic. The vegan pizza is fantastic too.
Little Greek – counter service, great gyros, pitas, souvlaki and so on.
Mamak Asian Street Food – a local family-owned restaurant specializing in Southeast Asian street food is opening a new location in the University Shoppes in September. They will start with delivery/take out and then dine-in pending the current situation.
Marlow's Tavern – Pub fare with sports on every TV
Metro Diner – relaxed American fare; something for everyone.
Panera – counter-serve chain for soup, salads, baked goods, sandwiches and more. They put the calories on the menu.
Slapfish – socially responsible, chef-driven seafood recipes at affordable fast-casual prices.
Tandoori Bowl – modern and authentic Indian
Toojay's Deli – Bakery – Restaurant  – in Waterford is also a good staple for a good deli sandwich.
Uncle Maddio's Pizza – join the assembly line to make your own pizza or salad!
Waterford Lakes, not far from campus and filled with tons of shopping, also has many restaurants. So many that it sort of needs its own heading. Here are some good choices in Waterford Lakes:
Zaza New Cuban Diner– serving traditional Cuban food including fresh-baked dulces, platos, espresso, cafe con leche, and traditional Cuban sandwiches.
Zoes Kitchen – Mediterranean fare, no microwaves or fryers, because it is all freshly made. They even have gluten-free options.
On-Campus
If you are also scoping out places for your students to eat even when you're not 'lunching' with them – because we all know they're not cooking three meals a day – you should have them check out the Pocket Points or UConnection apps. Each time students turn off their phones in class they accrue points for food discounts and deals at many restaurants around town. How smart is that?!
Eating on campus has its benefits, particularly if they live off-campus and have a full day of classes on campus, as my daughter does. Her Tuesdays and Thursdays are jam-packed and although she talks about bringing a cooler with lunch to campus, if she remembers, it generally gets left in the car. Her biggest gripe is that although there are many affordable choices; there still aren't many healthy choices conveniently located on campus. Here's what is on campus:
Burger U by the Addition Financial Arena
Chili's Grill & Bar  in the Student Union
Einstein's Bros. Bagels in the Business 1 Building and in the Education building
Jimmy Johns by Addition Financial Arena
Panda Express  in the Student Union
Pollo Tropical by the RWC
QDOBA is a really popular Chipotle-style restaurant in the Student Union
Steak 'n Shake in the Student Union
UCF Gringos Locos finally opened on campus and our Knights are excited
Which Wich in the Student Union
If you have a little more time to relax and maybe even take a little walk up and down the quaint streets of Winter Park, there are quite a few delicious places to lunch.  Of course, a trip to Trader Joe's to fill your student's refrigerator before you leave may become necessary as it is right in the heart of Winter Park too. Some of our favorite Winter Park restaurants are:
4 Rivers Smokehouse – Counter-serve barbeque at its best. Try the brisket.
Cocina 214 – Mexican restaurant, but less casual.
Prato – Italian, pizza, vegetarian friendly – all delicious.
Swine & Sons – Specializing in made-from-scratch ingredients and a special weekend breakfast menu.
The Briar Patch – There may be long lines; its popularity makes them worth the wait. Go for lunch, but try the cake too!
The Porch –You will find Southern fare including fried chicken, shrimp & grits, chicken & waffles, burgers.
Can't get out? Check into Seamless. More and more local restaurants are using Seamless; online food ordering and delivery. Easy and FREE to use.
Pass on these great tips, tell your friends and like us on Facebook, Instagram, Twitter, and Pinterest. Find out more about how to use HaveUHeard as a great resource. Sign up for other great tips at haveuheard.com.