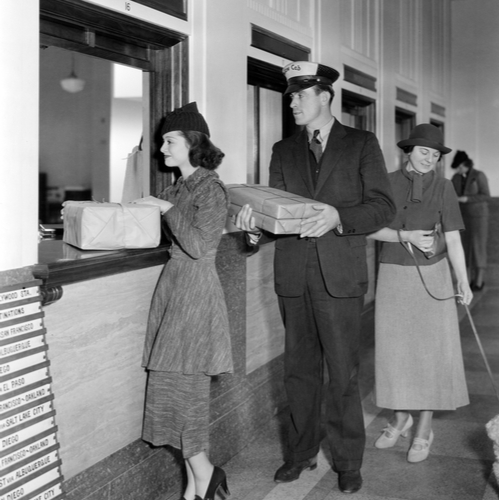 Make Sure It Gets There
There are some basics to send a package. There are many reasons that a student receives a package. Whether it is just their usual Amazon delivery or a care package for midterms or because your student is under the weather, there are a few things that will make package delivery simpler. For students in dorms, the dorm mail office should be included on the address to receive a package. The dorms all have a mail center and packages go directly to their mail center. Someone at the office signs for UPS and postal services; then students are notified when they have a package. Students can also send out mail from the mail centers but will need postage. Students can even receive food/flowers and will be contacted via the office, but packages must be picked up and will not be delivered to students' rooms or suites.
We actually recommend using UPS (or FedEx) in comparison to USPS as it is just timelier, especially for in-state shipping. Typically, if you are sending packages from one Florida location to another, it arrives in one day at no additional fee; barring any weather issues. The SPOT, located on campus, provides shipping of personal and campus departmental packages via UPS or FedEx. Packages must be in The SPOT before 3:00 p.m. for same-day shipping. CVS is now a UPS Access Point Location.
There is an Amazon store located on campus near Towers so it's also an option to send Amazon packages to this location. Items can also be returned to the Amazon store, located at 4225 E Plaza Dr. Suite E. UCF offers Free Same-Day Pickup to Prime members. Sometimes picking up from Amazon is easier than having to navigate the package delivery to dorms or even apartments.
On-campus students should use the following address for mail and packages:
Name of Mail Center (ie: West Plaza Mail Center)
PO-box #
Student's UCF email address (ie:SarahJones@knights.ucf.edu)
Mail center address  (ie: 4266 W. Plaza Drive)
Orlando, FL 32816
A dorm hall receptionist may accept delivery on the student's behalf and will email residents when deliveries arrive. For food orders (i.e. pizza) students should provide the name of their residence hall. Students must come downstairs to pay for and pick up their order from the delivery person.
Need more information and exact addresses of each mailing center at UCF click here.
For Apartments: All the apartment complexes have their own front office where packages are delivered. You are usually sent an email when a package has arrived for you and you have to go to the front office and show them a picture ID to get the package. Occasionally packages like flowers and Edible Arrangements go straight to the door. For food prep packages, like Hello Fresh or any of those companies, they still go to the office. Very rarely are Amazon packages delivered straight to their doors; they go to the office.
You may want to take a look at some of our Care Package blog for ideas on what to send and when.
Note: Should you choose to send a gift card, beware: Chick-Fil-A – absolutely does NOT accept any gift cards and Starbucks does not take Starbucks rewards from the app but will use it as payments.
Pass on these great tips, tell your friends and like us on Facebook, Instagram, Twitter, and Pinterest. Find out more about how to use HaveUHeard as a great resource. Sign up for other great tips at haveuheard.com.