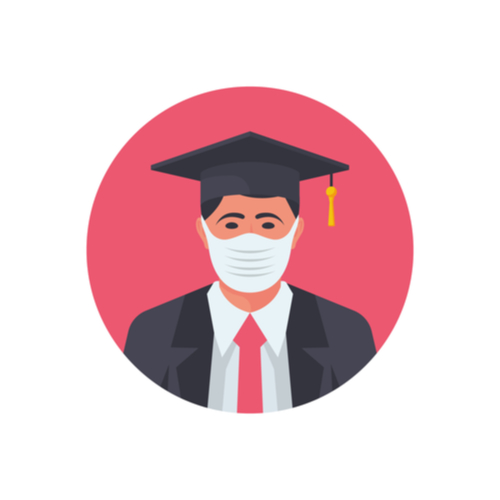 Celebrating Your Student's Quarantined Graduation at Home
Graduation was a day we all looked forward to… we booked our hotels long in advance, made reservations for meals around the ceremony, and were all set to celebrate our students' achievement. But today, those graduation plans are changing because of the quarantine. Some will have virtual ceremonies. Some will postpone until a later date. But, no matter when or where it happens, the fact remains that we are all extremely saddened by these changes because we're all quarantined.
Hopefully, many of your students got to take graduation photos before they left. For the ones that did not, some of the colleges will allow you to keep the regalia ordered and they will be mailing them (unless you want a refund). For the colleges where you rent the regalia, check your school's graduation updates as some are allowing students to choose a refund or to keep the regalia for pictures and celebrations.
We're here to help you make sure your student's milestone is still one to remember and puts a smile on their face. From friendly drive-bys and honking horns to turning your house into a graduation celebration, the creative juices are flowing from all over the world. Keep in mind, that planning ahead is important as you may need to order supplies, so take a look at our ideas below along with everything you need to create your own at-home graduation party.
Turn your House into a Graduation Celebration
This one should be planned a few weeks in advance as deliveries may be delayed. Head over to PartyCity to order party supplies to decorate your house. Add in some balloons, and rep their school color with banners and tableware! Perhaps you know of
Virtual Graduation Brunch
This idea we love! Graduation for your student likely involves a champagne toast, and that is a concept you can help create during the quarantine. Get your family together over Zoom, House Party, or Facetime, to set the scene. From there, everyone arrives dressed for a graduation celebration, has their favorite meal, and a glass of champagne or wine ready to go! Getting dressed up, doing your hair (and makeup for our ladies) can help create a sense of normalcy as you start off their day. With Zoom, you can change the background so why not get one from their school, perhaps one of the more iconic locations at their university?
Let them Eat Quarantined Cake
What's the number one item of a celebration? Cake! Whether you're baking something from scratch or ordering something pre-made, you definitely want to make sure you have cake and candles on hand for their special day. Certainly, you can make a cake at home or order one from your local grocery store through Instacart or Shipt.
Another option, which also supports your local businesses is to order cupcakes or a cake through one of the many delivery companies including GrubHub, DoorDash, Postmates, UberEats. You can also order from Wicked Good Cupcakes or Bake Me A Wish. Both are delivering although there may be delays. And, Wicked Good Cupcakes is donating 5% of each order to Meals on Wheels America.
Be Creative
Perhaps if you are able, make a collage of pictures or video commemorating their four years at college – the ones you shared with them. You can create a graduation image collage online at Walgreens or create a video compilation using one of the online apps. You can ask your family to do a quick selfie video on their phone with a congratulations message, or words of inspiration and either show to them via computer or through a smart TV should you have. This will help create the sentiment they may need as they celebrate their day in quarantine.
Organize a Drive-by Parade of Family and Friends
This one we see happening most often, where friends and family will drive by your house honking their horns, holding up signs, and singing happy birthday to your kid. Set a time for them to meet and begin the drive, and make sure your son or daughter is outside at that time. Party City has some great car decorations too. Seeing some friendly faces in person (while also keeping social distancing), will add a little pep in their step on their special day. While many graduates are on hold with their jobs, internships, travel plans, life… perhaps you will find some graduation gift inspiration from our Graduation Gift Guide.
Pass on these great tips, tell your friends and like us on Facebook, Instagram,  Twitter, and Pinterest. Sign up for other great tips at haveuheard.com. New to HUH, here is how to use the site.