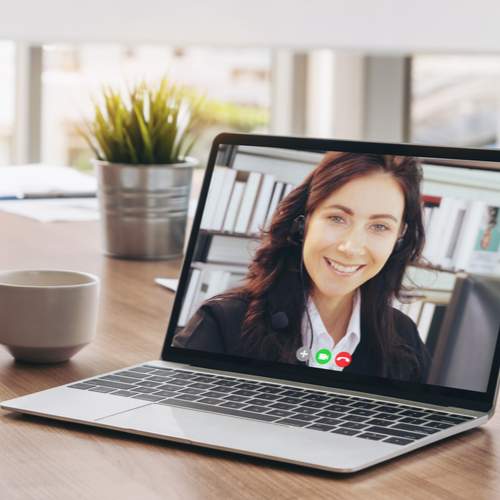 Tips for Standing Out at Your School's Virtual Career Fair
2020 has seen many changes to the way we go about our daily lives. We now have virtual classes, meetings, Happy Hours, celebrations, court hearings, and more and the list goes on and on. Add to the list are Virtual Fairs at college campuses across the country. This may prove to be a big advantage for many students as explained by our guest blogger, Priscilla Baker, in her blog Why Attending A Virtual Career Fair Is Well Worth Your Time.
Make the Most of This Opportunity
It seems natural that we should also share some tips for standing out at your school's virtual career fair.
Register ahead of time and look at what employers will be participating
Research participating companies- Look on job posting sites, the organization's website and LinkedIn to learn more about the company and what types of positions they are looking to fill.
Make sure your resume is updated, proofed, and reviewed. Your resume should include your accomplishments and skills. You may want to have several resumes on hand that is tailored to each employer or type of position.
Make sure your LinkedIn account and portfolio are also updated in the event you are able to virtually submit it. Make sure you have a professional LinkedIn profile picture.
Prepare and practice. Make sure you have practiced how you want to introduce yourself and questions you may want to ask or answer.
Make sure the device you will use can support the technology used in the virtual career fair – think web cameras and the program or software being used. Test it out the day before in case you need to download any software.
Consider using a desktop, laptop, or tablet in lieu of a smartphone and also have headphones handy to block out any background noise.
Dress professionally- mostly you can get away with from the waist up.
When it comes time for the fair, make sure you are "attending" from a distraction-free location that is quiet. You can certainly create a  virtual background using Canva or Shutterstock. Both offer free templates
Engage with the employer when given the opportunity. Some employers might want to chat with you directly. Confidently introduce yourself and ask questions.
Use clear, professional business communication- we give tips on written communication since much of the communication will be done through the chat function. Stay away from emoticons, slang, and p grammar.
Sit up straight – positioning yourself on the front end of your chair will help you to maintain good posture. Make sure you are making eye contact. Refrain from using your hands too much as you may end up blocking your face.
Before leaving career fair, express your interest in continuing the interview process whether that is filling out an application, speaking with HR, or setting up a future interview. Get their contact information. You can also request to connect and send them a message through LinkedIn. HaveUHeard that LinkedIn has a version specifically designed for students looking for their first jobs? The LinkedIn Students app is free and lets you research jobs, view companies where alumni from your schoolwork, and connect with more people. You can create an account and get started right away without spending a dime.
Follow up with a thank you email or note. We cannot stress this enough. This is where you can thank them for their time, share information about yourself, such as skills and experience, that make you an ideal candidate, and express your interest in the company.
Pass on these great tips, tell your friends and like us on Facebook, Instagram, Twitter, and Pinterest. Find out more about how to use HaveUHeard as a great resource. Sign up for other great tips at haveuheard.com.