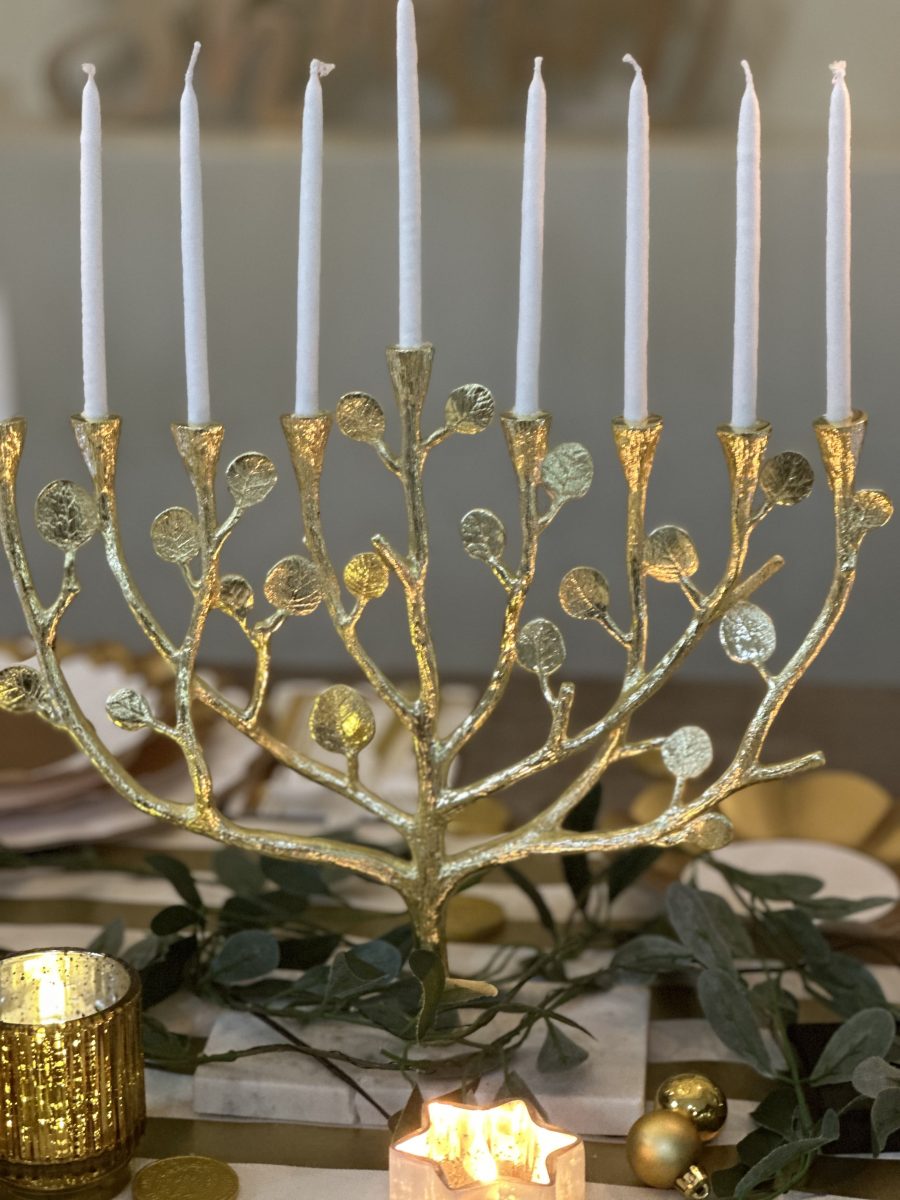 The Festival of Lights
This year, Hanukkah begins early, on December 7, 2023. It feels different. Much light is needed for this festival of lights. My 2023 Hanukkah decor scheme is gold, white and light. I had already decided on this color scheme before October 7th, which reaffirms my choice.
Celebrating Hanukkah and putting up decorations is complicated. With Israel at war and antisemitism at an all-time high, it's complicated to be decorating and preparing to celebrate when so many are hurting. I'd challenge all Jews to consider the wisdom of Rabbi Jonathan Sacks when he states:
"There always were two ways to live in a world that is often dark and full of tears. We can curse the darkness, or we can light a light, and as the Chassidim say, a little light drives out much darkness. May we all help light up the world."
That is my motivation. To bring as much light into my home. Scroll to the bottom, where I share additional quotes about Hanukkah lights.
Hanukkah Tree
This is my fourth year putting up a Hanukkah tree. What started during the pandemic in 2020 to bring extra joy, love, and light is now a part of how I celebrate the holiday. It brings light and happiness into my home, which we can desperately use during these unsettling times.
Carrying the gold and white theme, I used my tree and pulled out the gold and white ornament collection. I also added in some gold glitter ribbon and new Hanukkah ornaments.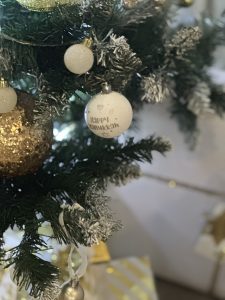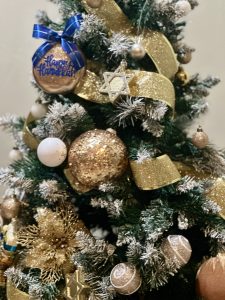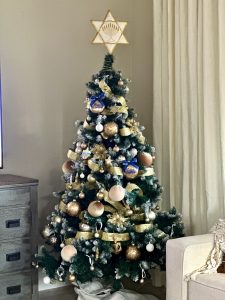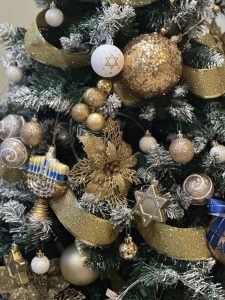 Hanukkah Table
My Hanukkah decor 2023 also includes my tablescape. The table incorporates my gold, white & light theme. I've added in lots of tea votives, which I link below (#commissions earned)
Michael Aram Botanical Leaf Menorah is a new addition to my home. I love the craftsmanship.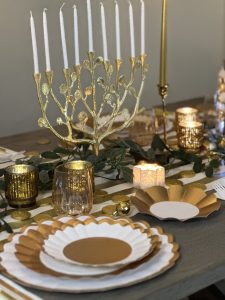 Star of David Votive Holders– set of six. Over the years, I have purchased two sets of these candles. Check out Peace Love Lights shop. They have updated and contemporary Jewish decor and jewelry. A portion of all sales will be donated to the Anti-Defamation League in support of their mission to fight antisemitism and all forms of bigotry.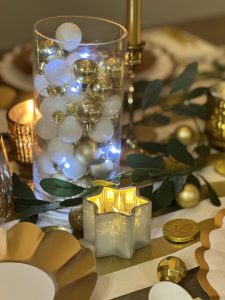 Gold vintage ribbed glass tealight votive candle holders. They hold standard tealight candles.
For added dimension, I include a set of 3 candle stick holders in brass gold, adding gold tapered candles.
Place Settings
Sophistiplate Gold & White Table Setting Kit – I ordered for eight guests. It Included the charger plate, dinner plate, salad plate, appetizer/dessert bowl, guest towel, cocktail napkins, and flatware in white/gold handle. They are sold out of some of the items, but I did find them on another website. A trendy item this year. I am linking the Sophistiplate dinner plate, salad plate, and appetizer bowl. You could purchase all the pieces above on this website as well. They are offering 10% off first orders.
Wrapping Of Hanukkah Gifts
The Gold & white color scheme made finding wrapping paper easy. I used Jam Matte Gold, Gold Dots gift wrap, Gold pattern on coated white paper, gold, and white twill, and JAM white matte paper.
I'll use Ashland® Glittery gold coil pick as an embellishment and gold and white ribbon in various textures for dimension. My smaller gold and white ornaments will be used for texture. Joann and Michael's are my go-to stores for ribbons and holiday picks.
I found Happy Hanukkah satin ribbon over the summer. It is no longer available at Joann, but I did find two spools on eBay and one on Mercari. EBay had it for over $13 with shipping, but it's two spools. I've never purchased anything on Mercari, so I cannot vouch for them. I did go through their purchasing process. The ribbon was only $4, but shipping was over $4.
Zazzle has many different Happy Hanukkah ribbons. There are blue, white, gold, and some non-traditional ones. This is the closest to my exact ribbon. But I will look for an actual Hanukkah ribbon after the holidays and throughout next year. If you are lucky enough to find one, it's a limited edition.
Gift tags
I love creative gift tags for Hanukkah. You can make your own on Canva. Sometimes, I do that, but if it is a project that will take me hours and hours and I can get them reasonably, I'm buying them. Last year, my tags were minimalistic, simple … uncomplicated.
Before making a tag this year, I found one I loved on Etsy in a different color scheme.
Hanukkah Star of David Gift tags– I worked with JCapCards shop owner Janeen, who made these up for me in white and gold glitter after I messaged her to change the colors. She shipped them out the same day. I highly recommend checking out her other Hanukkah and Christmas gift tags and cards.
My Favorite Hanukkah Quotes
"May the lights of Hanukkah usher in a better world for all humankind"- Unknown
"This is the season when people of all faiths and cultures are pushing back against the planetary darkness. We string bulbs, ignite bonfires, and light candles. And we sing." – Anita Diamant
"There always were two ways to live in a world that is often dark and full of tears. We can curse the darkness, or we can light a light, and as the Chassidim say, a little light drives out much darkness. May we all help light up the world." – Rabbi  Jonathan Sacks
"Sometimes, a flame can be utterly extinguished. Sometimes, a flame can shrink and waver, but sometimes, a flame refuses to go out. It flares up from the faintest ember to illuminate the darkness, to burn in spite of overwhelming odds." – Karen Hesse
"The darkness of the whole world cannot swallow the glowing of a candle." – Robert Altinger
Wishing You All A Very Happy Hanukkah 🕎🔯💙