HaveUHeard.com includes links to third-party websites and advertisements for third-party products and services. Product and service-specific opinions mentioned within the content of our blogs are entirely the opinions of the HaveUHeard.com team and its staff. It is our hope that you will find value in the products and services these third-party organizations represent, and patronize these businesses. Such advertising and marketing partnerships help make our efforts at HaveUHeard.com possible. Thank you for your support and ongoing interest. For additional information, please read our full HaveUHeard.com Disclosure Statement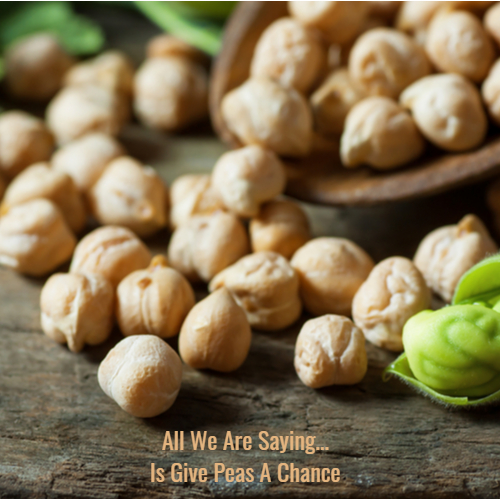 All We are Saying Is Give Peas A Chance
Chickpeas, or you may know them as garbanzo beans, are a type of legume. As a pescatarian, I try to keep my fish consumption to about three-four times a week. To fill the gap, I make recipes using various beans. One of my favorites is chickpeas. They are an extremely healthy and affordable choice offering many benefits.  There are some amazing chickpea recipes that I highly recommend.
Benefits
Protein – crucial for bone, muscle, and skin health. One cup of chickpeas provides almost a third of our daily protein needs.
Fiber – Fiber keeps the digestive tract healthy.
Bone Health – Having bone strength is important especially for women as they age who want to prevent osteoporosis. I much prefer to eat foods rich in iron, calcium, and other nutrients as a preventative measure than have to go on a prescription medicine as my mom and her sisters did.
Potassium – One cup of chickpeas provides approximately 474 mg of potassium. Potassium is one of seven essential macrominerals. This micromineral plays a role in how our kidneys, heart, muscles, and the transmission of messages through the nervous system function. It also lowers the risk of high blood pressure by helping the body remove sodium.
Heart Health – The fiber found in chickpeas helps lower cholesterol in the blood as they contain no cholesterol.
Mental health – chickpeas contain choline which helps with brain and nervous system function.
Anemia – chickpeas contain iron. In fact, just one cup provides between a half and one-fifth of a person's daily requirement. It also provides vitamin C which helps the body absorb iron
Have I Convinced You Yet?
Now that we've covered the health benefits, let's talk about their versatility. I have learned to make so many amazing recipes using chickpeas. From snacks to meals, there are so many flavor profiles using spices and condiments.
In addition, they are readily available at your local grocery store. A can runs between $1.09 to $1.99 for a 15.5 oz serving.
Here are some of my favorite chickpea recipes.
Hummus
Sometimes it is very easy to buy ready-made hummus, but making it from chickpeas is really easy. For the record, hummus is chickpea paste. Its origins date back to 13th century Egypt. When we think of hummus, most of us think of Greek food. But, the Greeks and Egyptians were trade partners for centuries which may explain the similarities between Greek and Arab cuisine.
For a basic hummus recipe, drain a can of chickpeas. I recommend soaking them overnight as it speeds up the cooking time. At the very least, soak for 30 minutes.  The next day, boil in water and then simmer for about 2 hours until tender. Some will recommend peeling the outer skin off. TBH, I've never done that and my hummus has been amazing.
Using a food processor, add ¼ cup tahini (make sure it is well-stirred) and ¼ cup lemon juice and process for 1 minute. Scrape down sides and then process another 30 seconds.
Add in 2 tbsp olive oil, 1 clove minced garlic, ½ tsp ground cumin, ½ tsp, salt, and process for 30 seconds. Scrape sides and bottom and process another 30 seconds.
Add half the chickpeas and process for about a minute. Scrape the sides and then add the remaining amount. If you still have tiny bits, add a tbs of water at a time until it is the consistency you desire.
If you want to experiment with flavored hummus, I personally love roasted red pepper hummus. There are recipes for garlic white bean, black bean, even chocolate hummus. Hummus goes great with pita, raw vegetables and I include it when making falafel in pita with an Israeli salad.
Chickpea Salad with Fresh Herbs
I just made this recipe from NY Times Cooking. Not only was it amazing as an alternative to potato salad, but it was simple to make. Again, I would soak the chickpeas for a half-hour after draining and rinsing them. It includes fresh parsley, fresh dill, diced celery, sliced scallions. I also added chopped red onion. The dressing is made using full-fat Greek yogurt, mayonnaise, lemon juice, dijon mustard, salad, and black pepper. I do not tend to use mayonnaise so I made my own which was extremely easy.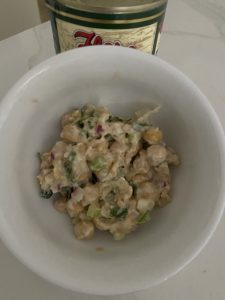 I used Kitehill yogurt as I am dairy-free and it was amazing as well. You can serve it at room temperature and it travels well. Take it to the beach, a picnic, outdoor barbecue, or desk lunch.
Chickpea Shawarma Sandwich
This recipe from the Minimalist Baker literally takes about 5 minutes to prep and 25 minutes to cook. Serve with a creamy garlic dill sauce, fresh veggies and you've got a healthy plant-based meal.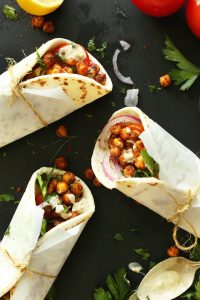 Spiced Chickpea Stew with Coconut and Tumeric
This is another NY Times Cooking chickpea recipe courtesy of Alison Roman. I've made it many times especially in the cooler months if there is such a thing in Florida. I find that I do need to let it simmer for more than 35 minutes to get it to a thicker consistency. Serve with either pita or naan as you will want to soak up the sauce.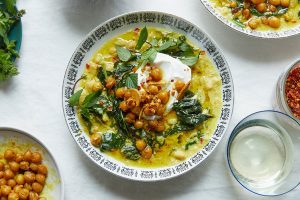 Don't Discard That Chickpea Liquid
Okay, all of the recipes have you drain and rinse the chickpeas. But HaveUHeard that this bean water or its proper name aquafaba has many uses? 
It can be used to replace mayonnaise, eggs, make meringues, chocolate mousse, ice cream, marshmallow fluff, and even cocktails. So before you dump it down the drain, it will hold in the fridge for up to a week. In addition, it freezes well too. It is a great vegan alternative for recipes that call for eggs or egg whites.
To make vegan mayo, simply use 1/4 cup of the bean liquid (aquafaba) from a can of chickpeas. Add a 2 tsp dry mustard, 1 tsp each of white vinegar and lemon juice, 1/2 tsp. fine salt and sugar. Mix until combined and slowly drizzle in 3/4 cup of sunflower oil using a blender or immersion blender. This step is important for the mixture to emulsify, so let the oil stream take about 4 to 5 minutes.
Chickpea snacks
Another great use is for a snack. All you need to do is drain them in a colander and let them dry completely. Arrange on a baking sheet and roast for about 35-45 minutes (which is what you do in the shawarma recipe). If you have the patience, peeling the skins will crisp them up faster.
Drizzle them with EVOO and then season with sea salt. If you are wanting something spicier, you can toss that over the chickpeas after they come out of the oven. You can flavor them with smoked paprika and cumin, turmeric and ginger, lime, and black pepper. For a sweeter taste, mix with cinnamon and sugar.
So why not give peas a chance? Chickpeas that is! Have any great chickpea recipes? Feel free to share your favorites.
Pass on these great tips, tell your friends and like us on Facebook, Instagram, Twitter, and Pinterest. Sign up for other great tips at haveuheard.com.