HaveUHeard.com includes links to third-party websites and advertisements for third-party products and services. Product and service-specific opinions mentioned within the content of our blogs are entirely the opinions of the HaveUHeard.com team and its staff. It is our hope that you will find value in the products and services these third-party organizations represent, and patronize these businesses. Such advertising and marketing partnerships help make our efforts at HaveUHeard.com possible. Thank you for your support and ongoing interest. For additional information, please read our full HaveUHeard.com Disclosure Statement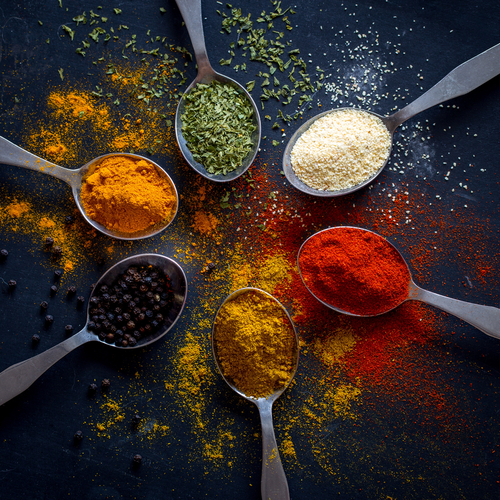 These Are Essential Spices You Should Have
For home chefs, there are many new spices and spice collections that will truly spice up your meals. I use a considerable amount of spices. Some might even call me a spice girl. My collection is so large that I filled up my new spice draw. As a result, it meant creating a spice display on my counter for the extras.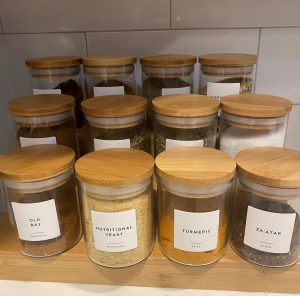 Why So Many Spices?
If you are a spice girl like me, you understand that spices add an enormous amount of flavor to your meals. IMO, space permitting, having a vast supply means having alternatives should you not have fresh herbs. A wide variety also means making your own blends. And, should you not want to buy a spice like gochugaru.
Having an array of spices is a decent investment. You can store them in a cool dark space so they will last longer. I have my go-to spices when preparing Italian, Greek, Indian, Asian, Korean, Spanish, and Mexican, for instance.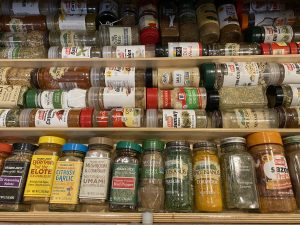 My List of 20 Essential Cooking Spices
Kosher Salt
Black Peppercorns – I recommend getting it in a store-bought grinder
Sea Salt
Chili Powder
Garlic Powder
Onion Powder
Cumin
Tarragon
Cayenne Pepper
Paprika
Tumeric
Cinnamon
Nutmeg
Oregano
Basil
Coriander
Curry Powder
Dry Mustard or Mustard Seeds
Rosemary
Thyme
Parsley
Ground Ginger
Red Pepper Flakes
Dill
Mint
Is It Worth The Investment?
Some of these spices you may think will only be used occasionally. But there have been so many times when I am cooking a new recipe and it calls for a spice or fresh herb I do not have. Having a dry counterpart or a spice that can substitute for something else, will bring you closer to the flavor profile in your recipe.
Basic Spices by Cuisine
Tuesdays in our house are often taco night or a rift on a Mexican dish. I usually cook a Meditteranean profile recipe at least once a week. Italian dinners definitely are a weekly staple. But lately, I love preparing Indian food as well.
Greek spices –  Most of the Meditteranean recipes I follow tend to use oregano, garlic, dill, parsley, thyme, mint, tarragon, cumin. If you are looking for time-saving shortcuts, I highly recommend Greek Freak Mediterranean Blend.
Italian spices – Okay most of us, even if we are not Italian, know that the common spices and herbs used are parsley, sage, rosemary, and thyme (thank you Beatles) as well as oregano, bay leaves, and marjoram.
Mexican spices – The most popular spices are cumin, garlic, onion, chile powder. Of course, you can buy a premixed taco seasoning, fajita seasoning, Elote Seasoning blend (Highly recommend Trader Joe's).
Indian spices- I have been making a lot of Indian recipes this year including some amazing stews, biryani, and butter shrimp. I even made Tan France'sTarkha Daal recently and it was amazing. If you are a fan, you will need the following spices… turmeric powder, chili powder, coriander powder, garam masala, and cumin.
My Newest Spice Additions
I know, it is frustrating when you find a recipe for a meal that sounds amazing and it calls for a spice you do not have. One of my go-to's, when I am out of a spice, is the Gourmet Sleuth but there are plenty of other reputable websites as well.
But, I have also found that some spices I was completely unfamiliar with are definitely worth getting. They include:
Berbere– this spice is used primarily in Ethiopian cuisine. It is actually a mix of dried spices. It can be added for flavor or used as a rub. The main ingredients are red chili peppers, fenugreek, ginger, coriander, cardamom, allspice, cumin, peppercorns, cloves, and cinnamon. It's used a lot on chicken but I needed it when I took a Marcus Samuelsson virtual cooking class. Many of the Ethiopian dishes that use this spice are chicken dishes but you can use it on grilled fish, lamb, lentils, roasted chickpeas to mention a few. I bought mine from Amazon.
Garam Masala – This Indian spice mixture is readily available in most supermarkets.
Gochugaru – This is Korean chili pepper. Its name is derived from gochu, which means "chili pepper" and garu, which means "powder. Popular spice companies like McCormick, which carries a gourmet line, sell it now. I got mine from a Korean friend.
Zaatar – this is a Middle Eastern spice mixture that combines wild thyme with sumac and toasted sesame seeds. Again, you can usually find it now at your local grocery store. The first time I ever tried it was on a flatbread at an area restaurant. It is great on vegetables, fish, and chicken. More commonly it is used on hummus or in labneh (a Middle Eastern yogurt). Our Farmer's Market has a Lebanese vendor that sells labneh with zaatar and it is beyond. I spread it on crispened pita. Here are some recipes that I am starting to experiment with.
Don't forget Trader Joe's Spices
Of course, I have most of the spice blends from Trader Joe's including the Chile Lime Seasoning Blend, Everything But the Bagel Sesame Seasoning Blend, Onion Salt, 21 Seasoning Salute, Everything but the Elote Seasoning Blend, and the Umami Seasoning Blend. I did say I was a spice girl.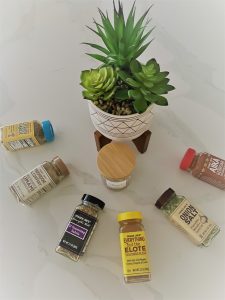 Where My Inspiration Comes From
Most of the recipes I have made that are from different cultures stem from my travels. If I had not been to countries outside of the U.S, I probably would not have tried some of my favorite dishes. It is a reminder of a memorable vacation with my daughters or sister.
And, I also draw inspiration from chefs I have either taken a cooking class from or watched one of their demos at SOBEWFF.
My friends don't call me a spice girl for nothing.
What new spices have you tried?
Pass on these great tips, tell your friends and like us on Facebook, Instagram, Twitter, and Pinterest. Sign up for other great tips at haveuheard.com.