HaveUHeard.com includes links to third-party websites and advertisements for third-party products and services. Product and service-specific opinions mentioned within the content of our blogs are entirely the opinions of the HaveUHeard.com team and its staff. It is our hope that you will find value in the products and services these third-party organizations represent, and patronize these businesses. Such advertising and marketing partnerships help make our efforts at HaveUHeard.com possible. Thank you for your support and ongoing interest. For additional information, please read our full HaveUHeard.com Disclosure Statement
"Kitchens Should Be Designed Around What's Truly Important" – Chef Daniel Boulud
My kitchen is my happy place. So when it came time to design exactly what I wanted,  I went looking for kitchen inspo. One of the first remodeling projects I took on myself was the kitchen remodel. I wanted this kitchen remodel to be seasoned with love.
I rented my current condo for two years before buying. My decision to stay was predicated on the selling price as the condo desperately needed updating. It had not been updated since 2004, almost 15 years prior.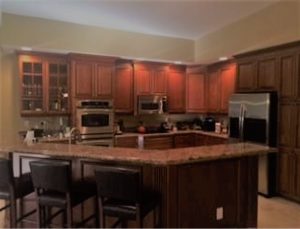 Before
As someone who loves to cook, the lack of kitchen space prep areas was challenging. But, when you live in a condo, there are not a lot of structural changes you can make. I managed to remodel my kitchen and stay on budget.
My Vision
My initial vision for my kitchen remodel was to get rid of the raised kitchen bar. This would give me more kitchen counter space. A white kitchen remodel would give me the desired aesthetic. To break up some of the starkness, I decided to use gold knobs and pulls. For the kitchen island walls, I offset the white with brown to tie it into the rest of the room. The countertops were redone with white and gray quartz. It also meant replacing the sink.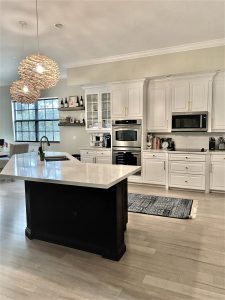 Average Cost for a Kitchen Remodel
Researching the average cost of a kitchen remodel helped me in setting a reasonable budget. I had seen average kitchen remodel prices from $12k to $35K. This meant finding ways to give the kitchen an updated look while making it functional for my needs.
Since I knew replacing the cabinets would eat up a big chunk of my budget, I opted to have them painted white using a high gloss finish to give a polished, modern look. My cabinets were high-quality wood and had not aged at all. By having it painted, all I did was replace the knobs and the pulls.
The cost of having the kitchen repainted and removing the breakfast bar came to approximately $3900. If I had opted to replace all of the kitchen cabinets and install a new kitchen island, it would have been at least double.
Additionally, I changed the backsplash utilizing subway tiles installed horizontally. I went with a 3″ x 6″ Ceramic Bright White Subway Tile. The cost came to $420. I used a glazed tile because I knew the potential for food splashing while cooking. Another tip is to use a darker grout so that any food splashes do not leave a stain.
Living in Your Home While Renovating
Obviously, it is always preferable to have any and all remodeling done while not living in your home. Because I went from renting to buying, that was not an option. The job was expected to take two weeks. But that's the thing with expectations. When all was said and done, it took four weeks from start to finish.
They removed all the front facings of the cabinets and the drawers to have them painted off-premise. Then the entire space was sealed off so they could spray paint the boxes.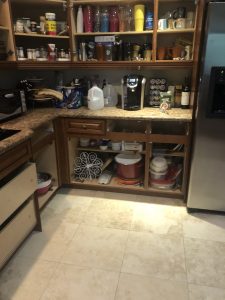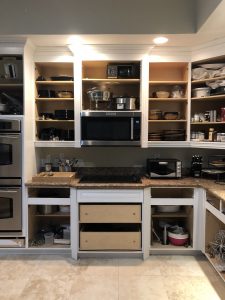 During the remodel, plan on having no use of your oven, stove, dishwasher, and any appliances in the kitchen. I strongly recommend setting up a "kitchen" in a nearby room with a toaster oven, coffee maker, and paper plates since I could not use the dishwasher either. During this final stage, I ended up having take-out or prepared meals. That was the most difficult for me since I don't tend to favor that style of eating preferring to make my own meals.
Extras
I chose brass 6 ¼" center bar pulls and brass cabinet square knobs from Wayfair. I strongly recommend ordering extras, which I did, as when I added my spice drawer this past year, I, fortunately, had extra matching knobs.
For esthetic purposes, I hung two pendants over the island. The room needed some texture to create a partition from the rest of the areas. I chose the Wicker Nest Pendant Lamp from World Market. That created a visual separation between the kitchen and the other areas in my great room. Make sure you order the light kit. Additionally, because they are handcrafted, there may be some color and appearance variations. To avoid this, I ordered an additional two lights so I could choose the two that most resembled one another.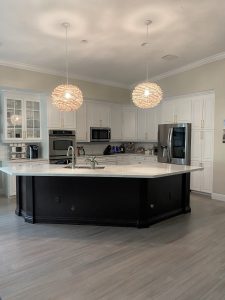 I found a similar one on Etsy. Again, I would order several so the variations aren't dramatic. Don't forget to order a light kit.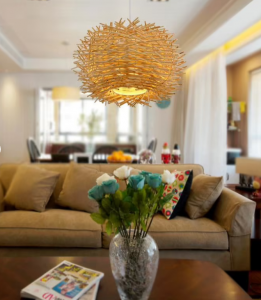 The only appliance change I made was ordering a new refrigerator/freezer since mine had broken several times in the past. I do intend to replace the oven, stove and dishwasher when they stop working since they are the original appliances.
The End Result
Luckily, all my remodeling was completed before 2020 so I did not have to face product shortages or increased prices. The only change I would have made was working with one general contractor rather than handling all of the subcontractors myself. But, in the end, by updating my space and keeping up with current trends, should increase the resale value.
Pass on these great tips, tell your friends and like us on Facebook, Instagram, Twitter, and Pinterest. Sign up for other great tips at haveuheard.com.