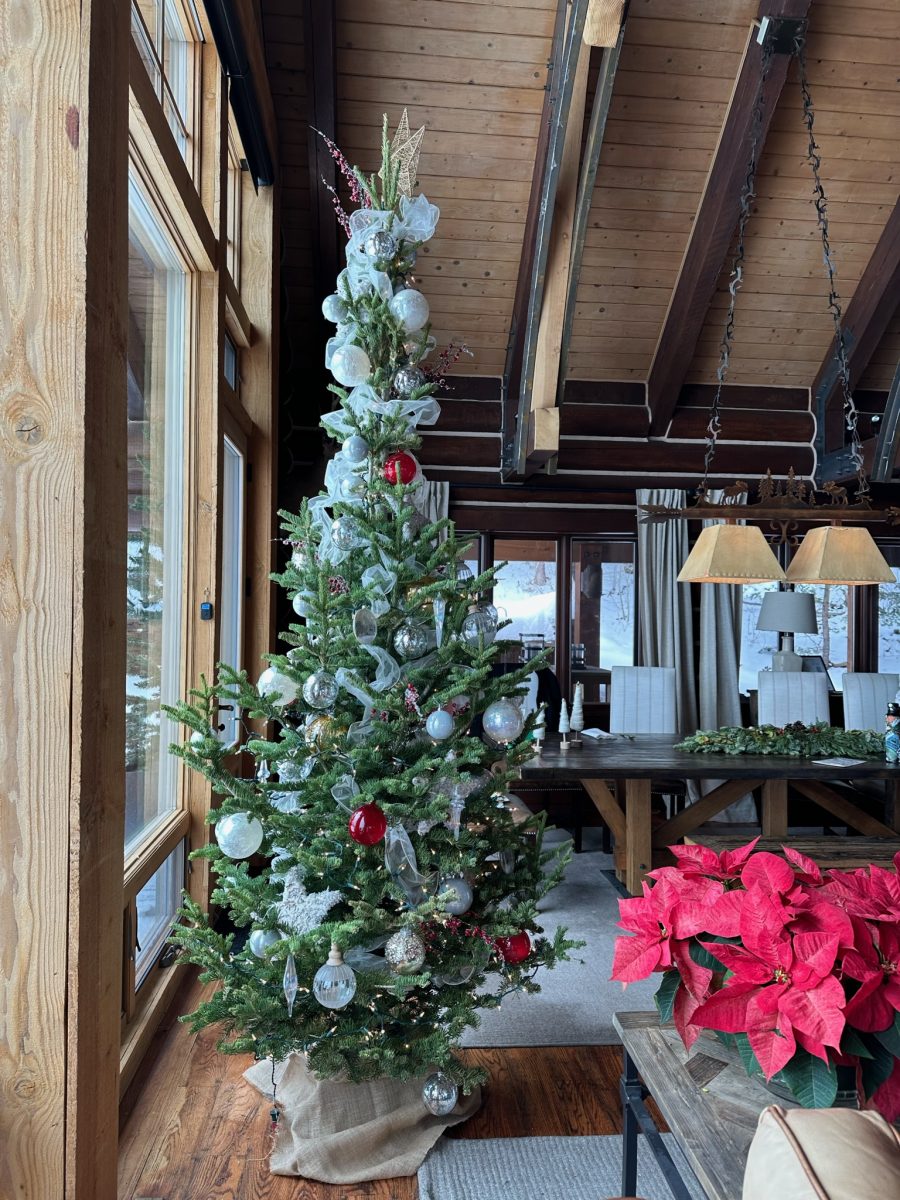 The Most Amazing Place We've Ever Rented!
FamJam 2022 took us to Sundance and the most incredible house we ever rented.  Nestled in the mountain community of Sundance Mountain Resort, you will find Eagle's Nest Luxury Retreat,   a private mountain home with breath-taking views of Mt. Timpanogos.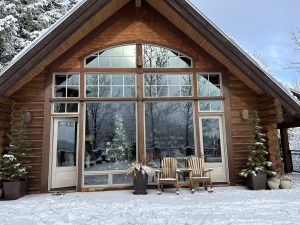 OMG… this House
There are not a lot of homes available for rent at Sundance Mountain Resort. For a bunch of Floridians, the winding mountain roads, covered with snow and sometimes ice was, I admit, frightening. We could not even find the house when we pulled into the resort.
In all fairness, it was dark out. We ended up pulling into a driveway to see if that had the address. Of course, seeing a few people through the window walking around inside was a bit disconcerting. Was the house rented to someone else? They probably thought the same thing when they saw a bunch of strangers getting out of their car. They came outside to ask what we needed and gave us the address. We were at the wrong house. They didn't even know where the house was.
The management company, Stewart Mountain Lodging, stayed on the phone with us until we found this private hidden side driveway. We had arrived.
First Impressions
Once we made it up the driveway, we pulled into the garage. Upon entering Eagle's Nest Luxury Retreat, you go upstairs to what is described as an "apartment." Trust me, it is anything but an apartment. A large room awaits with a small kitchenette (refrigerator, sink, Keurig, pots, and pans) and a bar-height table and chairs.  There is a raised bed with footstools to climb into the bed. In this apartment, you will find a gas fireplace, couch and coffee table, armoire, and a full-size bathroom with a jacuzzi, full shower, and full-size washer and dryer.
It was nighttime so we were not sure where we would end up once we walked out the front door. We followed the path up three steps and then another, past an outdoor hot tub and two industrial-size heat lamps on the porch. We opened the door to an expansive room fully decorated for Christmas.  There was a beautifully decorated tree, a Christmas Village, and stockings hanging from the mantle. And although we are Jewish, we loved the holiday aesthetic. There was a large wooden dining room that comfortably sat at least 10 people and easily more. The living room had a couch and gas fireplace. And a walk-in kitchen. We had read a review that said the kitchen was small. Personally, I do not agree. I mean it wasn't huge but plenty of room for four people to cook and prep at the same time.
And the view from the living and dining room out the expansive windows was breathtaking.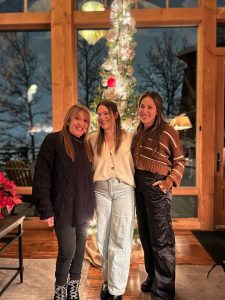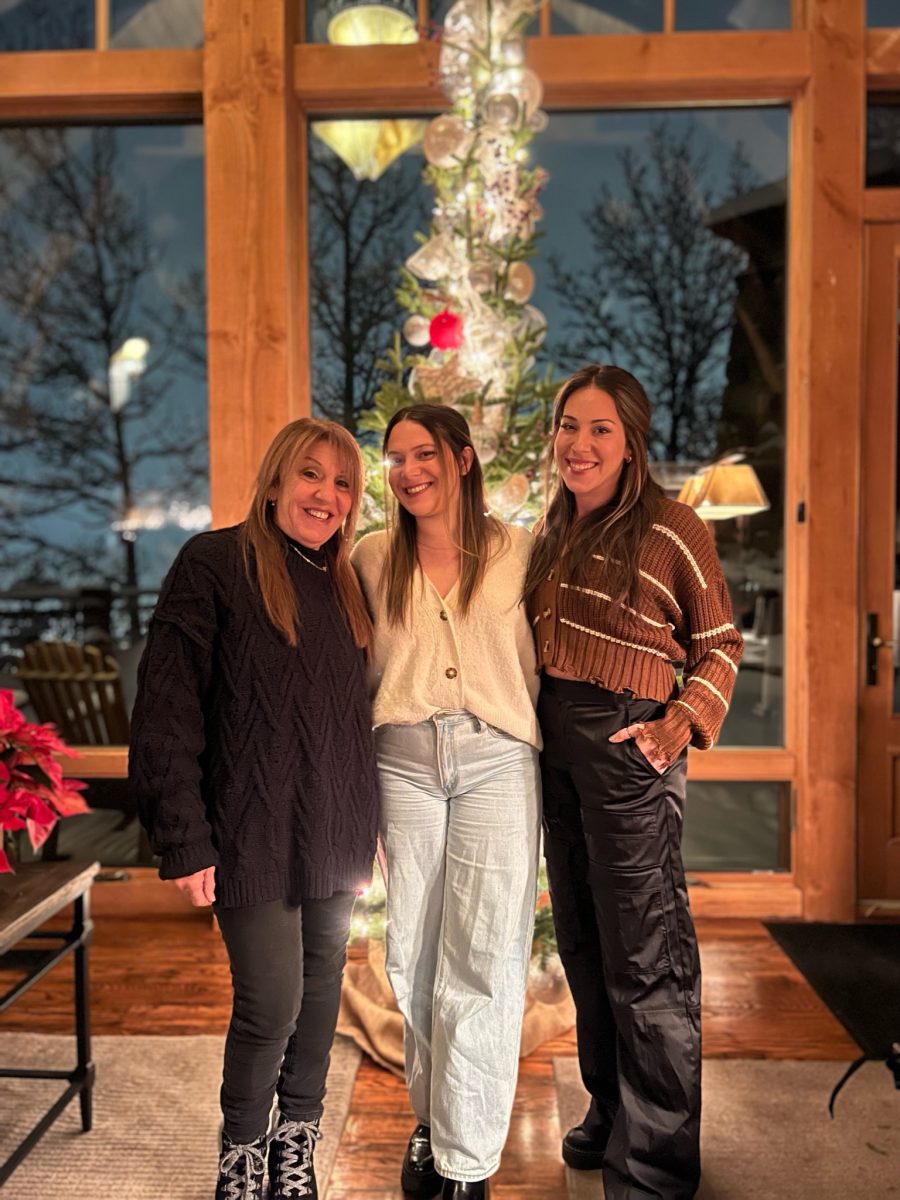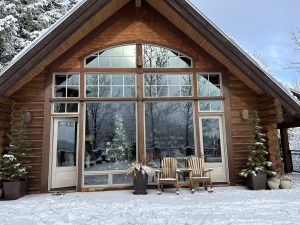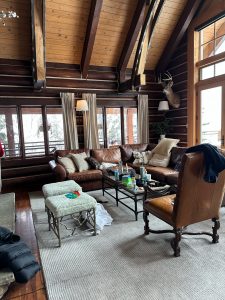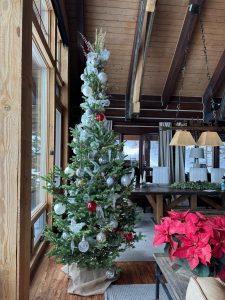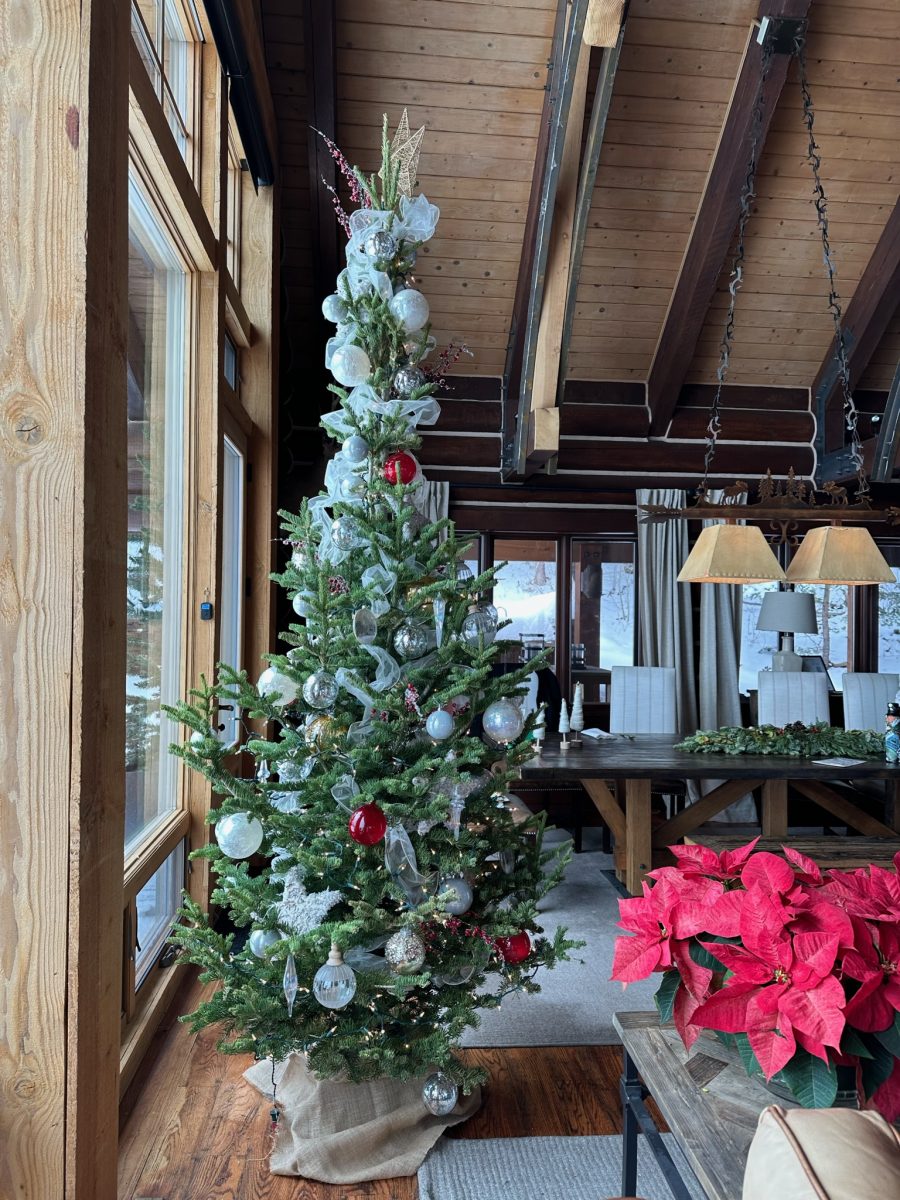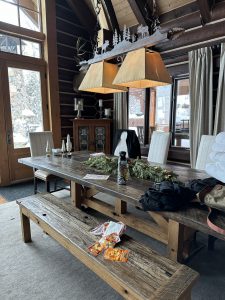 The Kitchen
I love to cook and we do eat many of our meals in our rental home. Most of the homes we have rented are nice but not fully stocked. This was the opposite:
The kitchen is fully stocked with any utensil you'd want or need, a crushed ice machine (our adult daughters freaked out about his but I think this had more to do with making drinks), a gas stove with two ovens, four cooking grates, a flat grill between the grates. The refrigerator/freezer was high-end. They even had a wine fridge. There were plenty of spices, olive oil, sugar, sweeteners, honey, Keurig coffee cups, coffee filters for drip coffee, condiments, napkins, paper towels, dish towels, and oven mitts.
There were pots and pans of every size. From experience, these are items you end up having to purchase and leave behind what is not used. There was a Keurig machine in several of the bedrooms with hot cocoa k-cups and hot tea k-cups.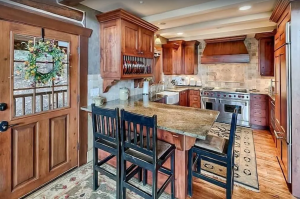 Lower Level
Downstairs were two bedrooms and a game room complete with a billiards table, fireplace, full-size bar, another Keurig, darts, and an abundance of board games. And who can forget the projection screen that lowered down stopping just above another gas fireplace? Of course, what would a family vacation be without a karaoke machine? We never did figure it out but still used the microphones.
There were two bedrooms downstairs. One with a queen size bed and the other with double bunk beds. Honestly, bunkbed bedrooms always create a problem now that our trips are with adult kids. Our kids who brought boyfriends didn't want it but neither did the single ones. They worked it out and my nephew took that room. Of course, that came with "There will definitely be an ROI" on a future trip. Of course, the CFO adult kid would expect a Return on Investment. He absolutely should.
Middle Level
In addition to the c common areas, there was a Master Bedroom complete with a kingsize bed,  gas fireplace, full-size bathroom, and their own patio access.
Upper Level
This floor had another master bedroom with a queen size bed, a private patio, and a wrap-around bathroom with a free-standing bathtub. The bathroom had its own gas fireplace.
Additional Amenities
If you have rented your share of vacation homes, you know not to expect many amenities. Not with this house. There were white robes, an abundance of bath and hand towels, shampoo, conditioner, shower soap, body lotion, and even chapstick. There were bandaids, batteries, paper towels, napkins, and garbage bags. When we thought the snowstorm could possibly keep us there for a few extra days, there were no worries at all. I can think of way worse places to get stuck.
Management
Our contact Wyatt went above and beyond. After reserving the house, we received an email from Stewart Mountain Lodging offering any type of assistance. Through their company, they provided a private concierge to assist us with the coordination of any and all trip details, including suggestions on activities, dining reservations, and more!
Private Concierge suggested offerings include:
Airport Transportation- We rented one large vehicle and hired a private company to transfer our luggage because we had over 15 bags. We hired VIP Transportation. The owner Howard could not have been more helpful, even shoveling the stairs that were buried under a foot of snow so no one would fall bringing the luggage down. I highly recommend their company. 801-921-3642 (or) 801-374-1188
Dining reservations
Luggage shipping and delivery
Grocery delivery
In-house private chef
Elevated housekeeping services
Private in-home massage therapy
Spa services
Child Care
Additional Information
What do you get when you take a bunch of Floridians and stick them in a snowstorm? Well, there was the day the car brakes failed as we started sliding down the driveway. My sister was driving. I wouldn't say she knew what to do but more reacted in a panicked kind of way and threw the car into park. The car came to a diagonal stop, narrowly missing the rock wall on the passenger side. Immediately, she got out of the car and started walking up the driveway. I got out and asked her what she was doing. All she could say is "I'm out! I'm done." She never drove on the trip again. I called my nephew who came out with one of the other guys. Even one of them fell while walking down the driveway. We laughed about it after.
Wyatt came to the rescue and had someone out in half an hour to salt the entire driveway. There were two buckets of salt outside the house. And when the car got stuck in the snow on the road, it was a person associated with the home that had just finished plowing the driveway that dug us out.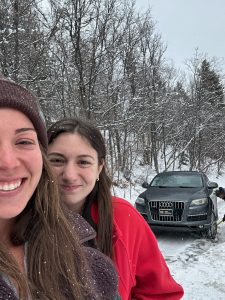 We rented our car through Turo, a car-sharing app. You can even add them to your Delta account and earn extra points. We knew someone who had used the service and loved it. Since it is a Delta Airlines partner, we figured it was worth checking out. Turns out, it was way more reasonable than the auto rental companies and includes all the same safety features. The best part is there are no lines to wait on or buses to take off-site to pick up your vehicle. The owner met us in short-term parking and turned over the keys. We parked it in short-term parking upon our return, took a picture of where it was parked, and hid the key where he requested.
When we looked at a car, we were smart enough to book a four-wheel drive car. Perhaps some tire chains would have been helpful too.
Additional Photos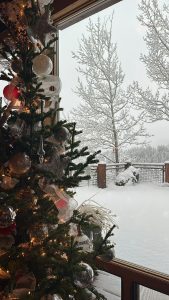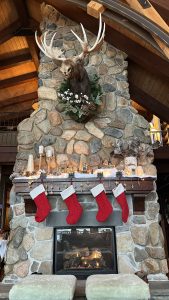 Our ultimate goal on this trip was to find a house that could accommodate eight guests and allow us to enjoy time together as a family. Eagle's Nest Luxury Retreat is something special. As are the people that helped us!
Pass on these great tips, tell your friends and like us on Instagram,  TikTok, and Pinterest.