HaveUHeard.com includes links to third-party websites and advertisements for third-party products and services. Product and service-specific opinions mentioned within the content of our blogs are entirely the opinions of the HaveUHeard.com team and its staff. It is our hope that you will find value in the products and services these third-party organizations represent, and patronize these businesses. Such advertising and marketing partnerships help make our efforts at HaveUHeard.com possible. Thank you for your support and ongoing interest. For additional information, please read our full HaveUHeard.com Disclosure Statement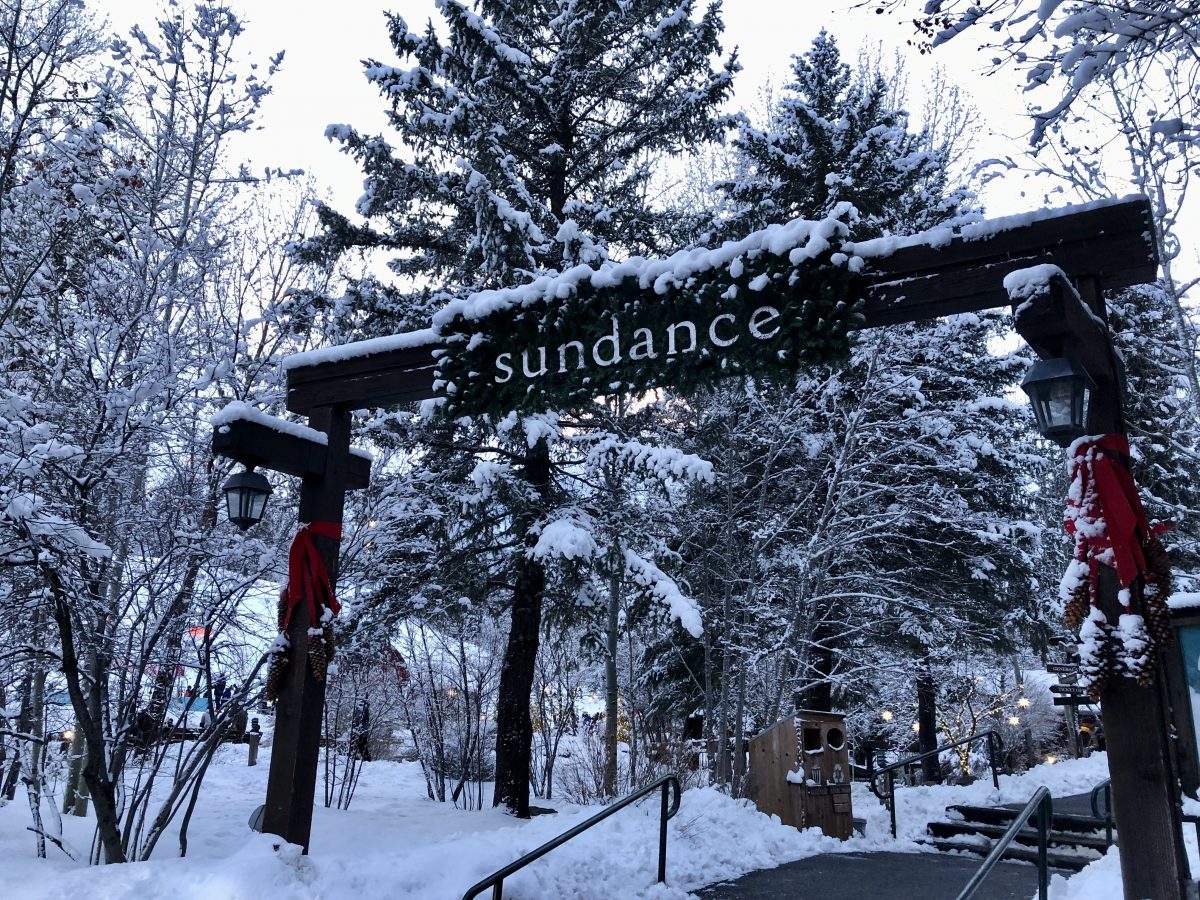 How Did We End Up In Sundance?
We have had countless winter ski trips to Utah, but it was always Park City. Planning for our 2022 FamJam started six months in advance. Our search requirements are complicated because of the family configuration. With our adult kids and boyfriends/girlfriends, we typically need a large house. Our search parameters were for a five-bedroom house, with a minimum of three bathrooms, a backyard, a full kitchen, a living and dining room, a kitchen, a grill, and, of course, a game room. I know that seems very specific, and it does create limitations, but we spend a lot of time together in the house.
Vacation Rentals
Searches on Airbnb and Vrbo for a five-bedroom house yielded prices that were much more than what we were willing to spend. Finding a place that met our budget was challenging. We'd comb through the bedroom layouts and read the reviews. Nothing was coming up but we did not panic….yet.
As June turned into July and then August, we were frustrated and feeling a little dejected. Our hope was to have something booked by the end of the summer. I was so worried that my search was changed to anywhere as a destination. Seriously. We were willing to go almost anywhere. Perhaps even a beautiful castle in Europe. An exotic tropical oasis. As tempting as it was, we were determined to find the perfect winter escape.
In August, my sister found the most beautiful home in Sundance on VRBO. The name of the house is Eagles Nest Luxury Retreat.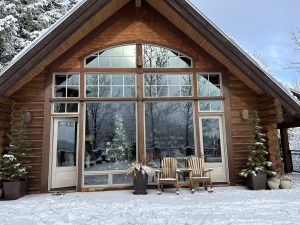 What Is Sundance Like?
Located about an hour from SLC and 13 miles northeast of Provo. Sundance mountain resort was founded by Robert Redford. You had me at Robert Redford. They have their own ski resort, albeit much smaller than Park City.
There are a limited number of luxury homes within the mountain resort. It is a beautiful scenic drive especially once you make the turn onto Alpine Loop Scenic Byway. Because of course, a winding mountain road, lined with snow-capped trees would have the word scenic in it.
https://www.youtube.com/shorts/2pa5PhfaGA4
If your aim is for an active apres ski atmosphere that is equally as fun as skiing and snowboarding, Sundance is not that place. The vibe is chill with more locals than visitors. One of the questions we all heard repeatedly is "How did you find out about Sundance." It is abundantly clear that they want to preserve their resort. It's why it was first purchased by Redford in 1969.  But, it was sold in 2020 to Broadreach Capital Partners and Cedar Capital Partners. They have plans to upgrade the resort without losing its authenticity and essence.
Sundance Mountain Resort
The area around the lifts is quaint. There's a General Store, several restaurants, a firepit, ski/snowboard rental shop with lockers outside.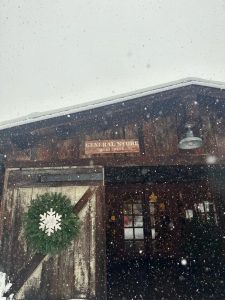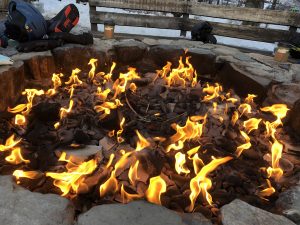 Skiing & Snowboarding
We have been to many ski resorts with hundreds of runs. Sundance has 42 runs. But, our ski and snowboarders found both challenging and easy runs. Certainly, adequate for the four full days we were there. There is also a Nordic Center with cross-country skiing, and snowshoeing. Unfortunately, avalanche warnings did not allow for that. The Nordic Center is on protected land so preventative avalanche blasting is not an option.
Sundance Resort Stats:
Average annual snowfall: 320″
Vertical Drop: 2,150 ft.
Base Elevation: 6,100 ft.
Top Elevation: 8,250 ft.
Skiable Acres: 450
Beginner Terrain: 20%
Intermediate Terrain: 40%
Advanced Terrain: 40%
Number of Trails: 42
Lifts: 4 – 2 Quads & 2 Triples
The Resort Dining Options
We made reservations in advance knowing this was a holiday week. There are casual and fine dining options. We ate at Foundry Grill, Owl Bar, The Lookout, and Tree Room. Our skiers and snowboarders ate at BearClaw Cabin which is at the top of the mountain,  accessed only by the lifts.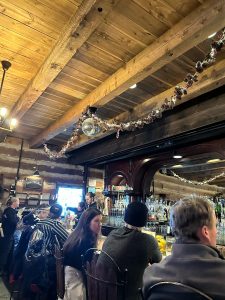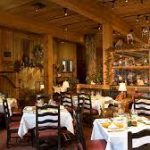 Tree Room is a must! Set in a cabin built around a tree, the atmosphere is rustic and homey. But the menu is anything but. We had the foie gras custard, sundance salad, and ricotta gnocchi as shared appetizers. Notable menu items I would recommend are the Arctic Char which was delicious. Other family members had the Bison Short Rib, Butternut Squash Caramelle, the Tree Room Pepper Steak, and Mushroom "Scallops."
You could drive 20 minutes into the nearest town for other dining options. We did have reservations at The Lakehouse at Deer Creek. Unrelenting rain and icy roads squashed those plans. Uber Eats delivered dinner from Shoots Chinese Restaurant that night. It was delicious and a great option if you are staying in and don't want to cook.
Groceries & Liquor
I knew in advance that the closest grocery store was about a 20-minute drive give or take. We planned on stopping there on our way to our rental but delayed flights changed those plans. Since we had rented a car, my sister and I drove in the following day to stock up on breakfast food and snacks. Liquor, not including beer, is only sold at a state liquor store that was five minutes from Harmons Grocery store.
Since we knew we were making dinner for New Year's Eve, we figured we'd make another stop later in the week. But a snowstorm bringing in 3-4 feet of snow changed those plans. Between Shipt and a fairly stocked house, we had all the makings of a delicious New Year's dinner. Grocery delivery service takes a while since it is a distance away and inclement weather made it difficult. Thankfully we had wonderful Shipt shoppers. Tip them well especially since they are driving in some of the worse weather.
Mountain Accommodations
We did book our home through VRBO but you could book directly with Stewart Mountain Lodging. I never write a blog dedicated to a rental house but, in this case, it is warranted. Our contact, Wyatt, was hospitable and responsive to anything and everything we needed.
He grew up skiing in Sundance and told us as special a place it is in the winter, the summer is something special. We may have to go back to Eagle's Nest to see for ourselves.
Additional Information
Traveling with friends can be complicated, especially during a long trip. So too can vacation with your adult kids. But we had an open, honest dialogue and determined we were compatible. Here are my suggestions for the top 10 travel item recommendations. And, we all know how chaotic traveling is today. I'm sharing tips for Dealing with Chaotic  Air Travel.
Sundance is a true winter wonderland. Just don't tell too many people. 🤫😉