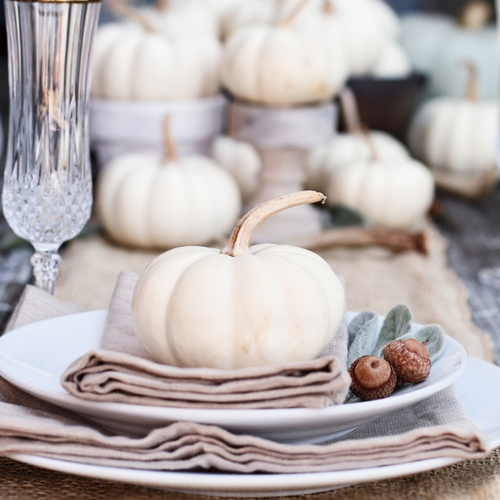 Eight is Enough
In case you did not already know, Thanksgiving is my favorite holiday of the year even in Florida. Sure there is no fall foliage minus the brown palm fronds that seem to drop this time of year and, in my 48 years of living down here, the weather typically is in the high 70's or low 80's. Even with the lack of fall colors everywhere, the holiday still holds a special place in my heart. Throughout my entire life, my mom has always hosted Thanksgiving dinner. We were welcome to include friends that did not have a place to celebrate. My mom would find a way to make tables fit even if it meant moving furniture out of the way (that's a whole other story). She would take control of the room and tell us which way to turn the table just so everyone had a place to sit.
In fact, the main table, aka the adult table even though I am pretty sure that everyone is adults now, is her pride and joy. It comes from Sweden and starts off as a small table but opens up to hold almost 20. My mom LOVES this table and talks about the table and only certain family members are allowed to open the table and then attempt to close the table. Closing this table has lead to some very funny comments that can be interpreted in a comical way. The table is set at least one week in advance, first with the table pads, then a plastic table cloth, and then the dinner cloth. She has collected various decorations some made by her grandkids and some purchased. There's Thanksgiving confetti, quilted turkeys, Thanksgiving-themed candlesticks, and a turkey candelabra.
The Big Day
As the Thanksgiving guest list got longer, we convinced my mom to finally let us use nice plastic plates, you know the premium plastic plates and premium forks and knives that don't break off the minute you go to slice your food. I think my sisters and I and our kids all got tired of washing all of the dinnerware in addition to the pots and pans. My mom has made many compromises with us over the years around Thanksgiving… we make it more of a casual dress event so jeans are even allowed now and she lets us keep football on in the Florida room. So when I went over to help set the table on the obligatory seven days in advance, we pulled the table out to accommodate 20 guests; however, this is for social distancing purposes as there will only be eight of us.
We won't be starting the meal prep three days in advance this year (herb butter for under the turkey skin, dicing the onions and celery for the stuffing) electing to cater it from The Fresh Market this year. We will have Thanksgiving dinner at my 89-year-old mom's house with my 92-year-old aunt who makes the most amazing sweet potato souffle. Then it will just be my sister and I and our young adult kids. The rest of the family who drives in for the holidays will each have their own dinner. Of course, we will have a Zoom call and we will make it festive and enjoyable and may actually be able to participate in one conversation instead of trying to figure out which of the multiple conversations taking place at the same time seems the best one to join. So there is that advantage.
I genuinely feel bad for my mom who is up there in age and looks forward to having the whole family together – she is in her glory when she hosts a holiday meal. As she has repeatedly stated, this is the first time in over 70 years that she has not cooked for Thanksgiving. I fully recognize that she understands the whys of the smaller gathering but I also know that she is sad. Sad to the point she does not even want to put out all of the table decorations. I pushed her about this stating that there would still be four grandchildren and two of her daughters there plus her 92-year-old sister and we absolutely need to make the table festive for all of us, which is eight. All of us need to find a way to enjoy the holidays even if they are different. I, for one, am thankful to still have my mom and my aunt around and that they are both healthy. We have a home to gather in, food on our tables and none of us have been sick so to me there is a lot to be grateful for. And next year, I am hopeful we can get back to our holiday traditions.
But for this year, Eight is Enough.