HaveUHeard.com includes links to third-party websites and advertisements for third-party products and services. Product and service-specific opinions mentioned within the content of our blogs are entirely the opinions of the HaveUHeard.com team and its staff. It is our hope that you will find value in the products and services these third-party organizations represent, and patronize these businesses. Such advertising and marketing partnerships help make our efforts at HaveUHeard.com possible. Thank you for your support and ongoing interest. For additional information, please read our full HaveUHeard.com Disclosure Statement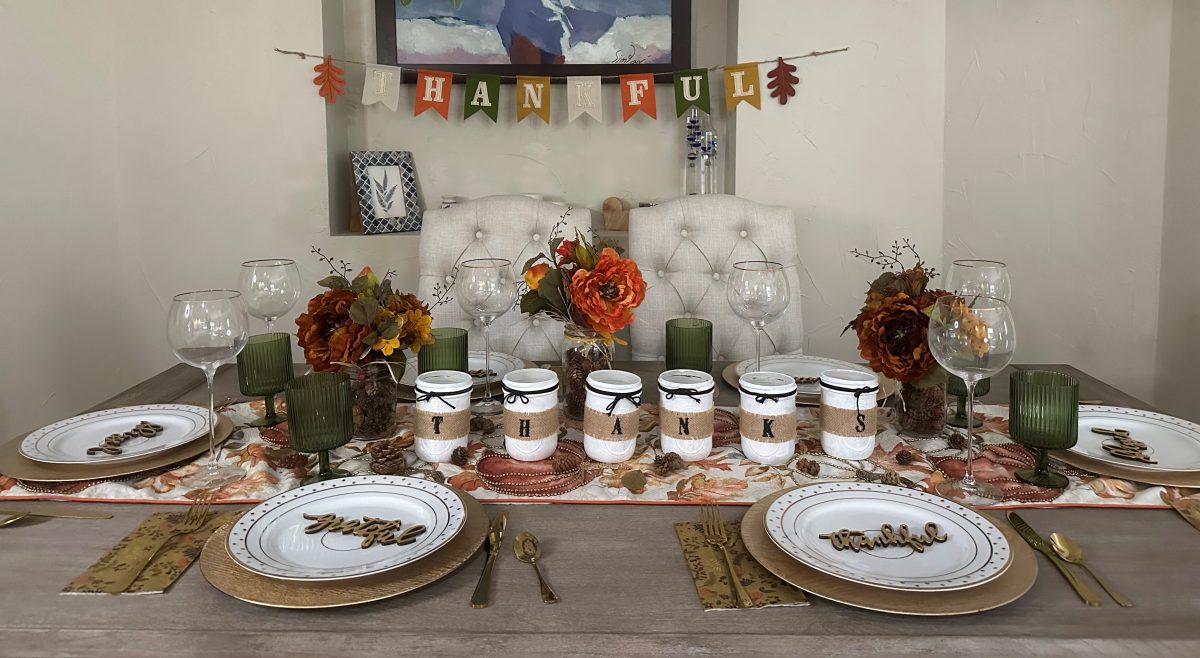 ---
My Favorite Holiday
If you did not already know, Thanksgiving is my favorite holiday, even in Florida. Sure there is no fall foliage minus the brown palm fronds that seem to drop this time of year.  Despite the lack of fall colors everywhere, the holiday still holds a special place in my heart. I'm sharing my 2022 Thanksgiving table decor.
Thanksgiving Past
My mom always hosts Thanksgiving dinner. We are welcome to include friends that do not have a place to celebrate. My mom finds a way to make tables fit even if it means moving furniture out of the way (that's a whole other story). She takes control of the room and tells us which way to turn the table so that everyone has a place to sit.
The main table, aka the adult table (even though everyone is adult now, is her pride and joy. It comes from Sweden and starts as a small table but opens up to hold almost 20. My mom LOVES this table and talks about the table.  Only certain family members can open the table and then attempt to close the table. Closing this table has led to some comments that can be interpreted comically. The table is set at least one week in advance, with the table pads, a plastic tablecloth, and then the dinner cloth. She has collected various decorations, some made by her grandkids and some purchased. There's Thanksgiving confetti, quilted turkeys, Thanksgiving-themed candlesticks, and a turkey candelabra.
We make it more of a casual dress event, so jeans are even allowed now, and she lets us keep football on in the Florida room. But I have taken over the Thanksgiving table decor. It is a compromise with my mom. Using disposables does not take away from the table decor.
Today's Thanksgiving
Can you believe it is almost Thanksgiving? Yes, I know. Why am I talking about Thanksgiving 8 weeks in advance? This year's inspiration is about keeping my table simple while creating a beautiful boho-style space. Many of the items you may recognize from my other tablescapes. I'm all about upcycling and recycling while adding in a few new items. Plus, there are some great deals out there. Amazon Prime Days are Tuesday, October 11th, and Wednesday, October 12th.  Target Deal Days are October 6th – 8th. My point is creating a beautiful space can be done economically if you plan.
Thanksgiving Centerpiece
My vision was to incorporate fall colors but keep the table simple and clean.
Concentrate on the center of the table. I grabbed a fall-beaded table runner from HomeGoods. It is $27.50. You can find the same one here. Next, I used mason jars to spell out thanks. All you need are mason jars, white multi-surface acrylic paint, burlap, and stencils. I used black twine around the top groove. Make it your own by varying the lettering, even the paint on the jar. You could use orange or brown or any fall color and white lettering. The jars can be reused for future holidays.
Next up, I added used three unpainted mason jars and filled them with a potpourri of assorted size pine cones, dried leaves, acorns, and orange berries. Those were filled with autumn-colored floral arrangements. then placed behind the Thanks jars. You will want to vary the height of the jars. I used some leftover pine cones and scattered them across the runner. It was the perfect touch!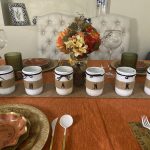 Place Settings
Now it was time for the place setting! I always start with a charger as a great decor element. For my fall table, I used my gold chargers. I had two different table settings. One uses disposables for an informal setting. The other uses my dinnerware to create a formal setting. I also used my gold cutlery silverware set and the napkins with the informal setting I purchased.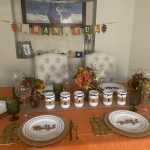 My informal place setting came from Sophistiplate. I've been using their disposables for many holidays. The ones I used are no longer available. I recommend their Harvest Garden collection. Beautiful colors and foil-trimmed plates show off the autumn oranges and browns that come with fall. The collection includes their Bella plastic cutlery, matching napkins, paper baking cups, and party picks!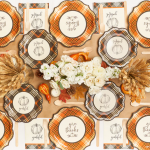 The newer Thanksgiving pieces included my small "thankful," 'blessed," and "grateful" wooden words to go on the plates for a formal setting.  I used my green textured goblets and wine stem glasses for glasses.
Did Someone Say Leftovers?
Last year, we used these Thanksgiving Aluminum Steam Pans with Lids! The pans include off-white paper lids with a "Take Me Home Tonight" headline, a turkey, and a slice of pumpkin pie. Pack the pans with leftover turkey, pie, and other delicious Thanksgiving food to enjoy the next day!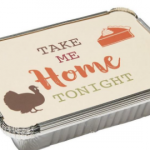 A New Tradition
Thanksgiving is a holiday where we recognize our blessings. Many homes honor the tradition by having everyone share what they are thankful for. It's about gratitude for all we have, whether health, family, or friends. This year, I will be adding something new. I am giving each of our guests a little gift to give thanks. It is a bracelet that you tie around your wrist. The belief is that your wish is released when the string wears through or breaks. It is believed that yours will come true.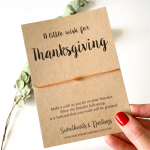 Another suggestion is to give each guest a surprise gift from Greetabl. Or send them to your family & friends that are not able to be at your Thanksgiving table.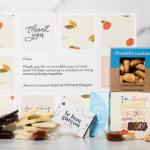 Whether formal or informal, I hope this Thanksgiving table decor inspires you.
Let the eating begin! Happy Thanksgiving 🍂🍁🍗
Pass on these great tips, tell your friends and like us on Instagram and Pinterest. Sign up for other great tips at haveuheard.com.