HaveUHeard.com includes links to third-party websites and advertisements for third-party products and services. Product and service-specific opinions mentioned within the content of our blogs are entirely the opinions of the HaveUHeard.com team and its staff. It is our hope that you will find value in the products and services these third-party organizations represent, and patronize these businesses. Such advertising and marketing partnerships help make our efforts at HaveUHeard.com possible. Thank you for your support and ongoing interest. For additional information, please read our full HaveUHeard.com Disclosure Statement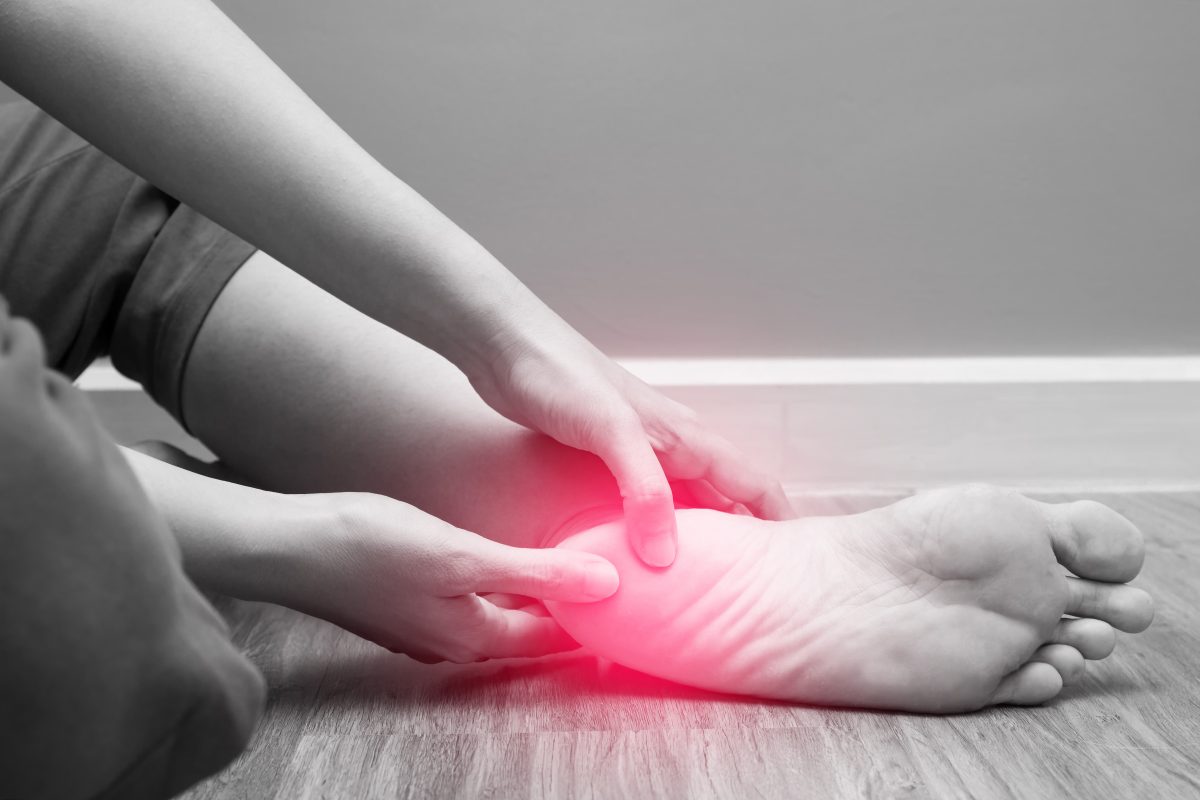 It May Be Plantar Fasciitis
Have you ever woken up with foot pain? It may be plantar fasciitis. It has been over three years since I was diagnosed. Fortunately, after six months of having injections and staying off my feet, the pain is gone. I attribute that to doing foot stretches EVERY day since my diagnosis in 2020, including rolling my foot on a tennis ball.  And I consistently wear supportive shoes or orthotics in my shoes. You don't need to hit me on the head twice. The idea of having this extremely painful foot inflammation again is all the motivation I need.
Walking around barefoot on a hard floor and pavement was the culprit. So although exercising is encouraged, as is getting fresh air, it's all about wearing supportive shoes. If you have high arches, as I do, that also makes you more prone to plantar fasciitis. It is quite common with runners too.
What Does Plantar Fasciitis Feel Like
The type and location of foot pain vary for everyone. Mine was in my heels and the side of my foot.  I could barely put pressure on my foot; so severe was the pain. It feels like sharp, stabbing pain near the heel. Because my feet were not stretched during the evening, the mornings were the worse. I did what many of us do and googled home remedies. Between Google and TikTok, it can be overwhelming.
The plantar muscle runs down the center of your foot. It is inflammation of the tissue that connects the heel bone to the toes. Plantar fasciitis is very common. There are more than 3 million cases per year. It is usually self-treatable and self-diagnosable. After four months of foot pain and still not seeing enough improvement, I did seek medical advice.
Before going to the doctor, I tried several remedies. First, I ordered a splint that would stretch the foot. I rolled a tennis ball around the foot to loosen the inflammation. And I lived on anti-inflammatories. Other suggestions include freezing and rolling a water bottle along the bottom of the foot.
Luckily, I had no additional foot issues after having the foot x-rayed. My podiatrist told me they saw an enormous increase in plantar fasciitis during the pandemic as more and more people took to walking and running outside.
One thing about plantar fasciitis is that it has to heal on its own Some of us heal quickly. The first time I had plantar fasciitis was more than ten years ago. The orthopedic put me in a boot 24-7, which healed quickly. Wearing a boot is uncomfortable; I would pull it off in the middle of the night. I strongly encourage adding stretching exercises to your daily routine.
Best Exercises for Plantar Fasciitis
The three illustrated exercises below came from the podiatrist I went to for treatment.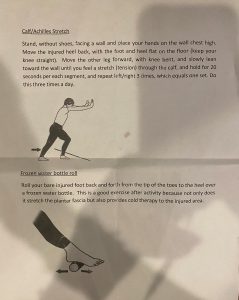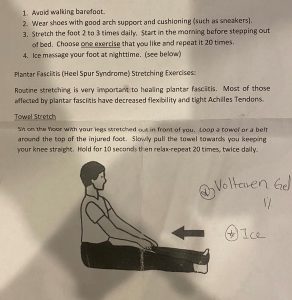 Stretching your feet is critical. Katie Couric recently shared a video of foot exercises, many of which I already do daily.
You also want to do stretches that strengthen the foot, ankle, and calf muscles. Think calf raises and plantar fascia stretches.
Supportive Shoes
In addition to daily stretching, I wear special orthotics in my shoes. Being a shoe addict, it is difficult to give up wearing some of my more fashionable shoes. You cannot wear an insole in backless sandals or mules. But I have been able to wear an orthotic in certain summer sandals.
Brands I Recommend
Protalus – I have every one of their insoles. You pick yours based on your foot symptoms and the type of shoe. The H-75 is pretty narrow and does not run the full length of your foot. I am using these for sandals with a back, and while sometimes they slip, if you have the sandal on tightly, they will stay in place and allow me to wear some of my flatter sandals without discomfort. I even use an orthotic while on the Peloton.
The other insole that comes recommended is the Powerstep Insoles.
Feetures socks – These socks are another layer of protection. You can purchase them on their website. Athleta and Dick's also sell them.
Vionics – My first purchase was their slippers which I always wear around the house. I've learned how bad it is to walk barefoot on hard floors. I recently bought the Vionic Beach Collection Pismo Lace-Up sneaker. I purchased the white ones from Nordstrom, but they did not have my size in some of the other colors I liked. You can also find them at Dillard's.  That is where I got the sneakers in black and, for summer fun, seafoam.
Birkenstocks – My foot doctor approves these for arch support, so I have several. I am fortunate to have a Birkenstock store nearby, but you can grab them at most department stores.
Marion Parke – These were huge splurges since I was so upset about having to wear shoes I did not like. A foot and ankle surgeon created them. This luxury footwear is tasteful and discreetly comfortable.  I now have the Carly Braided Leather Thong Sandal with Contoured Footbed and the Charlotte Leather Slide Sandal with Contoured Footbed.
Other highly recommended brands include Hoka One One Bondi 6, ECCO sandals, Olokai, Brooks Adrenaline GTS 21, Asics Gel Cumulus 22, Kayana, or Nimbus models.
Treatment of Plantar Fasciitis Syndrome
I do the stretches the doctor gave me.  The doctor also recommends using a tennis ball. You can use Voltaren gel if the pain is severe, like mine.
In conclusion, I advise people with plantar fasciitis to listen to their bodies. If I had done that instead of trying to power through the pain, perhaps I would not have exasperated the situation and healed faster.
Let me know any tips you have or if my tips help you!