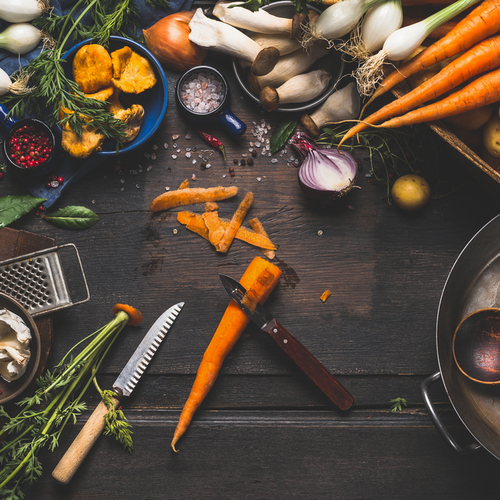 When You Just Can't Cook Anymore
Most of us have probably cooked more this year than any year before. It is one of many reasons why the meal kit industry has been exploding. Are you a new cook or working from home? Perhaps you unable to cook for yourself. Do you have limited pantry space? Or maybe you just hate to cook. We are here to help you decipher between the various meal kits.
Personally, I love to cook so I have a full pantry consisting of almost every condiment, spice, a variety of cooking vinegar, at least five different types of flour, bread crumbs, olive oil (three different types), canola oil, coconut oil, grapeseed oil, avocado oil, and every other imaginable pantry. My daughters' apartment in NYC did not even have the space for anything but the necessities. And, even though I love to cook, it is nice to work from one of the meal kits every once in a while.
My elderly mom recently fell and cannot cook her meals or get to the grocery store. This is a great option if you have elderly parents with aides that can no longer manage their ADL's. (Activities of Daily Living).
We sampled various meal kits as an alternative to cooking on our own. Votes are in. Read on, for thoughts, comments, and opinions.
Overall Review
While Plated and Blue Apron were two of our favorite meal kits, you will need to invest 40 plus minutes to cook a meal. Before signing up, I would definitely look at
Groupon
, RetailMeNot, and Facebook for coupons making it even more reasonably priced. Another tip is to look at your credit card; many times they offer a percentage or dollar off when you purchase from one of the meal kits retailers, which adds to any additional savings. You could theoretically use a coupon code to get a great deal and then get even more savings by paying with a specific card.
A Mom and Daughters' Reviews
My girls' pantry used to be filled with ramen and goldfish or they would call out for delivery every night. Meal delivery services are a great way to keep your kitchen stocked without taking one trip to the grocery store. Not to mention, there are so many options for vegetarians, meat-lovers, or those who just want to eat healthily. Here is a go-to guide to meal kits from our(hungry) perspective.
Mosaic Foods
– I recently tried
Mosaic Foods
for the first time. What tempted me about this meal kit company is they are plant-based foods that are frozen and there is no prep or cleanup. These are perfect meals for when you want to take a break from cooking or if you don't like to cook but like to eat healthily.  The frozen meals take about 5 minutes to microwave or a little longer if you choose to cook them on the stovetop. Another must on my list of factors that are important is the amount of protein in the meals. While their sugar and fat content falls within a reasonable range, some of the meals were a little higher than I would have liked. It's a trade-off because I am unwilling to sacrifice protein and I avoid foods laden with preservatives.
First, can I say I have never been an oatmeal person at all but I loved their Golden Milk & Black Oat. What I loved more was I started my day having 10 grams of protein. I also tried their North African Veggies & Couscous, Black-Eyed Pea & Sweet Potato Ndambe, Coconut Chickpea Curry, and Jackfruit Chili. These frozen foods are a great alternative for vegetarians and vegans. Another plus is they source their fresh veggies, hearty whole grains, and perfectly-ripe fruits from farms and distributors.