HaveUHeard.com includes links to third-party websites and advertisements for third-party products and services. Product and service-specific opinions mentioned within the content of our blogs are entirely the opinions of the HaveUHeard.com team and its staff. It is our hope that you will find value in the products and services these third-party organizations represent, and patronize these businesses. Such advertising and marketing partnerships help make our efforts at HaveUHeard.com possible. Thank you for your support and ongoing interest. For additional information, please read our full HaveUHeard.com Disclosure Statement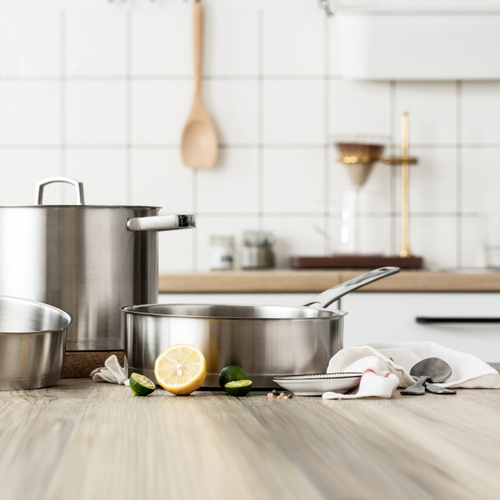 Tips to Keep It To A  Minimum?
When I downsized, I had to consider what kitchen must-haves I would take. It was challenging. After the first year, I realized that all of the newest, latest kitchen gadgets that were supposed to simplify our lives only made it more complicated.
My Decor Style
Funny story. I recently talked with a friend who used an indoor grill that is quite popular. I, of course, asked her about her countertops now that she's added this to her air fryer, instant pot, and food processor. She said, "What countertop?" And that's where stocking a kitchen gets complicated.
My decor preference is more minimalist, with open space and clean countertops. The last thing I want is to clutter my cooking area. But, it is very easy to collect more and more every day until all of a sudden, your kitchen is now a complicated mess.
I get it. As a self-proclaimed foodie, I am easily captivated by everything kitchen. I have everything from herb strippers to several styles of mandolins to way too many makers- waffles, ice cream, panini. That's not to mention the many bowls, frying pans, saucepans, Corningware, etc.
The irony of striving to be a minimalist and keep things uncomplicated is not lost on me. That's not to even mention my pantry and my spices. When you love to cook, you tend to need a variety of spices, flours, oils, and condiments.
Something Has To Give
There are kitchen must-haves on my list. I continue to get rid of items I have in my collection that are never used. This collection includes an apple peeler-corer, rotating waffle maker, salad spinner, panini press, and crockpot. I even had an ice cream maker. Honestly, with limited space, something had to give.
Organizing A Pantry
Are you tired of having so many duplicates in your pantry? I never realized this until I went to empty it. Since I couldn't see items in the back, I'd assume I did not have a specific ingredient and buy another one. Finally,  during the pandemic, I, like many, realized I had to get organized. After doing research, I hired ShelfGenie for my pantry. It truly has been a game-changer. The glide-out shelves allow me more space to organize and see what I have in my pantry.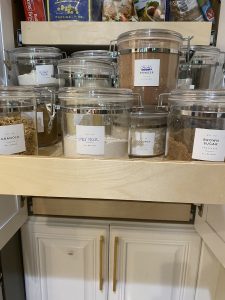 And I added some glass storage jars to store some of my dry goods.
Variety is the Spice of Life
There is a false drawer under my cooktop, so I had it made into a spice rack. Before the spice rack, I could never locate my spices in the cabinet, even when trying a lazy susan. I'd end up duplicating and triplicating the same spice and not having others. So frustrating for a cook that uses a lot of different spices.
In addition to my spice drawer, I bought some spice jars to display on my countertop. I bought spice jars and labels. I then found an expandable 3-tier kitchen organizer made from bamboo.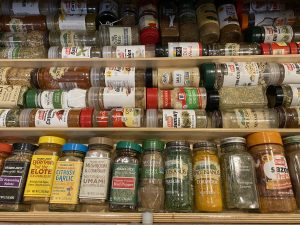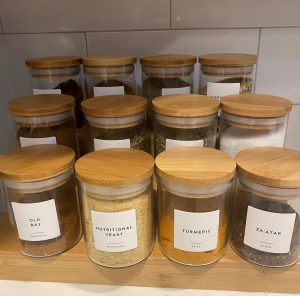 Kitchen Simplified
The way to a functional and uncomplicated kitchen is only having what you use. Over the years, I have amassed many mixing bowls, cookware, and triplicates of spatulas, wooden spoons, and measuring cups. Plus, I probably had about 8 saute pans in various sizes.
When I moved, it was the perfect opportunity to donate many items and start anew with a simplified kitchen. My must-haves are:
Always Pan – This pan goes on sale during their annual spring sale. This pan should be on everyone's list or registry. First, it replaces your fry pan, saute pan, steamer, skillet, saucier, saucepan, nonstick pan, spatula, and spoon rest. You can braise, sear, steam, strain, saute, fry, boil, serve, and store. It cleans up super easily, and it is PFOAS or PTFES-free.
Always Pot– I waited for the sale to add this to my cookware since I love the pan. This works on regular stovetops, induction, and gas and can go in the oven. I love my cast iron pot, but they are heavy. This weighs in at only 4.5 lbs. with the lid. You can use it as your stockpot, dutch oven, saucepot, roasting rack, steamer, strainer, braiser, and spoon rest. And you can boil, crisp, bake, braise, roast, steam, strain, pour, serve, and store. It is also PFOAS  or PTFES-free.
Green pan nonstick cookware – I decided to rid myself of old cookware and invest in a good set that is metal utensil-safe, oven-friendly and dishwasher-safe. Another bonus? It is PFOA-free and can be used on a ceramic surface or induction stovetop. And it cleans up well!
It includes two silicone hot grips to fit the long and short handles. You can take it from stovetop to oven to broiler too.
Glass mixing bowls– gone are the days of plastic. Mixing bowls that can go in the microwave and are extremely durable is the way to go.
Stainless steel mixing bowls – I have the oxo mixing bowls with a non-skid bottom. This is great when you are mixing with one hand.
Stovetop grill – Living in a second-floor condo, I am not allowed to have a grill. I love my flat-top reversible grill, not wanting to clutter my countertop with a separate indoor grill. Perfect when you want grill ridges for your burgers and steaks or a smooth surface for sandwiches, pancakes, eggs, and more.
Baking sheet pans – you should not need more than two or three maximum unless you run a bake sale out of your house.
I use a Pyrex glass baking dish to make lasagnas, eggplant parm, and other baked items. You could also use Corningware. I have the set because I use almost every piece.
Kitchen Utensils & Gadgets
This is a long list of kitchen must-haves because these are your cooking tools. I have spent a lot of time paring this list down because if you are limited on space, you just cannot have every utensil and gadget there is to get.
Fish spatula – I swear by my fish spatula. You can use it for more than fish. It is great because fish can tend to fall apart when trying to turn it.
Kitchen tools – Again, here I opt for a toolset that sits on my counter. Includes the swivel peeler, ice cream scoop ("points"), potato masher, soft-handled can opener, 11″ balloon whisk, medium spatula, meat tenderizer, 4″ pizza wheel, nylon flexible turner, 12″ tongs with nylon head, nylon square turner, nylon spoon, nylon slotted spoon, grater and utensil holder
Measuring cups – I have a measuring cup for dry goods and one for liquids. It is important to have separate ones when measuring.
Kitchen scale – This is my most recent acquisition. Sometimes cooking is very exact, so having a scale to weigh certain recipe ingredients has saved me many disasters. I love this Farmhouse one that sits on my counter as a bookend for my recipe books.
Stainless Steel Spider– I purchased this last year. I use it for meatballs, falafel, and draining pasta.
Knife set- Knives are one of those items that are an investment. While I understand the need for a good set that includes a paring knife, bread knife, steak knives, kitchen shears, utility knife, and more, I'm not a professional chef, so my Farberware block set works sufficiently well. If you want to invest in a great set, the top brands are Henckels, Wusthof Gourmet, Messermeister, Global, and Shun.
Microplane Zester – This is a must-have tool. I use it for zesting citruses such as lemons, limes, oranges. And I prefer using it for overusing a garlic press to crush the garlic.
Citrus Juicer – This is a game-changer when it comes to juicing citrus. Here's a tip: slice both ends to maximize the amount of juice you get when juicing.
Small Appliances
There is only one appliance I keep out on my countertop. Underneath, I hide small appliances that are kitchen must-haves.
I think there are some fun new appliances out there, but why complicate my life with lots of different single-use tools when I can have some that are multifunctional and uncomplicated.
Cuisinart Food Processor – I use this often for making sauces and pesto. When my D's were living with me during the pandemic, I invested in a Vitamix because they love smoothies. While I think they are great, I sent them back with my D when she moved out because she used them daily.
Magic Bullet – I know, it's somewhat redundant to a food processor. Since my D's went to college, we've had it, and I love using it for salad dressings and sauces when I only need a small amount. The bonus is that I can store what I have not used in the cups.
Coffee Makes Everything Okay
Having a coffee and espresso machine for my girls and me are kitchen must-haves. I turned a standalone countertop into a coffee bar. I started with a 3 tiered stand that holds coffee mugs and sweeteners. You can find some fun coffee signs too.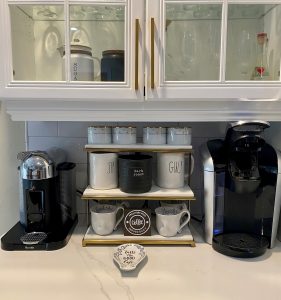 I added in a few Rae Dunn coffee mugs.
Drinks Anyone?
I am a big fan of red wine. I'm not a fan of opening bottles of wine. That was until I won a Rabbit PRO Electric wine opener kit at a charity event, with the wine of course.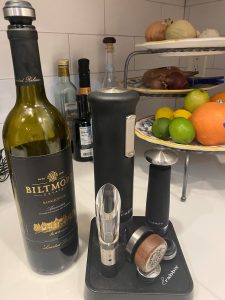 One final tip. Stocking a kitchen gets pricey. Trade-in credit card points for gift cards for many of your larger stores like Bed, Bath & Beyond, Target, Walmart… even William Sonoma. Also, check your credit cards for special offers. That will give you extra savings on top of your purchase. I try to do this on the first of every month.
What are your kitchen must-haves?
Pass on these great tips, tell your friends and like us on Facebook, Instagram, Twitter, and Pinterest. Sign up for other great tips at haveuheard.com.