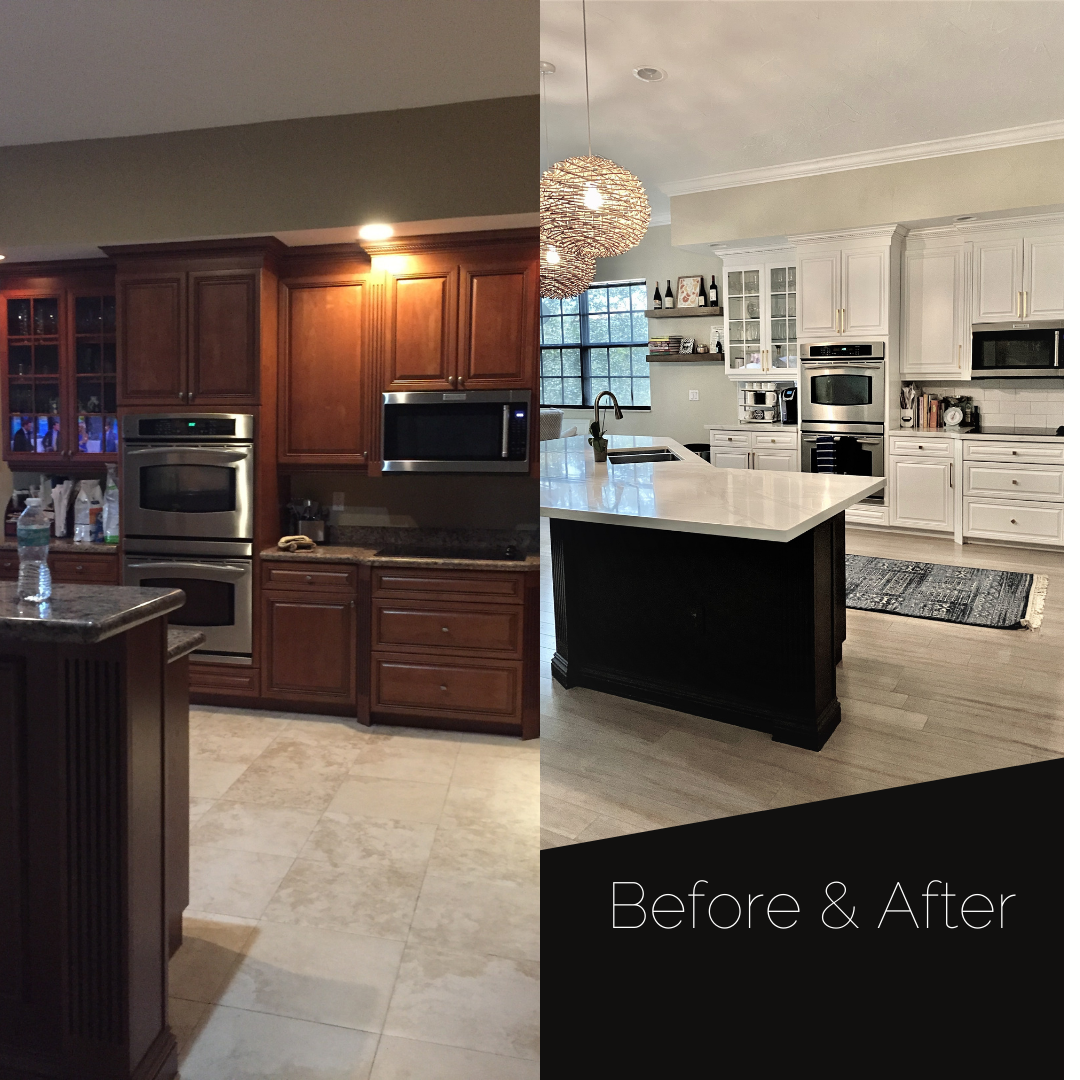 Tips to Save Money and Time
The current real estate surge favors sellers, with demand exceeding supply. We've all heard stories of multiple offers made for an above-listing price. As a result, homes in desperate need of a facelift are getting snatched up. At the same time, supplies to remodel are in short supply and at escalated prices. Whether your current home or a new home, if you are ready to remodel your home, I am here to share my tips on remodeling a home, including mistakes made and lessons learned.
Renovation Plans
My home required an update. When I purchased my home, it was outdated, having had no updates since 2004. So I knew I wanted to replace the floors, paint the entire unit, and remodel the kitchen and bathrooms.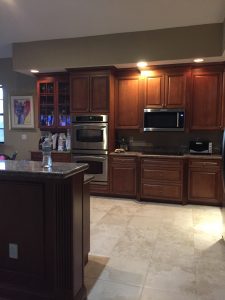 Before remodel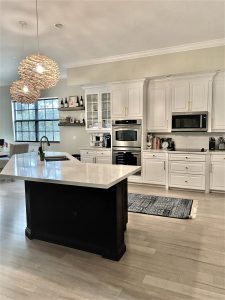 After remodel
My Two Cents Word of Advice
Put Together a Realistic Budget – My budget was based on current home appraisals. I looked at my purchase price and the current price of recent sales of renovated units and used that as my budget. I did not want to invest an amount that would put me significantly above what I could sell my place for. Build-in +/- 10% as a cushion.
Do Your Research – There are delays in products and finding suppliers and higher prices for building materials. I researched the average cost of remodeling my kitchen, bathrooms, and flooring because these would be the higher ticket improvements. For me, that meant this was a one-and-done. There was no option to redo the project if I did not like how it turned out. While not inexpensive, I could repaint, which would not impact me too terribly; I had one chance with a complete bathroom and kitchen remodel.
Figure Out Your Style – Spend some time figuring out your design style. Is it a traditional, transitional, modern, contemporary, minimalist, bohemian, or modern farmhouse? Mine was a mix of modern farmhouse/rustic and transitional. Looking at designs that match your style helps to pinpoint color schemes, tile selections, bathroom hardware, and more.
Look Online – I looked at galleries on retail sites and Instagram for inspiration using hashtags such as #kitchens and #bathrooms. If you know what style you seek, do a more specific search, such as #transitionalkitchens. Obvs, the broader the search, the more results. It can be overwhelming.
Some good resources to look at on IG include @flooranddecor, @bedrosiantile, and @vivirdesign. Additionally, check on IG sites like @Houzz, and @magnolia @housebeautiful, for example. I love Pottery Barn, Restoration Hardware, and West Elm, which all have galleries on their website and IG.
Will You Be Living in Your House During Renovations?– This is huge. Because I lived there while undergoing the renovations, I spread them out over a year. I started with painting the house and redoing the floors. At one point, my kitchen was completely sealed off in plastic, rendering it useless. I moved a toaster oven into my breakfast nook. They did give me access to my refrigerator. Was it annoying? Absolutely but this only went on for a few days.
Consider Using a General Contractor – I am not a DIY'er, and after my kitchen misstep (see below), I hired a general contractor to oversee the bathroom renovations. These were my most expensive renovations. My rationale was that he would oversee all the labor and suppliers if anything went wrong. Yes, there is a markup when you use a GC, but in my opinion, it was worth the cost.
Consider Buying the Materials Directly – I purchased the product for some of the materials, including the kitchen and bathroom hardware and tile. I made one mistake because I had my heart set on a specific wall tile for the smaller bathroom. I ordered from a smaller distributor because I could not find them at bigger retailers. The price of the tile was within my price range, but the shipping was exorbitant. In hindsight, I would look further to find a similar product.
Shop Around – I bought my bathroom tiles from Bedrosians Tile & Stone. Honestly, I was unfamiliar with them until I discovered their product on another company's IG page. I researched the company only to discover they had a showroom in my area. After multiple trips to their showroom, I fell in love with the tiles for my master bathroom. Interestingly enough, their product is sold through Wayfair, Lowe's, and Walmart, so conduct price comparisons.
Repurpose – I chose to have them painted because the kitchen cabinets and bathroom vanities were in excellent condition, high quality, and still in style. Just make sure you ask for extra paint in case it chips. Over time, I have noticed chips from a vacuum cleaner hitting them. So all I did was change out the hardware I ordered from Rejuvenation.
Use Your Credit Card Rewards – Check your major credit cards monthly for any offers, including bonus points or money back. For instance, I accrued points on several of my credit cards which I then used to purchase gift cards at Lowe's, Home Depot, Wayfair, Target, and Pottery Barn. In addition, my GC worked with me to help me pick out the products from these stores.
Mistakes Made
My current home is the first home I have owned by myself. I attempted to educate myself about remodeling costs because I was determined to stay on budget. Unfortunately, that led to a few missteps and mistakes that I would do over if given the opportunity. They include:
I decided to lay the engineered wood floor over the ceramic tile, on the advice of my installer,  rather than have all of the tile removed from my house, on the advice of my installer. I knew I would need to move out if I lifted the tile, significantly increasing the cost.
In hindsight, I would have lifted the tile for several reasons. First, it has made the floors harder on my feet. I used to walk around barefoot, but now the flooring is much less giving.
Order extra flooring. I had just enough to do my entire job. Unfortunately, my refrigerator leaked water and caused the wood to buckle. My flooring was discontinued, so using the scraps we had and the flooring that didn't get damaged under the refrigerator, we were able to fix it. However, if there were to be a pipe break or anything that could damage my floor, I would have to rip up all existing floors because there is nothing left to match.
The major problem was installing the bathroom tile. It became self-evident that the threshold between the bathroom and the wood flooring was extremely uneven in many areas, including over an inch. The installers did use mud to even out the flooring from the bedroom to the living room. Because there is no door between the bedroom and the bathroom, the only solution, besides redoing the wood flooring and mudding the whole room, was to slope the tile.
I was not too fond of the raised kitchen bar, which was original to the house, built in 2004. The breakfast bar needed to be lowered to counter height to install the new quartz countertop. I called a few carpenters to get prices for hiring it out. One was almost double the cost of what the company renovating my kitchen cabinets offered to charge. It did not seem like a difficult job.
The subcontractor he hired to cut down the bar chopped it unevenly and did not pull the wires through properly. When the countertop company came to install the quartz countertop, they explained they could not do it because the top of the kitchen island was completely uneven. I had to pay extra to reframe the top part of the wall. Had I gone with the person the countertop company recommended, it would have saved me money, time, and aggravation while it seemed expensive.
End Result
I love how everything came out. Once I added soft decor, it tied the rooms together and gave them an updated transitional style.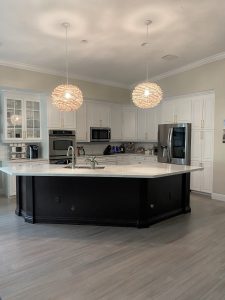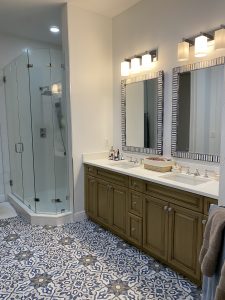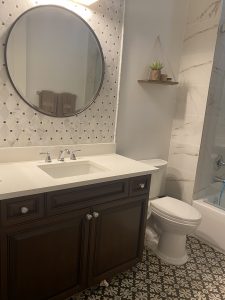 I will address each room remodel and link some of my purchased products.
Obvs were I to buy a new place in the future, my preference would be to remodel before moving in. Having workmen at home five days a week for a month or more was not always easy. There were days the water was shut off, or I had to use the kitchen sink as my bathroom sink.
Since I love to cook, not having access to my kitchen for two weeks was difficult because it meant taking out food, going out to dinner, or eating ready-to-eat meals. But having a wide-open kitchen with more counter space to prep was definitely worth the hassle.
Pass on these great tips, tell your friends and like us on Facebook, Instagram, Twitter, and Pinterest.  Sign up for other great tips at haveuheard.com.