HaveUHeard.com includes links to third-party websites and advertisements for third-party products and services. Product and service-specific opinions mentioned within the content of our blogs are entirely the opinions of the HaveUHeard.com team and its staff. It is our hope that you will find value in the products and services these third-party organizations represent, and patronize these businesses. Such advertising and marketing partnerships help make our efforts at HaveUHeard.com possible. Thank you for your support and ongoing interest. For additional information, please read our full HaveUHeard.com Disclosure Statement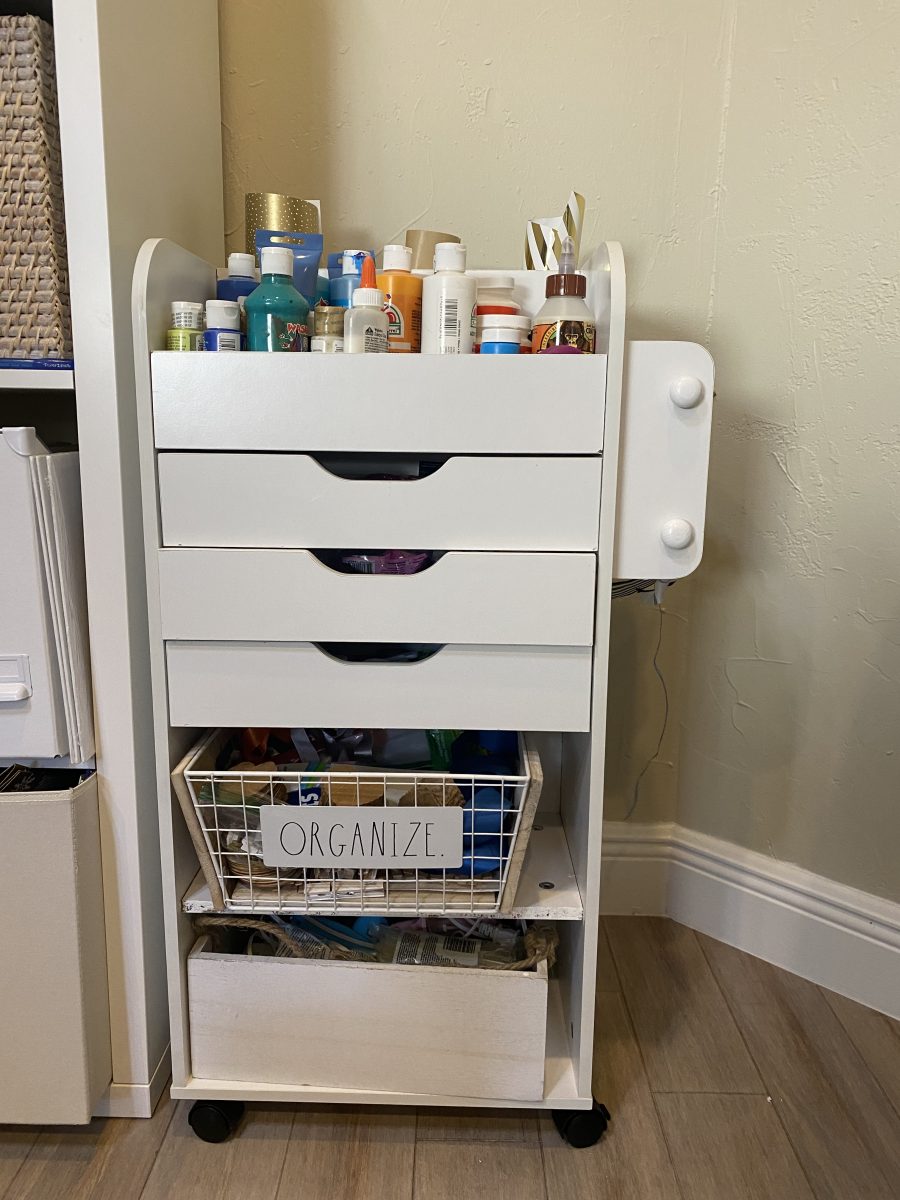 Time to Get Organized
With the start of the new year, I am ready to do more organizing. I thought I'd tackle my craft storage bins which were sitting in a hallway. My inspiration came, of course, from Instagram. There I saw a white craft cart that matched my office. How complicated could it be to build a craft cart?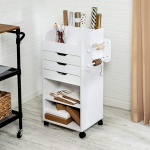 How It Started
My craft bins date back to when my girls were young. I love to craft. At one point, it was creating scrapbooks of family vacations and celebrations. Then there were the girls' school and camp projects. Now it is more about holiday crafts and tablescapes. What resulted is a chaotic mess.
Inside my craft bins, you will find a disorganized array of
Paint & Paintbrushes
Glue sticks – tbh way more than I know what to do with
Glue guns – does anyone need more than one or two?
Ribbons & Bows
Felt
Stickers
Feathers (why?)
Styrofoam
Colored pipe cleaners
Tissue paper
Scrapbooking paper
The Honey-Can-Do Craft Storage Cart
The craft cart I saw was from Bed, Bath & Beyond. Right away I knew this would be perfect for my disorganized craft boxes. Oddly enough, I forgot about saving it so when I needed to find it, I had to do a new search.
But even I was surprised by the results. The identical cart was available at several retailers but the price points were all over the place.
Bed, Bath & Beyond has it for $125.99. Macy's has it for $239.00. Amazon has it for $77.01. There are in excess of 20 retailers that carry it include Overstock, Wayfair, and of course the manufacturer, Honey-Can-Do. Even Pottery Barn carries an identical-looking one (and possibly the same one) but for $169. If you have coupons or gift cards, you'll need to do the math. I purchased it from Amazon because of its price and its fast shipping. Four days later, I was ready, and excited, to organize my craft collection.
Who Writes These Instructions?
Once I saw the size of the box, I knew I would need to build the craft cart myself. What I did not expect were the instructions that came with the cart. They were virtually pictures with tiny letters of each piece of the cart. I am familiar with the memes about Ikea's instructions so this was pretty much the same.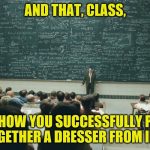 Since the instructions stated that two people could build it in half-hour, my mathematical skills figured one hour of assembly. If you zoom in on the pictures of the assembly instructions, perhaps you could understand why that did not happen. First, the pictures of the screws (3 different types) are hard to differentiate in the photo. The three-dimensional pictures did not help at all. And the two main sides literally had about ten holes for the various screws.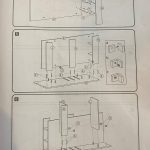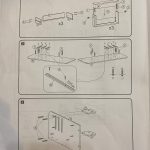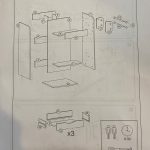 The last image did me in. I mean 3D images are great but my pieces were laying flat on the floor. And, as a solo assembler, there was no way I could stand everything up to try to make sense of it.
Thanks, YouTube
After the first fifteen minutes of trying to figure out what went with what, I turned to YouTube. Thankfully, the manufacturer had a short video that definitely helped me out. I did have to stop the video for each step.
After more than two hours, I finally had the cart built. There was one faux pas. As I went to celebrate not being defeated by this cart, I noticed one of the shelves was assembled backward, thus showing an unfinished side.
I had a choice. Disassemble the cart and start all over or leave it be. I am certain you can guess that I chose the latter. I can paint it white so it doesn't stand out as much. It's just a craft cart, not a major piece of furniture. And, I bought two great wooden bins to hold loose items so they will be barely visible.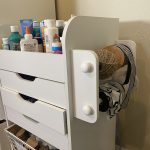 Complicated Instructions
Why is it that having a college degree is not near enough to understand some of the instructions to assemble furniture? Should you have to have an engineering or architecture degree? Or hire someone else to do it? Trust me, after the first half-hour, I actually looked up the cost on Task Rabbit. But being a determined person, I refused to give in.
Perhaps companies can simplify it for us DIYers and include a thumb drive with an assembly video, or at least a link to step-by-step instructions. This would save on the paper instructions (we can have the option of printing it out ourselves). That would certainly have uncomplicated my attempt to build a craft cart.
What have you built recently that you thought required a degree in civil engineering?
Pass on these great tips, tell your friends and like us on Instagram and Pinterest. Sign up for other great tips at haveuheard.com.