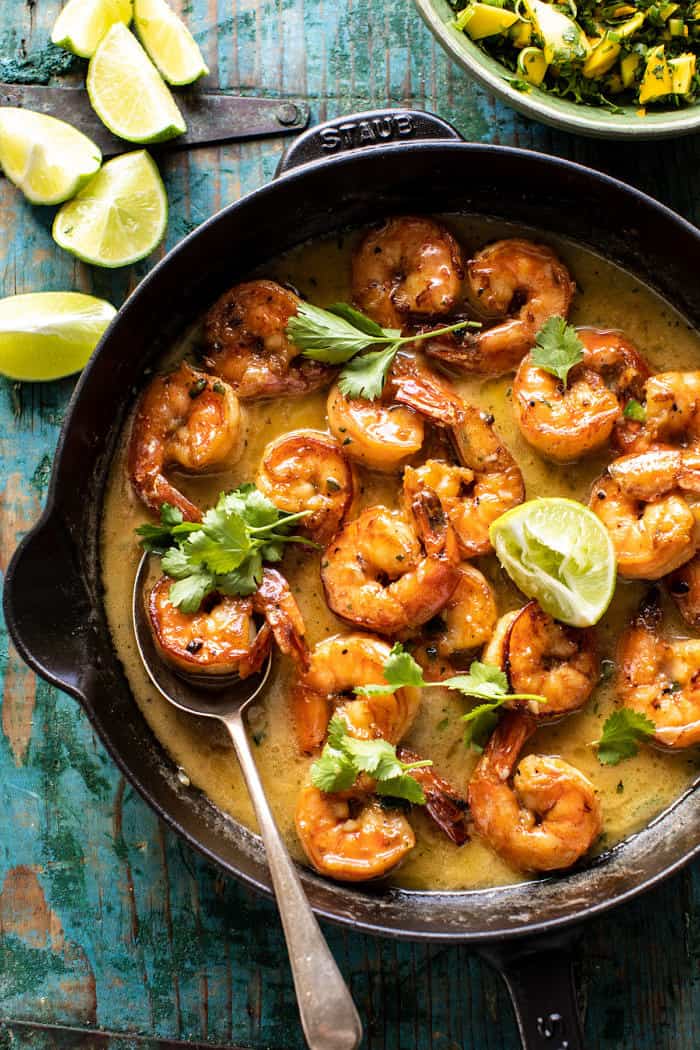 Honey Garlic Butter Shrimp in Coconut Milk
My daughters love to introduce me to food bloggers. The most recent introduction is the website Half-Baked Harvest. The blog is written by Tieghan Gerard who is featured on The Cooking Channel, Food Network, HGTV, Crate & Barrel, Shape Magazine, Self Magazine, the Huffington Post, and PopSugar, among others.  I did make her 20 Minute Thai-Inspired dish, Honey Garlic Butter Shrimp in Coconut Milk and it is absolutely delicious.
If you read my other blogs, you may see that I did try her take on Homemade Vegan Twix Bars.  Because I WFH while helping to care for my elderly mom, I do not always have time to spend in the kitchen. I love to cook so that can often be disappointing. So, I do love it when I stumble upon a recipe with a total time of 20 minutes.
TBH, it did take me a little longer because I am neither a fast grater nor a micro planer but this meal is so worth it.  As this was a last-minute decision, I left out the mango salsa.
Let's Get Cooking
Ingredients
1 1/2 pounds raw jumbo shrimp, peeled and deveined
kosher salt and black pepper
1/4 cup extra virgin olive oil
6 cloves garlic, finely chopped or grated
1-inch fresh grated ginger, grated (or 1 teaspoon dried ginger)
1/4 teaspoon cayenne pepper (optional)
2 jalapeños, seeded, if desired, and chopped
4 tablespoons salted butter
3/4 cup canned coconut milk
2 tablespoons low sodium soy sauce
3 tablespoons honey
zest and juice from 1 lime
1/4 cup fresh cilantro or basil, chopped
Mango Salsa
1 mango or 2 cups pineapple chunks
1 jalapeño, seeded (if desired), and chopped
2 tablespoons extra virgin olive oil
juice of 1 lime
1/2 cup cilantro, roughly chopped
Instructions
1. Pat the shrimp dry and season with salt and pepper.
2. Heat the olive oil in a large skillet over medium heat. When the oil shimmers, add the shrimp and cook until pink, about 2 minutes per side. Add the garlic, ginger, cayenne, if using, jalapeños, and butter. Continue to cook the shrimp in the butter until the garlic begins to caramelize and turn light golden brown, 1 to 2 minutes.
3. Add the coconut milk, soy sauce, and honey, stir to combine, bring the mixture to a simmer, cook 2-3 minutes, until warmed throughout. Remove from the heat and stir in the lime juice and zest, add the cilantro or basil.
4. To make the salsa. Combine all ingredients in a bowl. Season with salt.
5. Serve the shrimp and sauce over rice. Top with salsa. Enjoy!
Add in Sides
I did add in naan bread to dip up the buttery garlic sauce.
You can serve this over rice or cauliflower rice. When I am making Success Rice (again, on a busy WFH day) and my dish has Thai flavors, I try to replicate that flavor by replacing plain water with coconut water and adding in lime juice. This is a simple method of making easy coconut lime rice.
I encourage you to try this recipe from Half-Baked Harvest.
And, as I make some of her other recipes, I will be certain to share them.