HaveUHeard.com includes links to third-party websites and advertisements for third-party products and services. Product and service-specific opinions mentioned within the content of our blogs are entirely the opinions of the HaveUHeard.com team and its staff. It is our hope that you will find value in the products and services these third-party organizations represent, and patronize these businesses. Such advertising and marketing partnerships help make our efforts at HaveUHeard.com possible. Thank you for your support and ongoing interest. For additional information, please read our full HaveUHeard.com Disclosure Statement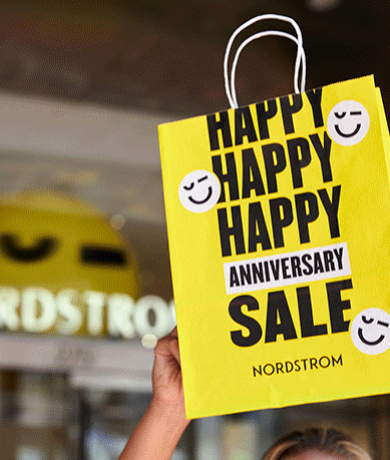 A Mother-Daughter Tradition
It has been a tradition of ours to go to the Nordstrom Anniversary sale. They used to really make a big deal about it with a private night for their credit card holders. There would be music, hors d'oeuvres, and a chance to grab some fall merchandise on sale.
The sale discounts fall merchandise for about three weeks. Many items are snatched up during Early Access for card members starting July 11th. The other Nordy Club levels get to start shopping from one to 3 days after. It opens up to the general public on July 11th. Social media influencers typically fall under that category. But you can still do fairly well on many other items. Their card members get early access depending on their level. Icon shoppers get to shop on July 11th, July 12th for their Ambassadors, and July 13th for their Influencers.  Everyone else can shop the sale starting July 17th.
There are certain Nordstrom-branded items I would strongly recommend.  It's also a great opportunity to purchase stocking stuffers and holiday gifts. How it works:
Go through the preview and add items to your wish list.
On your day of shopping, go to your wish list and check off the items you want to purchase
I would recommend signing up for the Nordstrom credit card to earn points and redeem them for dollar notes. If you do this in advance, you can make the Anniversary Sale one of your double points days. And, if you sign up, you may be eligible for a $40 Nordstrom Note.
My personal strategy over the next few weeks is to add the items I am specifically looking for to my wish list and then see if anything is included in the Anniversary Sale. And, I will be trading in some points I have through my credit card for Nordstrom gift cards to offset the cost. Finally, if you do plan on spending a good amount, make this a triple point day so you can at least earn some notes.
Backstory
Nordstrom is one of my favorite stores. I blame my mom. Mention Nordstrom and you will hear her story about shopping at the original Nordstrom in Seattle while on vacation. In fact, when my daughters and I went to Seattle, she insisted we visit their flagship store. We did and definitely enjoyed our visit.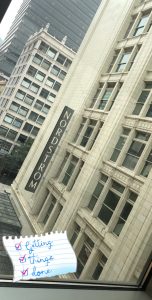 Whenever I would take her to Nordstrom in our area, she always shares how long she has been a Nordstrom customer with the customer representative. It's actually adorable. So yes, I blame her. And, my girls blame me for their love of Nordstrom. Ahh, the things we pass on to our kids.
My Recommendations
It can be a little overwhelming to go through the entire Anniversary Sale items. Prior sales focused on upcoming fall/winter items that were discounted during the Anniversary Sale but would go up after the sale ended. I noticed that there are a lot of other non-seasonal items that are included. My guess is that they too have excess inventory and want to push those items. But, I love focusing on fall items. And, I find that you can get some great deals on beauty and shoes. I broke down my recommendations by category. They include items I have purchased in prior Anniversary Sales. Additionally, I am including brands that my twenty and thirty-something adult daughters and I have added to the Wish List.
Home
Nordstrom Hydrocotton towels– I am extremely picky about my towels. They must be absorbent and soft. These are both. They come in an array of colors. If you have a person who uses benzoyl peroxide, it will pull the color out of your towels. It's why I keep the white ones around to avoid that problem.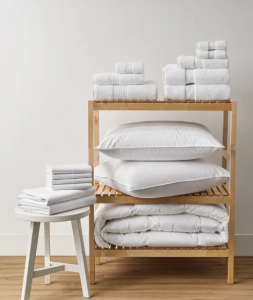 Nordstrom Bliss Plush Throw – These are so soft and comfortable. You'll find them in every room in my home. And, honestly, they make great gifts. They come in eight different colors. Normally $39.50 but during the sale, we got them for $24.90.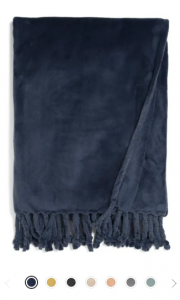 Candles
We are big fans of candles for adding warmth and comfort to your home.
Voluspa Candles – I bought a set last year as a Hanukkah present for my daughters who love these candles.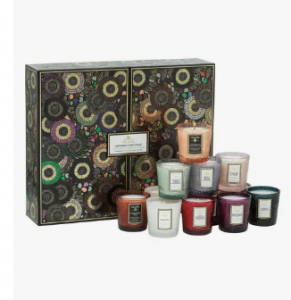 Volcano Blue Signature Candle – The scent is amazing! Perfect stocking stuffer.
Sleepwear & Lingerie
Nordstrom Lingerie Moonlight Short Pajama Set– My daughters ordered these last year and I totally get why. After trying theirs on, I also bought a pair. They are perfect for the warmer summer weather, especially in Florida.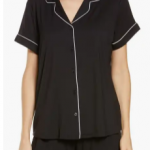 Eberjey Slouch Pajamas – I am extremely picky about the pajamas I sleep in. They must be soft and stretchy fabric. I usually look for a Modal fabric which is one of the more luxurious vegan fabrics. It is great if you tend to get hot while you sleep. With a trip coming up in the fall, I decided to splurge on a pair.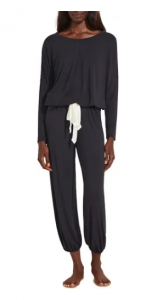 Hanky Panky Original Rise Thong – I've been a fan of Hanky Panky for over 10 years. Anytime they go on sale, I replace some older ones.
Activewear
Zella is a Nordstrom-made brand so expect to see them on sale based on previous history.  Last year, On Cloud, put some of their sneakers on sale. I own two pairs that I wear on rotation. Since it is recommended to change out sneakers every 6-12 months, based on how often you wear them, I'd take advantage if they do go on sale again. I love the Cloud 5 running shoes.
Zella Workout Bras – I'm a huge fan of Zella and these longline sports bras are super comfortable. They come in black, navy, and some patterns. I am 5'1" and petite and ordered an M.
Zella Bike Shorts – I'm a fan of this Nordstrom-made brand. The bike shorts are marked down during the Anniversary Sale from $49 to $32.90
Nordstrom 3-Pack Cushion Ankle Socks – I try to refresh my sock collection annually since I live in them year-round. We also love the  Nike 3-Pack No-Show socks and the Zella 3-Pack low-training socks.
Jewelry
Nordstrom cubic zirconia stud earrings
 Apple Watch® Straps – Take your watch from casual to sophisticated with designer bands. I love my watch but find I want a change from the standard black band.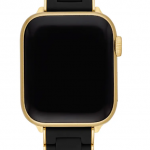 Diamond Essential Huggie Earrings – I've been looking for a pair of Huggies. Last year, I bought two pairs to go in four of my piercings. Not only are they comfortable, but they also hold up in the shower. I get so many compliments on these earrings.
Beauty & Makeup Gifts
Nordstrom puts many of their top brands on sale from Dyson to GHD, Jo Malone London, Bobbie Brown, YSL, Charlotte Tilbury, and more. Take advantage of some of the lowest prices
GHD Black Platinum 1-inch styler – I am a huge GHD fan. I own this styler and the travel styler. If you need to replace yours or are thinking as a gift, this is a great sale price. Almost $100 off the regular price.
Perfume– Adding this to my Hanukkah gift list because fragrances can be pricey. I know the scents my daughters gravitate to so why not give them something they will love?
Charlotte Tilbury Pillow Talk Cheeks Set
Nars Mini Orgasm Cheek Duo Set
Le Labo Eau de Parfum Discovery Set
COOLA® Classic Body Piña Colada Sunscreen Set
Laura Mercier Translucent Loose Setting Powder Duo
Accessories
Ray-Ban sunglasses – I'm one of those that has several pairs of sunglasses. It takes me a while until I find a pair I love. Ray-Ban always works out great for me so I am going to add another pair because… Florida… sunny and has strong UV rays so have to protect my eyes.
Belts – These are great updates to your wardrobe. Check out the ones from Madewell and this one from Frye.
Women's Jackets, Jeans & Jumpsuits
Mostly you will be able to take advantage of the upcoming fall apparel.
Blazers – If you haven't noticed, a blazer is perfect for jeans, slacks, dresses, and shorts. I prefer a fitted blazer so added the Open Edit in beige and black.
Frame – Last year, I purchased their black denim jeans. So comfortable and soft so I'm adding in their straight-leg jeans (Dublin). They are a bit pricey but still a great price.
Good American – My daughters love this brand for their softness and find them to be true to size.
Halter Neck Jumpsuit – I was looking for something a little more dressy for an upcoming wedding.  I can also travel with it and dress it up or down.
Topshop Faux Leather Moto Jacket – I am a long-time fan and was sorry to see their Soho, NY, and London stores close. They were known for showcasing up-and-coming designers. Thankfully, Nordstrom still carries their brand. Comes in black and cream.
Wit & Wisdom – ankle straight-leg jeans. – a friend introduced me to this brand years ago. They are super comfortable and a great ab-solution denim.
Zella Live In Jogger Jumpsuit – Because I WFH, this jumpsuit keeps me cool and casual. I have the Zella Live-In joggers and they are super soft and comfortable so this is a great find as far as I am concerned. I am 5'1″ and small works out perfectly.
Women's Shoes
From designer brands to Birkenstocks, if you have a specific style of shoe you've been wanting, there are plenty on sale. Boots are always a big sale item during the Anniversary sale. I'm a big Birkenstock wearer, no thanks to a prior bout with plantar fasciitis that I work really hard at avoiding. So you know I'll be looking at those. On a recent trip to the French Riviera, I saw a lot of people wearing Birkenstocks, even to climb steep steps. I was sticking to sneakers, but decided to try out my Birkenstocks and they were extremely comfortable. It felt great not to be in a closed shoe for vacation.
Blondo Booties– I own about 5 pairs of Blondo booties that I have purchased during various Anniversary Sales. They are super comfortable and waterproof. They mark them down over $50 so worth getting if you are looking to get a pair of booties for the fall.
Børn Sandal – These look so comfortable and fun!
Cloud Running Shoes – These have become my favorite sneakers. If you haven't tried a pair yet, I would grab them during the Anniversary Sale … if they are not sold out. It's a great price!
Chelsea Boots – I own pairs in black and brown. Chelsea boots are timeless so if you don't yet own a pair, I highly recommend getting a good pair that will last.
Dolce Vita Solo Western Boot- Western boots will always stay in style. Love these classic western boots in suede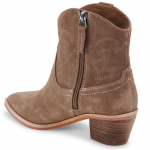 Loafers– From lug loafers to traditional loafers, there are several styles that will be on sale. With a fall trip coming up this year, you know I'll be looking for a comfortable pair in lieu of wearing boots everyday.
Vionic Tenley Bootie– I suffered from plantar fasciitis back in 2020, Vionic is one of my recommended brands for their support. Definitely adding these to my wish list.
Travel
I've got several trips planned for the fall and winter. These travel items will definitely come in handy.
All Saints tote – One item I missed having on my last trip was a tote.
Béis Weekend Travel Bag – I recently got my daughter BÉIS luggage since she is traveling so much. Sometimes they are weekend trips so consider adding this weekend travel bag. It looks very spacious and even has a separate compartment for shoes.
Designer handbags- I have my eye on  one in particular that I'm hoping will be included in the anniversary sale. I'll add it to my wish list just in case.
Longchamp – several of their backpacks and totes are on sale. My girls and I love them! I bought the leather backpack on a trip to London but also own the tote.
Longchamp Toiletry Case – I am definitely adding this for my upcoming trip abroad. I have limited space so my other toiletry bag will be too big.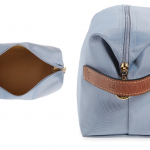 Monos Carry-On suitcase– This brand is similar to Away and Beis so I'd recommend this for the traveler in your life, whether yourself or a family member.
Tumi Paige Backpack – I received this as a gift from some friends for my birthday because they know I have a big trip coming up. I love the color and the sleeve to slip it onto my suitcase.
Happy Shopping! 🛍
Pass on these great tips, tell your friends, and like us on Instagram,  TikTok, and Pinterest.