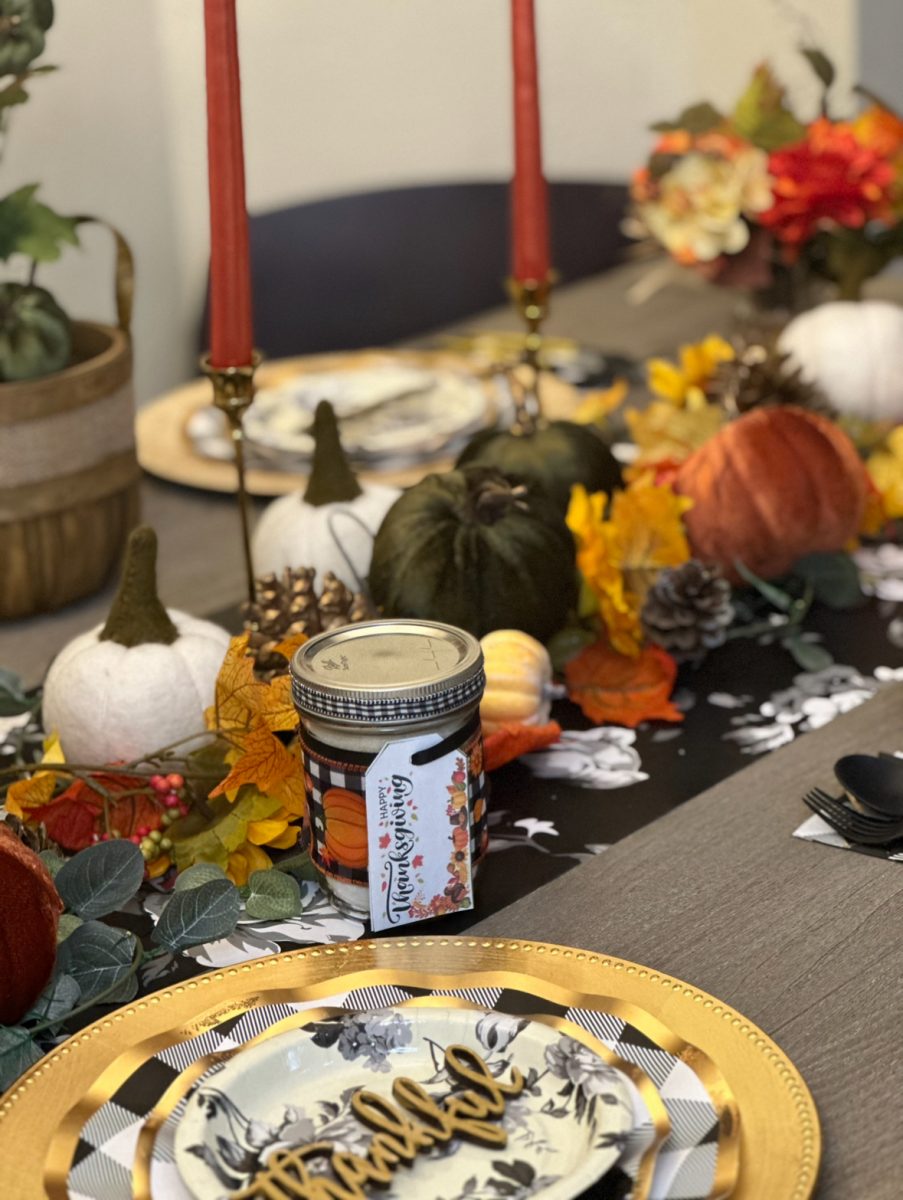 From Farm to Feast
It is hard to believe that it is almost Thanksgiving. When looking for Thanksgiving tablescape inspiration for 2023, I came up with two different themes. I love them both, but only one will be my family's tablescape.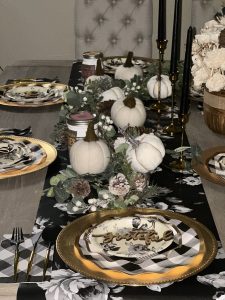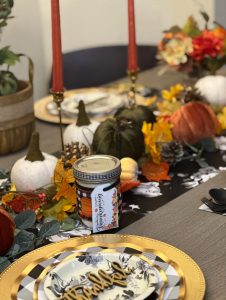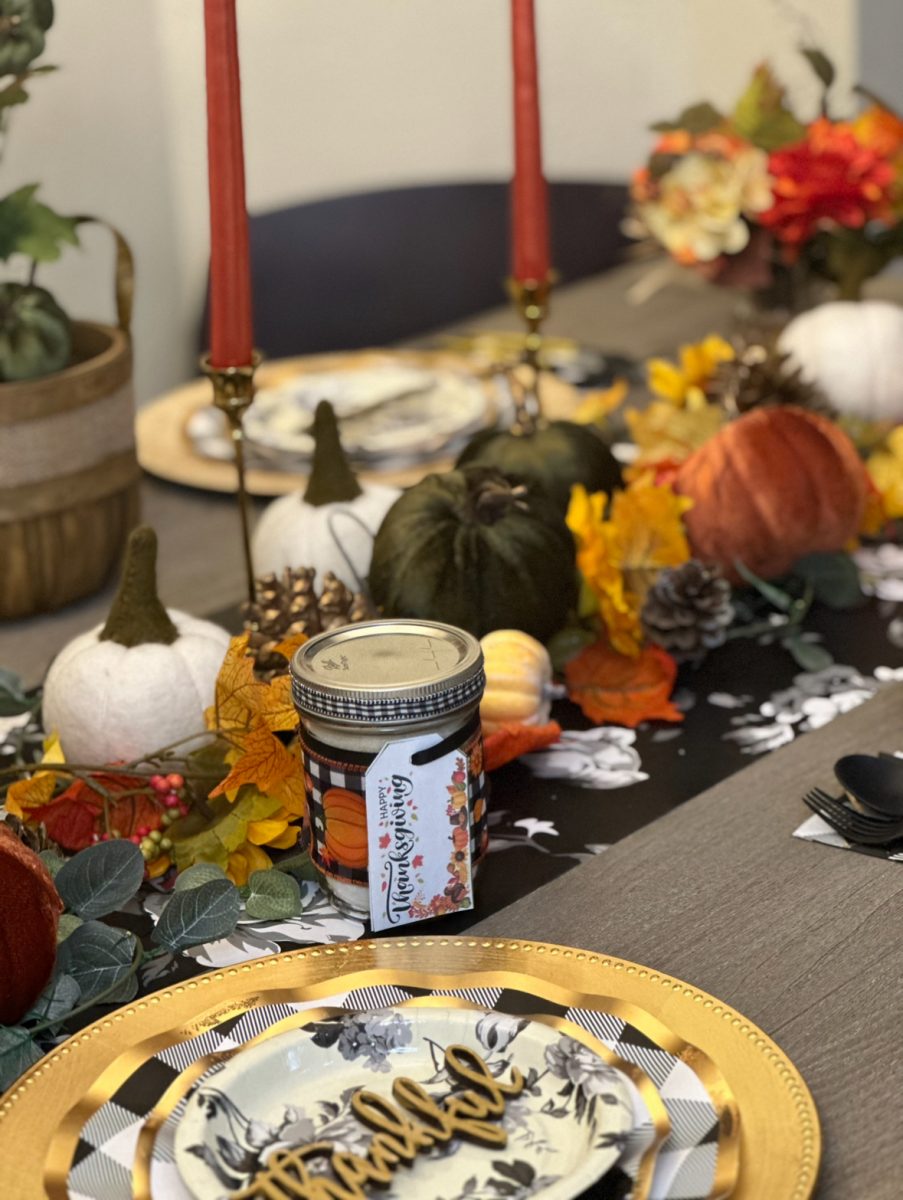 My initial idea was to create a farmhouse table consisting of neutral colors (whites, beige and black) and upcycling items I had around the house and some simple DIY creations. But visits in early October to Michael's, HomeGoods, and The Dollar Store inspired a more traditional take on my Thanksgiving tablescape.
However my table ends up looking, it becomes the Thanksgiving Tablescape Inspiration for our family celebration, but on a much larger scale. I won't say which table won out because I love them both.
A Seasonal-Inspired Thanksgiving Table
I used the same disposable tableware for my farmhouse table and a more fall-traditional table. Sophistiplate is my go-to for many of my tablescapes. I have used their products for several years. They hold up well. And they are perfect for holidays when you don't want to contend with the cleaning.
This year, I went with their Buffalo Check Table setting. It worked out perfectly for both ideas. I ordered enough for 24 guests, but they are available for as few as 8. The sets include the buffalo check dinner plates, salad plates, cocktail napkins, guest towels, gold appetizer/dessert bowls and paper chargers, black & gold assorted plastic cutlery, and black chevron paper straws (they are sold out of the baking cups).
The black and white floral paper table runner and dessert plates came from Etsy. The plates are sold out, but Sophistiplate includes gold ones, so that you can substitute those.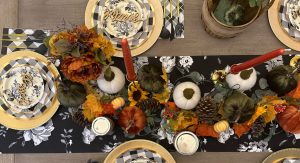 Fall  Harvest Traditional Tablescape
While assembling a Halloween charity project, I encountered some fall-colored and white velvet pumpkins at the Dollar Store. I grabbed the green and orange ones from several locations. The white pumpkins came from HomeGoods. They do not have the exact ones I purchased last month, but Amazon has velvet fall harvest colors here and here.  (#commissionsearned)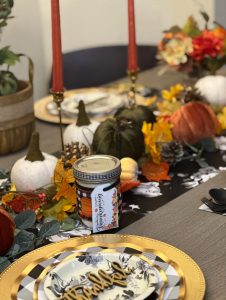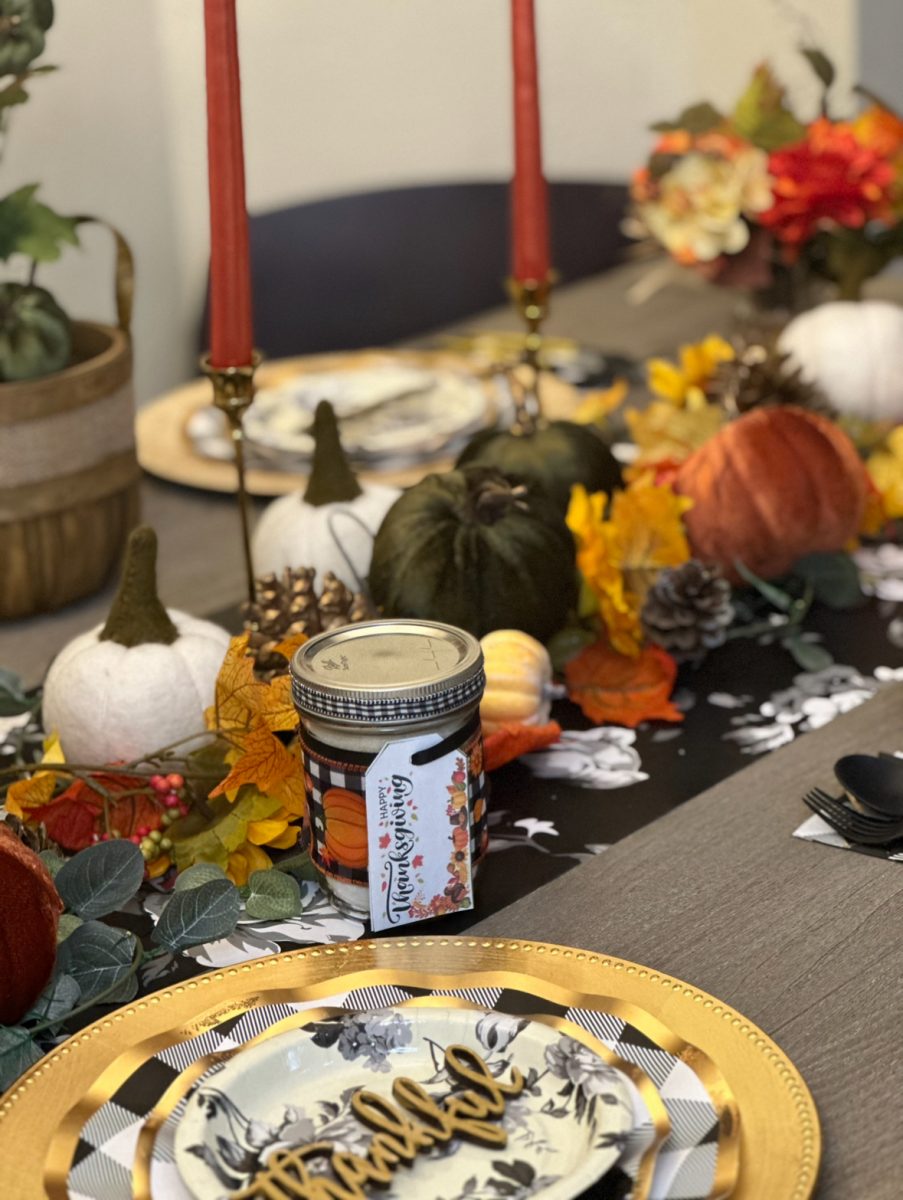 For the seasonal-inspired table, I used fall leaves garland from Michael's. I also added some eucalyptus leaves for some color. I had these from another tablescape. Florals can upcycled for many holidays. The bushel basket came from Michael's. I filled it with this white and orange velvet pumpkin & leaf stem and fall green velvet pumpkin & leaf bush from Joann. My mom actually had painted pinecones, which were perfect to add to the theme. You could use these decorative ones too.
You could use a natural floral arrangement in fall colors, too. Finally, I included grateful, blessed, and thankful wood words, items I bought several years ago.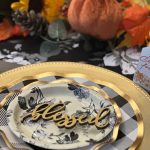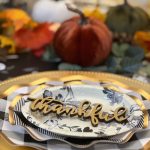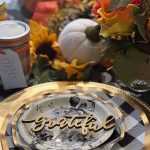 Farmhouse Tablescape
For this tablescape, I used the same table settings. The difference was the use of neutral colors. For the bushel basket, I substituted some white wood florals I bought last year at Trader Joe's, cutting them down for the height I needed. If they do not carry them, you can find some on Amazon. These look similar to the ones I had. Add in some pampas grass and dried flowers for more of that farmhouse, boho feel. (#commissionsearned)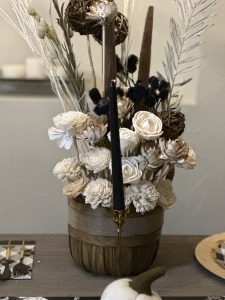 For the florals down the center of the table, this white berry, eucalyptus, and pinecone garland will work for Thanksgiving and Christmas.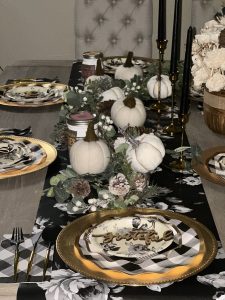 The white pumpkins' material is felt. Check out Joann, Michael's, or HomeGoods. You can find plenty of options at any of these retailers. JoAnn has cream velvet pumpkin picks and fall white pumpkin & berry bush. Michael's sells the ones I used, a white fabric pumpkin pick. Amazon also sells fabric white ones.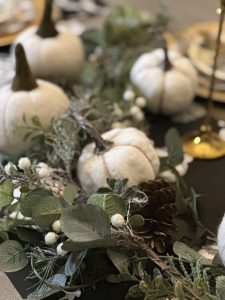 Thankful for my Friends & Family
Thanksgiving is the perfect time to count our blessings and show gratitude for all we have. This year, I am gifting each guest/family something small to show gratitude for having them in my life.
I enjoy crafting with Mason jars. My inspiration for this year's Thanksgiving cookie Mason jar gifts came from the blogs Lil Luna and Capturing Joy. Both provide free PDF printouts. I designed hanging tags for my traditional table since I used smaller jars and halved the recipe. You can print out a PDF of mine for free.
I used her labels for the Farmhouse tablescape, purchasing the peel-and-stick labels from Amazon. (#commissionsearned)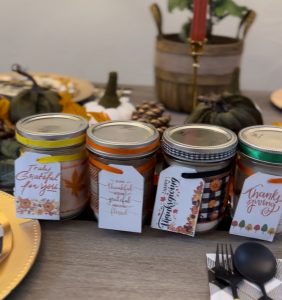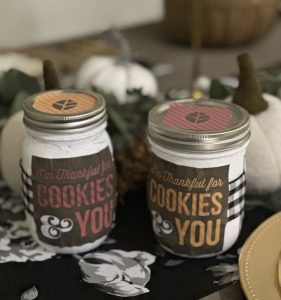 Supplies:
Mason jars – you can use a pint, ½ pint, or quart size
Ribbon – This Fall wired ribbon (#commissionsearned) worked great on the pint-size jars. For the Farmhouse tablescape mason jar gifts, I used buffalo check wired ribbon.

Cookie ingredients
Directions
Clean your jars and let them dry completely.
Combine 1 1/2 cups flour, 1/2 tsp. Baking soda, 1/s tsp. Baking powder, 1/2 tsp. Salt and add to the jar.
Next, add 1/2 cup brown sugar, followed by 1/2 cup sugar.
Then add 2/3 cup chocolate chips
Top off with ⅔ cup M&Ms. I went with the Fall bulk candy colors.
One final recommendation. There will be leftovers. Grab these Thanksgiving-themed food containers for your guests. (#commissionsearned)
I hope these tablescapes give you inspiration for your 2023 table, and may your holiday be filled with gratitude, blessings, and thankfulness 🍂🍗🍁
Pass on these great tips, tell your friends, and like us on Instagram,  TikTok, and Pinterest.