HaveUHeard.com includes links to third-party websites and advertisements for third-party products and services. Product and service-specific opinions mentioned within the content of our blogs are entirely the opinions of the HaveUHeard.com team and its staff. It is our hope that you will find value in the products and services these third-party organizations represent, and patronize these businesses. Such advertising and marketing partnerships help make our efforts at HaveUHeard.com possible. Thank you for your support and ongoing interest. For additional information, please read our full HaveUHeard.com Disclosure Statement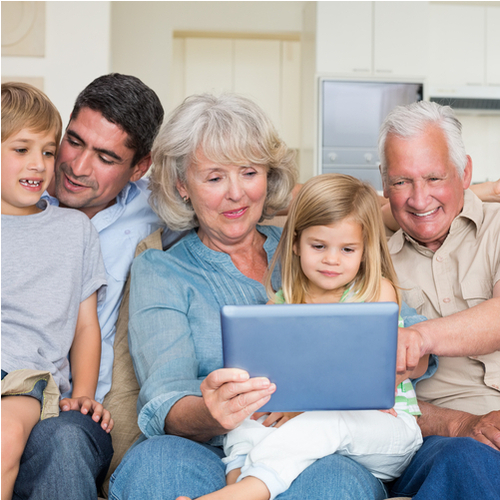 What Does This Mean?
The term Sandwich Generation describes many of us even if you have not heard the term before. We are finding ourselves stretched thinly trying to care for our own children and our aging parents. The first time I heard the term Sandwich Generation was almost a decade ago. A group of my friends and I had kids in their teens and our parents were in their 70's.  Some of our parents were already facing neurological illnesses, physical illnesses, and mental illnesses. At the same time, we were all leading hectic lives ourselves. Most of us were finding ourselves stretched thinly trying to care for our own children and our aging parents.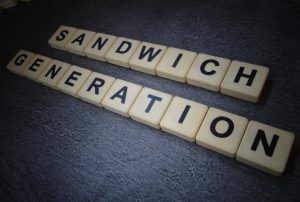 The term "sandwich generation" was coined by social worker Dorothy A. Miller in 1981 to describe adult children of the elderly who are "sandwiched" between caring for their own children and their aging parents. This group of caregivers is subject to unique challenges and stresses but can also benefit from strong, multi-generational bonds.
Life is Complicated especially when you are perhaps working, still raising kids, and now finding yourself caring for aging parents. I am fortunate because I can share the responsibility with my sisters. Additionally, both of our parents have long-term care policies.
Can You Afford A Home Care Worker?
HaveUHeard how expensive home healthcare aides are even with insurance? There are approximately 10,000 baby boomers a day turning 65 between now and 2030; the need for home health care will only increase. According to insurance company Genworth's 2019 survey on the cost of long-term care, the national average bill for a home health aide is $4,385 a month.
My father did pass away almost four years ago after having aides for his last five years. He lived with Lewy Body Dementia and Parkinson's. However, he was a firm believer in long-term care insurance.  That helped offset the cost of his care.
My mom is 89 and also has a policy. She has many health issues ranging from falls that resulted in broken wrists (two separate falls) to an autoimmune disease that almost took her life. On the day before her 89th birthday (February 2021), my mom had an accidental fall. The result?  She is living with a broken kneecap and a broken humerus. We went from a part-time aide helping her M-F from 9 – 5 to now needing 24-7 care.
Since we already work with an agency, we are able to get two additional aides to fill in the open slots. But, her insurance's daily monetary payment maximum is $135/day. My mom is paying out of pocket for the additional hours. This costs over $2000 per week. I tell my mom she is lucky to be able to stay in her home and afford to pay for care. The alternative is either living with family or living in a rehabilitation facility until she heals.
Avoiding Crisis Planning
I have friends who find themselves needing assistance for their parents, many that do not have long-term care. Oftentimes, we are left scrambling to find help. My advice is to have a plan in place so you can avoid planning in a crisis. This includes:
Make sure all legal papers are up to date and you or a sibling have been designated as their POA (Power of Attorney) and Health Care Surrogate. This will help you when having to handle their finances, any medical treatment, and any decisions you may need to make with them.
Make sure you have photocopies of any long-term care plan your parents may have and that you are familiar with the terms.
Make sure you have a copy of their Living Will and any DNR's. When my parents started experiencing health issues, they both signed Do Not Resuscitate (DNR) for any major health crisis. As their children, we may not agree with their wishes, but we do honor and respect their wishes.
Get recommendations from friends on reputable agencies or home health care aides.
We've teamed up with Mama Bear Legal Forms – you can use the young adult POA forms for elderly parents.
Other Suggestions
Normally, my mom's aide takes her to the grocery store once a week. She takes her to get her hair done and many other errands. But because my mom has a severe injury and is unable to be left alone, we do need to consider a meal plan. This includes feeding the aides breakfast, lunch, or dinner.
We are trying a meal kit company to ease the need to go to the grocery store. She is using Hello Fresh. Check out some of our other meal kit recommendations if you are looking to make cooking a little easier.
Another option is to use Shipt or Instacart for grocery delivery. I use my Shipt delivery all the time for sending items to other people. My mom is not loving the idea of not being able to pick out her own produce or items but I chalk that up to a generational concern.
A Fun Activity To Do With Your Aging Parent
Finally, I will say that between the pandemic and now my mom not being able to do anything, I have truly enjoyed my time with her and her 92-year-old sister. They have so many amazing stories to share. Even though I am a grown adult with grown children of my own, I have never heard some of these stories.
Ironically, we gave my mom Storyworth as a gift for the holidays. It is a subscription that includes a year's worth of story prompts for one storyteller, unlimited recipients (people with whom the storyteller's stories are shared), and one hardcover book with a black & white interior (and a full-color cover).
We look through some of my parent's old pictures; I mean really old black and white photographs and upload the ones that go with the story that week.
In conclusion, while these are very challenging days taking care of my mom, I know that I will one day treasure the time we have together.
Pass on these great tips, tell your friends and like us on Facebook,  Instagram,  Twitter, and Pinterest. Sign up for other great tips at haveuheard.com.