HaveUHeard.com includes links to third-party websites and advertisements for third-party products and services. Product and service-specific opinions mentioned within the content of our blogs are entirely the opinions of the HaveUHeard.com team and its staff. It is our hope that you will find value in the products and services these third-party organizations represent, and patronize these businesses. Such advertising and marketing partnerships help make our efforts at HaveUHeard.com possible. Thank you for your support and ongoing interest. For additional information, please read our full HaveUHeard.com Disclosure Statement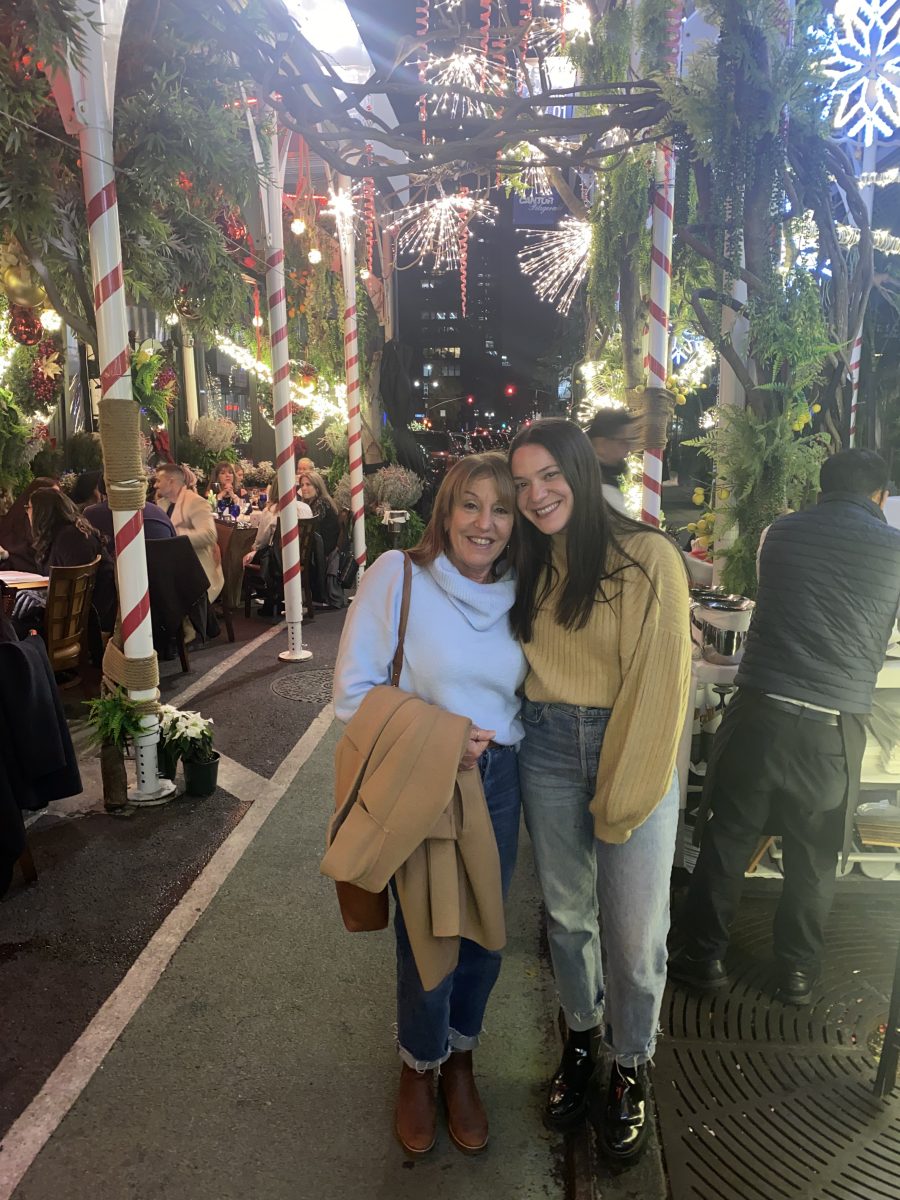 A December to Remember
Visiting New York City in December is magical. From the holiday markets to the window displays, you should try to experience the holidays. I've been to NYC many, many times but only once have I visited during the holidays. This year, my bucket list included going to all of the holiday shopping markets. And, I wanted to see the department store window displays. It was the closest I could get to feeling like I was experiencing a Hallmark movie.  I chose a few weeks after Thanksgiving. Since my daughter lives in the city, she agreed to take in this experience with me.
Important – Make sure you have your vaccination card and photo ID as that is the only way you can eat or drink indoors in the city.
Holiday Markets
We spent an entire day taking in all three of the holiday markets.
Columbus Circle Holiday Market – located at the entrance to Central Park at 59th Street and Central Park West, it was filled with vendors selling art, jewelry, home goods, and of course, foods from local artisans. We got there at 11 am as they opened.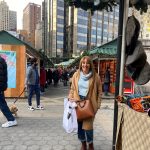 Union Square Holiday Market – Next up was the Union Square Holiday Market. It was way more crowded at this market. I found that there were some of the same vendors here that were at Columbus Circle but still enjoyed looking through all of the booths. I bought a garlic and cheese grater dish from the Garlic Grater. Perfect for someone who uses a lot of garlic while cooking. The ceramic dish is beautifully decorated with a Spanish design. You can certainly buy them online but I had never seen one before this trip. After watching the demonstration, I was sold.
Holiday Shops at Bryant Park – This was our last stop and one of my favorites. Here you can even go ice skating, try your hand at curling, or even dine in your own private igloo. The igloos are a bit pricey but definitely something unique to try out. We were pretty hungry at this point so grabbed some food from Frida's Favorites Mexican Cantina.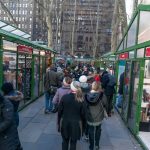 Holiday Window Displays
After we had exhausted all of the holiday markets, we made our way toward 5th Avenue to see some of the holiday window displays. Some of my favorites were Bergdorf Goodman and Saks Fifth Avenue. You'll find barricades along the street in front of Saks but their display is set to music. Definitely gave me Harry Potter at Universal vibes with the music and lights but set to Christmas music. It truly is something to experience.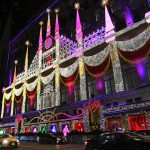 From our vantage point, we could see the Christmas Tree at Rockefeller Center but it was far too crowded to navigate. Tip: watch your personal items as this area tends to be standing room only after dark.
Dining in the City
Each time I visit New York City, we try restaurants we have not been to before. Once again, they did not disappoint. I encourage you to have reservations especially during this time of year. The ones we tried and I would definitely recommend were:
B'artusi – Located on Hudson Street, we stopped here for drinks before our dinner at Jeju Noodle Bar. We had a seat at the counter while trying out some delicious wines. We even saw Jesse Palmer there that night. And no, we definitely did not fangirl or give a Go Gators shoutout.
Buvette – We stopped at their location in the West Village for breakfast. This french cafe had some of the most delicious scrambled eggs.
Fresco by Scotto –  I was very excited to try this restaurant for many reasons. First, I have seen Anthony Scotto Jr. and his family on The Today Show many times. They talked about their updated menu and their beautiful outdoor dining patio which is decorated for the holidays.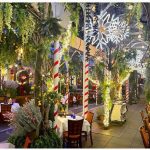 Secondly, if you read the bio on their website, Anthony Scotto, Jr. opened the first California franchise for Bobby Rubino's restaurant in San Francisco. I was the marketing director for the corporate office at the time and was at the grand opening of this restaurant. I even had photos from the grand opening. So I was excited to try their popular restaurant.
We had an amazing experience. He was genuinely excited to see the pictures on my phone and shared them with his family. And, he was so hospitable toward my daughter and me, bringing us a grilled pizza Margherita, the cannellini bean with parsley oil and chickpea Alla Fresco dips with Piadina bread. For our entree, we enjoyed their Manilla Clam Spaghettini and Branzino.
They have a wonderful wine list as well so we went with our waiter's recommendation on one of the reds. I strongly recommend making reservations. Request an outside table to truly experience their Christmas decorations.
Jeju Noodle Bar – This Korean-inspired cuisine restaurant is located in the West Village. It did not disappoint, especially if you like trying interesting foods. And it is the first noodle restaurant to receive a Michelin Star. We tried their Toro SSAm Bap, a dish you will find all over Instagram, the Hae Mul Ceviche, the Buhsut Ramyun, and the Truffle Bibim Myun. This was enough for all three of us and was truly amazing.
Kimika – We were really curious to try this trendy Japanese-Italian in Nolita. The server recommended we select 4-5 dishes. Of course, we took his advice. We sampled many of their popular dishes. My daughter was the beneficiary of the leftovers. We ate outside which was certainly comfortable enough even in the colder temperature. We had their tuna tartare, summer squash pizzette fritte, their roe roe roe roe spaghetti, and the eggplant katsu. Again, because we like trying a variety of menu items, my daughter left with a meal for another night.
Pass on these great tips, tell your friends and like us on Instagram and Pinterest. Sign up for other great tips at haveuheard.com.