HaveUHeard.com includes links to third-party websites and advertisements for third-party products and services. Product and service-specific opinions mentioned within the content of our blogs are entirely the opinions of the HaveUHeard.com team and its staff. It is our hope that you will find value in the products and services these third-party organizations represent, and patronize these businesses. Such advertising and marketing partnerships help make our efforts at HaveUHeard.com possible. Thank you for your support and ongoing interest. For additional information, please read our full HaveUHeard.com Disclosure Statement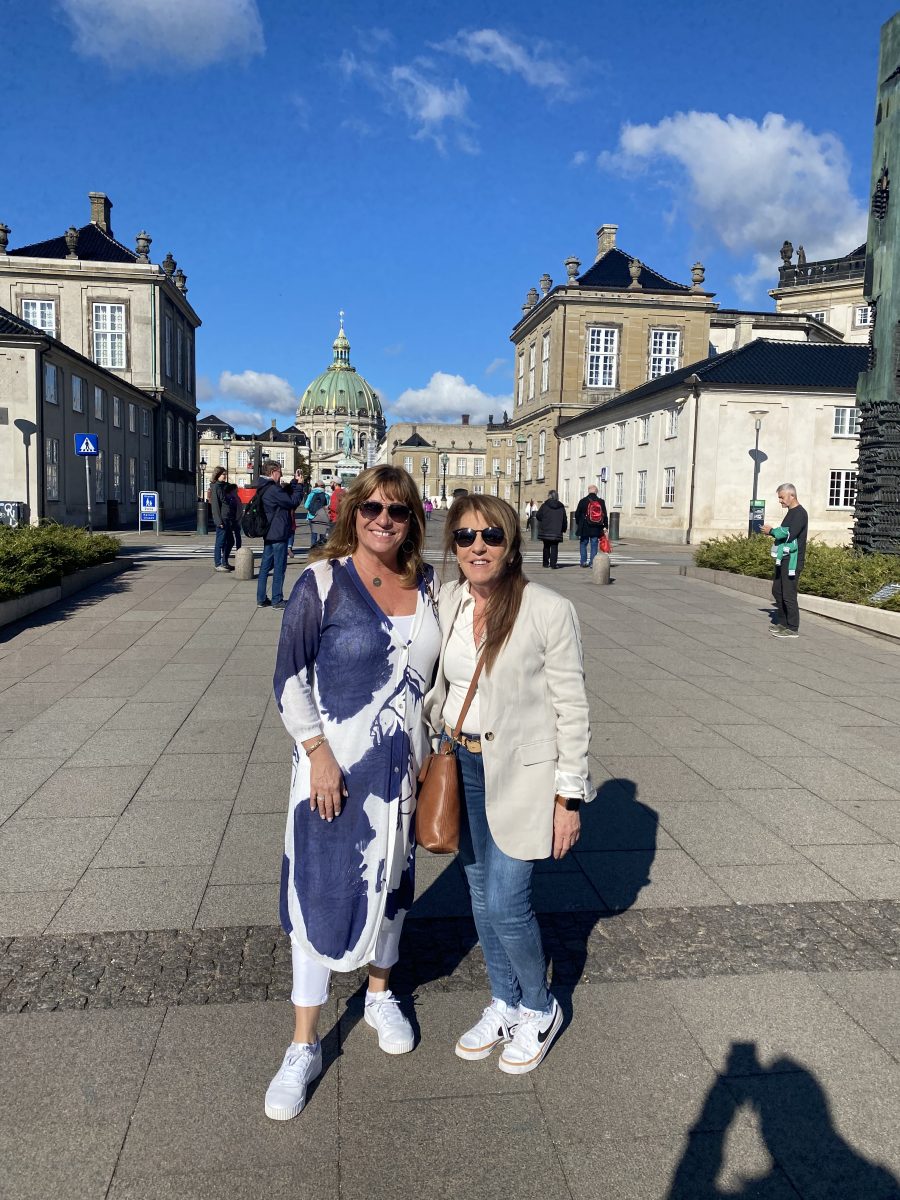 We've Arrived
Getting to Copenhagen from Malmö takes about 30 minutes on the Øresund Bridge, a bridge and a tunnel crossing the Øresund strait between Denmark and Sweden. There was a marathon race upon our arrival, so we had to wind our way through the city due to the tens of thousands of runners. Spectators were singing, clapping, and cheering on the runners. This was our first introduction to Copenhagen – the happiest country.
That's not to mention the number of bicyclists. In Copenhagen, bicycles outnumber cars. There are almost three times as many bicycles in the city as cars. Being the world's most bike-friendly city, the city completely embraces cyclists. It is impressive to see the wide paths, bridges, and paths that prioritize their safety.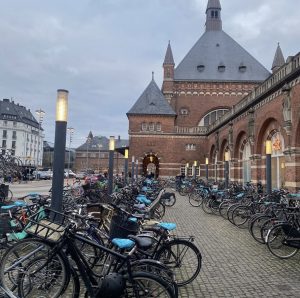 What the Hygge?
Pronounced hoo-gah, this Danish concept has been adopted worldwide. In simplest terms, it is about creating a cozy atmosphere and enjoying the simple things in life. It includes candles, cozy blankets, and gatherings with friends. That is simple to see when in Denmark.
I became familiar with the concept years ago and incorporated some basics. This includes soft textures, warm colors, soft rugs, and pillows in natural and neutral colors. Add some candles, fairy lights, and plants for warmth and relaxation. Of course, one of my favorite aspects of this concept is decluttering your space to create a calm and organized atmosphere. Most that know me, know I abhor clutter. It is one of the main reasons I was so excited to visit Denmark. I looked forward to experiencing hygge in the country that originated it.
How to Maximize Your Time
It is easy to navigate the city. We picked our hotel, Villa Copenhagen, because of its location in the heart of the city. It is charming and contemporary at the same time. The lobby sits under a glass ceiling. There is a courtyard bar where you can order drinks and light snacks.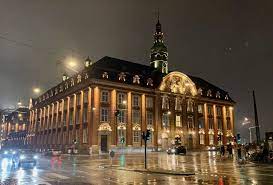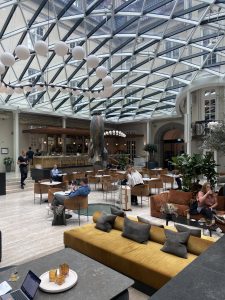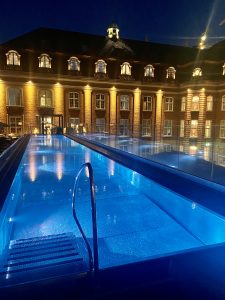 It is doable to visit Copenhagen in three days.! You can take in everything from iconic attractions to unique cultural experiences. We had a list of must-see places. Here's how we made the most of our three days in the Danish capital:
Day One
Our first day we spent wandering around Copenhagen. We walked over to Strøget street, one of the longest pedestrian streets in Europe- Danish and international stores, budget stores, and luxury brands. Also home to LEGO. You will find everything from tourist souvenirs to designer goods interspersed with one another.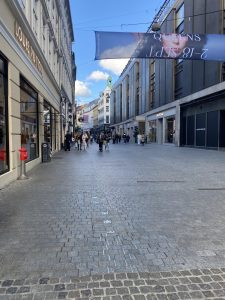 We made our way over to Tivoli Gardens, across from our hotel. Inspired by Hans Christian Anderson and Walt Disney. The gardens are beautiful, but I am not an amusement park fan. I'm glad we went and that we only allotted an afternoon for walking around.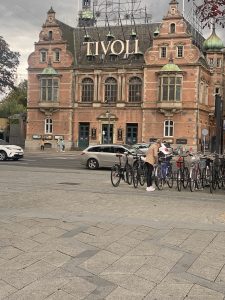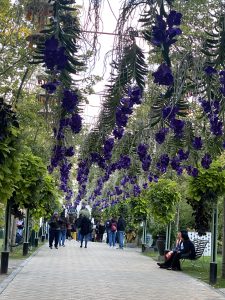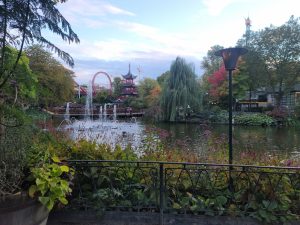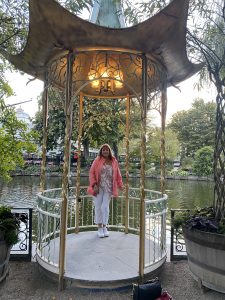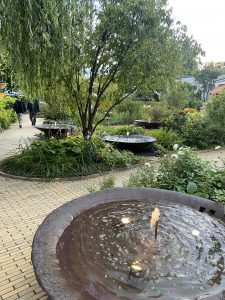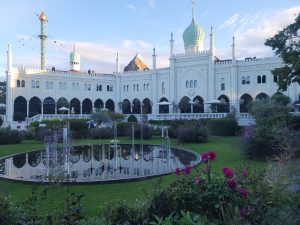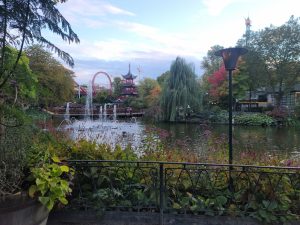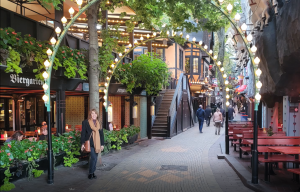 Day Two
We started our day with a visit to the Nyhavnthe waterfront. It is easy to get to by their subway system. The area is filled with colorful houses, cafes, and local shops. Of course, we tried one of their traditional foods at a street cafe, Smørrebrød, an 'open-faced sandwich.' We had the friend camembert cheese on toast. The Danes are also known for their pickled herring, something I cannot bring myself to eat.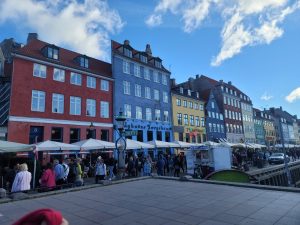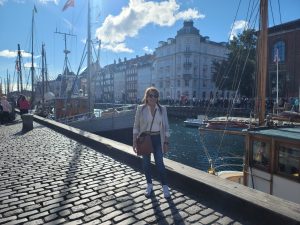 Of course, no visit to Copenhagen should be without a stroll around Amalienborg Palace Square, the Queen's official winter residence. Amalie Garden is worth seeing as well.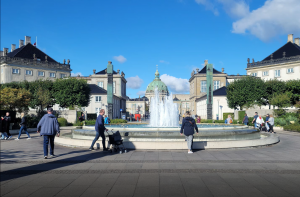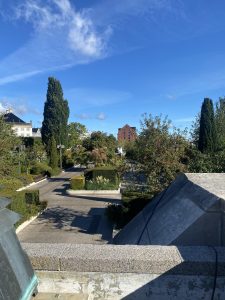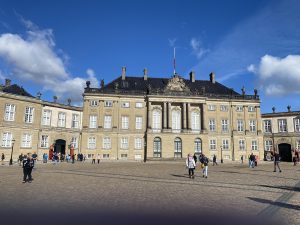 On Strøget Street, you will find plenty of Hygge souvenirs.
We ate dinner at Kontrast, which is in Villa Copenhagen. It is a brasserie focused on locally sourced ingredients. It was delicious, but make sure you have reservations. I recommend trying their Risotto with chantarelles, hazelnuts, and blackberries. Another must is their roasted Danish cabbage with brown butter and salted nuts. I think I most enjoyed watching the chefs cook in the open kitchen.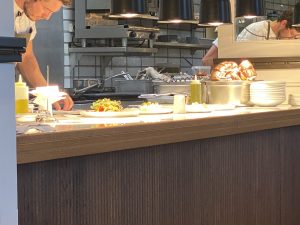 Day Three
Our day started in the wee hours of the night with a loud intercom announcement, "It is critical you exit the building," on a loop. We were fast asleep, so we threw on our bath robes (as my Swedish friend calls it, her morning robe) and walked downstairs with five other guests. Everyone else was dressed and had their suitcases except for us. I don't know; when an announcement says it is critical you exit the building, the last thing I think of is getting dressed and packing up my suitcase. There were firetrucks in front of the building, but fortunately, we were allowed to re-enter the hotel quickly. The next morning we spoke with some guests who stated there was no way they were going outside in a robe in front of their work colleagues. One woman did not even evacuate, believing it was not a dangerous situation. We laughed about it all day.
Our first stop was Christianshavn, one of Copenhagen's beautiful neighborhoods.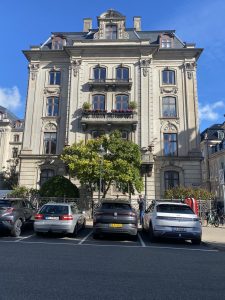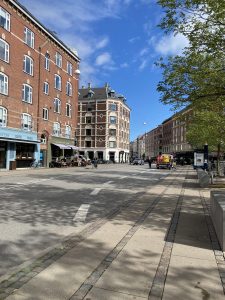 Hippie Free Town
You can't visit Copenhagen without seeing Christiania, Copenhagen's Hippie "Free Town." This district is known for its open cannabis trade. It is a pedestrian area only, on the site of a former military base. They have their own rules and regulations, one of which is "taking photos," something I learned after taking several photos.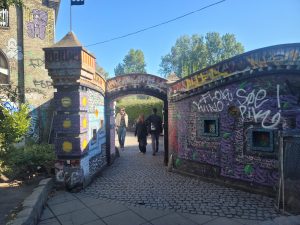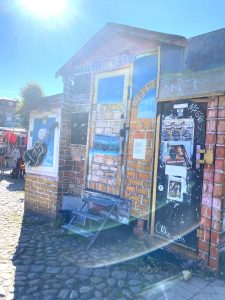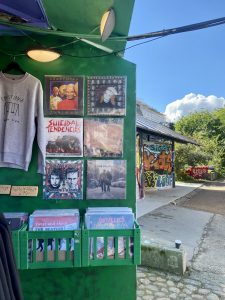 Make sure to see the Church of our Saviour, Copenhagen's baroque church most famous for its outside spiral winding staircase. We knew the views from the top would be magnificent, but we both decided not to climb the 400 steps, of which the last 150 steps are outside.
We set off to take the train back to Central Station. Of course, my friend jumped in before I saw she did, and the doors closed before I could get in. She said I had the funniest look, but I figured I'd buy another ticket and meet her at our stop. As I said, their transit system is easy to navigate. They use a ticketing system called DOT.  Ticket prices are calculated by zone. A single ticket is valid within several zones, typically for 1-2 hours. You can travel unlimited times within the specified zones.
We made our way to Vestebro, a trendy neighborhood with cafes, shops, consignment stores, and street art. We both enjoyed just wandering around the city, taking in the architecture, people-watching, and staying out of the way of the bicyclists.
Heading Home
The most difficult part of getting out of Copenhagen was trying to turn onto the street where there was no break in cycling traffic. Once we got out of the hotel, it took about 30 minutes to get to the airport. And we much preferred the nonstop to New York over the many flight changes we both had on the front end of the trip.
Happiness Is A State of Mind
Copenhagen was the perfect place to finish our trip. It is the happiest country in the world, and after a two-week travel excursion, I came home relaxed and ready to continue living a "hygge" life.
Additional Information
Traveling with friends can be complicated, especially during a long trip. So too can vacation with your adult kids. But we had an open, honest dialogue and determined we were compatible. Here are my suggestions for a look at what I packed for two weeks in the fall and the top 10 travel item recommendations. And, we all know how chaotic traveling is today. I'm sharing tips for Dealing with Chaotic  Air Travel.
Pass on these great tips, tell your friends, and like us on Instagram,  TikTok, and Pinterest.