HaveUHeard.com includes links to third-party websites and advertisements for third-party products and services. Product and service-specific opinions mentioned within the content of our blogs are entirely the opinions of the HaveUHeard.com team and its staff. It is our hope that you will find value in the products and services these third-party organizations represent, and patronize these businesses. Such advertising and marketing partnerships help make our efforts at HaveUHeard.com possible. Thank you for your support and ongoing interest. For additional information, please read our full HaveUHeard.com Disclosure Statement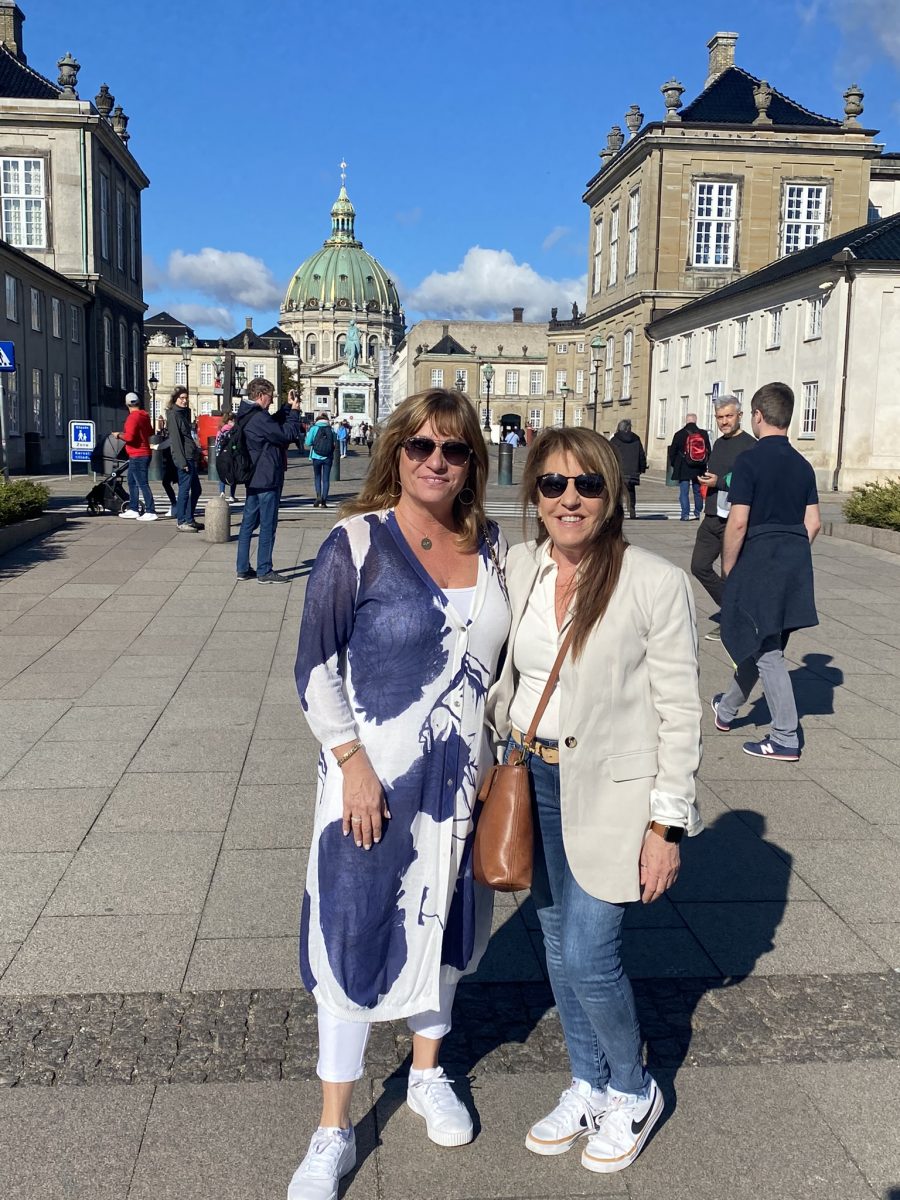 How to Make Sure You Stay Friends After
Traveling with friends can be complicated. I am not talking about weekend trips.  I've had amazing trips with family and my adult kids but they aren't readily available to take long trips. After a bad travel experience with friends over 20 years ago, I avoided taking longer trips with friends. After my trip to Sweden & Denmark, I realized you have to find the right friends to travel with. Because when you do, it will be an amazing experience.  I am happy to say, we are still great friends and are planning future trips.
My Most Recent Trip With A Friend
In November 2021, my Swedish friend invited me to go to Sweden, her home country. Sweden has long been on my bucket list. I immediately said yes. Actually, what I said was "I've waited 35 years for an invitation." My friend came to the United States in the late 80s as an au pair and married a friend of mine. Our only travel together was weekend trips. This trip would be more than two weeks.
What to Discuss First
Traveling with friends, and even family can be complicated. It requires open dialogue. There are certain topics that need to be discussed before you begin planning. In my case, I knew she was going to Gothenberg a week prior to spend time with her family. I would meet her in her hometown. Naturally, I wanted to spend time with her family and see where and how she grew up so that was a given. She would be staying with her brother, while I'd be staying at a hotel. But after those first few days, we'd be sharing a hotel and a car.
My friend had mapped out our entire driving trip. Our trip would encompass almost 1400 miles of driving. 15 days. Two countries and eight destinations.
Our initial discussions were about our personal budgets. We had an open line of communication when it came to the accommodations we prefer. We discussed the types of places to visit. And, since were would be sharing a room, what habits, good and bad, should we reveal? Full disclosure… I've been told I snore. She has restless leg syndrome.
We were honest with one another from the start. Our trip expectations and wants matched perfectly.
Budget is, by far, the most important conversation you should have. It influences your choice of accommodations, restaurants, airline classes, and sites you will visit.
What Travel Classes Did We Want?
I am conscious of how I spend my money. I'm not frugal but I am not frivolous. One exception. When it comes to long flights,  I save miles and money all year just so I can fly business class. My flight itinerary was 16 hours with two flight changes. I planned on sleeping during the overnight portion and business class seats fold flat so you can lie down.
My friend typically flies comfort seats to Sweden. Unless booking one-way fares, she could not use two different class upgrades. It was challenging enough to coordinate our return flight so we could be together. Since we were booking our airfare 10 months out, she found a reasonable business class fare.
You'll want to discuss this ahead of time. Even if it means not sitting together, it's best to be upfront and honest about your preferences.
Accommodations
We would be traveling through eight cities. That required many hotel reservations. I love staying at local boutique hotels where you get a real feel for each unique location. But in the larger cities, like Stockholm and Copenhagen, I wanted to stay at one of the nicer local hotels. I try to stay away from chain hotels.
We combed through pictures and read the reviews. Of course, her family and friends' recommendations helped enormously. And our budget played a factor. In the smaller cities and it being September, we found some very reasonable and nice bed and breakfasts and hotels. This allowed us to put more money into the nicer hotels in the two largest cities.
And, we discussed how we felt about sharing a bed since some did not have separate beds. It worked out great because we have been friends for so long. As it turns out, I don't snore as much as others claim I do. And her restless leg syndrome was unnoticeable.
This is one of the areas where you will need to compromise. Not everyone is able to stay in four and five-star hotels. Perhaps your preference is a house rental. There are some great ones out there through Airbnb and VRBO as well as private rental companies.
Attractions
She grew up in Sweden and has traveled throughout the country and to many of the places we were going. We were on the same page when it came to how many palaces and museums we wanted to visit. Both of us were open to maybe one palace, church, or museum but we did not need to visit one in every city.
I did extensive research on each place we were traveling to. This included Pinterest, Instagram, Trip Advisor, and blog sites. I created a google doc highlighting neighborhoods, attractions, restaurants, food halls, and shopping.
She explained we probably would not have time to see every place I had on the list, it was at least a good starting point and something we referred back to throughout the trip.
Stay Flexible
For the thirty-five-plus years we have been friends, the one fact about my friend that has been consistent is she takes afternoon naps. It's a very European concept whether you call it a nap, a siesta, a sieste, or a riposo. Swedes tend to sleep in and stay up later so I get the whole nap concept. But I have never been a napper. Most of my European trips have been with my daughters or my sister. And in all of those trips, we left after eating breakfast and did not return until after dinner.
When she took her afternoon naps (literally no more than 30 minutes), I would walk around the city, being fully aware of my surroundings and not straying too far from the hotel.
I would never expect my friend to not nap because I choose not to. This is all about managing expectations and being flexible.
You Don't Have to Have Your Entire Day Scripted
While there were a lot of things we wanted to do in each city, some just overnight stays, we both agreed that we would not have anything scheduled out except for a few restaurant reservations. Of course, we had to factor in the weather. We knew in advance that throughout our entire trip, the weather forecast was for rain, rain, and more rain. That's September for you.
By not planning everything out, we were able to take advantage of outdoor attractions and walking around while it was not raining and we did end up adding in a few extra palaces, something we did not anticipate doing. We were pleasantly surprised when it rained only two of the fifteen days of our trip.
Packing
I learned on my first trip overseas that overpacking is a nuisance. No one wants to lug around multiple suitcases and totes. Since this was a driving trip, we also had to take into consideration how much space we had for luggage. My friend was going to be gone for closer to three and a half weeks, so she packed a lot. I, on the other hand, was able to fit everything into a 24" suitcase, a carry-on, and a weekender bag. She stated throughout the trip that she did not pack smart. Of course, anything she wanted to borrow was fine by me. I'd like to think she learned a little bit about my love of capsule packing.
We had to take all of our luggage out of the car each stay. One bed and breakfast had a winding staircase. While us lugging up her three suitcases and my two was not fun, it was, to say the least, comical. I think we both learned a lesson about overpacking.
Expect the Unexpected
On our fourth day together, my friend got sick. Like stay-in-bed -all-day sick. I like to believe I have a strong immunity system attributed to my taking Source Wellness supplements every day and my diet. But, we were in very close quarters so naturally, I was a little anxious. We had planned this trip so far out and had not taken into consideration that one of us may get sick.
Fortunately, we were in a city where her sister lives. She brought her over medicine and I went to her sister's house. She took me on a hike along the water with her three dogs and we cooked lunch. It really turned out to be a totally unexpected but fun day. I got to know her sister and her sister's son better and see how they live. And my friend got to spend the day in bed.
She was still a little under the weather when we prepared to leave the next day, but was able to manage the driving.  I offered to help with the driving because it is relatively easy to navigate Sweden's roads. And I respected her need to nap a little longer each day.
Remember that sometimes you have to expect the unexpected.
Will I Travel With Friends Again?
We traveled together for over two weeks and I am so grateful to have had this experience. We laughed throughout most of our trip. Even though we speak on the phone back home, I loved our conversations during our three-hour drives from one destination to another.
It has made me realize that one bad experience should not tarnish or deter you from trying again. And, because we were so compatible, we are talking about another European driving trip in 2024.