HaveUHeard.com includes links to third-party websites and advertisements for third-party products and services. Product and service-specific opinions mentioned within the content of our blogs are entirely the opinions of the HaveUHeard.com team and its staff. It is our hope that you will find value in the products and services these third-party organizations represent, and patronize these businesses. Such advertising and marketing partnerships help make our efforts at HaveUHeard.com possible. Thank you for your support and ongoing interest. For additional information, please read our full HaveUHeard.com Disclosure Statement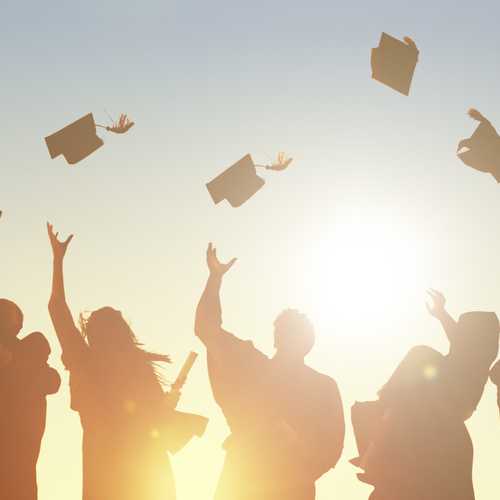 Seriously, Graduating Already?
Remember how when our kids were little we couldn't envision them leaving us and going off to college? Now, if you are like me, you can't believe how quickly the time went. It continues to rush by and before you know it, college graduation will be here. I am not trying to scare you; I just want to give you ample time to make those hotel reservations. Similar to football weekends, graduation weekend hotels are at a premium if you want to stay close to campus. People book them a year out. No joke. I literally booked my rooms a solid year before my son graduated. Being in Orlando though, we definitely have an advantage if you don't mind staying a tad bit further from campus. (Don't know where to stay, check out our blog on hotels.)
Be sure to check the policy with whichever hotel you choose, but if possible, book more rooms and cancel later when Grandpa decides he isn't up to the seven-hour drive. It is far easier to cancel than to try to find a room in February for May graduation for Aunt Sadie who decided she just can't miss it. I actually booked three rooms originally, but only used two.  And book those rooms in separate names. If Aunt Sadie or Grandpa can't make it, it is very difficult to cancel just the one room if it was put through as one reservation.
One more option is to look into air BnBs in the area. There are many. Talk about the comforts of home.
Here are the upcoming graduation dates. Scroll down for specific times.
This is an unusual and unprecedented Spring (2020) and the situation and circumstances continue to evolve daily. Please start all your planning for any event this spring by first checking for updates directly from UCF.
However, Virtual Commencement Celebrations can be viewed on May 2, 2020. UCF will be hosting college ceremonies throughout the day on UCF's Facebook and YouTube pages. All ceremonies will be archived on UCF's YouTube page afterward. The special commencement speakers are UCF alumni Shaquem Griffin '16 and Shaquill Griffin '16 of the Seattle Seahawks. For more information, UCF created this page.
Below is the schedule of events:
Graduate Studies: 8:30 AM
Optics and Photonics: 9:00 AM
Medicine: 9:45 AM
Rosen College of Hospitality Management: 10:30 AM
Undergraduate Studies: 11:15 AM
Nursing: 12:00 PM
Health Professions & Sciences: 12:45 PM
Arts and Humanities: 2:00 PM
Business: 3:15 PM
Engineering and Computer Science: 4:30 PM
Community Innovation & Education: 5:45 PM
Sciences: 7:00 PM
Each ceremony will feature the name of every graduate from that college.
An in-person spring ceremony will be rescheduled when it is safe to do so. Information will be shared with the campus community via email and posted on social media.
Saturday, August 1, 2020
Friday, December 18, 2020
Saturday, December 19, 2020
You might not know which of these days and time is for your student's major until a few months before though. You will find that particularly for the May graduation, there are so many students graduating they split it into multiple ceremonies throughout the day and evenings.
August and December graduation reservations may be a tad easier, but there are far more students graduating then than you may think, so don't hesitate to book early. As you know, UCF is an enormous school. Besides, in December, there is still a lot going on with students moving out for winter break.
Graduation takes place in the UCF Arena, recently renamed that Addition Financial Arena. The arena bans pepper spray, pets (unless indicated a service animal), outside food and drinks, selfie sticks, free-standing photography equipment, strollers, and e-cigarettes.  The arena also does not allow backpacks of any kind or bags larger than 12" x 6" x 12" inside the arena. Guests who bring backpacks or large bags will be asked to return them to their car before entering the building. Accessible seats need to be purchased through the box office and are first come first serve.  Doors open 90 minutes prior to graduation. No re-entry is allowed for the Arena so don't leave; they won't let you back in. There are concession stands inside as well as flowers for sale outside. And don't worry if you someone can't make it. They can always watch the live feed by finding their specific ceremony here.  Seating for graduation is general admission and you can sit wherever you want, so early arrival is recommended to get the best seating. Students can refer to this link for information about graduation tickets.
Parking for graduation is located in Garage D.
Handicapped graduates – contact Student Accessibility Services (407-823-2371)  if you have hearing or visual impairments, are in a wheelchair, use a motorized scooter, service animal, assisted listening services, or to make special arrangements.
Handicapped guests – arrive at least an hour and a half early before your scheduled ceremony. Park in Garage D. Wheelchairs are not provided so bring your own if needed. There's an elevator through the main entrance that guests and one companion can use to get to the accessible seating section. Reserved seating is provided.
Reserve, Reserve, Reserve!
Remember to make restaurant reservations as well. Generally, restaurant reservations can't be made as far in advance as hotels, but due to the crowds, you will definitely want a reservation. I actually called so far in advance they couldn't make it yet but told me when to call back so I could be one of the first to reserve the date and time I needed. I marked my calendar and all worked out beautifully. Many restaurants will ask for a non-refundable deposit in the event you do not show up. If you do, they will just apply it to your bill. Check out our Graduation Restaurant Reservations blog. For more suggestions, read our Restaurant blog.
Not enough tickets? There is actually a lottery to get more than the four tickets each graduate is allotted. There is, however, a ticket lottery where students can request up to 4 more tickets through their My.ucf account. Although you can hope for the raffle for free tickets, many students sell their tickets on the UCF class of ____ pages so don't panic if you don't get extra through the lottery! Here is the link for the ticket lottery. Insider tip – If you are looking at the stage, its best to sit on the left side so you can see your student get off the stage and take pictures!!
Cap and gown cost $79.98 to rent. Candidates are required to wear official regalia available exclusively through Herff Jones. Herff Jones representatives will be onsite to assist with cap and gown rentals. Can't make it to campus? Order online.  For all your cap and gown questions, call: 407.882.0364.
Students must return the gown but they keep the cap, which many students will decorate. A souvenir tassel is $15.98; both through Herff Jones. Tassel colors are determined by the college they are graduating from. If your student is buying their tassel from somewhere else, the colors are as follows: Arts and Humanities=White; Business Administration= Drab; Education and Human Performance= Light Blue; Engineering and Computer Science= Orange; Health and Public Affair = Kelly Green; Medicine (Burnett School of Biomedical Sciences)= Science Gold; Nursing = Apricot; Office of Undergraduate Studies= White; Optics and Phonology= Aqua; Rosen College of Hospitality Management= Pineapple; Sciences= Science Gold. In mid-February, graduates will have to fill out a form for cap and gown sizes and pick them up the last week in April. After graduation is over students have one hour to return their gowns.
HaveUHeard how creative some of the graduation caps are? Your student, not a DIY'er? They can buy a graduation cap topper decoration here. To get some inspiration for UCF grad caps, click here.
PHOTOS!
I know you are going to want some great photos. We can recommend a few photographers and have some great ideas right here.
Our intern has a twin graduating from another state university at exactly the same time. She was able to get permission to walk during a different ceremony so that her parents can then make her sister's graduation ceremony.  She contacted the Graduation Coordinator at the Registrar's Office (email is mary.collington@ucf.edu and the office number is 407-823-2842). Our intern's request was sent to the Office of Presidential Events and her switch was approved.  She will need to exchange her tickets for the ceremony when she picks up her cap, gown, and tickets at Millican Hall.
Finally, we've got some great graduation gift suggestions including diploma and tassel frames. And if you want to send or bring flowers, here are some local options:
From You Flowers delivers and there are options to include teddy bears, balloons, and even chocolates!
Carolina Flower Lei – They will make beautiful leis for graduation
Colonial Orlando Florist has such cute options for flower vases like cars or grills!
Harry's Famous Flowers has a great selection of flowers and vases.
In Bloom Florist has such unique options including wines, rainbow flowers, and more!
A Downtown Florist is located in Lake Eola (just 15/20 minutes away from UCF main campus).
Trader Joe's, in Winter Park, always has nice flowers, but they do not deliver.
But wait…None of this matters, if students don't apply to graduate.
Check the deadlines for undergraduate seniors or graduates graduating to fill out their intent to graduate form.
All students should download Pegasus Path, an app that allows students to plan their credits for graduation. The app also suggests courses in a student's academic plan so they can graduate within four years and gives university officials the ability to identify students who are off track for on-time graduations.
For students intending to graduate in Summer 2020:
Submit Intent to Graduate:
Beginning March 2020
Register for Summer 2020 Courses:
Beginning March 2020
Complete Webcourse Review:
Beginning March 2020
And now that graduation is a reality, consider joining the Alumni Association. Read why here.
We also want to point out how helpful our interns have found Career Services as they near graduation. One short visit changed the landscape of a few resumes and eased their minds about the job hunt. Career Services also offers many excellent events that can take the guesswork out of the next steps. We highly recommend a visit or two over the next few months.
And now that you are a graduate, you might want to read about the benefits of being an alumnus.
Pass on these great tips, tell your friends and like us on Facebook, Instagram,  Twitter, and Pinterest. Sign up for other great tips at haveuheard.com. Are you new to HaveUHeard? Here is how to best use the site.