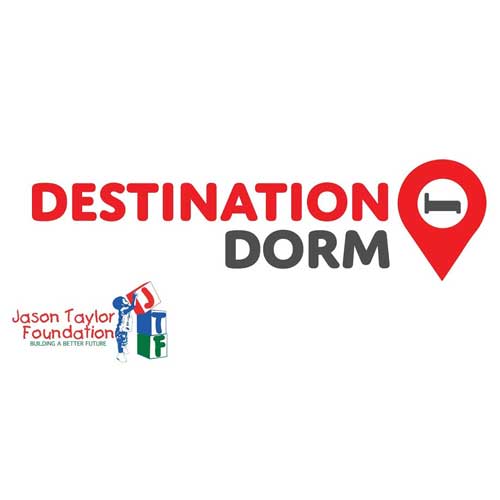 Destination Dorm Supplies to Deserving Students
With Thanksgiving and the holidays approaching, many of us will be celebrating the holidays over a festive meal with our college kids and family. But not everyone is so fortunate. This season, HaveUHeard is sharing the story of Destination Dorm, a scholarship program for graduating high school seniors who have demonstrated academic excellence in the midst of financial hardship. The program assists students going to college through a Destination Dorm Box. These items will bring some basic comforts to their home away from home and provide an environment more conducive to learning. The Jason Taylor Foundation has partnered with Meryl & Jamie to help bring the opportunity to as many deserving students as possible.
Here is their story.
Imagine being a first-generation college student, excited to begin your journey into post-secondary education at your dream school.  For some students, they dream of going away to college with hopes of having a furnished dorm room, but for some students, they can barely afford basic home necessities. Students in Broward County Schools, are facing financial hardship when it comes to purchasing the basic necessities for their dorm room to have the basic comforts of home.
Destination Dorm was founded two years ago by Meryl Raff, a proud BRACE Advisor at Flanagan High School in Sunrise Florida and Jamie Raff, a 6th Grade Math Teacher. Meryl and Jamie are extremely passionate about helping graduating seniors in Broward County Public schools (they are also working to raise money to help students outside Broward County) whose families are unable to provide the basic necessities required to furnish their dorm rooms. Meryl and Jamie developed the Destination Dorm Scholarship program with the hopes of relieving the financial burden placed on students, many of whom will be the first from their family to attend college, as they transition into higher education. Their mission is to make sure every graduating senior doesn't forfeit their opportunity to obtain their dreams because they don't have a new comforter or pillow and other accessories for their dorm room.
When they created Destination Dorm, Meryl and Jamie donated $2000 for 10 students and then reached out to Jamie's sorority sisters and a few local community associations in Broward County who donated items to the students with financial hardship. "We've made magic happen for these deserving students who have a bright future. Jamie and I have a tremendous amount of passion for this project and our vision is to help many more graduating seniors who are financially struggling to go off confidently," said Meryl Raff. Just this past June, Destination Dorm donated 100 boxes to students heading to college.
Destination Dorm recipients receive a box containing items they will need to make their dorm a home: pillows, sheets, blankets, lamps, and more. Sponsoring students costs $250 through the Jason Taylor Foundation website. There you can read testimonials from past recipients and view a video showing the items their students have received. Your help is greatly appreciated to make the magic happen for these deserving students.
Meryl Raff is the proud  BRACE (Broward Advisors for Continuing Education) Advisor at Flanagan High School in Sunrise, Florida. The BRACE Program is unique to the Broward County School System. BRACE advisors work with guidance counselors to provide students with information on Scholarships, Financial Aid, and the College Application Process. Advisors can also provide information on Technical Schools, Military Options, and Direct Workforce Entry.
Jamie Raff majored in education at FGCU. She is currently a 6th-grade math teacher at a Broward County Public School.
Pass on these great tips, tell your friends and like us on Facebook, Instagram, Twitter, and Pinterest. Find out more about how to use HaveUHeard as a great resource. Sign up for other great tips at haveuheard.com.