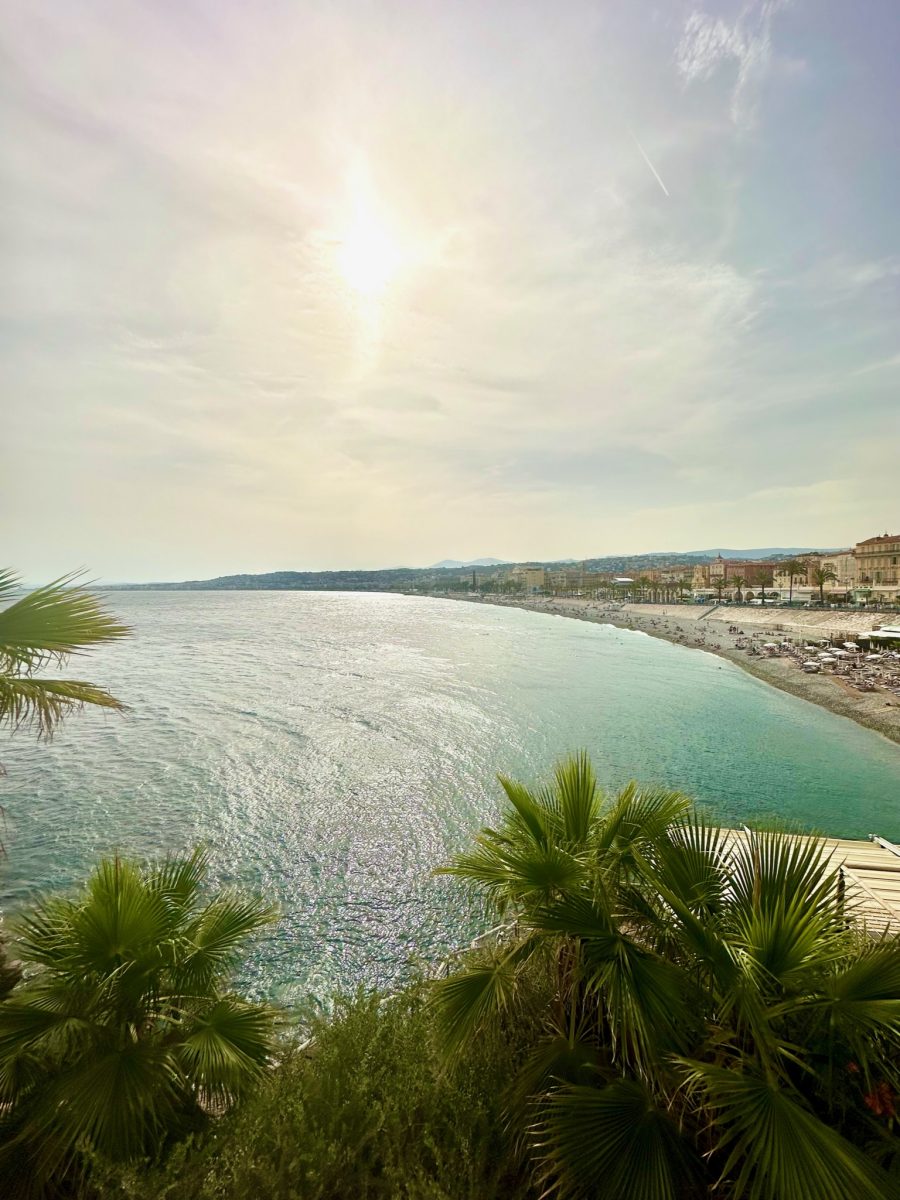 The Enchanting World of Nice
Nice is the most popular resort city on the French Riviera. Here you can wander through Old Town's narrow streets, home to charming squares, restaurants, bars, small shops, and boutiques. La Promenade des Anglais is not to be missed, which follows the Bay of the Angel's curve. It is where you will find many beach clubs and her famous pebble beach. Nice became our five-night home base, leaving us plenty of time to indulge in the local cuisine, the vibrant nightlife and experience The Fête de la Musique, a summer solstice music celebration.
After returning from our day trips, we had plenty of time to wander around Nice.  Much to our surprise, it stays light outside until close to 10 p.m. during the summer months.
Accommodations
We booked the Anantara Plaza Nice Hotel (junior suite with garden view). It is roomy enough for three with a king-size bed and a very comfortable cot or sofa bed (we had both). The bathroom is quite large, with a great shower that includes a waterfall showerhead and handheld showerhead, a separate commode area, and room for us to get ready in the mornings.
The hotel has a rooftop terrace with a panoramic view of the sea and the old city. It is where they serve breakfast, has their rooftop bar, SEEN Bar, and SEEN By Olivier, a contemporary Mediterranean restaurant. We began our vacation at the rooftop bar, having welcome drinks and some appetizers. There is nothing like the view while having coffee Americana in the morning and perhaps a croissant. We ate dinner at SEEN on our last night. It was the perfect way to end our vacation after starting our vacation at their bar.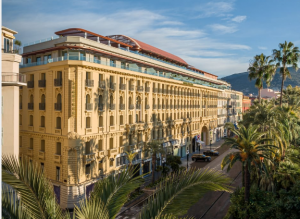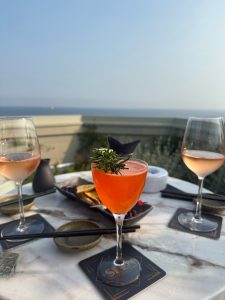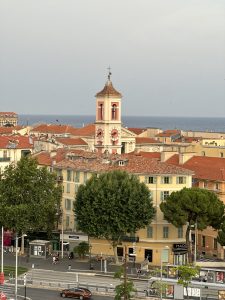 We arrived late afternoon, which was perfect for easing into the day. Of course, we went to our hotel's rooftop bar and walked around.
A Memorable Day at Ruhl Plage
To experience all that Nice offers, I encourage you to spend a day at a beach club. After researching our options, none of which took reservations, we chose Ruhl Plage Beach Club. We did make lunch reservations in advance. The beach clubs get filled very quickly. There are many to choose from up and down Promenade Des Anglais.
We wanted a peaceful, enjoyable day since Father's Day is tough for us. We had no idea Father's Day is also celebrated in France. Fortunately, Ruhl Plage has an arrangement with Anantara Plaza Hotel, so while you still pay for the lounge beds, at least we could get one. The price for a king bed, which included the bed, towels, food service, and umbrellas, was 90 euros.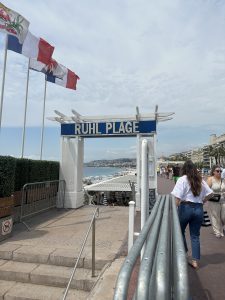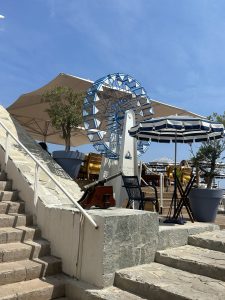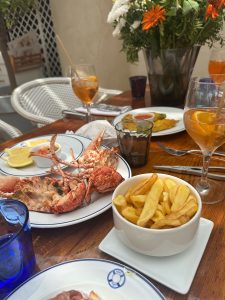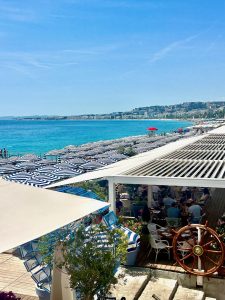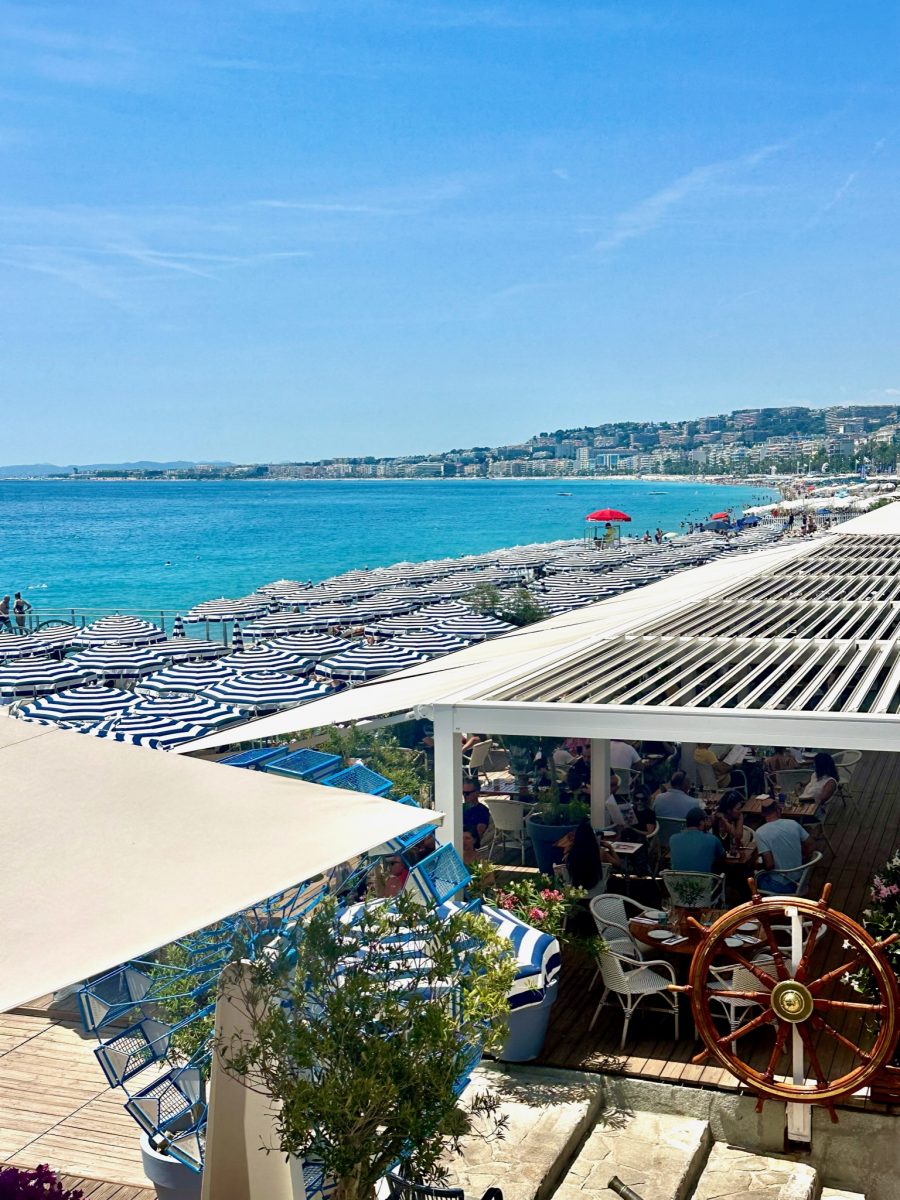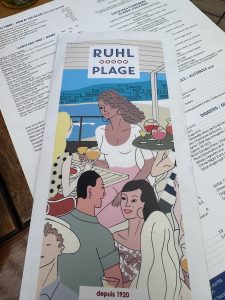 We spent our first full day there and our last full day at Ruhl Plage. It was unplanned, making it the perfect way to bookend our trip.
Places to Visit
When planning our trips, we create a Google doc of all the places we want to visit. We did not make it to all of the places, but here are the ones we did get to see:
Cours Saleya
This is the largest pedestrian area in Vieux Nice- flower markets, antique vendors, and food. Open Tuesday-Sunday from 8 am to 12:30. If it were legal to bring home their flowers, fruits, and vegetables, we would have done it. Their tomatoes, artichokes, and fruit boast some of the most vibrant colors. We've experienced this before in our European trips, and it makes me question why Cannes not (see what I did there?) have food markets with fresh, vibrant fruits and vegetables, olive oils, and vendors every day.
Castle Hill
Walk the Promenade des Anglais to Castle Hill. Today it is a hill offering views from all sides, including a panoramic view of the city and beaches. It is a free park. We didn't go to the very top to see the man-made waterfalls, but our trek up 200 steps gave us a fantastic view of the city. You can take a lift to the very top, but it is pretty old and unappealing. It would have been another 200-plus step to the top, which doesn't seem too tricky, but we did this at the end of the day. I suggest going earlier in the day.
Old Town
You cannot visit Nice without strolling through Old Town. We loved wandering through the narrow cobblestone side streets and taking in the street life. This is where you will find many restaurants, bars, and markets. My daughters took me to Wayne's, an English bar restaurant with vintage decor and live music. It's a fun place worth visiting if you want to experience an English-style pub.
Place Messina
This is Nice's main square and is hard to miss. You'll know you are there from its checkerboard pavement tiles which lead to the main shopping streets. It's a fun place to people-watch or catch street performers. It is where you will find the fountain with a sculpture of Apollo. At the base, you will find sculptures that symbolize some planets.  Best viewed at night, you can see seven statues on high poles illuminated at night. They represent the seven continents.
Capturing Our Time in Nice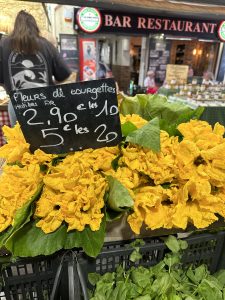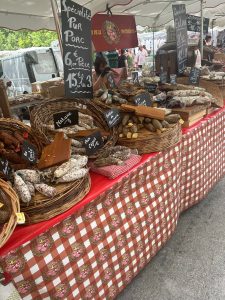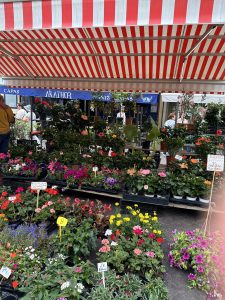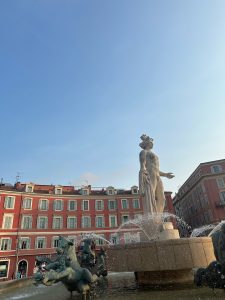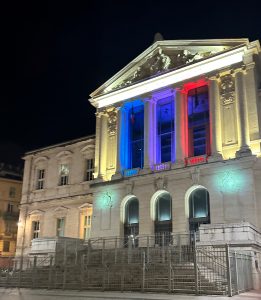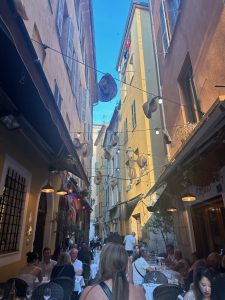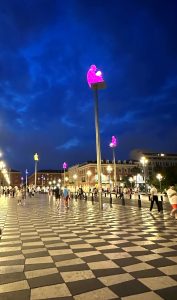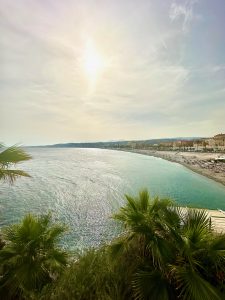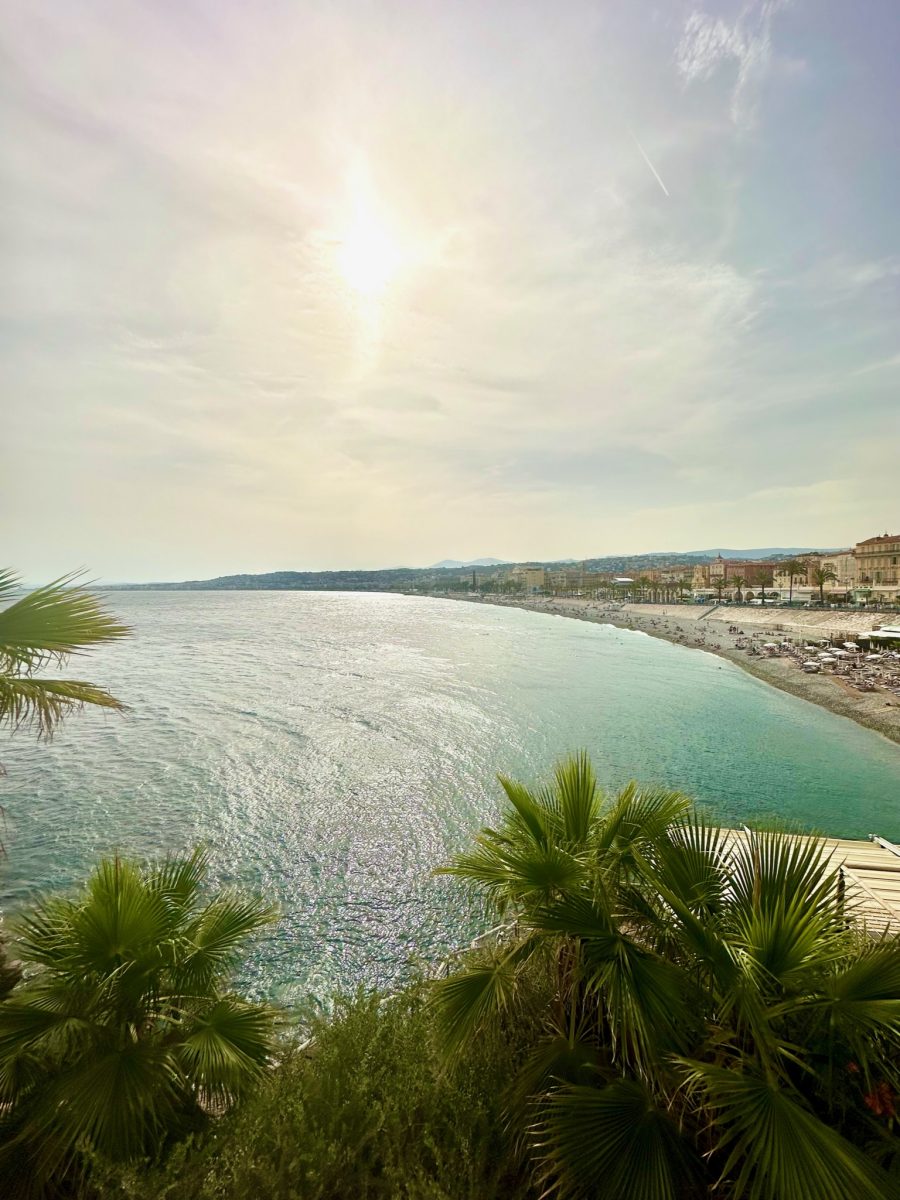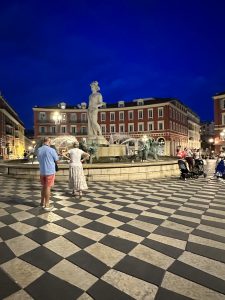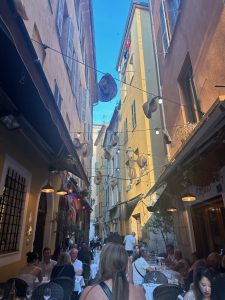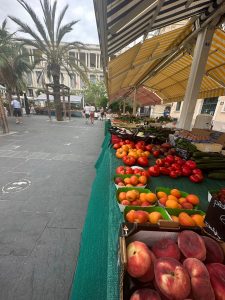 Restaurants We Ate At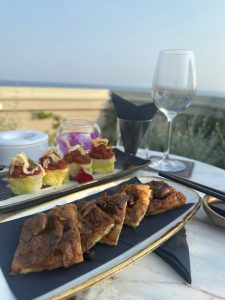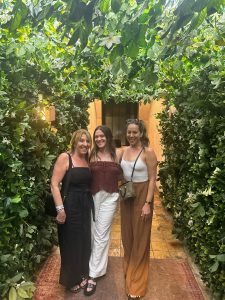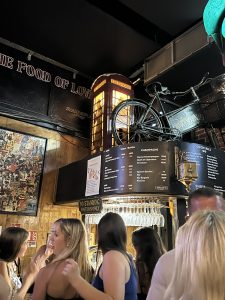 Appetizers at Anatara Rooftop Terrace      Entrance to Bocca Nisa                                 Wayne's Bar- 15 Rue de la Préfecture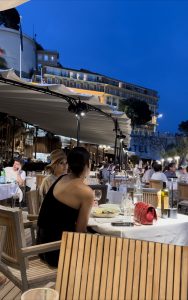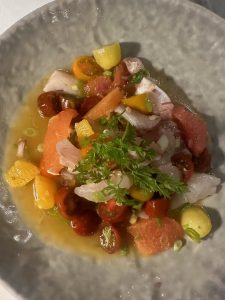 Additional Restaurant & Bar Recommendations
Maison Gusto  Hidden behind the harbor, genuine Italian food with simple but exquisite
ingredients in the middle of stones, wooden beams, little lights, and bulb lights.
L͛ane Rouge This tranquil port-side restaurant has been awarded a Michelin star. Ignore the unremarkable decor
and enjoy the explosive flavors of roast red mullet simmered in fennel and tomato confit, croustillant of cod with basil, or rabbit served with foie gras.  Book a table outdoors in summer for a full view of the illuminated Parc du Château and the big, glamorous yachts.
Koko Green Established by passionate foodies, Koko Green is a small gourmet restaurant specializing in vegetarian and raw food. Expect delights like a vegetarian sushi dish with black
rice, edamame, avocado, and wasabi cream or courgette spaghetti served in a creamy cashew and mushroom sauce. The menu changes weekly and offers great vegan or gluten-free cakes,
drinks, and desserts.
Recommended Places to Shop in Nice
Alziari This is a shrine for lovers of olive oil. You can buy this oil in London and New York. Buy it here for a third of the price. It is packaged in beautiful cans that preserve the oil better than bottles. The shop is an Ali Baba's cave selling tapenade and other delicacies.
La Part Des Anges – This small, inviting shop is where all the star chefs come for tastings and to replenish their cellars. Owner and sommelier Olivier Labarde offers expert advice on his superb selection of local and rare vintages. He serves excellent bistro fare at several tables in the back of the shop.
Our Day Trips
We took day trips throughout the French Riviera. Click here to learn more about the day trips we took.
Pass on these great tips, tell your friends, and like us on Instagram,  TikTok, and Pinterest.