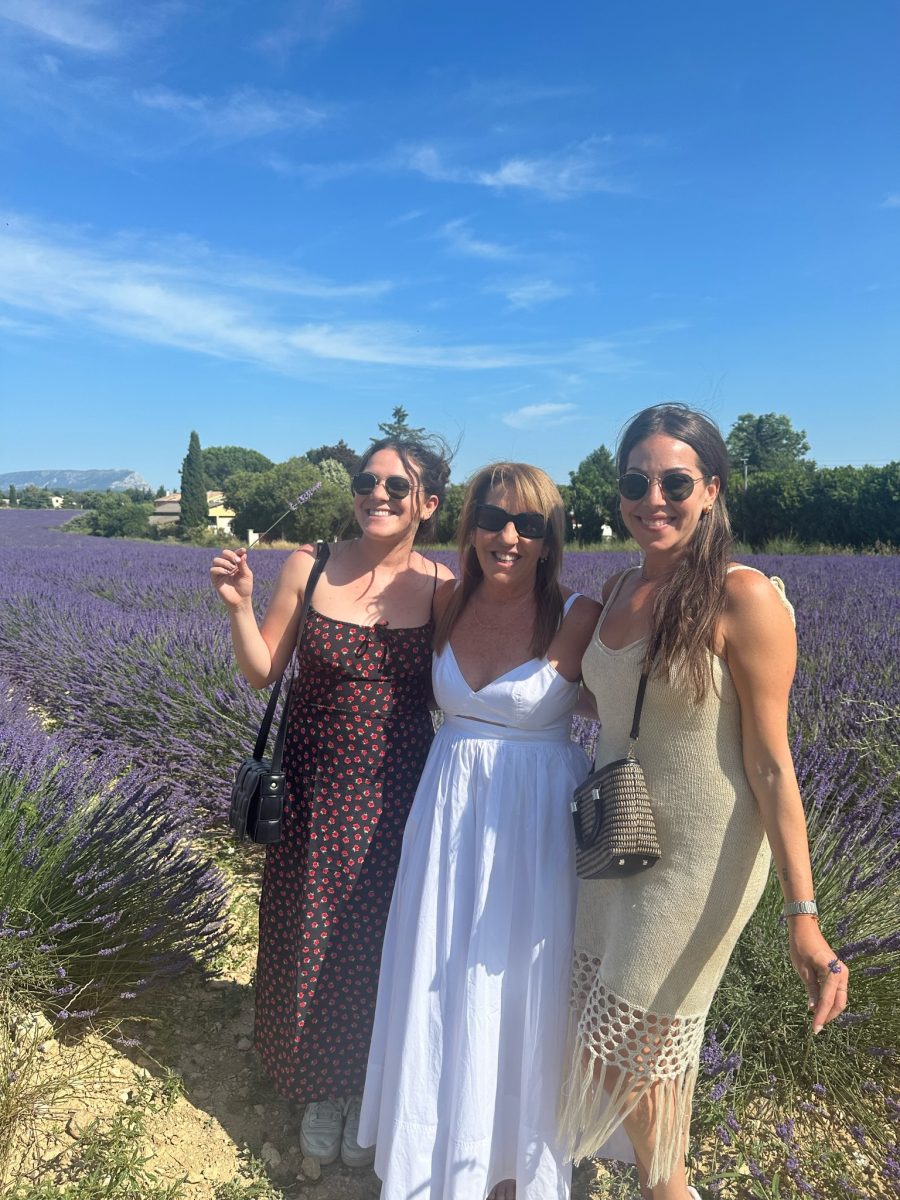 Our Trip Through the South of France
My daughters and I spent eight days in the French Riviera for our Mother-Daughter trip. It's where turquoise waters meet golden beaches, and charming coastal towns come alive with glamour and luxury.  The French Riviera has a rich history, stunning landscapes, and vibrant culture, from Nice to Cannes to Aix en Province. Here you can relax on their world-renowned beaches or spend an adventurous day.
Whether strolling down the Promenade des Anglais in Nice or stumbling onto an international advertising festival in Cannes, join us on our journey- filled with charm, elegance, and joie de vivre in the South of France.
Hiring A Travel Company
With few hotel options close to Promenade des Anglais and needing transportation to all of the villages and towns we planned on visiting, I worked with Nadas, Italy. I used their custom travel services when we traveled to Italy and Spain. We wanted more free time for this trip to frolic, shop, and explore. The services we used through Nadas were accommodation, some attractions, and transportation.
Nada's shared their tipping suggestions. Tipping in Europe is complicated. We've traveled to many countries and received contradictory suggestions. It seems strange coming from a country so immersed in tipping, not to tip.  I recently read an article on European etiquette that every American should know. And, yes, we did tip our doormen, bellboys, cleaning staff,  drivers, city guides, and restaurant and bar staff. It seems the proper thing to do.
Getting Around The French Riviera & Provence
In terms of transportation between these cities, multiple options, such as trains or buses, provide convenient connections at affordable prices. For example, train journeys from Nice to Cannes take approximately 30 minutes on average, while bus rides typically last around one hour. During the peak summer months, they are crowded.  Consider using a private transportation company.
LivenUp is the tour company that handled all of our transportation needs. The drivers are also guides, knowledgeable about each town or village you visit. They know all the hidden gems. And, they are the only Monaco-based company allowed to access the hill where the old town and Prince Palace are located, saving you from walking uphill and downhill.
Nice
We arrived late afternoon on a Saturday. The drive from the airport follows the curve of the bay and Promenade Des Anglais. It is hard not to notice the beautiful shades of blue in the bay. It starts turquoise and transitions to dark blue. You won't find too much sand in Nice, mostly pebbles. You'll want to pack some water shoes as the rocks get hot, and they are not easy to walk on.
A less appealing feature of the water is jellyfish. Thousands have been spotted along the French beaches in June, mostly due to climate change's impact on the water temperature and good wind conditions.
During the summer, it is light out until 10 pm allowing for many late-night evening strolls. Since we stayed in Nice, we would walk through Old Town, Place Massena, and Avenue Jean Medecin every evening, known for its shopping. We even popped into Galeries Lafayette, an upscale department store.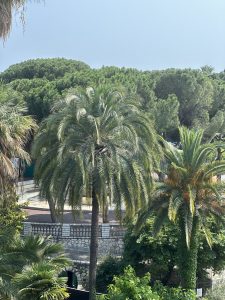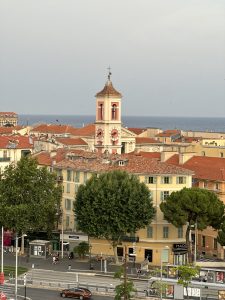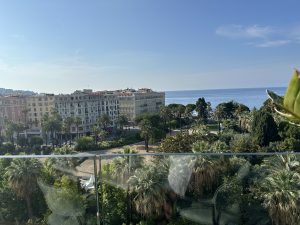 Accommodations
We booked the Anantara Plaza Nice Hotel (junior suite with garden view). It is roomy enough for three with a king-size bed and a very comfortable cot or sofa bed (we had both). The bathroom is quite large, with a great shower that includes a waterfall showerhead and handheld showerhead, a separate commode area, and room for us to get ready in the mornings.
The hotel has a rooftop terrace with a panoramic view of the sea and the old city. It is where they serve breakfast, has their rooftop bar, SEEN Bar, and SEEN By Olivier, a contemporary Mediterranean restaurant. We began our vacation at the rooftop bar, having welcome drinks and some appetizers. There is nothing like the view while having coffee Americana in the morning and perhaps a croissant. We ate dinner at SEEN on our last night. It was the perfect way to end our vacation after starting our vacation at their bar.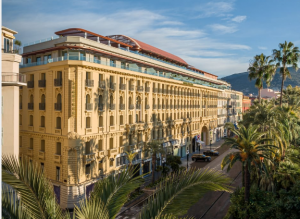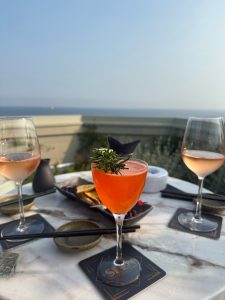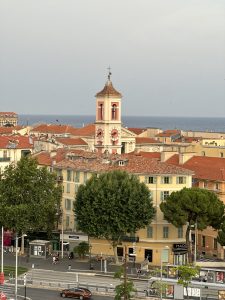 South of France Itinerary
Our plan for the French Riviera was to combine a few days of relaxation with day trips to specific cities, villages, or towns we wanted to visit. Naturally, you may want to make adjustments when you complete your trip. We made a few during the trip.
Day One & Two: Nice
We arrived late afternoon, which was perfect for easing into the day. Of course, we went to our hotel's rooftop bar and walked around.  The following day, we spent the afternoon at Ruhl Plage Beach Club after having lunch. We made reservations in advance, which I strongly recommend. The beach clubs get filled very quickly. There are many to choose from up and down Promenade Des Anglais. Fortunately, Ruhl Plage has an arrangement with Anantara Plaza Hotel, so while you have to pay for the lounge bed, at least we could get one. The price for a king bed, which includes the bed, towels, food service, and umbrellas, was 90 euros. We spent our first full day there and our last day there. It which was the perfect way to bookend our trip.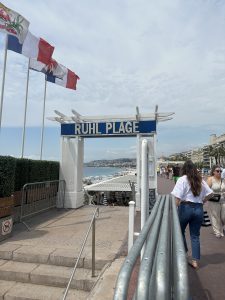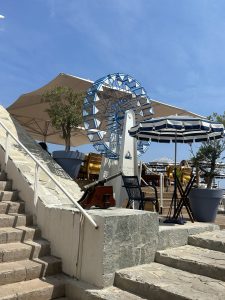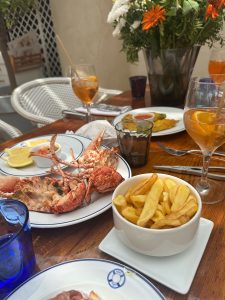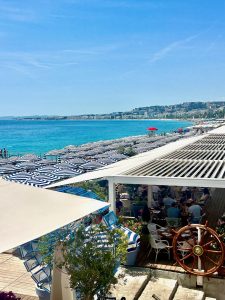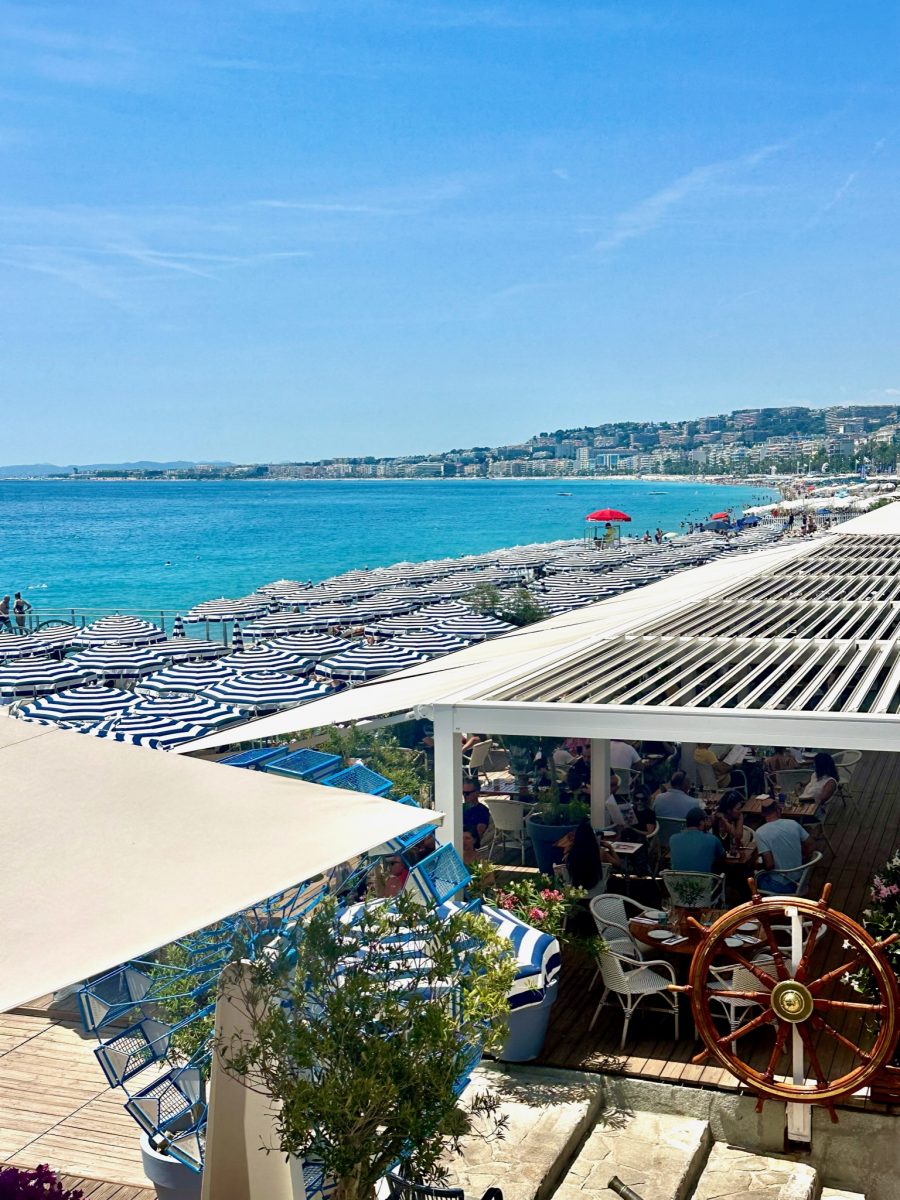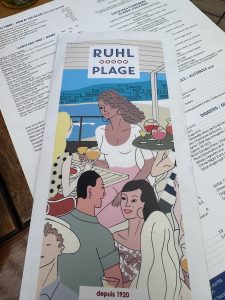 Places to Visit:
Cours Saleya -This is the largest pedestrian area in Vieux Nice- flower markets, antique vendors, and food. Open Tuesday-Sunday from 8 am to 12:30. If it were legal to bring home their flowers, fruits, and vegetables, we would have done it. Their tomatoes, artichokes, and fruit boast some of the most vibrant colors. We've experienced this before in our European trips, and it makes me question why Cannes not (see what I did there?) have food markets with fresh, vibrant fruits and vegetables, olive oils, and vendors every day.
Castle Hill – Walk the Promenade des Anglais to Castle Hill. Today it is a hill offering views from all sides, including a panoramic view of the city and beaches. It is a free park. We didn't go to the very top to see the man-made waterfalls, but our trek up 200 steps gave us an amazing view of the city. You can take a lift to the very top, but it is pretty old and unappealing. It would have been another 200-plus steps to the top, which doesn't seem too difficult, but we did this at the end of the day. I suggest going earlier in the day.
Old Town – You cannot visit Nice without strolling through Old Town. We loved wandering through the narrow cobblestone side streets and taking in the street life. This is where you will find many restaurants, bars, and markets. My daughters took me to Wayne's, an English bar restaurant with vintage decor and live music. It's a fun place worth visiting if you want to experience an English-style pub.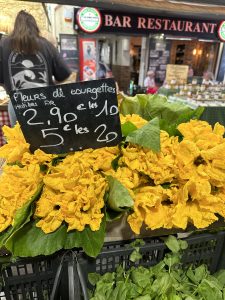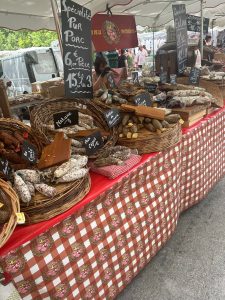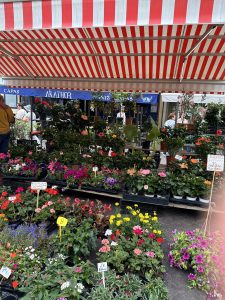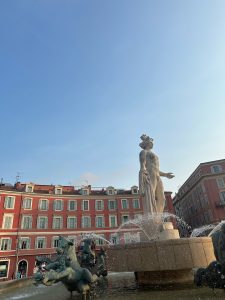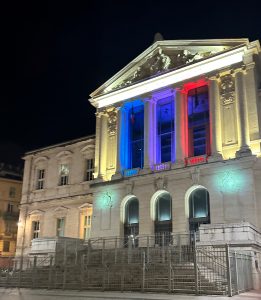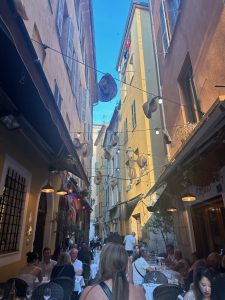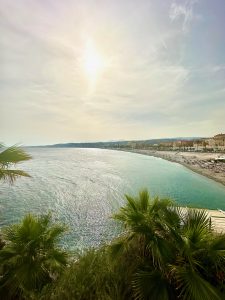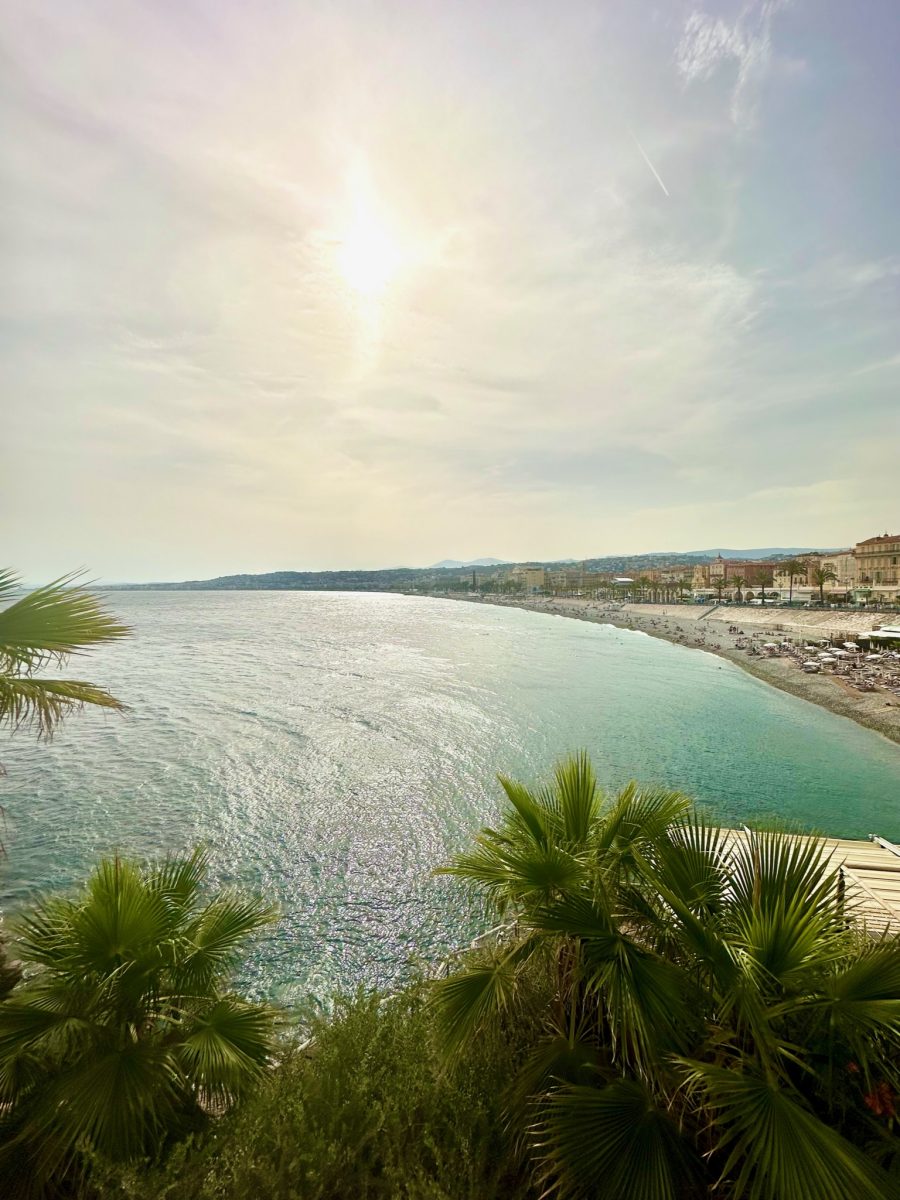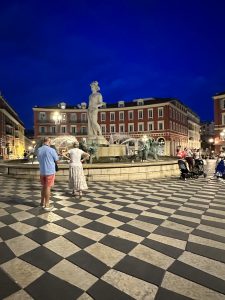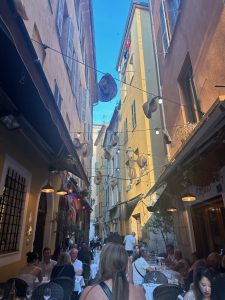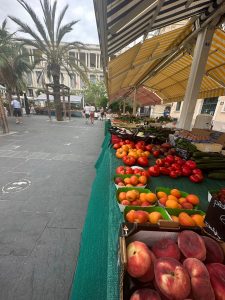 Restaurants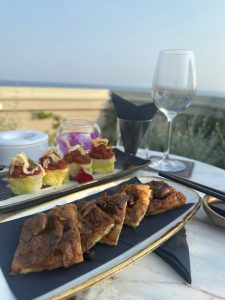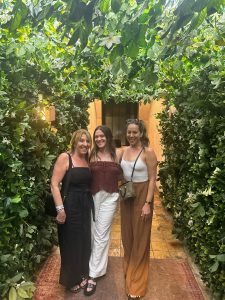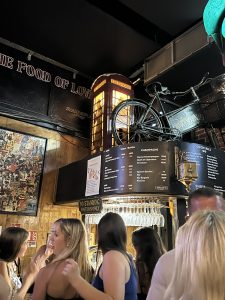 appetizers at Anatara Rooftop Terrace                        Entrance to Bocca Nisa                                              Wayne's Bar- 15 Rue de la Préfecture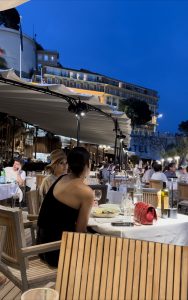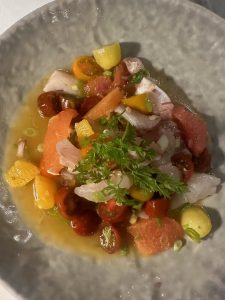 Castel Plage Terrace Restaurant                     Bocca Nissa 
Day 3:  Eze and Monaco
Eze
This Medieval town has the most breathtaking views and gorgeous botanicals. We started with a tour of the Fragonard Perfume Factory.  The tour takes you through their cosmetics laboratory and ends with a visit to the store. My daughter had visited ten years ago on a high school trip and brought me back one of their fragrances, which was a favorite. It has since been discontinued, but we spent much time trying out their many fragrances and finding a perfume we liked.
We climbed the narrow pathways involving many steps, so wear comfortable shoes. But it is well worth the climb up this quaint village. Entering the botanical gardens has a small fee (7 €) (Jardin Exotique d'Eze).  It is money well spent to see the cacti and array of beautiful floras.
When you get to the bottom, there is a restaurant called Restaurant Le Mas Provençal, which is considered an Alice in Wonderland experience. Our guide brought us in, where we met the owner, who took us to the kitchen to see their Parmesan wheel and showed us his guest book. It included pictures of the famous people that have dined there, including George Bush, James Bond, Michael Jordan, and Faye Dunaway. Unfortunately, it also included Harvey Weinstein, who I'm sure was considered to be amongst the Hollywood stars that have dined there. I didn't feel it polite to say, "You may want to remove that photo from your guest book." The decor is beautiful, with hanging flowers, fruits, and vegetables. Reservations are suggested for this pre-fixe menu tasting. The price is 136 €, and they do not accept checks or credit cards.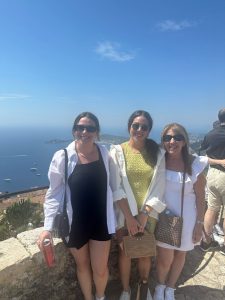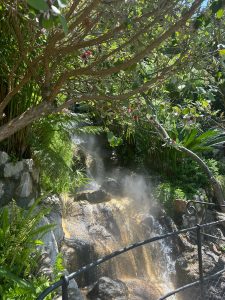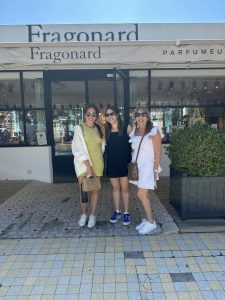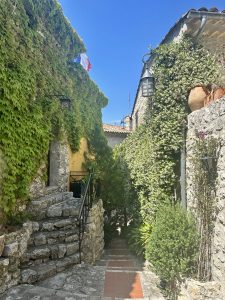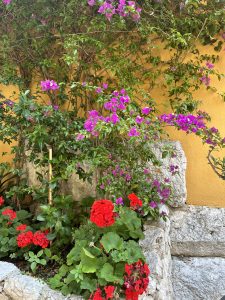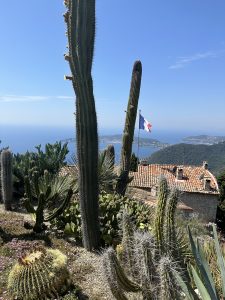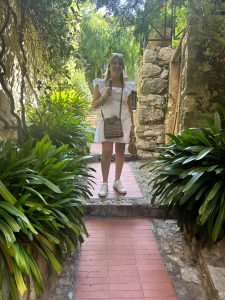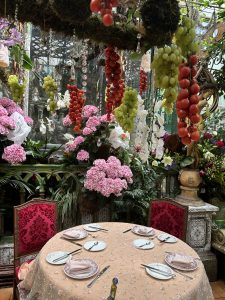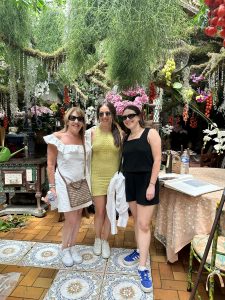 Monaco & Monte Carlo
Because our transportation company is the only company authorized to drive through the streets of Monaco, our guide/driver drove us through the old town and the Grand Prix route. We stopped by the Prince's Palace and walked through the streets and shops. Our next stop was Monte Carlo, where we had a delicious lunch at Cafe de Paris. The inside is old-world elegant, but we chose to eat on their terrace with a view of the Casino. Felt like the lifestyles of the rich and famous, with more high-end designer shopping bags than I've ever seen and guests coming into town from their yachts. The service was wonderful and welcoming. Of course, we had the Nicoise salad.  We did not have time to go into the Casino, but seeing it was beautiful. You need a passport to enter, and they charge 18 €.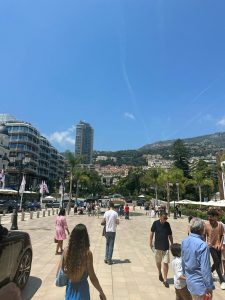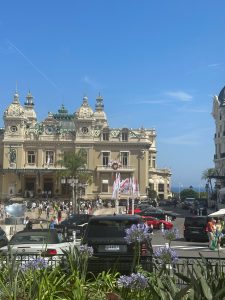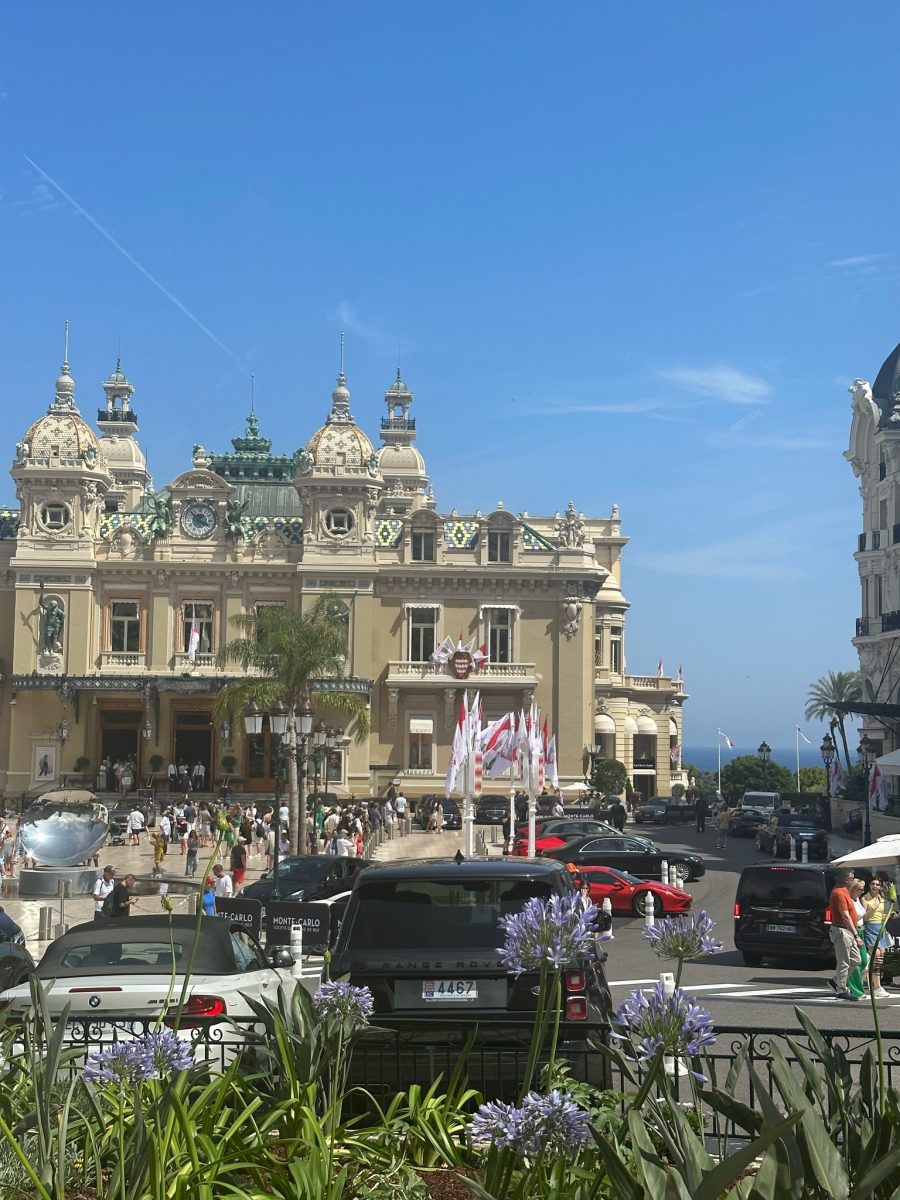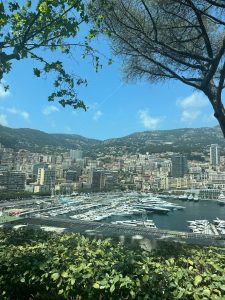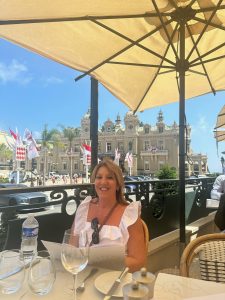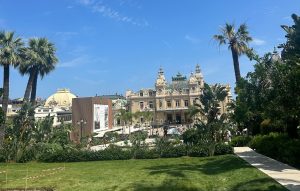 Day 4:  St. Tropez & Port Grimaud
The drive from Nice to Saint Maxime is over an hour. We took the ferry to get to St. Tropez as it offers wonderful views and is faster than driving. The ferry is 9 € per person. We were surprised by how rough the current was, by our boating experience estimations, 3-5 ft. It was not the most enjoyable ride since we had to stay seated and inside. But well worth saving an hour of drive time.
St. Tropez has the most amazing yachts, luxury designer stores, a market, and narrow cobblestone streets to wander through. We spent three hours walking through St. Tropez, going in and out of the smaller shops and admiring the yachts and the artists.
Had lunch at Le Cafe de Paris.
The town of Port Grimaud was intentionally built to look like Venice; some even call it the Venice of Provence. It is mainly small shops and restaurants. This was not my favorite place to visit since we only had 45 minutes. That meant missing out on visiting the villages of Grimaud.  In hindsight, I would have preferred spending extra time in St. Tropez.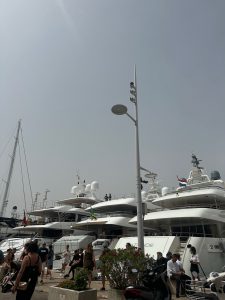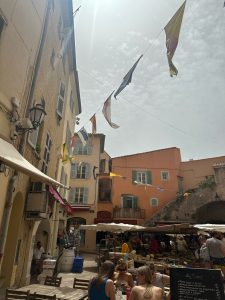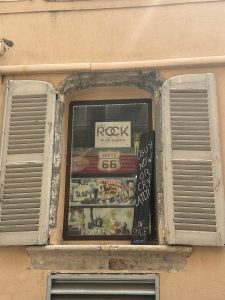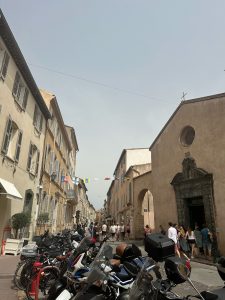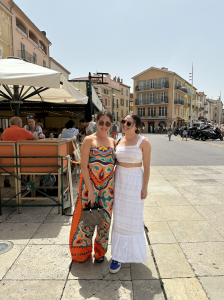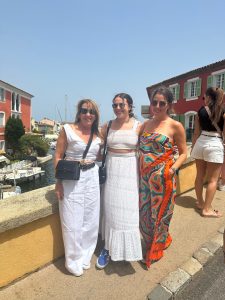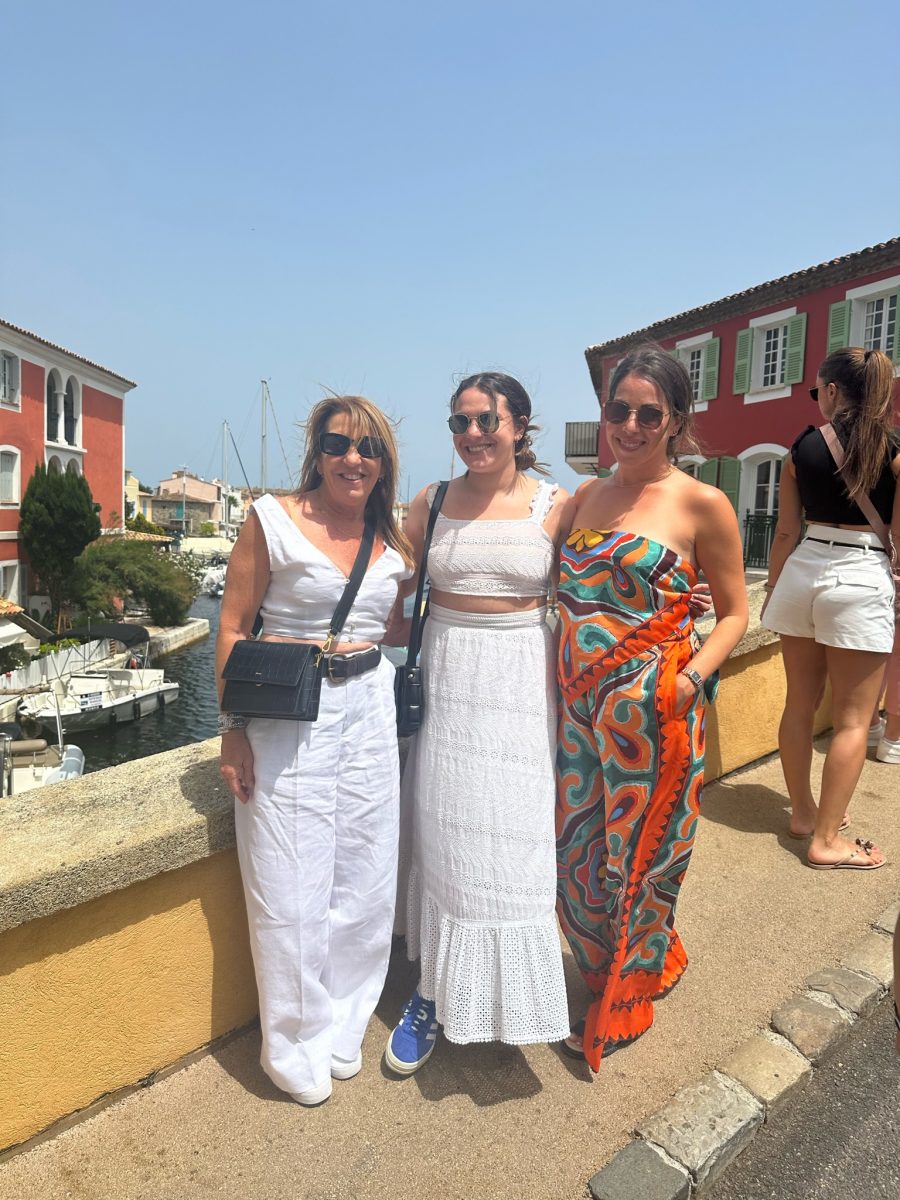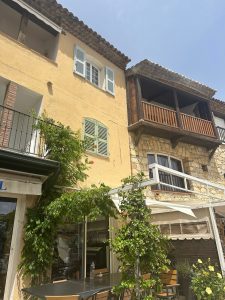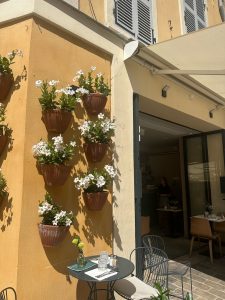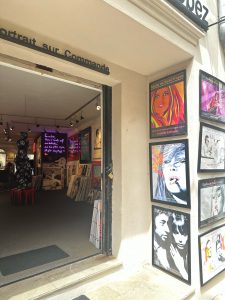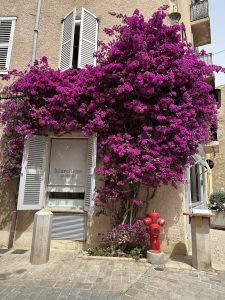 Day 5:  Cannes and Antibes
Our first stop was in Antibes, a resort town enclosed by 16th-century ramparts. Our guide drove us through the town, and we walked around the market Marché Provençal.  It was on our way to Cannes, which we were excited to visit. A typical 30-minute drive, but traffic is congested, especially when you take the coastal drive. It did allow us to see other places like Juan-les Pins, a seaside town very popular with the French looking to get away.
Cannes was one of our favorite places to visit. It happened during Cannes Lions 2023, a global event for those working in advertising and creative communications,  attracting companies including Meta, TikTok, Spotify, Twitter, Apple, Pinterest, Disney, and the larger advertising agencies. It does take up most of La Croisette, the palm tree-lined boulevard that runs parallel to the beach.
Since we all work in advertising/marketing, it was fascinating to see all the activations, from private beach clubs (Pinterest Beach) to TikTok Cabana. To escape the thousands of attendees, we went to Rue d'Antibes. This is where you want to go if you love to shop. That was after visiting the designer stores along La Croisette, including YSL. If you are looking to grab a French designer bag, the prices are less than in the States, and you will get back the VAT tax after uploading it to the kiosk in the airport. Ask the shop for the form, provided it amounts to more than €100.01.
We spent the rest of the time wandering the charming streets filled with local shops, cafes, and restaurants and taking in some luxury hotels, including Carlton Cannes, built in 1913 and set along La Croisette. It is stunning.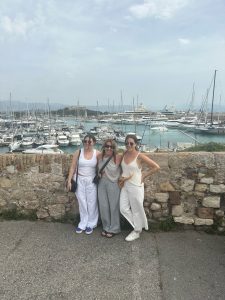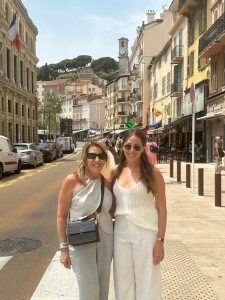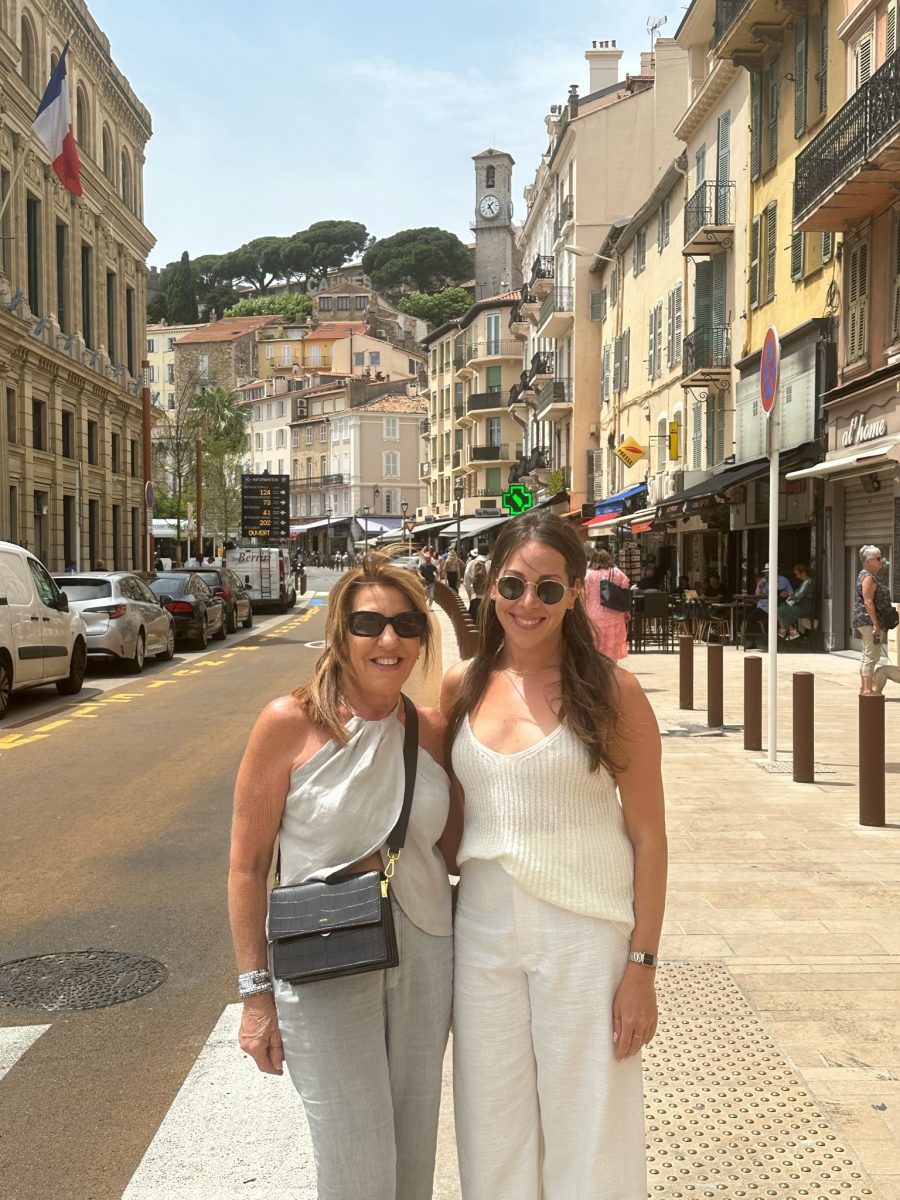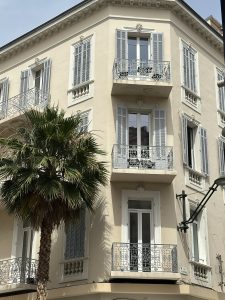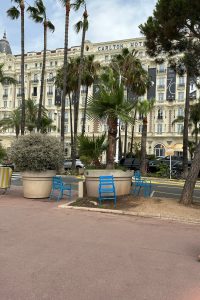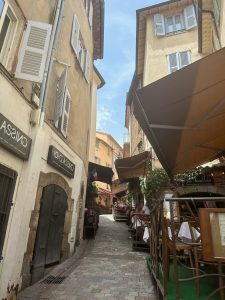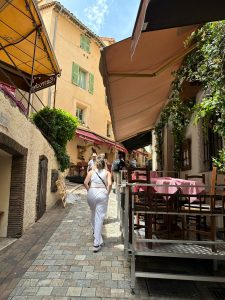 Day 6: Marseille
If you are traveling to the French Riviera, you will want to see Marseille and Aix-en-Province. It is close to a three-hour drive from Nice. When I mentioned to a few people that we were going to Marseille, we were warned not to wander Marseille by ourselves. This is why we decided to go on a walking tour. Our guide, Sebastien, was amazing, entertaining, and very informative. Tbh, we never felt unsafe walking around the port area.
The tour took us to Basilique Notre Dame de la Garde, Rue Fort du- Sanctuaire, The Panier, an artistic neighborhood with narrow streets and wall art, Vieux Port,  the old asylum, Cathedral de la Major, Fort Saint-Jean.
Marseille is also known for its soaps. It is a traditional hard soap made from vegetable oils produced around Marseille in France about 600 years ago. If there is a single soap in every French home, it's the traditional Savon de Marseille, a hard green soap made using pure olive oil, alkali from sea plants, and seawater. It is great for those with sensitive skin and eczema. We were lucky that a soap bar was left in a welcome basket at our hotel, Grand Hotel Beauvau Marseille Vieux-Port.
Marseille is famous for its olive oil chocolates. Sebastien took us to one of the shops he takes his guests. The box of chocolates is presented as an olive branch. We all left with boxes of chocolate. Another edible delight is Navettes, light sweet biscuits made with olive oil and orange blossom water. Another great edible is their shortbread cookies. They are made into emblems of Marseille's heritage… the sardine, and they also shape them into seahorses, starfish, and seashells. I brought home the lemon shortbread, although their shop sells other flavors, including orange blossom, gingerbread, green anise, and more.
Sebastien has the best vibe- We loved his yellow bucket hat with a smiley face. If you are looking for a tour guide who knows all the traditional and off-the-beaten-track sites, contact Sebastien and tell him bonjour!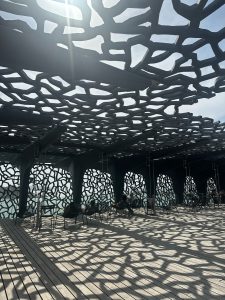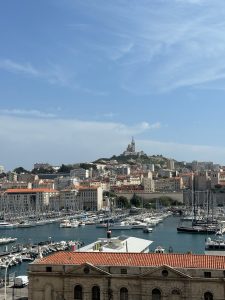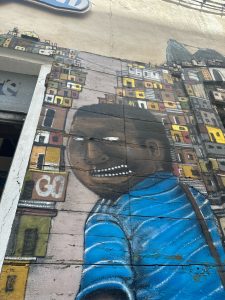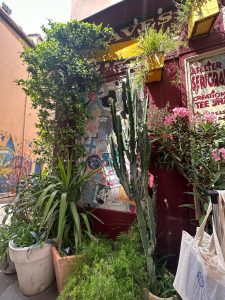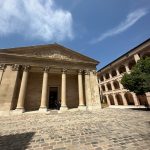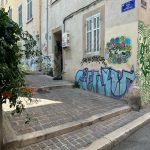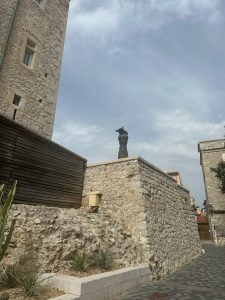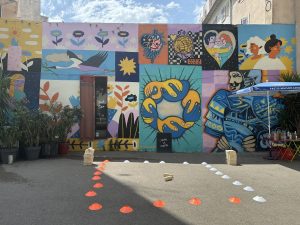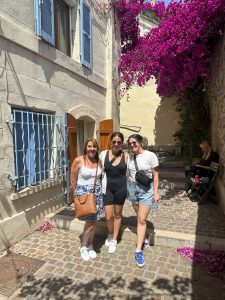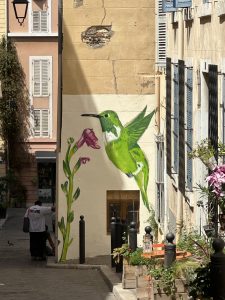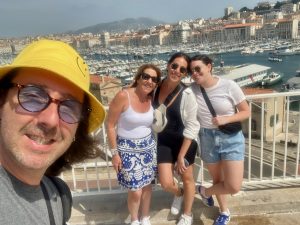 Restaurants
Deïa Coffee & Kitchen – Brunch Marseille. Its high ratings and the fact that it was around the corner from our hotel made this the perfect place to grab a healthy and delicious brunch before our three-hour walking tour.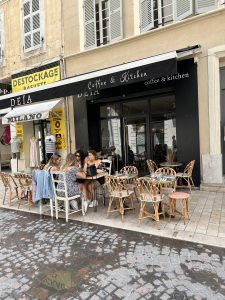 Cantoche- delicious Mediterranean tapas-style selections.
Day 7: Aix en Province
This is one of the cities we were very excited to visit and the impetus for our staying in Marseilles. It is the birthplace of impressionist painter Paul Cézanne and a university and artists' town. We discovered a town of fountains, cafes, restaurants, shops, and markets.
Must-sees include:
Cours Mirabeau – This is the main street. You'll find this pedestrian avenue filled with shops, restaurants, clothing stores, chocolatiers, patisseries, and gelato stands
Marché aux Fruits et Légumes – we bought these delicious homemade jams
Buy Madeleines from Christophe Madeleines-  You'll find it by the line. On Rue Gaston
Shopping on Rue Clemenceau and Rue Marius Reynard streets
Rue Fernand Dol
Lavender fields
Next, we met our wine guide, Caroline, and drove to Domaine Bargemone. This traditional Provence vineyard is dedicated to producing Rosé (90+%) and white wine (10%) "Côteaux d'Aix en Provence" for a few decades. Their new cellar opened, and they added a green rooftop, an outdoor terrace. The inside is open, airy, and filled with light. Outside is a terrace overlooking the vineyard and stairs up to their green rooftop. This is all purposely designed as a gesture to their organic agriculture.
They do not ship their wine to the U.S., but we returned home with a bottle in our suitcase.
On our drive back to Aix en Province to drop off Caroline, our driver stopped at one of the lavender fields. It truly is a site to behold, bees and all.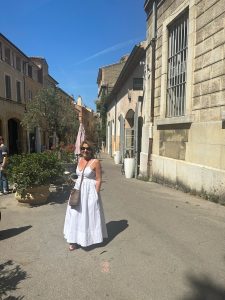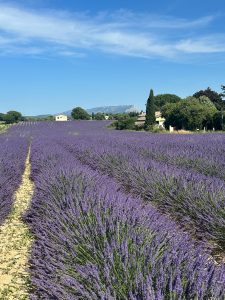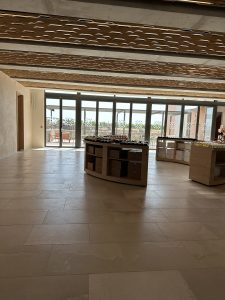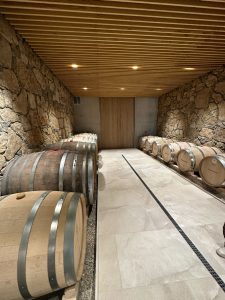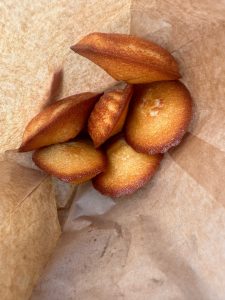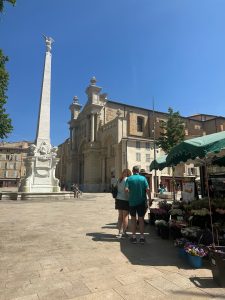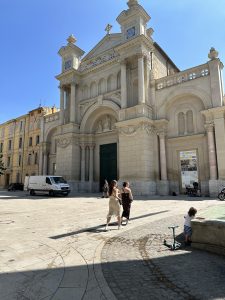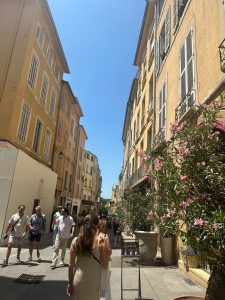 The Perfect Escape: Create a Lifetime's Worth of Memories in Only 8 Days on the French Riviera
Exploring the South of France from Nice to Cannes, Marseille to Aix en Province is an amazing experience. From the vibrant colors of the Promenade des Anglais to the glamour and charm of La Croisette, the French Riviera offers a unique blend of natural beauty and cultural richness. Whether strolling through picturesque old towns or indulging in delicious Mediterranean cuisine, there is something for everyone in this enchanting part of the world.
For some outfit inspo, we share some of the favorites we wore.