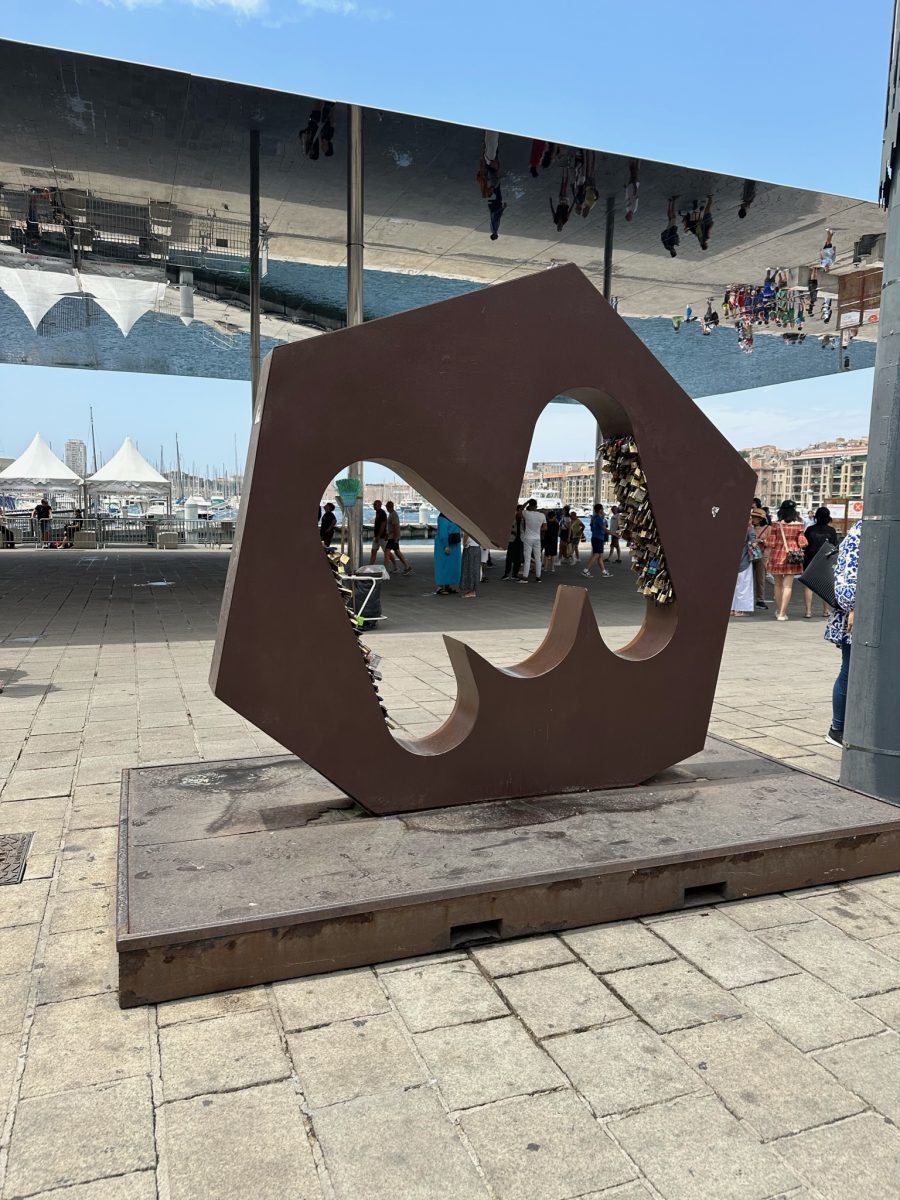 Magnifique Marseille
Marseille is the second largest and oldest city in France. It was our home for two nights to visit the city and Aix-en-Province. Our hotel,  Grand Hotel Beauvau Marseille Vieux-Port, was along the Vieux Port (old port), lined with over 3500 boats. You can roam around the markets and shop on many streets, including Rue de la Tour, a pedestrian street with many of the trendiest shops and designer labels. There is even a Galeries Lafayette department store near the Old Port. But Marseille is so much more than shopping. Take a guided tour to get a true feel for the city.
Is Marseille Worth Visiting?
Before we left for France, a few people I know mentioned that Marseille is a dangerous city. And an employee at one of the places we were in Nice told us to be careful.  Yes, Marseille has suffered from a severe image problem for many years. Much is attributed to urban decay and crime statistics. That has, and is, continuing to change. There are new museums, beautiful streets, and a vibrant scene. Honestly, we enjoyed Marseille. We find saying Marseille is dangerous is the same as saying New York City is dangerous. There may be areas to avoid, and you have to use common sense roaming around this large city no more so than any other city in the world.
Our Day In Marseille
Due to what we had heard about Marseille and not to wander around ourselves, we arranged for a guided walking tour. Our guide, Sebastien, was terrific, entertaining, and very informative. Tbh, we never felt unsafe walking around the port area.
The tour took us to Basilique Notre Dame de la Garde, Rue Fort du- Sanctuaire, The Panier, an artistic neighborhood with narrow streets and wall art, Vieux Port,  the old asylum, Cathedral de la Major, Fort Saint-Jean. Sebastien has the best vibe- We loved his yellow bucket hat with a smiley face. If you are looking for a tour guide who knows all the traditional and off-the-beaten-track sites, contact Sebastien and tell him bonjour!
The Wall project is a collaborative mural project with Ukranian artist Danya Kovach. The mural in Marseille was done by artists Julia Mota Albuquerque and Kovach as a symbol of resistance, stability, and armor that fenced off Europe from the war. According to Kovach, the project's focus is to illustrate that Ukraine and the rest of the world have a future together of collaboration and prosperity. The title of the piece in Ukraine is "Unfolding Windows."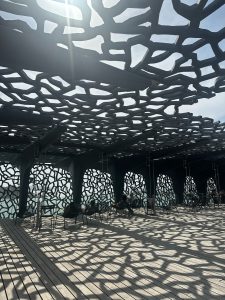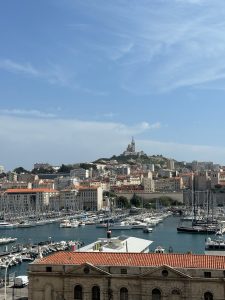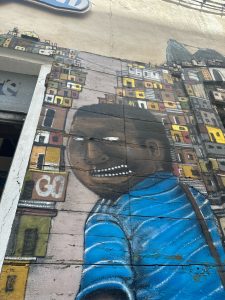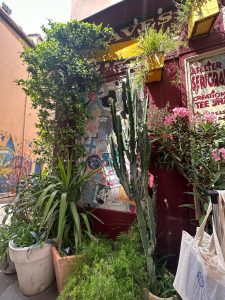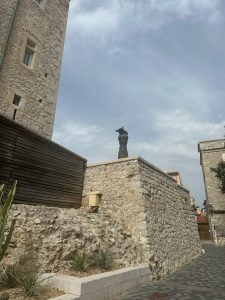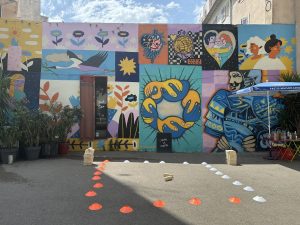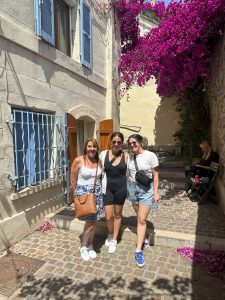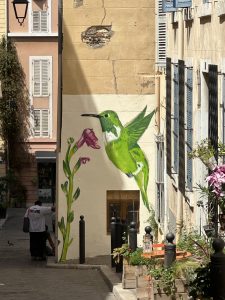 Marseille's Specialties
Marseille is known for its soaps. It is a traditional hard soap made from vegetable oils produced around Marseille in France about 600 years ago. If there is a single soap in every French home, it's the traditional Savon de Marseille, a hard green soap made using pure olive oil, alkali from sea plants, and seawater. It is excellent for those with sensitive skin and eczema. We were lucky that a soap bar was left in a welcome basket at our hotel, Grand Hotel Beauvau Marseille Vieux-Port.
Marseille is also famous for its olive oil chocolates. Sebastien took us to one of the shops he takes his guests. The box of chocolates is shaped like an olive branch. We all left with boxes of chocolate. Another edible delight is Navettes, light sweet biscuits made with olive oil and orange blossom water. Another incredible edible is their shortbread cookies. They are made into emblems of Marseille's heritage… the sardine, and they also shape them into seahorses, starfish, and seashells. I brought home the lemon shortbread, although their shop sells other flavors, including orange blossom, gingerbread, green anise, and more. And, definitely try their Calissons, a traditional French candy consisting of a smooth, pale yellow paste of candied fruit and ground almonds topped with a thin layer of royal icing.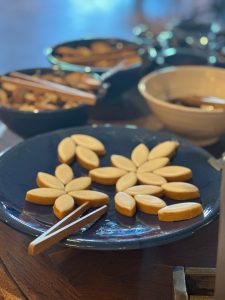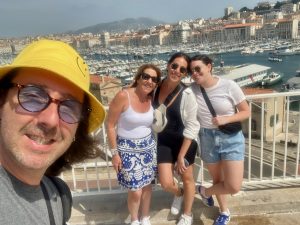 Restaurants
Deïa Coffee & Kitchen – Brunch Marseilles. It was the perfect place to grab a  healthy and delicious brunch before our three-hour walking tour.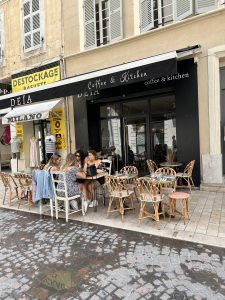 Cantoche- delicious Mediterranean tapas-style selections.
Well Worth the Visit
Our initial opinion of Marseille before arriving was it was dangerous and unclean. We find that difficult to believe in the day and a half spent in Marseille. There are plenty of activities and attractions to visit. Their architecture is beautiful, and their history is fascinating. If you go, immerse yourself in this city, indulge in its local delicacies, and make magnifique memories.
We took day trips throughout the French Riviera. Try to include at least a few day trips.  Click here to learn more about the day trips we took.
Pass on these great tips, tell your friends, and like us on Instagram,  TikTok, and Pinterest.