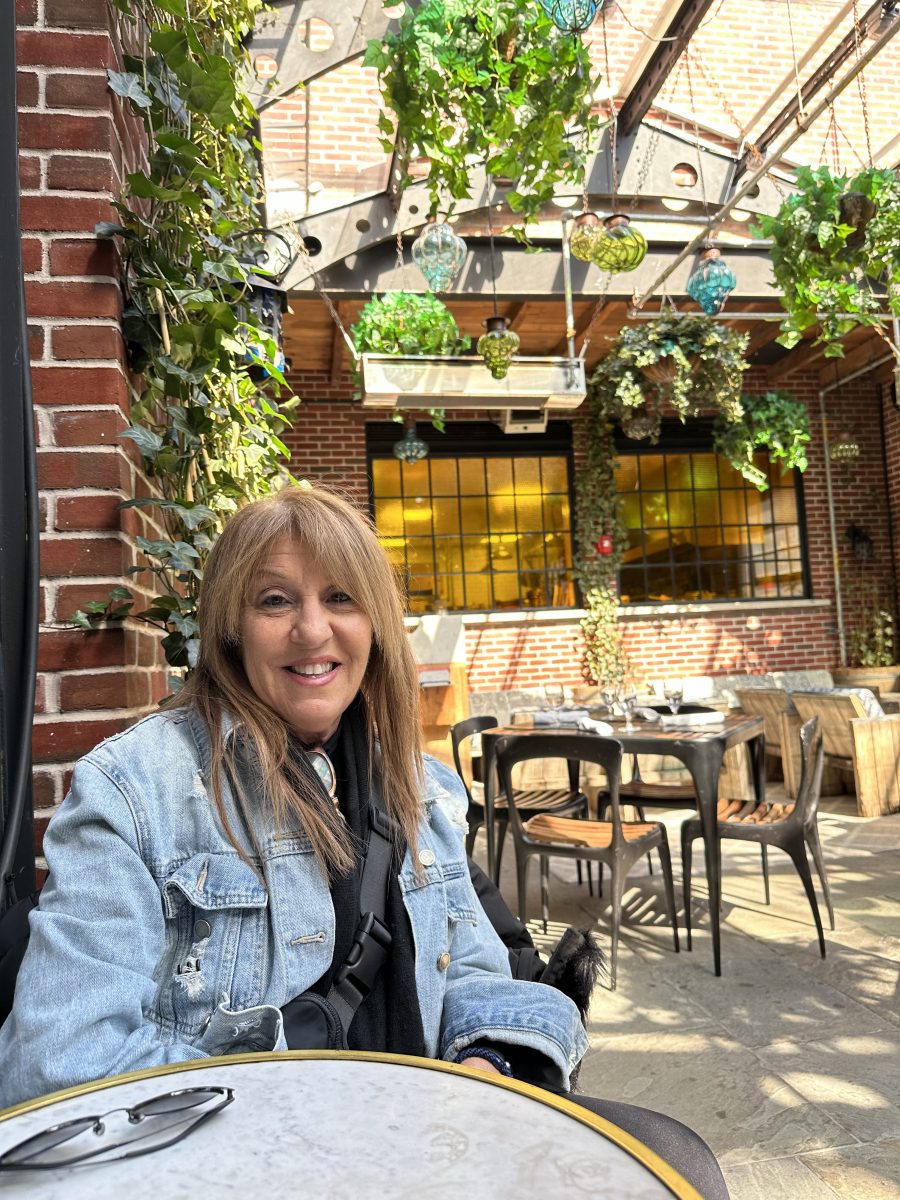 A Weekend With My Daughters
My daughters moved to NYC in 2019. When they moved, I promised to visit every three to four months. The pandemic made everything complicated. Now I have one daughter living nearby me in South Florida and one living in New York City.
The last time I visited NYC was in December 2021. My daughters would be in NYC this same weekend, so they said, "Mom, come too." You didn't need to twist my arm. I was ready to visit New York City… again!
Where I Stayed
I always try to pick a hotel near my daughter's apartment. She has moved thrice since 2019, allowing me to try different hotels. I'm not a chain hotel type of person. I much prefer a boutique hotel.
I chose The Ludlow Hotel on the Lower East Side for this trip. What a wonderful boutique hotel, The staff is awesome from the moment you walk through the door. It does have an industrial-chic feel to it, reflecting the personality of the neighborhood. It's one of the attributes I most admire. Off the reception area, you'll find the lobby lounge and garden. So homey, as attested by the number of people working there during the day and the liveliness in the evenings.
The Garden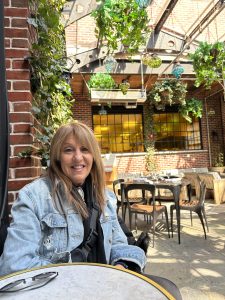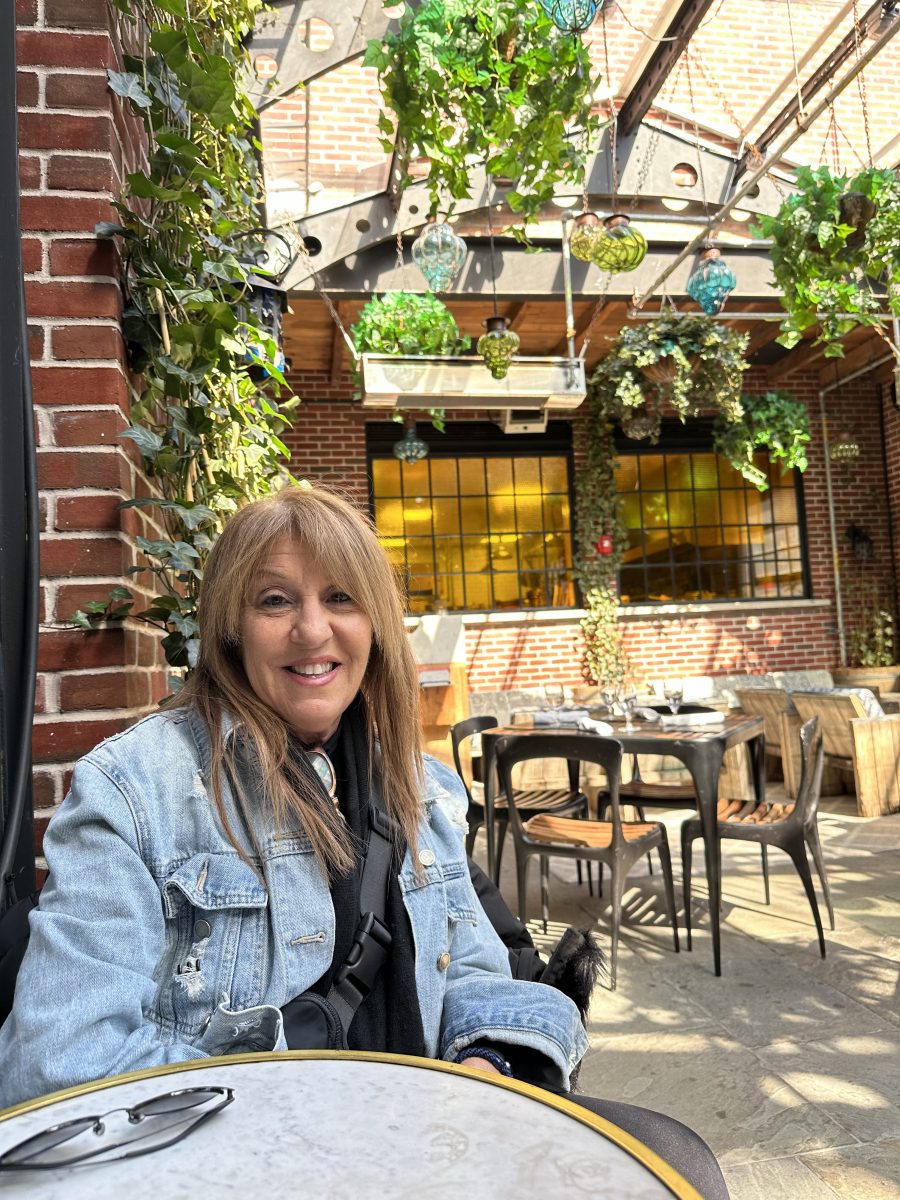 We ate in the Garden with plants hanging from steel beams and beautiful artisan-crafted, blown glass vintage pendants in blue and green hues. Next time I visit, I plan on staying and trying their restaurant, Dirty French.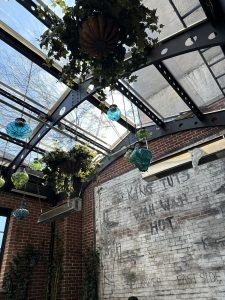 The Rooms
The room keys are fobs on a leather key chain. They also have regular room cards, but I loved the individual fobs. It's how they do it in the many European boutique hotels I've stayed at. The Ludlow has character. I'd describe it as being vintage chic. You'll find hardwood floors, silk rugs, and wood accents throughout. I loved that you needed a key fob in the elevator to get to each floor. My room had the most amazing terrace with two chairs, ottomans, and a bistro table. Plants were scattered throughout. It was cold during my visit, but I still took advantage of the terrace.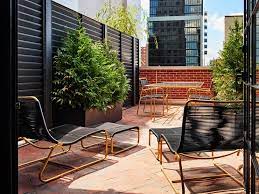 Restaurants
Every time I visit New York, my daughters and I pick out the restaurants we want to try. This trip did not disappoint. It seems like all we do is eat, which isn't wrong, but it is two meals and a light snack each day.
Hav & Mar
I am a huge fan of Marcus Samuelsson. My daughter has eaten at his Miami restaurant, Red Rooster Overtown. I do not tend to fangirl over actors, influencers, or musicians (except for Chris Martin). But put me in a room with my favorite chefs, and there I go fangirling. I had told my daughters and our other guests who joined us that what would make the dinner even more special would be if Marcus Samuelsson was there that night. As we enjoyed our cocktails at the table, my daughter spotted him right next to us, talking to some guests.
Of course, when he started walking by, I tapped him on his arm and embarrassedly spoke to him in Swedish. Well, all I could remember was Hej, hej. Hu mar du? (Hi, How are you?). He looked at me surprisingly and then started speaking Swedish. I did need to confess that was all I had. We talked about Sweden since I told him I had just visited. He is from Gothenburg, where my friend lived, so we talked about that city.
And, yes, I made sure to document my visit with a photo, which he politely indulged me. We had the Hav Bread Basket, Hamachi with black ceviche, Swediopian, Endive & Bok Choy salad,  Seaside Waffle, the Corn Wrapped Snapper, the Havatelli, and Hav Fries. We closed it out with their Chocolate Twighlight.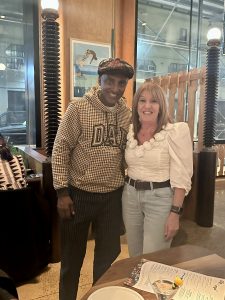 A charming breakfast place. We shared the burrata + fig toast, breakfast burrito, and Harissa folded eggs.
Perfect place to have some soup on a cold, damp day. The French onion soup was great for a mid-afternoon bite.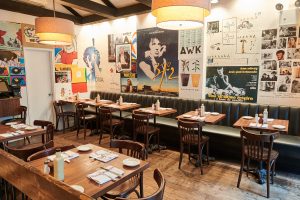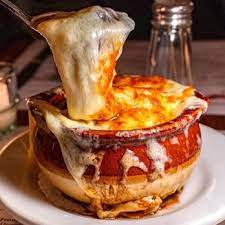 A cool Asian vibe and decor. Recommend the Hamachi crispy rice, grilled octopus, Korean fried chicken, stone pot Thai fried rice, and Japanese sweet potato.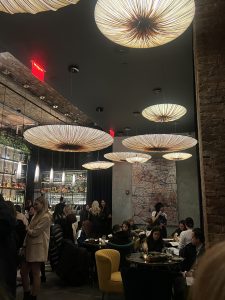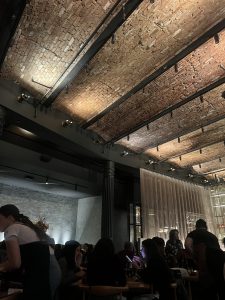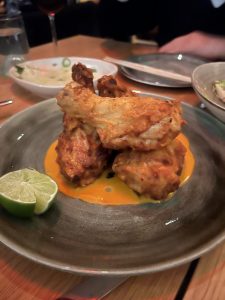 Plenty of eating options exist in the Tin Building by Jean- Georges. Since we just wanted a light bite, we opted to sit at the bar, where we shared and recommend the Portuguese tinned sardines and oysters.
It was time for some Mediterranean tapas, and Reyna did not disappoint. First, the decor is beautiful. The service is amazing. Our server was attentive and gave us some great recommendations. We had the labneh with za'atar dip, ceviche, manchego & cauliflower croquettes, and Lebanese tacos.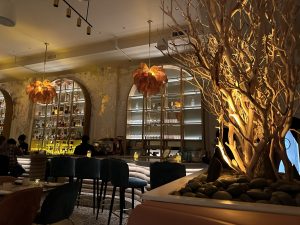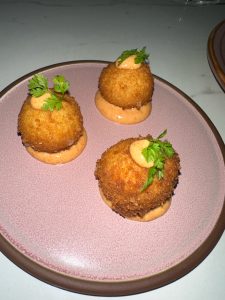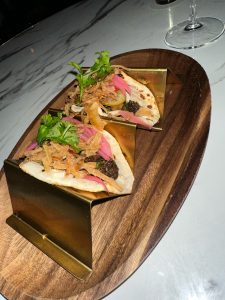 My daughter recommended this Australian cafe for breakfast. We all shared the sweet corn fritters, and most of us had their egg sandwich. There are no reservations, so be prepared to wait for a table. The hostess served us coffee while we patiently waited about 20 minutes.
Not far from my hotel, my daughter and I went for breakfast the day I was leaving. I have seen their establishment on Food Network, so I was excited to try out their dining cafe. It did not disappoint. Who doesn't love a bagel served on a board with nova, cream cheese, and tomato, onion, capers? I had their lower sunny side, which included the thickest potato latke I've ever tasted.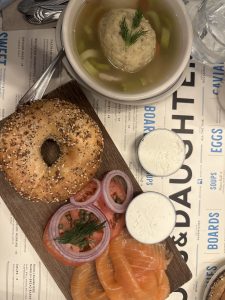 After our dining weekend, suffice it to say my daughter had plenty of leftovers for at least a few days.
Shopping & Entertainment
When I am with my daughters, there is shopping involved. Typically, we head right to Soho. This time we changed it up. We decided to go to Catbird, a jewelry store with gold dainty earrings, stacking rings, necklaces, and bracelets, which are sized to fit you and welded around your wrist.
I was introduced to Catbird by my daughters, who gifted me with a few stackable rings for my birthday. We spent an hour easily in their shop, getting matching welded bracelets. They chose the diamond snippet bracelet, which had three diamonds. Their thought was that there was one diamond for each of us. We have been a team since their dad passed away. Having these moments together melts my heart, especially when it's their suggestion.
We also each got their grand cygnet ring which I love. Since I live out of state, I did not have mine monogrammed.
If you are looking for some pop-ups or events in the city, I recommend checking out NYBucketlist on IG. It is how we found out about the Anthro Living Spring House in conjunction with Architectural Digest. We were able to grab tickets pretty easily for this weekend's pop-up. First, the location of the pop-up was in a new upper west side luxury condo. Of course, the penthouse condo goes for a small $22M. It was breathtaking.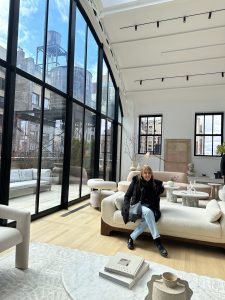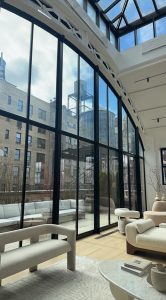 I loved the new spring line from Anthropologie. I loved the clean lines and minimalist look, from their Beaufort Boucle Vale Sectional or Daybed to their Kanta Coffee and Side Tables. When I am ready to redecorate my living room, I will check out AnthroHome.
This was my first time visiting the library, which is shocking for all the times I've visited New York. The architecture is beautiful. Of course, I first thought about walking up the stairwell: "Oh, this is where Carrie in Sex & the City had planned her wedding to Big." We did stroll through one of their exhibitions which was very interesting.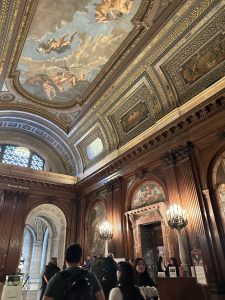 Central Park
No visit to the city should be without a stroll through Central Park. The weather was not the most cooperative, as it had rained the night before into the morning. But still, we enjoyed walking through the park. Spring is unbelievable in NYC when everyone is outside sunning, playing frisbee, climbing the rocks, and appreciating the beautiful fresh air.
I guess I'll be returning… again!