And So It Begins…
In November 2021, my Swedish friend of 35+ years invited me to visit Sweden when she planned to go in September 2022. The Scandinavian countries are on my bucket list. I immediately said, "yes." Tbh, I said, "I've waited 35 years for this invitation."  She already had an itinerary in mind. We would drive through Sweden to visit the larger cities, quaint villages, and towns. The trip would provide an accurate picture of her home country.
When most people plan a trip to Sweden, it typically includes the principal cities of Stockholm, Gothenburg, and Malmö. After traveling through Sweden, I encourage anyone visiting to see it like a local and take the time to visit some of the other coastal islands and towns.
Time to Learn Swedish
Six months before leaving, I decided to take the initiative and learn how to speak Swedish, surprising my friend. In the 35 years we've been friends, the only words I learned how to say were Hi (hej), Yes (Ja), and goodbye (hej då). I signed up through Babbel. Every morning I would do a lesson and review the lesson prior. But it turns out that Swedish is a very complex language. Discouraged, I texted my friend, "Hur mår du," which means "how are you?"
Of course, she laughed a lot and told me everyone speaks English in Sweden. I kept at it. When it came time to depart, I knew only the basics of phrases and words. I left the translation to her on this trip.
Welcome to Sweden
The day finally arrived for my departure after ten months of planning. My friend was already in Gothenburg, so I flew solo. I left at 9 a.m. on a Wednesday from Miami. Three flights and almost 24 hours later, I landed in Gothenburg. Their airport is easy to navigate. After grabbing my luggage, I went through the main terminal doors. There was my friend holding a sign that read "Valkommen Janice Weinsoff. We both laughed. And this time, I knew exactly what the sign read.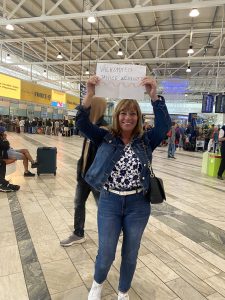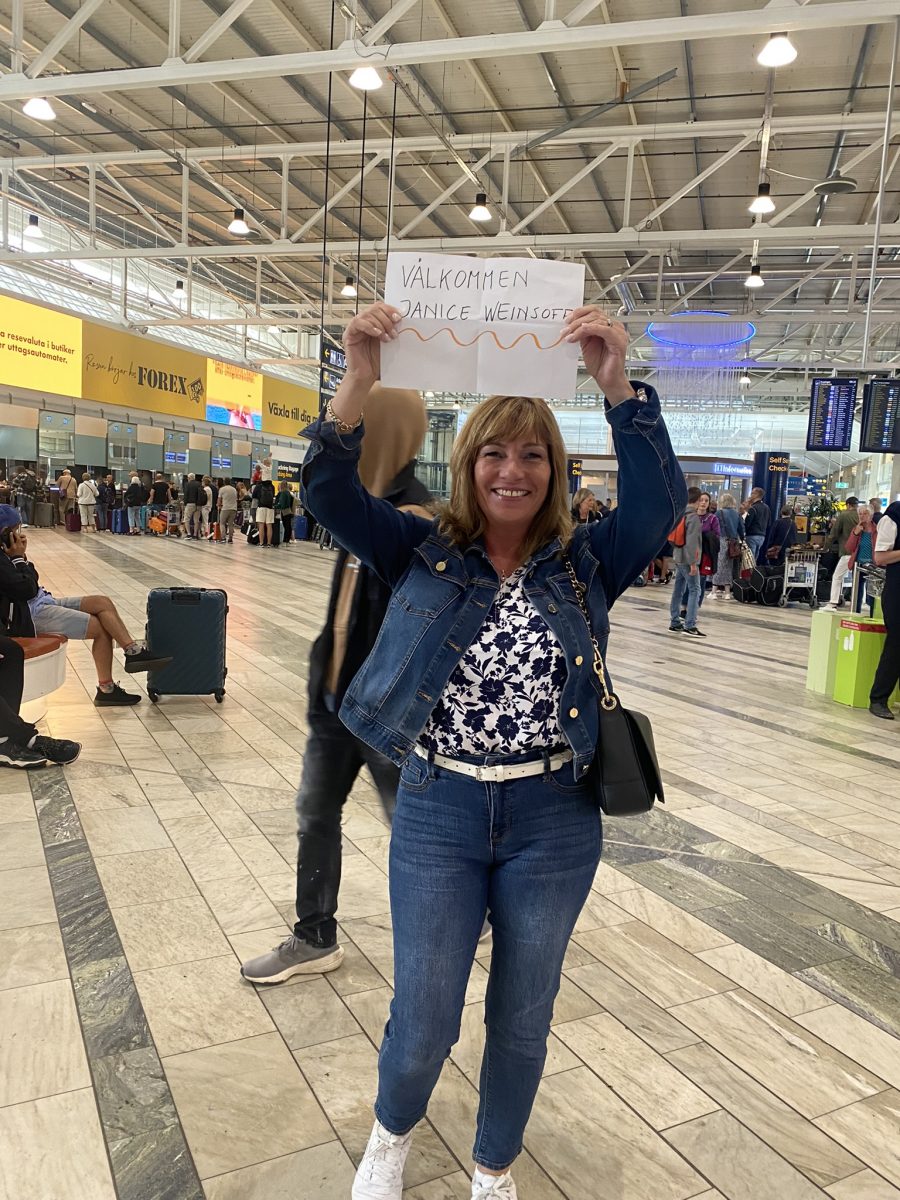 Our Travels
Our trip encompassed over 1400 miles of driving. 15 days. Two countries and eight destinations. Sweden is slightly larger than California. We shared more laughter and unexpected moments than I thought possible. We drove along the coast, traveled through the countryside, and visited major cities.
I saw some of the most beautiful landscapes with green pastures as far as the eye could see. There were lakes and vast seas. Wind turbines along the way. And peaceful roads. I don't think I heard one car honking. They say that Swedes are cold and aloof, but I encountered kind, friendly, and warm people throughout our travels.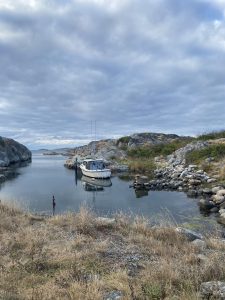 Gothenburg
Sweden's second-largest city is where my friend grew up. I stayed at Quality Hotel 11 & Eriksbergshallen, down the street from where my friend's family lives and where she was staying. Situated by the harbor area, the views are beautiful. It isn't necessarily where most visitors would stay as it isn't in the city center.
My visit was less about being a tourist for the first time and more about experiencing Sweden as a local. I first tasted Knäckebröd, a flat and dry type of crispbread that is a staple in Sweden (as is serving it with cheese). Another staple in Sweden is called Toast Skagen, simply shrimp toast. It is an open-face toast topped with shrimp mixed with mayonnaise and crème fraîche, then topped with fresh dill, lemon (both the zest and juice), and whitefish roe. Traditionally, the shrimp they use is tiny. I'm not going to lie. It was good, but even my Swedish friend was over this dish after three days.
It rained my first day, so we kept to as many indoor places as possible.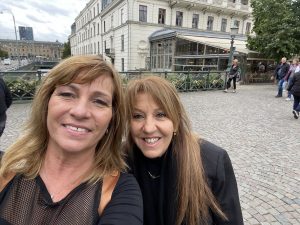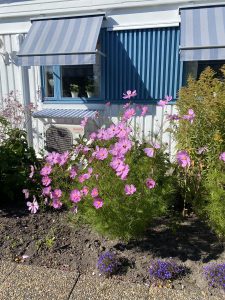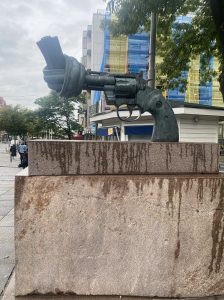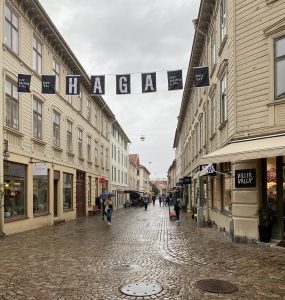 Restaurants:
Kafé Magasinet– this is both a cafe and bar.
Places we visited
Nordstan – Gothenburg's biggest shopping mall. The primary department store is Nordiska Kompaniet (NK) and is most comparable to Bloomingdale's and Nordstroms.
Stora Saluhallen – Gothenburg's food hall
Haga – cobblestone street with cafes, pubs, and shops. It has a bohemian flair. It is one of the oldest parts of Gothenburg. During the heavy rain, we stopped at Kafe Magasinet for fika, a traditional coffee break often served with Kanelbulle (Swedish cinnamon bun).
Trädgårdsföreningen – Botanical garden and park. It was ironic to walk into one of the greenhouses filled with palm trees.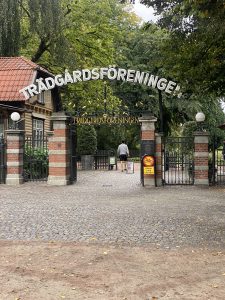 Sjömagasinet Sverige – This rustic seafood restaurant was on my list of places I wanted to eat at. Ironically, my friend's niece's boyfriend is the executive chef. We took the ferry over from my hotel.
Särö – A seaside resort south of Gothenburg. It is an exclusive neighborhood right on the ocean. We walked to see their "beach" and what they call the "Hansel and Gretal" house. The area was once popular with the Swedish royal family.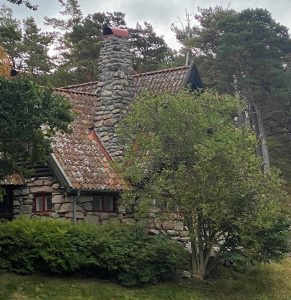 Hönö
Our next stop was to visit my friend's sister. Located off the coast, the drive is only about an hour. We did take the car ferry, which is free of charge. Hönö is one of the largest islands in the Gothenburg Archipelago, with just over 5000 residents. My friend's sister said that many Swedes like living in Hönö because it is safe and quiet. She drove us through some of the other smaller towns.
Hönö is a picturesque fishing village along a rocky coastline. My friend's sister is an island teacher and also works for one of the political parties. Most stores and businesses were closed on the Sunday of their national election.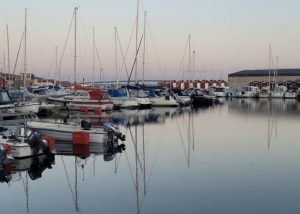 I recommend visiting some of these smaller villages, if not for anything, but for a truly unique experience. We stayed at Skärgårdshotellet Hönö, right by the harbor. It was off-season, so there were barely any visitors.  But our room had a wonderful private patio. Even when we were the only guests left, they made a full spread of Swedish delicacies.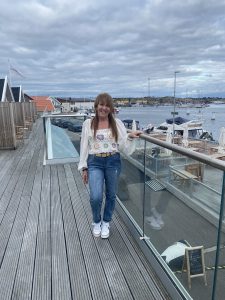 Skafferiet Hönö– The restaurant was wonderful. They're known for their delicious fish soup.
Karlstad
Karlstad is about a three-hour drive from Hönö, but one of the most beautiful drives through the countryside, lined with wind turbines. Sweden's wind farms place them at 20% wind generation. Our purpose for visiting Karlstad was so my friend could visit her father's grave. I was not expecting to see such a beautiful city. It is more modern than I expected, with plenty of shops, restaurants, and cafes. We stayed at Elite Stadshotellet, located in the city center. The hotel itself is in a 19th-century building.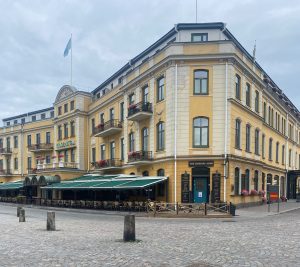 While my friend was gone, I walked along the Klarälven River. I loved the city's vibe with its parks, botanicals, and intriguing statues. They even had their version of a beach.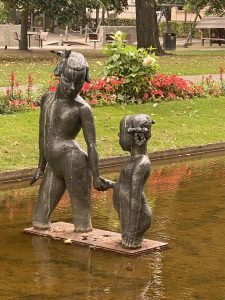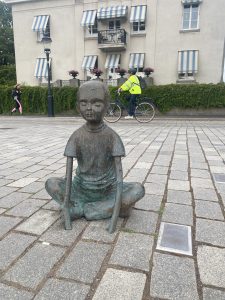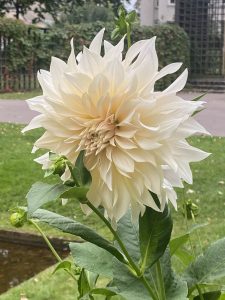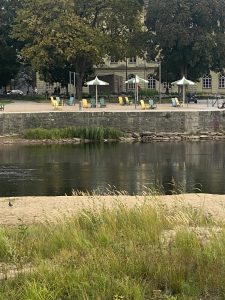 If you decide to stay for an overnight visit, I recommend seeing the following:
Stadsträdgården –  Karlstad's "city park."
Stora Torget – the largest city square
Because we were having dinner with her 80+ yr, old aunt, we stayed near her bus stop and ate at the hotel restaurant, The Bishops Arms. It is more of a pub in an authentic British setting. It was lively and delicious.
Stockholm
Another three-hour scenic drive to get to Stockholm; was one of our more extended stays. Our hotel, Hotel Diplomat, is located on Strandvägen in the heart of Stockholm. It had been pouring out most of the day, so we grabbed our umbrellas and walked. Places of interest: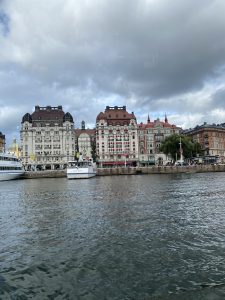 Djurgarden – an island known for the Vasa Museum and Skansen open-air museum. It's also where you will find their amusement park Gröna Lund, which my friend and her kids have often been to.
Skansen – is the oldest open-air museum and zoo in Sweden. It was empty when we were there. You take a funicular up where you will see bears, sea lions, peacocks, chickens, reindeer, and moose. In Skansen, they had a life-size Dala horse. Miniature ones are sold throughout the tourist shops. My parents have a Dala horse, so I immediately recognized it. It is a symbol of Sweden.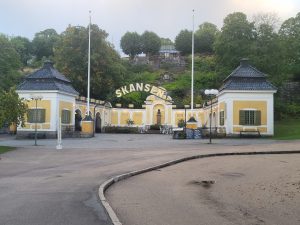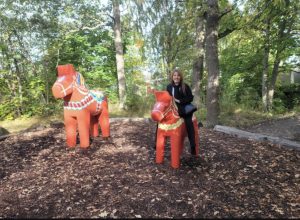 Old Town – home to the Royal Palace. Cobblestone streets with bistros and tourist shops. You'll also find Stortorget Square.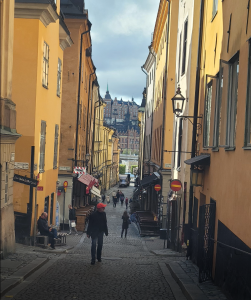 The Royal Palace –  When you purchase a ticket for the Royal Palace, it includes entry into the Royal Apartments, Tre Konor Museum, and Museum of the Antiquities.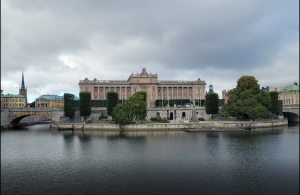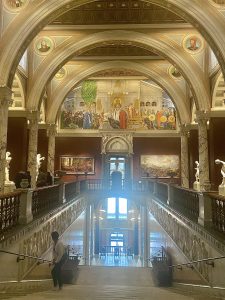 Stromma Boat Tour – We took the Stromma boat canal tour to Djurgården, where we walked Östermalm, an area known for bars, restaurants, and the Swedish History Museum. Stopped at Östermalms Saluhall, a food market known for traditional specialties like gravlax and smoked shrimp.
Sergel Torg – a significant square in Stockholm and home to a monument.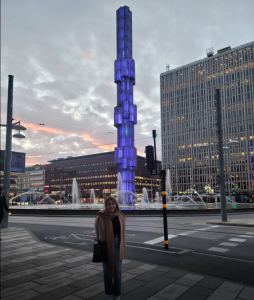 National Museum – You will find artwork, sculptures, tapestries, and antiquities here. It made me laugh to see an Electrolux vacuum since my mom, to this day, swears by her vacuum. I texted her the picture telling her that it was founded in Sweden.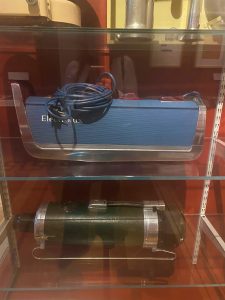 Restaurants
Gränna
My friend had chosen an overnight stay here because of the village's charm. It is known as Sweden's Candyland. When you drive into the city, a giant candy cane welcomes you to Gränna.
It is a small town with cobbled streets and many candy bakeries that make polkagrisar. They come in different flavors and colors. I ended up buying several bottles of flavored polkagrisar. Polkagris is a Swedish stick candy invented in 1859 by Amalia Eriksson. You add vodka to the bottle, which takes on a candy taste.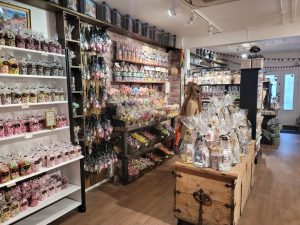 We took a drive down to the water as well as through the town. There were pastures with cows and lovely homes.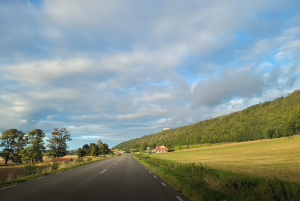 Gränna is on the second biggest lake in Sweden. We stopped for lunch at Amelias Cafe, where we had a traditional Swedish lunch – fried fish with mashed potatoes and lingonberries, which taste like cranberries.
Hotel Amalias Hus– This boutique hotel is quaint and operates similarly to a B&B. We had to laugh at the winding wooden staircase because we knew we couldn't bring our luggage upstairs. We had dinner in their dining room. A traditional Swedish dish consists of chantarelle toast and mushroom soup with fried kale and pumpkin seeds. It was amazing.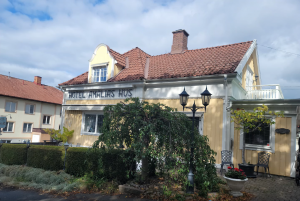 Osterlen
As we head toward Malmo, we stop in Osterlen, a beautiful village in southeastern Sweden. My friend's niece and her partner own a horse stable where they train dressage horses. The drive takes you through rolling hills and smaller villages. We were bringing lunch, but there were no restaurants nearby.
Their stables are impressive, filled with ten horses on 6 acres. They are typically in Osterlen for the spring, summer, and fall. It gets too cold to stay in the winter, so they move the horses to the Netherlands.
Malmö
After our visit, we take the scenic route to Malmö. The drive follows the coastline. Along the way are quaint homes, fields, and cows. Malmö is the third largest city in Sweden, just east of Öresund Bridge, a long road and railway bridge–tunnel running to Copenhagen, Denmark, our final stop. Malmö is a combination of old and new. One moment you are walking around Stortorget, a century-old square, and the next, you will find trendy boutiques, and the Turning Torso, one of the most prominent futuristic skyscrapers in Scandinavia. Along the harbor behind Turning Torso is a walkway where new condos have been built.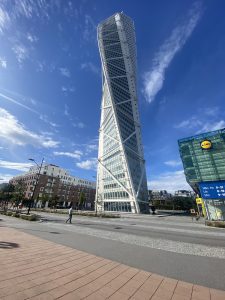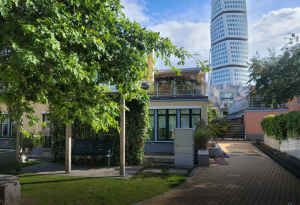 We stayed at the Duxiana Hotel. The hotel highlights Duxiana, a high-end bedding company selling beds, mattresses, sheets, and sleep systems. They are not kidding when they tell you how comfortable their bedding is. I slept the latest I had during our entire trip. They have Dux beds in luxury hotel partners throughout the world.
We spent the afternoon walking around Stortorget, the oldest market square in Malmö. Close by, we also walk around Lilla Torg and Gamla Staden, the historical district. Unfortunately, we only had a day and a half to spend there.
Restaurant:
Green Chili Little Square– Indian Cuisine.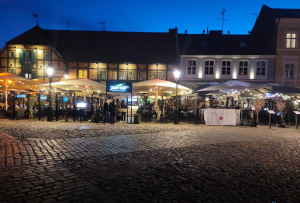 Final stop
Copenhagen is our final stop, a 45-minute drive from Malmö. It is hard to fathom how fast this trip is going. Sweden is slightly larger than California. Although we did not see every city, village, or town, it was one of the most amazing countries I have visited.
Final Thoughts
Traveling with friends can be complicated, especially during a long trip. So too can vacation with your adult kids. But we had an open, honest dialogue and determined we were compatible. Here are my suggestions for a look at what I packed for two weeks in the fall and the top 10 travel item recommendations. And, we all know how chaotic traveling is today. I'm sharing tips for Dealing with Chaotic  Air Travel.
Tack, Sverige! 
Pass on these great tips, tell your friends, and like us on Instagram,  TikTok, and Pinterest.