HaveUHeard.com includes links to third-party websites and advertisements for third-party products and services. Product and service-specific opinions mentioned within the content of our blogs are entirely the opinions of the HaveUHeard.com team and its staff. It is our hope that you will find value in the products and services these third-party organizations represent, and patronize these businesses. Such advertising and marketing partnerships help make our efforts at HaveUHeard.com possible. Thank you for your support and ongoing interest. For additional information, please read our full HaveUHeard.com Disclosure Statement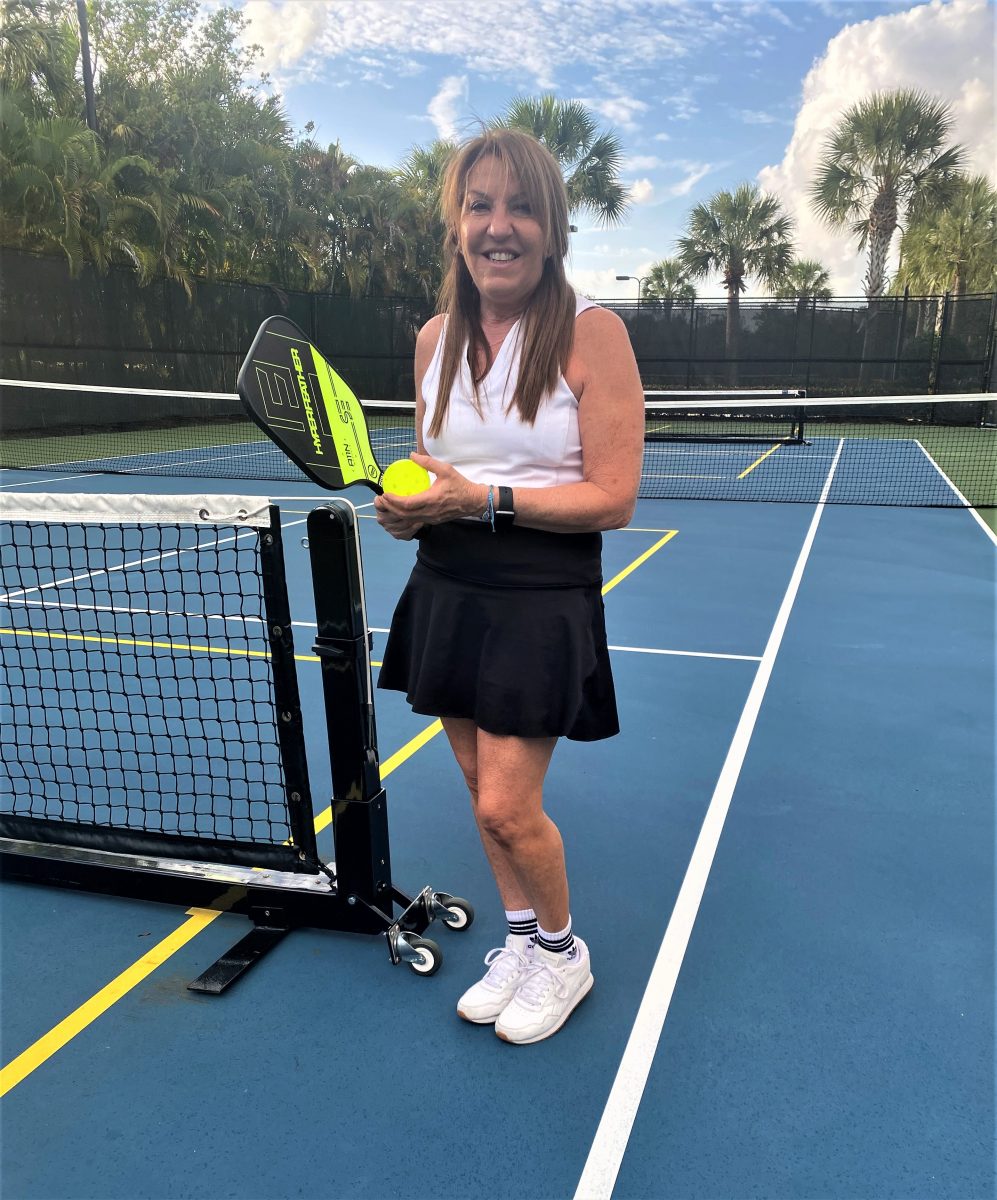 I think I am late for the Pickleball party. What is it about this game that has caught on so quickly? With over 4.8 million now playing, Pickleball is the real dill.
My First Lesson
I grew up playing tennis. Being a long-time tennis player, I thought I'd crush pickleball. I presumed that this game was for players who find tennis too tough on the knees. While at Canyon Ranch, my sister and I took a lesson.
Our instructor described the game as a cross between ping pong and tennis. Indeed, having hand-eye coordination helps, but the game is played quite differently. Once we started playing, we caught on quickly. Except I don't think we grasped all the rules of play. Later in the day, we ran into a woman who said, "oh, I saw you on the Pickleball courts. That's an interesting swing you both have." Our swings were tennis swings. That is not the same swing you use in Pickleball.
Pickleball 101
I vowed to play when we returned. My community offers a four-week clinic. It was certainly worth trying. The rules are fairly easy to catch onto; it's the terminology and some of the rules. There's the kitchen and dink shot. Then there is the service order.
Once you catch on to the basics, you are set. Don't get me wrong. I've watched some very skilled players on the court. It's a great cardio workout if you play with equally matched players.
Watch it on YouTube to get more comfortable with the game. There are plenty of websites to read up on the rules.
In The Beginning
But how did the game get its name? And who came up with the rules and silly terms, including kitchen, dink shot, volley llama, for instance?
Perhaps the three men who created the game in 1965, Joel Pritchard, William Bell, and Barney McCallum, spent too much time on Hole 19 after golfing. That's not exactly how they came up with the game. Returning to their summer home on Bainbridge Island, they encountered a bored teenager. How many of us have kids who are bored and complaining about having nothing to do at home? My first thought wasn't to create a game for the family to play, but somehow, I wish I had.
So, in a nutshell, the property had an old badminton court, but Pritchard and Bell could not find a full set of rackets. They improvised and started playing with ping-pong paddles and a perforated plastic ball. Since the badminton court had been paved over, the ball bounced well, so they lowered the net. Joan Pritchard, Joel's wife,  came up with the name based on her experience watching college crewing in Marietta, Ohio. The non-starters would compete against other non-starters in a just-for-fun "pickle boat." That's a whole other explanation that you can read about yourself.
I wish I had known that about Pickleball when we went to Bainbridge Island a few summers ago.
Pickleball Equipment
As a beginner, I invested in an inexpensive Pickleball set. It came with two graphite paddles, four balls, and a sling bag. The cost was $54.99. The balls lasted about two months before they lost some bounce. I purchased replacements on Amazon. They were terrible, even with the great reviews. I returned them and bought Franklin Pickleballs. I will eventually replace my paddle with a better paddle.
Pickleball Attire
Some of my friends play in leagues with tournaments. Their team wears some really cute outfits. Since I play golf and tennis, these skirts work for both.  It's funny because tennis skirts are trending now, sold as a fashion item. So that means it's easy to find different price points.
My Outfit Details
Newsflash. I like fashion. I wear what I am comfortable, but I don't go out without attempting to look put together. Golf clothes. Workout clothes. Yoga clothes… whatever the sport, you'll find me in something presentable. Mind you, most people play in anything comfortable. And that's perfectly acceptable. It's just not me.
Everyday Polo Tank – I bought it in blue and white.
Momentum Seamless Polo Tank – Black.
Ace Tennis Skort – Blue and Black
I've since invested in a few new pieces, including:
Bandier– I purchased the high waist rigor skort and pro featherweight tank in white.
The Court is Calling
And, again, since tennis styles are all the rage, some shops carry them, some pricy and some reasonable.
Alo Yoga – I have their Muse sweatpants and sweatshirts in three colors (thank you, athleisurewear trend). Their apparel is of great quality, so I trust their tennis wear will be equally as good.
Alice + Olivia – I'm just sharing. This is their new pickleball line.
Beyond Yoga – I am a fan of their yoga outfits. Going to check out their tennis & pickleball shop
Bloq-UV – I try to be careful in the sun, so I grabbed a few full-zip crop tops.
William Murray – Known for their golf line, carries fun skorts in different patterns.
Shoes & Socks
I have had trouble in the past with Plantar fasciitis.  Strong, supportive socks are a must. My go-tos are Bombas and Feetures®. Yes, they are a little pricey, but they are some of the better high-performance socks.
As for shoes, you will want a good pair of court shoes. The same type you would wear to play tennis. I rotate between my Reeboks, Nikes, and On Clouds.
Pickleball Gifts
If you have serious players in your family, consider some of these cool gifts:
Pickleball bag – you can even monogram it and give it as a gift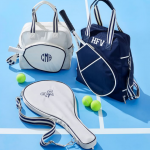 Vera Bradley Pickleball Paddle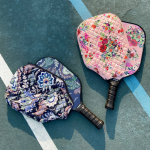 Or you can get them a new outfit or balls…
Dink Responsibly
It's important to stay hydrated when playing sports. These environmentally-friendly water bottles are perfect for Pickleball.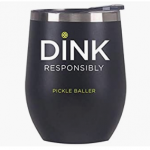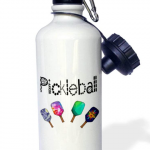 Social Etiquette
Now, this is the best part of pickleball. It is a social game where you will find laughter, music, and even adult beverages if you go to a Dink & Drink event. FYI Dink is the term for a return upward trajectory shot that lands just over the net in the opponent's no-volley zone, also known as the kitchen. Everyone is out to have some fun. That's not to say there aren't some very competitive games.
And although a person's idea of etiquette can be complicated, I did find it amusing that Nude Pickleball is the biggest sport at many nudist resorts in Florida with their July 4th pickleball tournament  aptly called "Clothing Independence Day Tournament."
If you want to get in some cardio, have fun, and even meet new people, I recommend trying Pickleball. No big dill, I mean deal, right?
Pickleball, anyone? 🎾🏓