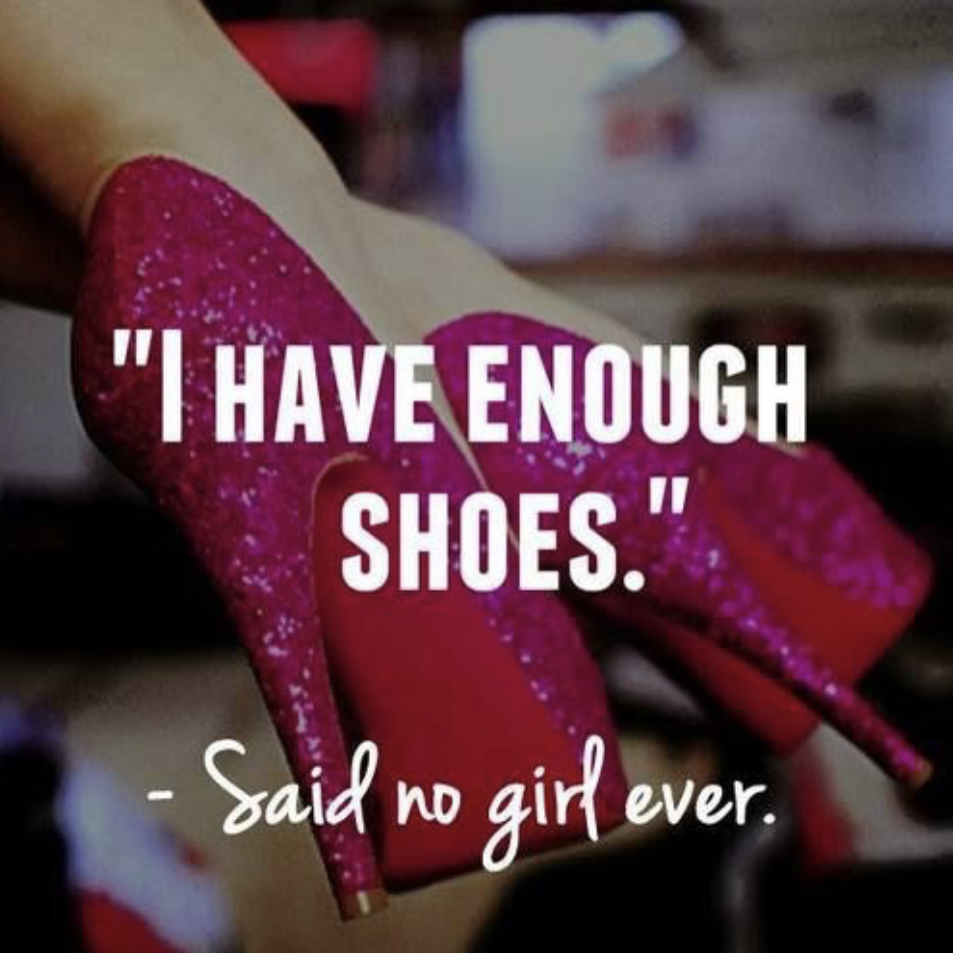 A Soleful Connection
I have a soleful connection to shoes. HaveUHeard that the average American woman owns 19 pairs of shoes? I own over 100 pairs of shoes. Lucky for me, I have worn the same shoe size since my 30s. I assure you, my shoes were made for walking.  If you share this obsession with footwear, keep reading because you're about to learn why.
My Family Connection to Shoes
Our shoe addiction can be traced to my grandfather. Before the depression, my grandfather owned a grocery store. Unfortunately, it closed as many could not afford food, so he took whatever job he could get. He got a job at a big shoe factory and learned every facet of the job, working his way up to being a superintendent, equivalent to being a manager today. The company made fine, expensive shoes.
My grandfather also designed shoes and even patented one of the designs. He came up with a heel-less shoe. My mom lived in NY then, and since he knew she was interested in shoes, he sent them to her. It was a high heel with no heels. At the time, heels were skinny and tended to get caught in cracks in the pavement and snap.
The shoe was supported by the design of the sole. He also designed a pair of high heels with lightbulbs in the heel that would light up when you walk. He remained in the shoe business until he retired. My mom and her four sisters had 40 or more pairs of shoes. At least 10-15 pairs were black leather shoes with different designs. They even had alligator shoes with matching bags. She gave most of them away when the thin heel went out of style. What would I do to have that collection today? He designed my mother's wedding shoes with her name stamped inside.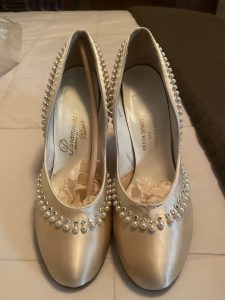 The shoes made at his factory were sold to Arnold Constable, Saks, Neiman Marcus, and Bergdoffs. The shoe manufacturing industry died off when much of the business went to Spain and China.
Early Shoe Collection
I have loved shoes going back to my pre-teen years. I remember wanting Tretorns in high school. During the '80s, the famous Preppy Handbook was written. The book covered where to shop and what to wear, quickly becoming very popular among young people. Their Nylite was worn by several famous people and had a celebrity status. In the 1980s, when the Preppy Handbook was released, Nylite was named one of "the must-have sneakers."  Who could forget the summer sandals by Thom MCan?
Money was tight back then, and with four daughters, it was not happening. That was until my sister, and I became cheerleaders. Wouldn't you know? Tretorns were part of the uniform. My parents paid for all of our school-required clothing.
In college, all I wanted were Sperry Docksiders, penny loafers, and Frye boots. Until eight years ago, I still had my docksiders and Frye boots. When I downsized and moved, it was a whirlwind to pack up a large house and eliminate items we would not have the space for. Personally, I refuse to pay for a storage unit to hold stuff I will never use again. I thought I packed them but must have put them in the donation piles. Glad they are all still around, some with a trendy take like lug soles.
After College
Once I began working, my entire wardrobe changed, which meant wearing professional attire down to my shoes. Since I worked in advertising, we had more creative flexibility. There was an untold uniform if you worked in finance (banking, accounting, investment companies). Women wore dark blue or black skirts or pants with matching blazers.  It was very conservative. Even with colorful outfits, I still wore pumps every day and even out on weekends. My go-to pumps were from Nine West. I had them in many colors- black, white, beige, red, royal blue. To this day, I have white, beige, and black ones thinking they will one day come back in style. Eventually, I switched to BP pumps, a Nordstrom brand. But I also love the Nine West pumps with a little lower heel.
I've been collecting shoes ever since. Naturally, I do throw shoes away that are rough around the edges. That means they got a lot of wear. Shoes that are in good shape but were questionable purchases, I donate.
My 40s to Now
Now that I work from home and, even as a stay-at-home, part-time employee, my shoes are more practical. I have far more sneakers and flats than I did as a young professional. I have dressy shoes for special events—so many booties and boots. The result of wearing high-heel pumps for over 20 years took its toll. Combined with my hereditary high arches, choosing footwear today is complicated.
My Quest for Comfort
My feet have complicated my love for my shoes these past few years. Plantar fasciitis meant changing up what shoes I could wear. They have to have arch support, or I wear orthotics.  Many of the shoes I see with arch support are less than flattering.
Since that bout with plantar fasciitis, I continued my quest and found some fashionable shoes offering arch support. Sure, my five pairs of Birkenstocks are comfortable and podiatrist-recommended. But they don't always go with my outfit.
Fortunately, I am not the only one searching for fashionable shoes with arch support. I've noticed many more companies designing footwear that provides cushioning and support for different foot issues.
I wasn't giving up on my other shoes.  I save my no-support shoes for sitting around during the day. When doing a lot of walking, sandals must have arch support. I'll throw an orthotic in closed shoes such as boots, pumps, loafers, or sneakers. It's worked out well with no additional problems.
Summer 23 Shoe Shopping
Jimmy Choo stated, "The right shoes can make everything different." Whether dressing up an outfit, going for a casual look, or just for comfort, the right shoes are the finishing touch. Shoes can change an entire look of an outfit.
You can get away with wearing sandals or sneakers annually in Florida. But I pull out my booties and boots when the weather drops below 70 degrees. And with a trip to the Mediterranean coming up, I knew I wanted to add in some comfortable white sneakers, sandals for walking shorter distances, and one pair of shoes for the evening. Because we will be walking on cobblestones, anything with pointed heels is left behind. I'm trying to minimize the number of shoes I bring that will work with my outfits.  Narrowing down my choices is the most challenging part of packing.
"Give A Girl the Right Shoes, and She Can Conquer the World." – Marilyn Monroe
So what are these comfortable shoes I have added to my collection?
Beek..– I recently discovered Beeks, which has a molded arch for comfort. For my upcoming trip, I purchased three pairs. Although I was skeptical when I saw how flat they were, they are very comfortable after wearing them on rotation. I bought the Crane Leather Gladiator Ankle Strap Sandal, Chickadee Leather Ankle Wrap Sandal, and the Seriema ankle wrap sandal. They take up such a small amount of space that I will probably bring all three on my upcoming trip.
Madewell – I love my Madewell lace-ups which are not available anymore. But they did come out with a pair that have Cloudlift Lite padding. I only wear the ones I own when I am doing a little walking.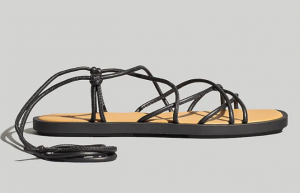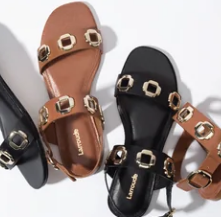 Birkenstocks – These were one of the shoes recommended by my podiatrist. I now own five pairs. I have the Arizona Big Buckle Slide, the Gizeh Birko-Flor Flip Flp, the Mayari Birko-Flor Sandal, and Daloa Ankle Strap Sandal. Their legendary footbed for comfort is what keeps me adding more to my collection.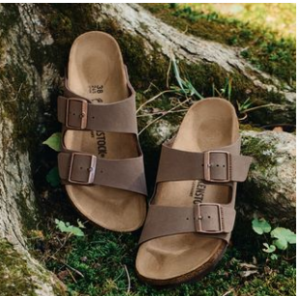 Platforms – I do pretty well with a wedge platform sandal. I grabbed these espadrille-inspired wedges for our vacation and these block-heeled beauties.
Sneakers – There are so many brands that sell arch-support sneakers. I'm picky when it comes to my sneakers. But I use my Protalus inserts, so they are always comfortable to wear when you walk all day on vacation. I wanted a bit more fashionable sneakers for this year's upcoming vacation. I had seen someone wearing an espadrille sneaker with a dress and loved the look. And there I was, on a quest to find a comfortable pair. Found this SeaVee White Coronado Espadrille sneaker and love them. A contoured, cushy footbed is a huge plus.
I also love to wear white sneakers with shorts, dresses, and pants, especially when walking. I love the brand Cariuma. They come in many different patterns and colors. I have the Oca Low canvas sneakers in the sand, black, camel suede, and white. They have a ton of different colors and collaborations. The Salvas White LWG leather sneaker is one of their newer sneakers. They are so comfortable, and I love the fact they are sustainably made.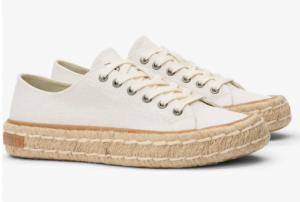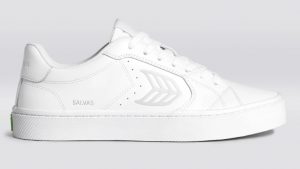 I could write an entire blog on my sneaker collection. Suffice it to say; I love my On Clouds for arch-support, especially for working out.
You can't buy happiness, but you can buy shoes, and that's kind of the same thing." – Unknown
If you need to wear a pair of shoes that will be uncomfortable after an hour or so, there are some options. I recently attended a wedding and knew that my feet would likely be hurting at some point.
HaveUHeard of Still Standing® Natural Anti-Inflammatory Foot & Heel Spray for Cool, Comfortable Shoe Wear? It is pricey but provides comfort even in my high heels for up to six hours. I read the reviews, and yes, there are other more affordable options, such as Aspercreme Lidocaine Pain Relief. I loved that Still Standing® uses all-natural ingredients.
Some people have a shoe fet!sh, and there's nothing wrong with that." – Jimmy Choo 👟🥾👠👢