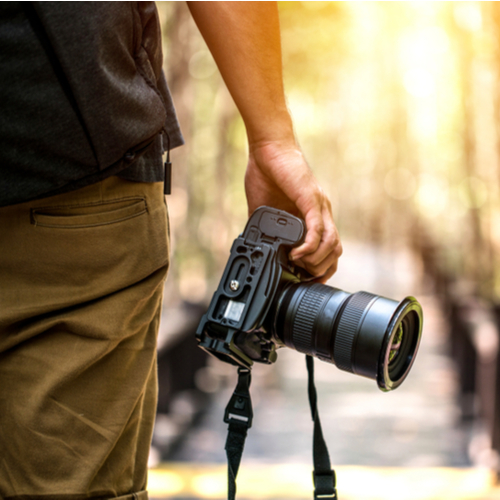 Memorialize Graduation Day with Photography
The last four years (or so) probably flew by and commencement is around the corner. There is no doubt that graduation is a big deal and one you will definitely want to memorialize. It should be celebrated and remembered! Graduation photos are a big deal too; far bigger than the simple cap and gown pic I remember taking….well, a few years back. Students today often hire photographers to guide them around campus and get all sorts of pictures of them in their garnet and gold to commemorate the event.
Some students will go to the usual spots for their photos. Others may choose to have some of their senior pictures captured someplace that is specifically special to them. Some want a few of their photos to be with their friends or sorority sisters or brothers too. One of my favorites is of my daughter and her two BFF's dancing around the football field. (ps. They shared the cost).
Many students (particularly photography enthusiasts) will offer their services to take some amazing pictures for a reasonable price, days, and even weeks before graduation. Students may want to schedule a few weeks early as classic FSU places, including the college they graduated from, the library, and the football field, tend to get very crowded. I have some amazing photos of my graduates that are beyond Instagram worthy that were taken by a photography major.
Encourage students to book their photo session very early in the morning when it isn't so hot. And once you get there and want those family pics with your student adorned in cap and gown, be sure not to leave it for right before or after the ceremony, because that is what everyone else will do and you will literally wait in a long line to snap in all the key places that scream Nole; especially at the fountain!
Here are a few student-recommended photographers. You can also do a search in the FSU Class pages or parent pages on Facebook for more suggestions.
Prices range from $125 to $250 depending on the photographer, the number of people, and how many prints you want. I, personally, prefer to have the rights to the photos for a flat fee and then print as many as you want on your own. Negotiate that prior to booking. Senior pictures are a fabulous way to wrap up your last few weeks at FSU.
For more information about all things leading up to graduation, including where to buy flowers and the ruling on tickets and cap decorating. Bouqs sends beautiful flowers from eco-friendly farms that use sustainable growing practices which means longer lasting flowers and no middlemen. You can buy individually or start a subscription. One of our favorites for flowers, We can even help you choose a hotel for that weekend or a restaurant for your big celebration, come up with a few ideas for graduation gifts, and suggest a few places to get your hair done for those pics.
Pass on these great tips, tell your friends and like us on Facebook, Instagram, Twitter, and Pinterest. Find out more about how to use HaveUHeard as a great resource. Sign up for other great tips at haveuheard.com.