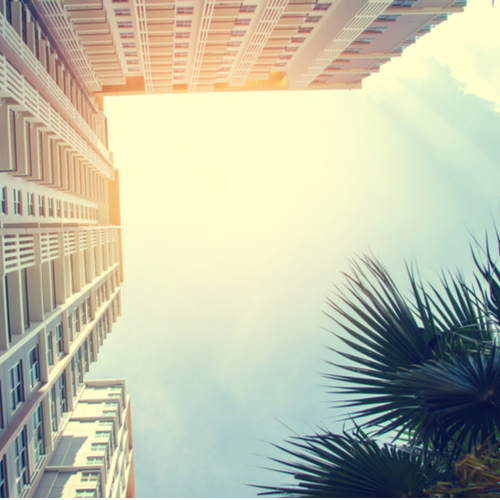 Here is what you need to know about college apartments.
Combined, our mom bloggers have put, and are still putting, well over ten kids through college. They've lived in dorms, apartments, and houses. We've gone through the "There's a waiting list to get in so we have to sign today" to "It's the only place my friends want to live." And we indulged them because we wanted them to live in an apartment that was safe and felt like home (that was probably more for us than them).
Today's students are the beneficiaries of luxury apartments complete with rooftop pools, 24-hour fitness centers, basketball courts, game rooms and more. This may be quite different from what we called home in college and call now. It is more a reflection of what students expect from apartments today and it is driving a lot of the growth in college towns. Regardless of where your student lives, there are many factors we overlooked our first time around. Like they say "First time, shame on you. Second time, shame on me". That is why we are sharing our top 10 apartment tips.
You do not need to fall for the apartment sales tactics –"Rent will be going up next month", "there is a greater demand than supply so don't lose out", "we cannot guarantee you will be able to stay in your apartment if you do not renew now (even though rent is going up)" and so on. Many of us want the best for our kids even when it comes down to where they will live. We do not like being the bad guy, especially when other roommates are involved and their parents have agreed to sign.  Sure, if you want to guarantee that apartment, go ahead and sign but aside from certain specific apartments, there are plenty of others to consider.
If it's brand new, it doesn't mean it's not broken – There are many new apartments that look to lease for the fall of each academic year. They give an estimated timeline but we have witnessed much falling short of opening on time (or certainly leading to a lot of worry and stress of your student's apartment not being ready on time). But timelines are just that an estimate and completion dates. If it meets all of your criteria, go ahead and sign. Just know that there is never a guarantee that the apartment will be move-in ready and be 100% completed.
Read the lease, especially the dates. In college lease terms, a year lease may mean mid-August through the end of July. Oftentimes your student either is not done with the semester or they have to be at school before they can take a vacancy. That leaves a gap of where they and their belongings, will live (We've got suggestions for Managing the Gap on our website). Perhaps they are planning on going abroad or not attending during the summer. Subleasing is not easy so you will be paying for the rent, whether your student is there or not. That leaves another gap of where they, and their belongings, will live.
Utilities – find out exactly what utilities are included – There may be many extras that are not mentioned or fall under "electric" – Those extras add up quickly so ask if electric also means water, fire service, stormwater, garbage. What about wi-fi, cable (although many students no longer use Cable with their Smart TV's)? In our experience, electricity was only covered up to a certain amount. They were then responsible for covering the difference. If the apartment complex splits the bill, you get a prorated amount to pay but if one parent has volunteered to set up an account with the others paying them back, what happens when one of the roommates is not there for the summer but others are? Who is paying that increase (we'd say the ones living there but some parents feel it should still be evenly divided)? Some of our kids' monthly overages went anywhere from $10-$25 and the only time there was not an overage was when it was vacant. Call the local power company or ask the landlord what the average monthly bill was.
Read the online reviews– it is easy to look up the top college student apartments – some of them include Landmark Properties, American Campus Communities, TriMark Properties, Peak Campus, amongst a few. Read the parent reviews in the college Facebook pages.
Is it furnished? Some apartments come fully furnished with tv's, internet, desks, couches, bar stools and so on. Others are bare to the bone. Keep this in mind when renting. When buying furniture, which we have done on many occasions, check out the Facebook school selling websites or other student websites. Our kids have bought from friends, second-hand stores and online. You can get almost anything online these days including mattresses-in-a-box.
Avoid agreeing to move in as-is. We have moved into apartments on the start of a new lease to find broken glass on the floor, food crumbs wedged between the oven and the countertop, filthy air-conditioned filters, stained carpet and more. The as-is move in to accommodate being able to move in early could have you moving into an apartment that is beyond disgusting. Try to resist this at all costs.
Parking – Does it include parking. Our kids have rented multiple bedroom apartments that included only one parking spot. Paying to buy a city parking permit can cost a small fortune. Bus routes – Check the proximity to campus and if it is on a bus route. Parking on campus is difficult so many off-campus students look to either walk or take the bus.
Elevators– does your student's apartment have elevators? Check the maintenance record and to see if they break down a lot. You never know when your student may have to use an elevator, only to find that, more often than not, they are not working.
Damages – Take time-stamped pictures of EVERY item that is not perfect- chipped paint, holes in walls, stained carpet, chips on countertops, moisture stains. We remember when it came time to move out only to be given a bill for damages. Had we not had the documentation, we would not have been able to fight the charges.
We would be the first to admit that some of our kids were extremely neat and kept their apartment immaculate. Some, not so much. (not just the guys, the girls too). We were embarrassed that a child we raised would not clean their bathrooms, the kitchen, change the air conditioning filters (find out whose responsibility that is – in most cases, it falls on the tenants) let alone notice some of the filth. They were not raised that way but here they were living in a mess. We've seen garbage in hallways (some apartments have students leave the garbage bags in the hallway to be picked up. Not sure I understand the logic but it smells up the hallways). We are not defending the apartment managers. We've seen the newest of apartments look terrible after one year. That does not excuse any apartment landlord from fixing elevators, keeping gates functional, maintaining a safe community.
Should you need to reach out to a parent company, we have a list of many of them here.
To see some student's favorite apartments (the ones you will probably hear the most about), we have a blog on that too.
Pass on these great tips, tell your friends and like us on Facebook,  Instagram,  Twitter, and Pinterest. Sign up for other great tips at haveuheard.com. New to HUH, here is how to use the site.