HaveUHeard.com includes links to third-party websites and advertisements for third-party products and services. Product and service-specific opinions mentioned within the content of our blogs are entirely the opinions of the HaveUHeard.com team and its staff. It is our hope that you will find value in the products and services these third-party organizations represent, and patronize these businesses. Such advertising and marketing partnerships help make our efforts at HaveUHeard.com possible. Thank you for your support and ongoing interest. For additional information, please read our full HaveUHeard.com Disclosure Statement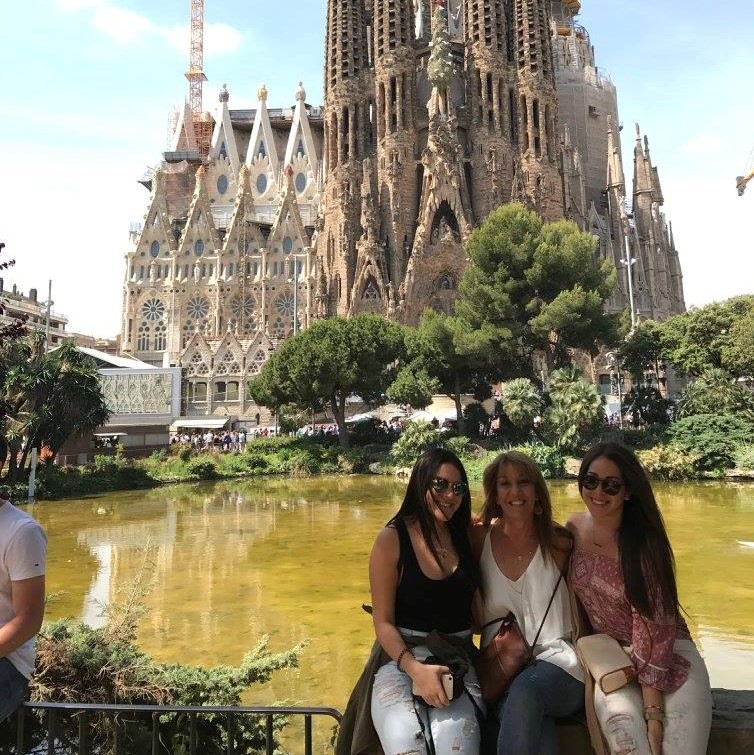 Traveling to Spain
In 2016, when my daughter decided to study abroad in Madrid, Spain for the summer through her college, I decided to personally escort her (and of course her sister came along). We left a few weeks prior to when she needed to be in Madrid. We traveled to Spain in 10 days which is very doable and share How to Travel to Spain in 10 days.
Barcelona
Our hotel was right on Ramblas which is a beautiful brick-paved street with restaurants, shops, hotels, street vendors- it is the main street in Barcelona. We headed over to La Boqueria which is a huge food market in Las Ramblas with amazing food booths. We love to try a lot of different foods that are part of the local culture and they did not disappoint with some of the most beautiful looking fresh fruit and vegetables. As our normal diet at home leans toward a Meditteranean diet, we were right in our element.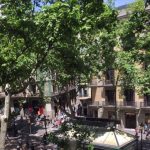 We did a guided walking tour of Medieval Barcelona and the Gothic Quarter wandering through the squares and medieval streets in the afternoon which included the Jewish section, the Cathedral, and the Born district. We could not resist going into some of the trendy shops.
For our second day, we went with a city guide for a visit to Sagrada Familia, Gaudi's most outstanding work. It is forever being renovated but it is really something to behold. As we walked around Park Guell, a designated World Heritage site. It is a whimsical park designed by Antoni Gaudi. I would strongly encourage you to get your tickets in advance as they limit the number of visitors each day. General admission is 10 euros.
Our guide also took us on the most amazing culinary tour in the old fishing district of Barceloneta. These are off the beaten track tapas and bars that are frequented by locals (and if you get a great guide, then you can request a culinary tour to local places). It was the first time I got my girls to try fried sardines which, I would gladly admit, took some additional coaxing from our guide.
As we were eating, I looked out the window, and there in the middle of the cathedral square, we watched a human tower being made with men, women, and children as young as six. They are actually called Castells (castle in the local Catalan language) and there are neighborhood clubs that practice this tradition. To be able to witness this event was so special especially since we then learned of Catalonia's desire to secede from Spain.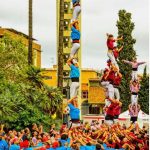 We spent the rest of the afternoon and evening wandering on our own and always ending up on Las Ramblas.
For our third day, we took a day trip to Costa Brava stopping along the way to visit some of the small fishing ports, and villages (Tossa de Mar) and then on to Girona one of the best-preserved Jewish Quarters in Europe, El Call. IN addition to the medieval walls, there are small shops, cafes and, in case you had not heard, the Girona Cathedral was used in season 6 of Game of Thrones.
Restaurants – My daughters and I love food; I mean we really appreciate great tasting food and are open to trying many different flavor profiles. When we are traveling, we typically order only appetizers and side dishes so we get to sample many items (and plenty of wine).
In Barcelona, our favorites were:
Bodega Biarritz– this is a traditional tapas bar and one of the best meals we had in Barcelona. We waited approximately 35 minutes to get a seat but it was well worth the wait. I strongly recommend that you allow them to choose the items; they had enough options for the two of us that do not eat meat. The staff was quirky, friendly, and polite. It is a tiny restaurant but we were able to get a seat at the bar which we ate at the allowed us to interact with the staff. Very reasonably priced. They do not accept credit cards so bring your Euros. We had 8 different tapas, 3 drinks for $52 euros. After we paid, they gave us a shot of an apple-flavored tequila. Salut.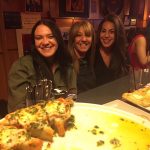 Sensi Bistro Barcelona – We came across this bistro through Trip Advisor and through recommendations from my daughter's friends. We were not disappointed. The ambiance was trendy and cool; the food delicious… we had the Yuca and goat cheese croquettes, honey allioli croquetas, mesclun salad with vegetable tempura, yogurt sauce, and mango chutney, seafood paella, tuna tartar with wakame, truffle mayonnaise, and soy foam and Salmon mi-cuit with sesame, sweet and sour miso sauce and pickled vegetables. They have four other restaurants so if you are unable to get into Sensi, I would definitely suggest trying one of their others- Paz19  by Sensi tapas bar, Gourmet Tapas by Sensi or Sensi Mezzanine tapas.
We have also heard that Tapeo Del Born is amazing so next time Barcelona… next stop
Seville
We flew out of Barcelona the next morning for our two-hour flight. Seville is a vibrant city that is artistic, cultural, and impressive.
Hotel = Hotel Casas del Rey de Baeza. IF you are looking to stay at a local hotel with personality and charm, this is the perfect place. It is centrally located within the city. It also has a relaxing rooftop pool. Most boutique hotels don't have central air so it can get a little warm in the room at times.
We had a guided tour of the cathedral, the Royal Palace of Alcazar, and walked through the cobbled streets of Barrio de Santa Cruz before being on our own for the rest of the day. We decided to spend the afternoon at the rooftop pool since we had been on the go and I must say, the downtime was very needed.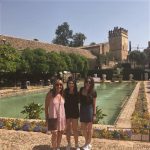 For dinner, we ate at Momo's bar fu which was amazing. We tried the strawberry gazpacho (delicious)
Our next day we took a day trip to Cordoba (90 minutes away) where we visited the La Mezquitea, an 8th-century Mosque and one of the largest temples in Spain. It is a magnificent mosque filled with history. I would highly encourage you to have a local guide as we learned so much about the history (and even had a few stragglers trying to listen to our guide). We wandered through the small streets and alleys, and the old Jewish quarter.
For our final day, we opted to go on a tapas tour around the Triana Market. Being foodies, we always try to schedule a food tour so we can taste some of the local delicacies including jamón ibérico, real gazpacho and salmorejo, the delicate fried fish, olives, and dishes from Jewish and Moorish tradition. I keep promising myself that one of these trips, I will schedule a cooking class.
The next morning, we took the high-speed train to Madrid. We were fortunate that we had arranged for private transportation as the public transportation companies were on strike.
Hotel:  Iberostar Las Letras Gran Via. The hotel is in a historic building in the heart of Madrid on the Gran Via, one of the most symbolic streets. We were less than a 15-minute walk from some of the iconic sites including the Cibeles fountain, the Plaza de Callao, and Puerto del Sol and Plaza Mayor. I have to say, what I appreciate most in many of the European cities are the architecture and the plazas. I recognize that the U.S. is young in comparison to Europe but I just love how easy it is to navigate. I  also appreciate the work-life balance they follow to say nothing about their gastronomy.
We were quite hungry so we headed over to the Mercado de San Miguel, a  market in the heart of Madrid. This is a must-see if you love the local flavors and want to have a sampling of amazing food and wine.
We spent the afternoon walking around El Retiro Park which is a must-see and also went to check out the apartment my daughter and her friends would be living at. Depending on when you visit, you can rent segways, rowing boats, bicycles or just pick up some food nearby and picnic.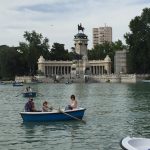 My daughter's friend and her parents, also family friends, brought their daughter to Madrid as well so we met them for drinks at Circulo de Bellas Artes, a rooftop bar that provides some of the most spectacular views of Madrid, and then had dinner at Ten Con Ten where my daughters and I shared octopus croquettes, black truffled risotto, ceviche, scallops, and black squid ink pasta and wine. This was one of our more expensive meals of the trip.
On our second day, we went on a guided walk through Madrid, exploring Barrio de la Moreria, an old Moorish section of the city, Plaza Mayor which is in Hapsburg, a charming area, and then to the Royal Palace.
For our final day, we went to the UNESCO World Heritage Site of Toledo, a historic quarter that takes you back in time to the Middle Ages. We walked through the cobblestone streets eventually making our way to the Toledo Cathedral.
When we got back, we went over to Calle Fuencarral, a popular shopping street and the location of my daughter's accommodations for the next 10 weeks. I was happy to see her living in a populous area and comforted that she would be living with seven other people. The next morning, her sister and I said our goodbyes. It was strange leaving her in a foreign country knowing she would be traveling around Europe for the next few months in addition to her classes but I said a prayer for her safety as we left for the airport.
I have to say that being able to travel and see places, which we obviously cannot do right now, means even more to me now than it has in the past. I have worked hard to simplify my life so that I can travel because experiences are far more valuable than any material possessions. This is one of the lessons I learned (you can read more about that in my blog Are Your Family Dynamics Changing?
Being able to share these experiences with my daughters will hopefully give them amazing memories and it will hopefully be a tradition they can share with their children (should they decide that is what they want to do).
Additional Information
Traveling with friends can be complicated, especially during a long trip. So too can vacation with your adult kids. But we had an open, honest dialogue and determined we were compatible. Here are my suggestions for the top 10 travel item recommendations. And, we all know how chaotic traveling is today. I'm sharing tips for Dealing with Chaotic  Air Travel.
Pass on these great tips, tell your friends, and like us on Instagram,  TikTok, and Pinterest.