HaveUHeard.com includes links to third-party websites and advertisements for third-party products and services. Product and service-specific opinions mentioned within the content of our blogs are entirely the opinions of the HaveUHeard.com team and its staff. It is our hope that you will find value in the products and services these third-party organizations represent, and patronize these businesses. Such advertising and marketing partnerships help make our efforts at HaveUHeard.com possible. Thank you for your support and ongoing interest. For additional information, please read our full HaveUHeard.com Disclosure Statement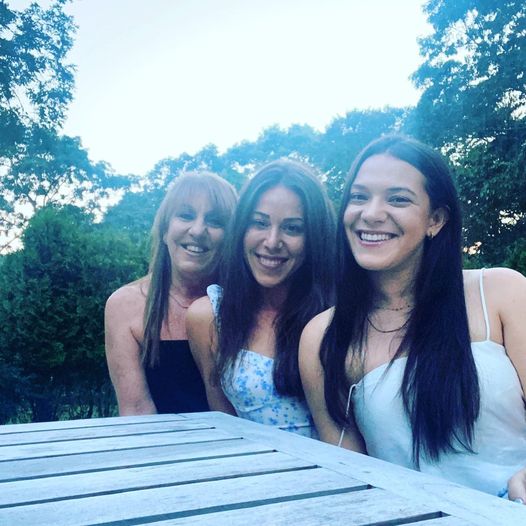 Three Times A Charm
You may wonder why a person who has lived in South Florida for almost 50 years would choose to go to a beach area for a vacation. Not all beaches are the same. And we do not have windmills, something you will see all over the Hamptons.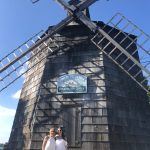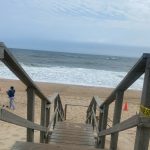 My daughter lives in NYC, so during the summer, she usually can find friends who've rented a house for the summer. I know that her visiting the Hamptons with friends encompasses something completely different from our visits to the Hamptons.
Getting There
The best way to enjoy the magic in the Hamptons is by car. My older daughter and I flew in from Miami to John F. Kennedy. You can try to fly into Islip, but they have limited airlines that service that airport. JFK is your next closest airport to get to the Hamptons.
We rented a car and headed out on the Long Island Expressway. I was a little nervous about driving in New York. It was easy and just as bad as some of the worse South Florida highways. The scenery is much nicer than driving on I-95 and only took about two hours.
Accommodations
This is my third visit to the Hamptons. The last time was in 2018. We found a perfect home on VRBO. There was a peaceful vibe to her home in Southampton. It is a charming beach house located just north of Southampton Village. And it is about a five-minute drive to the ocean and bay beaches. Let's talk about her backyard- it's huge with the softest grass. The house also has an outdoor whirlpool hot tub and an outdoor cedar shower. Perhaps having some lawn game equipment would be an added touch.
This two-bedroom and one bathroom home were perfect for my sister, daughter, niece, and me. Getting ready was a little complicated. Four women wanting to shower, blow-dry and iron hair, and do makeup took some coordination. We managed because we liked the home. And in 2021, I rented the same home with my daughters. Property ID is 1345027. If you do pick this place, mention I referred you. I do not get any compensation at all. This is my personal opinion. You can read my comment about this house. FYI, I am Janice W. Parkland.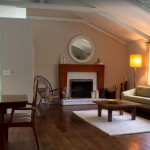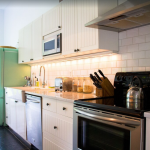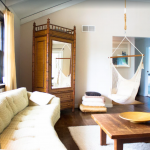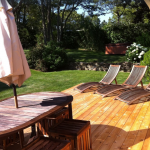 Beaches
The beaches and bays in the northeast are completely different from Fort Lauderdale.  Spending a day relaxing on a breezy beach and dipping our toes in their 70°F water temperature held a strong appeal. For one, the sand is finer than what we have back home. Secondly, no tar gets on your feet. And third, it is a much wider beach. We love looking at the mansions on the beach separated by beachgrass.
Our first stop before hitting the beach was to pick up some snacks and drinks. Keep in mind that you can only purchase alcohol in a liquor store. The other complicated aspect is you cannot just go and park at the beach. One of the beach parking lots we stopped at required a monthly beach parking pass that expired in 3 days. The lot was empty, but the parking attendant was not having it. We decided to head to Southhampton Beach, where we paid over $30 for a non-resident daily parking permit.
The coolest part of our visit was seeing whales breaching off the beach. It gave me an even greater appreciation for living in South Florida, where I can go to the beach year-round. I get the appeal of the Hamptons to northerners when you only have three months to enjoy the summer weather.
Shopping in the Hamptons
We stopped at Westhampton, Easthampton, Southampton, Sag Harbor, and Montauk. Each area has its distinct Village Shops. Think stores that cater to a coastal laid-back style. While TikTok can claim to popularize "the coastal grandmother" nomenclature, this style has been around for as long as I can remember. And it is worn everywhere in the Hamptons. Not just by grandmothers but all ages.
Some retailers were in several towns, along with some pop-ups, something you will frequently see during Hampton summers. Think Ralph Lauren, Club Monaco, Eileen Fisher, Elie Tahari, Madewell, and J Crew. There are also shops that we do not have nearby, including jewelry boutiques, Alice & Olivia, and Reformation.
Montauk shopping is very different than what you will find in Easthampton or Southhampton. The shops are more kitschy coastal. We did stumble upon The 8th Drifter. They sell handmade goods inspired by artisans from all over the world. I bought two glass tile bracelets. I love their spiritual vibe. Since our visit was one week before Labor Day, symbolizing the end of the summer, we were able to grab some great Montauk sweatshirts at Montauk Clothing Company on clearance.
Wine Tasting
You may not think of vineyards when you think of the Hamptons, but they have many. We visited Wolffer Estate Vineyards in 2018 on a weekend visit with my daughter, sister, and niece. We were lucky to get a table outside, listen to great music, drink some good wine, and have snacks.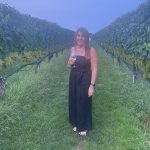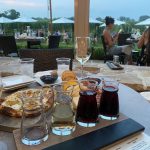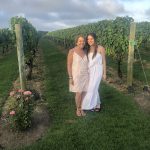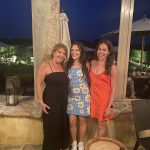 My older daughter had not been there, so I  made sure to make reservations for Friday night. It is located in the Village of Sagaponack, about a 15-minute Uber ride from our VRBO. The winery is only open until 8 pm, and we could only get a 7 pm reservation. That did not allow for much time. In hindsight, we would have probably enjoyed going to the Wine Stand and listening to music instead, as it would have given us more time.
While we could not get on a tour, we did enjoy a flight of their different wines and some light bites. And the sun was setting over the vineyard, which was beautiful to watch.
Make reservations, especially if you want to include a tour. There are other vineyards in the Hamptons that are also worth checking out. Several of them were only open during the day or until 5 pm.
Craft Beer & Ale
Montauk Brewing Company Tasting Room – If you like craft beer or ale, you'll want to stop at this dog-friendly brewery. I tried their Summer Ale. My girls tried several. This was in August 2021, so there were probably a few more masks being worn. But the outside patio area did not have social distancing. We ended next to a family of four, with two under ten-year-old kids. They were very hesitant when we positioned ourselves against the fence. There were no available tables. Once they found out we were from Florida, they dropped their guard.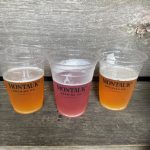 It was so strange because they loved how Florida was handling COVID. They even stated they wished they had stayed in Florida during the pandemic. I get it; we had very loose restrictions. They have been homeschooling their kids for over a year while trying to work. Not an envious position to be in. I am so grateful my kids are adults and out of school. What parents did is nothing short of inspiring!
Eating in the Hamptons
My daughters and I LOVE good food. We don't tend to go for a fine-dining establishment. We love going where the locals go.
Cowfish – This was the first restaurant we ate at after arriving in the Hamptons. We went for lunch and sat outside on the patios overlooking a canal. We were quite hungry, maybe getting close to being hangry so that we may have over-ordered. But the food was great. Even had a bee decide to enjoy my frosé. I don't know if he was stuck or blown away by the amount of sugar, but that bee would not leave my drink. The server was great and picked up my glass, holding it at arm's length, and brought me a new one in a plastic cup with a lid. That was all I needed.
75 Main – I've eaten here before, so we just went to the bar for a drink and to take a break. Plus, their chef-owned and operated four restaurants in Florida. I've been to Mark's Las Olas in Fort Lauderdale and Mark's Mizner Park in Boca Raton MULTIPLE times. Both are very good not only for their food but also for their relaxed, chilled atmosphere.
Bostwick's Chowder House – A visit to the Hamptons should include a stop at Bostwick's for their clam chowder, fried or steamed clams, and lobster rolls. It is very casual.
Morty's Oyster Stand – they are typically open between Memorial Day and Labor Day. We knew we'd stop at one of the off-road stands on our drive to Montauk. Morty's did not disappoint. Of course, our food included oysters, tuna poke, ceviche, and lobster roll with their frozen drink specialty.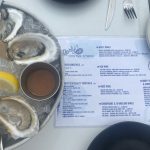 Shinnecock Lobster Factory – They are infamous for their lobster rolls, so of course, we decided to grab an afternoon snack since we had a late dinner reservation. And we also ordered their lobster fritters. They had a few outdoor tables, but we took them back to our house.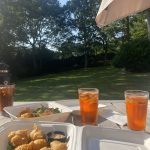 Southhampton Social – We chose to eat outside, which had a very chill vibe. Our order included tuna tacos, Prince Edward Island Mussels, Jumbo Lump crab cake, fried burrata, and braised short rib sliders, all appetizers. My daughters went back later that evening when it had more of an outdoor club vibe.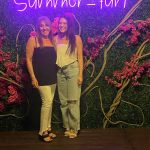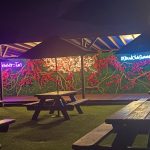 Golden Pear Cafe – For a casual breakfast on Main Street in Southhampton, you can't go wrong with The Golden Pear. There was a bit of a wait, but we could grab an outdoor table for our meal.
Goldberg's Famous Bagels– You can't go wrong when you're in the mood for a good bagel. We stopped there for our drive back to JFK airport. I recommend calling ahead.
And For Our Disappearing Act
As we headed back toward JFK, we stopped in Westhampton to check their village shops. It had a slightly different feel to it than Easthampton and Southhampton, but at least we could say that we visited almost every town during our four-day trip to the Hamptons.
The Hamptons are truly magical! On the next trip back, I would want to stay for at least a week.
Additional Information
Traveling with friends can be complicated, especially during a long trip. So too can vacation with your adult kids. But we had an open, honest dialogue and determined we were compatible. Here are my suggestions for the top 10 travel item recommendations. And, we all know how chaotic traveling is today. I'm sharing tips for Dealing with Chaotic  Air Travel.
Pass on these great tips, tell your friends, and like us on Instagram,  TikTok, and Pinterest.