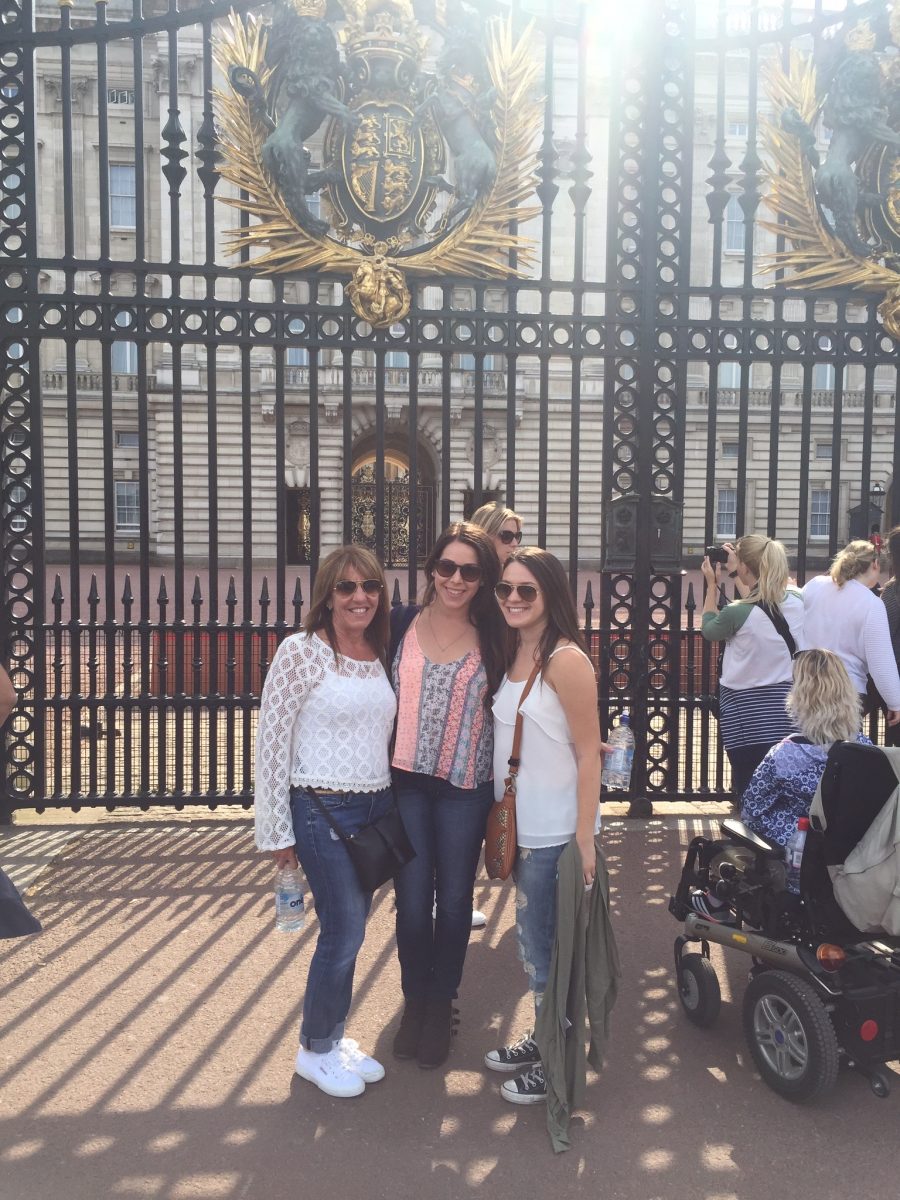 London Called Me First!
My first trip to Europe was in 2015 to London. We chose this destination for several reasons including the fact that we would not have a language barrier. My younger daughter and I planned out most of the trip including must-see visits to London's iconic sites. I ran it by a friend who is from London to see if we were trying to pack in too much in five short days. Just last year, on a trip with my sister to Israel, we had a layover in London. We decided to spend two days in London and then travel on and had the most amazing time so I have included some spots we went to on this trip as well.
We hired a tour guide for our first day to get a feel for the city. The company we booked through was Guide London because they use Blue Bade Tourist Guides because they are recognized throughout the UK as Britain's official tourist guides. It is pricier than say a group tour or getting around London on their renowned double-decker buses, which we did use after our first tour, but you get a full history and our guide knew the docents at most of the places we visited so we did not have to wait in line. Because we traveled to London during the summer), it did end up saving us time since that is their busiest time of year. And she also gave us some great suggestions such as a better place to see the Changing of the Guards. If you are going to visit the main landmarks for the first time on your own, I would strongly recommend getting skip-the-line tickets rather than wasting time standing in line.
Since we did a lot of the research in advance and knew what we were most interested in seeing (versus what others advised us to see that in hindsight I would have gladly passed on). The only negative was that we literally landed in London around 8 a.m. and met our tour guide at 11 am. And, even though we did try to sleep on the flight, toward the end of our first day, we were yawning and exhausted.
One of the most memorable experiences we had that was completely unplanned was the dress rehearsal for the Queen's official birthday celebration, Trooping the Colour, which takes place the second Saturday in June. Our guide had given us the heads up and told us where to find a place to stand (along The Mall). As luck would have it, a Londoner who was standing behind us and whom we started talking with before the dress rehearsal had begun shared color commentary including pointing out members of the Royal family that were there for the rehearsal. It was one of those unexpected discoveries on our trip that made it even more memorable.
Here are the places we visited:
Historical places:
Buckingham Palace
House of Parliament
Westminister Abby
Tower of London/Tower Bridge
Big Ben
Trafalgar Square
Oxford – We did not go to Oxford on our first trip, one of a few regrets but I did go on this past year's trip to London. Because we traveled in October, the weather was beautiful. We had lunch at the Cherwell Boathouse which was very good but I think I would have preferred to go to a pub as it is more upscale food and it is pricier so if that is a consideration, you may want to just walk by because it is on the banks of the River Cherwell.
We made a day trip to Oxford which gave us plenty of exploring time. The best part was that it was matriculation day where students formally became members of the University so the entire area was filled with students wearing their academic dress – we were so fortunate to have picked that exact day to go to Oxford and experience all of these students celebrating in the streets after their private ceremonies.
Markets
Covent Garden – our hotel was within walking distance to Covent Garden so, while not necessarily our favorite, we did go there for dinner and to walk around the various boutiques and stores. It is worth a visit just to see the architecture and there are several very Instagrammable sites. While at Covent Garden, make sure to visit Neal's Yard, a colorful hidden courtyard in an alley considered to be one of London's best-kept secrets and prettiest streets ( although by IG counts, I don't think this is so hidden anymore). It is filled with restaurants, bars, cafes, and shops. HaveUHeard how it got its name? We've got the history behind Neal's Yard just so you can be in the know.
Borough Market – London's oldest food market and absolutely one of our favorite markets especially for foodies.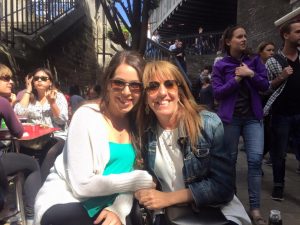 Camden Market and Camden Lock Market – Another one of our favorites – it is more of a hipster place, with vintage clothes, jewelry, vinyl, and unusual finds. Make sure to have a drink at one of the many bars.
Old Spitalfields Market  – features crafts, fashion, artists, and antiques on certain days. We definitely found some great bargains on clothes and accessories.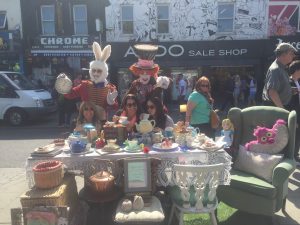 Shopping Areas
Oxford Street – If you love to shop, then this is the place to be. While it definitely has a lot of the same shops we have in the states, there are a few must-haves when we went – TopShop, Selfridges and of course we went to Longchamps.
Soho – We loved discovering these various smaller restaurants and boutiques on Carnaby Street and it has a very cool vibe.
Piccadilly Circus – If you are over in Oxford, I would definitely walk through this area- the big screen backlit advertising reminds me a little of Times Square. I am not a TImes Square fan but would recommend a visit one time just for the experience. Same with Piccadilly
London Eye – Honestly, this was not on my list of things I wanted to do but a lot of friends had suggested it. Unless you really want to be able to say you went on the original Eye, it is not something I would recommend. The weather did not afford a great view that day and I definitely found it to be overrated for the cost.
Getting Around
When we were not walking, we took the Underground or the bus. For both, purchase a visitor Oyster Card which can be purchased in advance and delivered to your home or you can purchase it when you get to London. It can be used on most public transport including the tube, buses, tram, DLR, London Overground and most National Rail services.
There is a great app to use while navigating London's public transportation  (and other large cities). Download the CityMapper app.
Food & Entertainment
We were not interested in seeing any Broadway shows on our trip as that is not something we typically enjoy but we had some amazing meals. When I am traveling, whether with my daughters, friends, or my sister, we typically will eat tapas-style because it gives us a taste of many specialties.
High Tea at The Ritz – When in Rome… my mom had insisted we have high tea at The Ritz which was amazing and our first time having high tea. We got dressed up for the tea and would definitely recommend booking a High Tea somewhere in London.
The Wigmore – Technically a pub but more elevated. This was a perfect place to grab some bar bites and a drink.
I would definitely go for Indian food in London. We found a local place near our hotel and the food was amazing. Because we ate at many of the markets for lunch and/or dinner, we did not go to any fancy restaurants. Our most extravagant was high tea.
Kensington Gardens – We spent a day in Kensington Gardens with a friend of my daughters who was studying abroad and walked around the area. We got to see the Diana Memorial Playground and the outside of Kensington Palace.
Harrods-  This luxury department store is probably on a list of must-sees but tbh, we were not looking to do that type of shopping. We went just to see it and I think I most enjoyed the food and wine area. I will say that we stumbled into the children's toy section where I first learned about Peppa Pig. Now every time I hear a commercial for it, it makes me laugh.
As far as accommodations go, you can stay at a brand such as Hilton, Hyatt, Marriott, or another large hotel chain (my sister stayed at the Park Plaza Westminster Bridge Hotel) but we prefer the smaller boutique hotels. We ended up staying at One Aldwych which was very conveniently located albeit a bit small for the three of us. This being my first trip to Europe, I would probably have chosen a bigger room than what we had booked. Lesson learned.
On our first trip, we were told that we could go over to Paris for the day taking Eurostar and going through the Chunnel. We thought this would be a fun day trip since it only took about 2 ½ hours by train. After advance booking a very early train over and a late return back, we got there but it is an hour ahead so we lost one hour. We also felt completely out of our element (I guess my four years of high school French did not help as I only remembered how to say my name, ask where the bathroom was and other short french phrases that served no purpose. In hindsight, while we did get to see the Eiffel Tower and parts of the Louvre, save that for when you have at least two to three days.
Other Tips
Pay by credit card and choose the local currency.
Watch your purse, backpack, or whatever you carry around. My sister got pickpocketed on the Underground (subway) and ended up losing all of her currency (over 150 pounds)
If you are traveling by train for a distance to the countryside or another city (like our trip to Oxford), if you can swing it, upgrade your tickets to business. It is definitely worth it (for our trip to Oxford, the difference was £10.00 (about $13.50)
Bring extra travel adapters
Wear comfortable shoes- we walked a ton and mainly wore sneakers with padding and even then after walking an average of 13 miles a day, our feet still hurt.
Pack light – On my first trip abroad I overpacked and lugging around my suitcase was annoying plus I barely wore most of my clothes. The one thing I have learned is that you will mainly wear sneakers or very comfortable walking shoes (I cannot stress that form over fashion should prevail). I have come to follow the 5,4,3,2,1 guide (and a pair  & a spare). The first time I tried this for an overbroad trip, I had grave concerns but by the end of the trip, I had worn everything I brought without feeling like I did not have enough and I had a small suitcase that was easy to manage. It is truly liberating to travel this way.
I have now been to London twice and it is really one of my favorite places that I have been to so far. I still have a lot of exploring left to do so once we are able to travel again, I feel like London is calling me.
Additional Information
Traveling with friends can be complicated, especially during a long trip. So too can vacation with your adult kids. But we had an open, honest dialogue and determined we were compatible. Here are my suggestions for the top 10 travel item recommendations. And, we all know how chaotic traveling is today. I'm sharing tips for Dealing with Chaotic  Air Travel.
Pass on these great tips, tell your friends, and like us on Instagram,  TikTok, and Pinterest.